The global functional drinks market size was reached at USD 206.41 billion in 2022 and it is projected to hit around USD 385.94 billion by 2032, poised to grow at a CAGR of 6.46% between 2023 and 2032.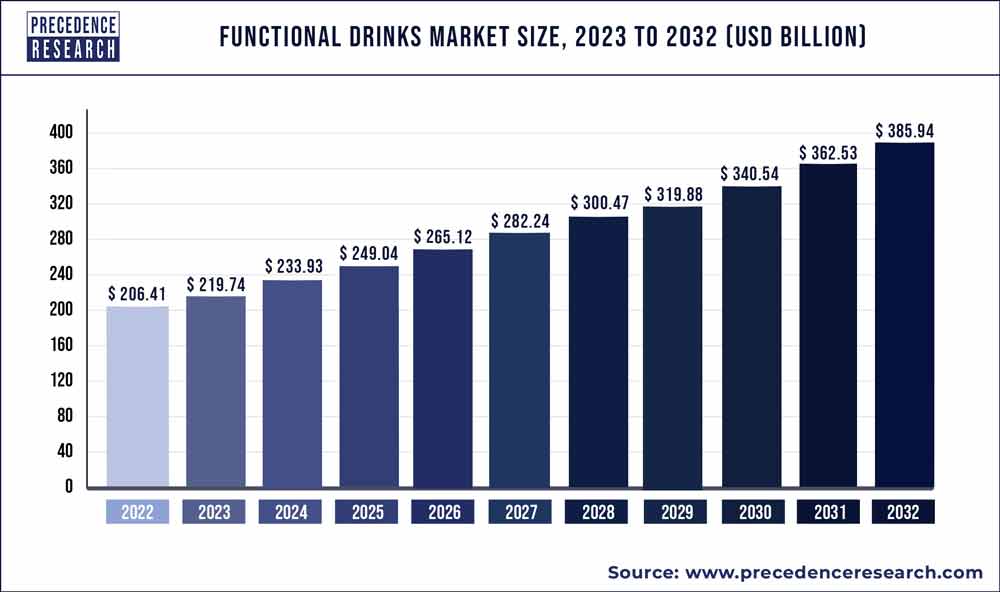 Access our Premium Real Time Data Intelligence Tool, Visit: Precedence Statistics
Key Takeaways:
North American region is expected to expand at the biggest rate between 2023 and 2032.
By type, the energy beverage segment is predicted to grow at the largest CAGR between 2023 and 2032.
By type, the sports drink segment is expected to expand at a significant rate from 2023 to 2032.
By distribution channels, the supermarket/hypermarket segment is expected to grow at the quickest CAGR from 2023 to 2032.
By end-user, the fitness lifestyle user segment is expected to expand at the highest rate from 2023 to 2032.
Market Overview:
Over the forecast period, rising health consciousness is expected to drive demand for functional drinks. Due to the presence of minerals, vitamins, amino acids, and herbs functional drinks help to improve a variety of body functions, including digestive health, heart rate management, immune system, as well as weight management. Customers are progressively turning to functional drinks that contain ingredients that involve these specific health concerns. As the journal Packaging Strategies reported, a significant shift in the beverage sector is towards functional beverages as customers are interested in enhancing their health.
Furthermore, the emergence of clean-label, organic, and non-GMO products influences consumer purchasing habits. And thus, customers demand functional drinks over carbonated beverages, and fruit juices are expected to fuel demand for functional drinks in the coming years.
Report Scope of the Functional Drinks Market
| | |
| --- | --- |
| Report Coverage | Details |
| Market Size in 2023 | USD 219.74 Billion |
| Market Size by 2032 | USD 385.94 Billion |
| Growth Rate from 2023 to 2032 | CAGR of 6.46% |
| Largest Market | North America |
| Base Year | 2022 |
| Forecast Period | 2023 to 2032 |
| Segments Covered | By Type, By Distribution Channels and By End-User |
| Regions Covered | North America, Europe, Asia-Pacific, Latin America and Middle East & Africa |

Market Dynamics:
Drivers
Growing interest in healthy hydration goods.
The growing consumer preference for health-oriented drinks has necessitated the inclusion of probiotic food on the list. Furthermore, sale-advertising tag lines like "ready to drink," as well as other convenience aspects include favorable packaging of all served beverages and increased consumption of probiotic drinks like kombucha. Consumers are increasingly preferring functional beverages rather than fruit juices as well as carbonated drinks.
Drinkers are commonly rejecting vilified categories, such as juices and carbonates, with 'healthier choices, such as probiotics, soymilk, and other functional beverages, as consumers become more aware of the health implications linked with soft drink groups. Consumer awareness has been a driving force behind the increased interest in nutritious hydration beverages. The increasing awareness of fermented beverages with organic ingredients, as well as the wide adoption of ingesting probiotics, has contributed to the popularity of the healthy hydration trend.
Rising awareness regarding health is expected to expand the need for functional drinks during the projected period. The functional drinks assist to enhance a variety of body functions such as heart rate management, management of the immune system as well as the digestive system, and weight management attributed to the existence of minerals, vitamins, amino acids, and herbs.
Restraints
Increase in weight.
The significant obstacles impeding the growth of the functional drinks market are rising obesity concerns. When it relates to well-being and health, weight management is a top priority for consumers. Customers demand foods and drinks with low calorie and sugar content to regulate weight. Fruit juices as well as energy drinks are the most common sources of artificial sweeteners in functional drinks.
A single can of energy beverage includes about 26.5 grams of added sugar on average, with large cans having double the amount. Energy drinks are also high in fats, artificial sweeteners, caffeine, and starch. As a result, numerous people avoid drinking functional beverages.
Opportunities
The functional beverages industry is anticipated to expand at a significant pace during the coming years due to increasing health concerns of customers as well as the launch of products that provide advantages rather than just hydration. Functional drinks offer a wide range of benefits like cognitive function, energy, immunity support, and gut health that attract health-concerned customers. The functional beverages market is ready for innovation, as firms seek to separate their foods and attract consumer demands.
Impact of COVID-19:
Following Covid-19, the industry has seen a rise in sales of products that offer functional benefits, like immune health, that are expected to have a beneficial effect on the industry. Consumers are progressively interested in functional drink products that they believe will assist the defenses of the body.
Countries such as the UK have already declared a plan to combat obesity rates in the country through campaigns such as "better health". These projects are viewed as a market opportunity, with consumers opting for a functional drink with benefits. Rising demand for emerging products, such as plant-based as well as lactose-free beverages, is propelling market expansion, and the incorporation of CBD-infused functional drinks is anticipated to be a future market opportunity.
Segments Insight:
Type Insights:
On the basis of type, the energy beverage sector is anticipated to grow at the highest CAGR from 2023 to 2032. The growth is due to a rise in energy, increasing attention and concentration, and decreased fatigue which expands industry growth. Energy beverages are majorly consumed by young customers between the age group of 18-34 years. They are also used as a mixer for cocktails and lower the side effects of alcohol, raise drinking capacity, and decrease dizziness. The aforementioned factors increase the necessity for energy drinks in the functional drinks market.
Based on the type, the sports drink sector is projected to grow at a remarkable pace from 2023 to 2032. The segment is growing due to the rising involvement of individuals in games as well as sports in developed nations. The sector is also anticipated to grow due to the increasing athlete community as well as an expanding number of sportspersons in emerging countries. The rising customer preference towards fitness along with the expanding number of health clubs and fitness centers.
Distribution Channel Insights:
The supermarket/hypermarket sector is anticipated to grow at the fastest CAGR from 2023 to 2032. The expansion of the segment is due to the rising popularity owing to various factors like the availability of various functional drinks under the same roof with huge discounts. These factors are anticipated to generate numerous opportunities for the sector throughout the projected period.
The supply of functional drinks through e-commerce is estimated to expand rapidly over the projected period due to the existence of a wide range of specialty products at wellness stores as well as the growing popularity of online channels. Emerging nations such as India and China are witnessing an increasing number of online grocery shops in main cities to provide functional drinks as well as other grocery products.
End-User Insights:
The fitness lifestyle user sector is projected to grow at the highest rate in the global functional drink market with a CAGR from 2023 to 2032. The expansion of the segment is due to the emerging sector of health-conscious as well as fitness-concerned people. Furthermore, the growing trends of daily exercise and yoga, in addition to fitness lifestyle users, are a few of the significant aspects that boost the industry expansion of functional drinks. The abovementioned factor assists in the production of profitable revenue for the market throughout the projected period.
Followed by the fitness lifestyle user, the athlete segment is anticipated to expand at the fastest rate from 2023 to 2032. Functional drinks enhance athletic performance as well as assist or prevent specific health conditions. As a result, professional athletes are subjected to higher and more challenging workouts, depending on a variety of variables like the type of physical training, the number and period of sessions, the environment setting, and so on. To maximize endurance performance, athletes must drink before they get thirsty; in fact, being hydrated prior to exercise is essential.
Regional Insights:
Due to the rising demand for functional beverages, the North American region is anticipated to expand at the highest pace from 2023 to 2032. Nonetheless, it is growing at a high rate, raising awareness of health, active lifestyle, as well as working environment among customers of all ages. The rising popularity of energy beverages in North America has boosted availability via improved distribution channels and increasing accessibility, and this has increased the region's potential for growth.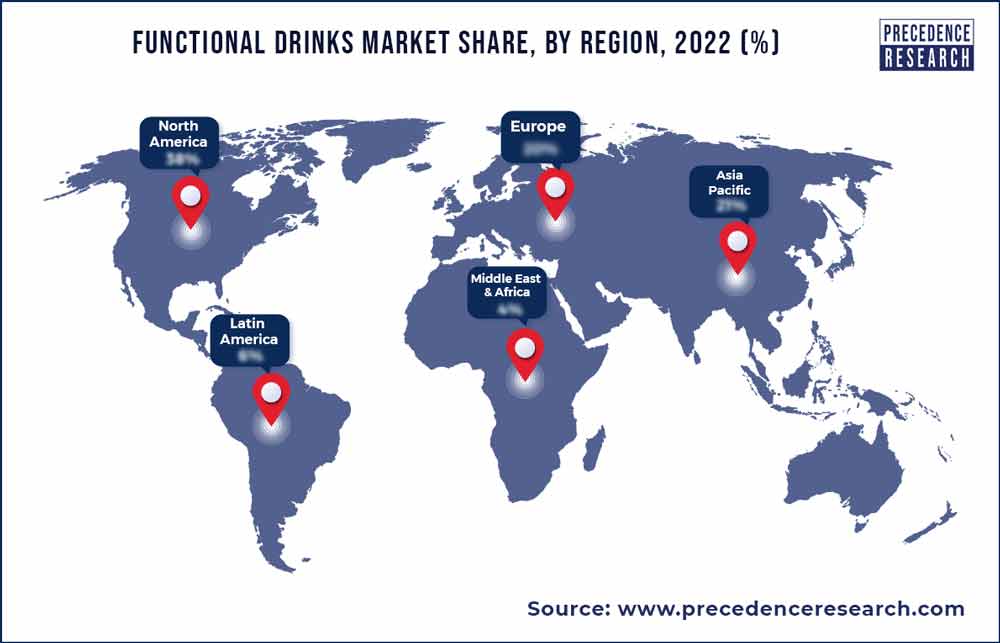 Furthermore, Asia is the most rapidly developing region due to rising consumer demand for beverages in nations such as Japan, China, and India which drives functional drinks growth. The high prevalence of heart disease, arthritis, and osteoporosis, combined with rising sales for beverages as well as rapid urbanization among Asian customers, is the key cause of market growth for functional beverages.
Moreover, due to the rising incidence of diabetes in nations like China and India, people are becoming conscious of the importance of an active lifestyle and healthy diet, prompting them to prefer organic sweeteners like stevia beverages. As reported by the International Diabetes Federation, India is 1 of the seven countries that comprise the Southeast Asia area in 2022. Diabetes affects 90 million individuals in Southeast Asia; by 2045, this figure is expected to rise to 151.5 million.
As a result, companies such as Coca-Cola and PepsiCo Inc. are pledging to eliminate synthetic ingredients and reduce the amount of sugar in products.
Recent Developments:
In August 2022, Coca-Cola India launched Limca Sportz as an innovative beverage in its n-fizz group. Limca Sportz aids in the rehydration of athletes, exercisers, as well as those engaged in high-intensity workouts.
Koios introduced six new Fit Soda functional drink flavors in May 2022. Strawberry Snow Cones, Cherry Slushee, Mimosa, Sweet Tea Lemonade, Blueberry Lemonade, and Pumpkin Spice are available.
National Beverage Corp. introduce Cherry Blossom Sparkling Water in March 2022.
Nestlé S.A. purchased Essentia Water, LLC, in March 2021. Nestlé S.A. hopes to enhance its existence in the functional water segment and gain a market leader through this acquisition.
In January 2020, a Coca-Cola sports drink brand introduced two sugar-free drinks, Powerade Power water, and Powerade Ultra.
Barry Callebaut revealed an innovative better-for-you drink mix made from 100 inches of fruit in October 2021.
Key Market Players:
Monster Beverage Corporation
The Coca-Cola Company
Red Bull
Coif Bar
MaxiNutrition
Meiji Co., Ltd
Dupont Nutrition Biosciences ApS
Pepsico, Inc.
Nestlé S.A.
National Beverage Corp.
Segments Covered in the Report:
(Note*: We offer report based on sub segments as well. Kindly, let us know if you are interested)
By Type
Energy Drinks
Dairy-based Beverages
Sports Drinks
Juices
Others
By Distribution Channels
Specialty Stores
Supermarket/ Hypermarket
E-Commerce
Others
By End-User
Fitness Lifestyle Users
Athletes
Others
By Geography
North America
Europe
Asia-Pacific
Latin America
The Middle East and Africa