The global functional beverages market size was esteemed at US$ 140.87 billion in 2022 and is assessed to reach around US$ 279.4 billion by 2030 and poised to grow at a CAGR of 8.94% during the forecast period 2022 to 2030.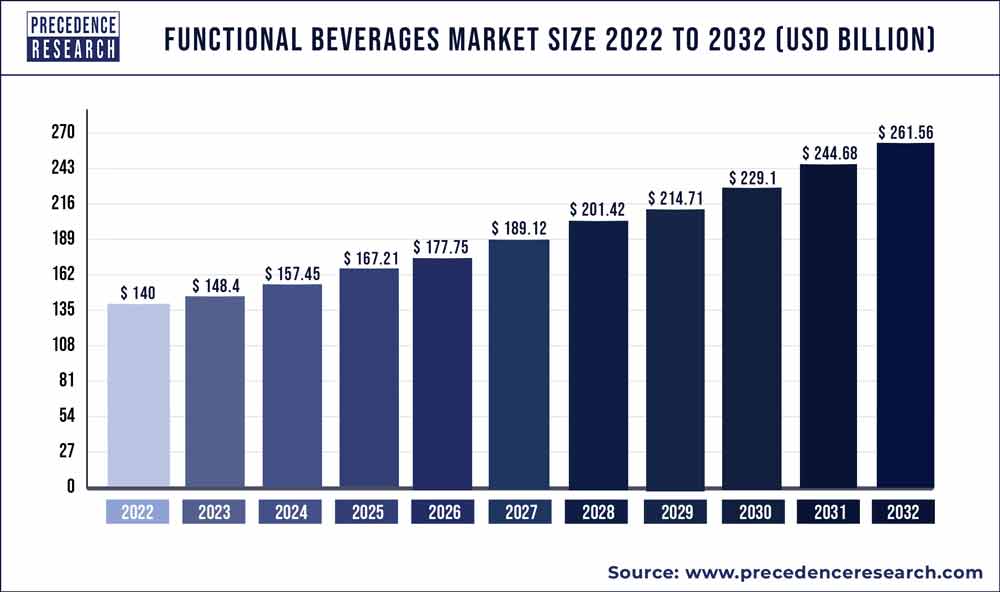 Food and beverages have been progressively significant in disease avoidance and treatment lately. Because of their implied medical advantages, practical beverages have acquired favour among faithful purchasers. Non-alcoholic refreshments containing bioactive parts, for example, nutrients, minerals, cell reinforcements, omega-3 unsaturated fats, plant extricates fiber, prebiotics, and probiotics, as well as different supplements and bioactive mixtures. Utilization of these refreshments is connected to weight reduction, expanded energy, athletic perseverance, and hydration. These are related with an assortment of wellbeing benefits, including a solid cardiovascular (CV) framework, a sound stomach related framework, immunological protection, and cholesterol control, to give some examples. Utilitarian beverages have filled in prominence as of late because of various factors including simplicity of taking care of, stockpiling, and conveyance.
Key Takeaway:
By type, the energy drink segment accounted largest share of 41.3% in 2021.
By end use, fitness lifestyle users segment hit largest revenue share of 44.7% in 2021.
By distribution type, the supermarket and hypermarket segment has garnered market share of 39% in 2021.
North America has contributed 43% revenue share in 2021.
Growth Factors
The COVID-19 has affected the practical drink area. Individuals' food buying and utilization propensities have been adjusted by the Coronavirus pestilence. To support their invulnerability, shoppers are continuously moving toward more wellbeing advancing food sources and drinks. This has brought about a flood popular for practical beverages. The quantity of wellness aficionados and the rising client inclination for solid options in contrast to sweet sodas are probably going to fuel market extension. Besides, expanded extra cash and wellbeing cognizance are fuelling interest for practical refreshments. This extension empowers industry organizations to foster low-calorie and fat-containing beavers, as well as foods grown from the ground seasoning increments like veggie lover, probiotic, and plant-based refreshments, thusly driving business sector development. Online business is basic to the market's improvement since it permits endeavours to get to a bigger client base all the more without any problem.
Report Scope of the Functional Beverages Market
| | |
| --- | --- |
| Report Coverage | Details |
| Market Size by 2030 | USD 279.4 Billion |
| Growth Rate from 2022 to 2030 | CAGR of 8.94% |
| North America Market Share in 2021 | 43% |
| Fastest Growing Region | Asia Pacific |
| Base Year | 2021 |
| Forecast Period | 2022 to 2030 |
| Segments Covered | Type, Application, Ingredient, End User, Distribution Channel, Geography |
| Companies Mentioned | PepsiCo Inc., The Coca-Cola Company, Kraft Heinz Company, Nestle S.A, Red Bull GmbH, The Hain Celestial Group, Universal Nutrition, Suntory Holdings Ltd, Fonterra Co-operative Group Limited |
Type Insights
Energy Drink
Toward the finish of 2022, global energy drink deals are supposed to worth USD 54.5 billion with a CAGR of 7.4% and to reach valuation USD 89.3 billion by 2030. This extension is connected to expanded prosperity, urbanization, and a more prominent familiarity with wellbeing and prosperity. Because of an ascent in execution, perseverance, and sharpness, both the grown-up and high school populaces are polishing off caffeinated beverages to help their occupied and dynamic lives. Because of the COVID-19 issue, "invulnerability helping" refreshment utilization is expanding as individuals look for wellsprings of nutrients and minerals.
Caffeinated Beverages
The worldwide caffeine refreshment market was surpassed at USD 367.52 billion by 2030. The global stimulated drink market is assessed to be worth USD 235.62 billion in 2021. The Caffeine-based Drinks market is rapidly arriving at it's before COVID levels and a solid development rate is normal over the estimate period, driven by the financial recovery in a large portion of the non-industrial countries. Notwithstanding, phenomenal circumstances because of expected third and further waves are making a melancholy viewpoint. This study attempts to assess various situations of COVID-19's effect on the fate of the Caffeine-based Drinks market from 2000 to 2027.
Probiotic Drinks
The overall pobiotic ingredients market was valued at USD 4,983.2 million in 2021 and is expected to reach at USD 14,532 million by 2030, with a CAGR of 4.8% from 2022 to 2030. Due to the effect of COVID-19, the market has seen rising revenue for immunological prosperity redesigning things. Covid-19, which is known to hurt individuals, while moreover affecting explicit sorts of minute organic entities in the human biome. Antibacterial prescriptions are used in all major COVID-19 treatment regimens. The antimicrobial development of the drugs used ensures that the settlement of BB animalis ssp. lactic are killed or smothered in the human host species, suggesting that they could be used as probiotics. This point should impact the premium for probiotic parts and drive the augmentation of the market all through the gauge period distinctly
Vegetable and Fruit Beverages
The soil juice market size was valued at US$ 175 billion in 2021 and expected to grow at a CAGR of 5.7% during the figure time frame 2022-2030. Products of the soil juice industry have seen huge development as this is considered being a normally obtained nutritious food with the capacity to help invulnerability. Juice is refreshment arranged by squeezing or separating the regular fluid tracked down in products of the soil. Carbonated juices and caffeinated beverages can be supplanted with foods grown from the ground juices. Purchasers are wellbeing cognizant, and they favour natural product juice to some other refreshment available. Vegetable mixes are effectively edible. Some squeezed vegetables are low in carbs and can be remembered for the keto diet. Products of the soil juice consumption have extended overall because of the on-going COVID pandemic, attributable to the medical advantages. A few provincial and global players have sent off items including invigorated nutrients and minerals to assist shoppers with expanding their invulnerability. Rising interest for natural product squeezes, the making of leafy foods mixes, seasoned soft drinks, cold-squeezed juices, and an ascent in extra cash are a portion of the causes driving the Fruit and Vegetable Juice Industry's extension.
Dairy-based beverages
Butter milk, yogurt, merged milk, and powdered milk, among other dairy things, are utilized to give acceptable enhancements and proteins, stimulating the general dairy-based drinks industry. Dairy-based drinks are truly perfect for people of all ages and a good wellspring of energy and food. The dairy reward industry is climbing a direct result of significant worth updates and the extension of added substances, which make it stronger. Dairy-based drinks show up in an extent of tastes, which is creating revenue in the general market. Purchasers by and by pick whey-based rewards and yoghurts since they are higher in sound advantage and contain less fat. Dairy-based drinks are valuable in the making of bread, frozen yogurt parlor, and dairy items, extending total usage.
Application Insights
Health and Wellness
The global wellbeing drinks market was valued at USD 480.7 billion in 2021 and is growing at a CAGR of 6.5% during the time frame 2022 to 2030. Buyers these days approach wellbeing comprehensively, and they pick drinks that give extra wellbeing benefits. Numerous clients request utilitarian and fortifying refreshments, and this pattern is clearing over the drink business. Customers are turning out to be more wellbeing cognizant, and they are anxious to explore different avenues regarding better options in contrast to ordinary soda pops. Solid living patterns have helped the refreshment business, with better drinks overwhelming online entertainment stages and store promoting. Improved refreshments are expanding piece of the pie, especially among clients searching for sound products with high dietary benefit.
Weight Loss
The global weight loss drinks market should show up at USD 85.12 billion by 2030, creating at a CAGR of 5.7% in the forecast period 2022 and 2030. It furthermore gives a system of the huge components impacting this business and what they will mean for demand all through the projection period. The purchaser revolves around weight decrease and the extension in additional money is the huge components that will drive market advancement. Weight decrease rewards are open in an extent of flavours. They are a significant part of the time calorie-decreased, low-calorie rewards that can be used to substitute galas or as an element of a typical eating routine for weight decrease. Supper replacement shakes are the most notable sort, since they pass protein on to stay aware of muscle advancement and carbs to fuel rehearses while furthermore giving essential supplements and minerals.
Distribution Channel Insights
The grocery store/hypermarket class is supposed to rule the market over the conjecture period, inferable from expanded client dependence on them for food and drink buys. Due to the presence of an enormous choice of speciality things at wellbeing and health stores, as well as the extending prevalence of online channels, the dispersion of practical refreshments through wellbeing stores and online retailers is supposed to increment quick during the projection years.
Geography Insights
In 2021, North America held a 43% portion of the overall market. Due to its deeply grounded economy and exclusive expectation of life, North America is the biggest market for utilitarian beverages, with a strong development rate. The area is seeing an expansion in the ubiquity of zero-calorie, zero-sugar, and low-carb delicate drinks. Drinks contribute essentially to the by and large dietary and calorie utilization of the US populace, as well as to meeting absolute water consumption necessities.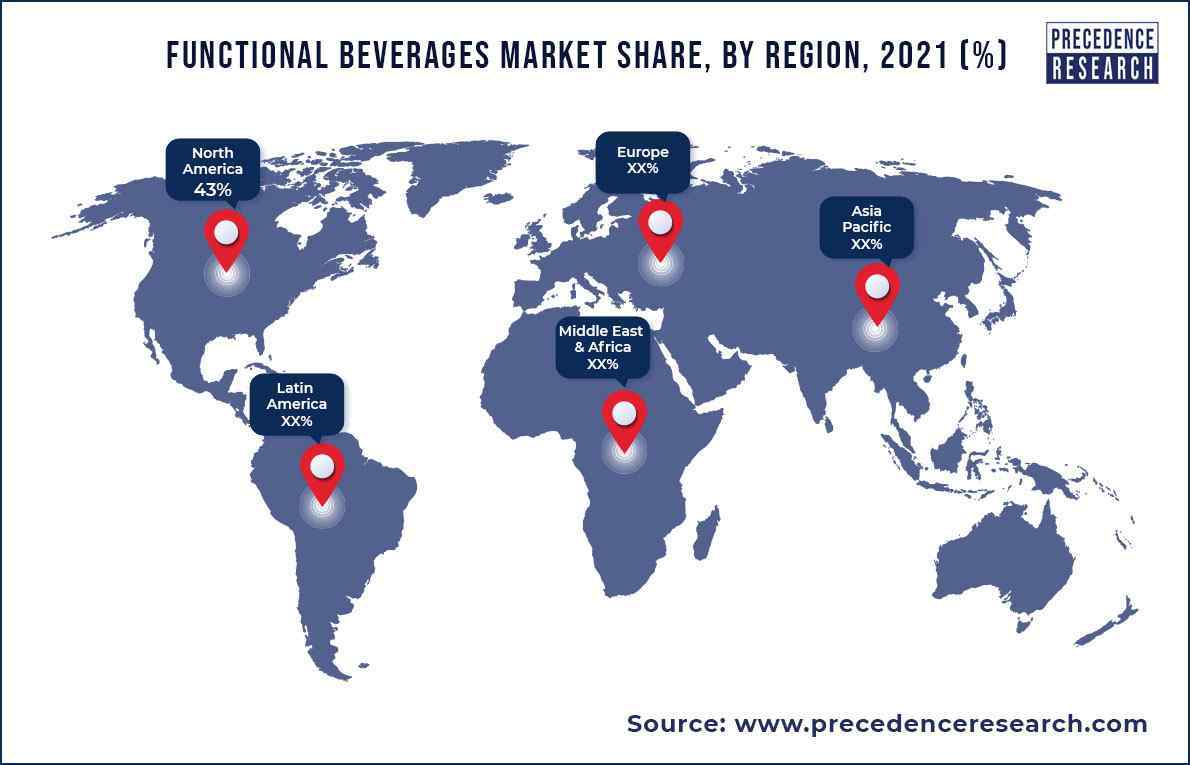 The presence of key worldwide market players, combined with developing number of utilitarian RTD drink producers in nations, for example, US is supposed to additional guide the development of the practical refreshment market of Europe, North America and the Asia Pacific are projected to enroll huge development during the predictable years, attributable to expanding interest for useful drinks in nations like Germany, UK, Japan and China. Rising wellbeing awareness among Asian shoppers, combined with expanding per capita pay of buyers situated in arising economies of Pacific Region is supposed to contribute fundamentally in the development of useful drink market of Pacific region.
Key Market Players
PepsiCo Inc.,
The Coca-Cola Company
Kraft Heinz Company
Nestle S.A
Red Bull GmbH
The Hain Celestial Group
Universal Nutrition
Suntory Holdings Ltd
Fonterra Co-operative Group Limited
Key Market Developments
In Oct 2021, Barry Callebaut presented another better-for-you drink blend made of 100 percent cacao natural product that will be accessible for makers overall to use in various kinds of refreshments. This send-off is the furthest down the line item to emerge from Barry Callebaut's emphasis on utilizing the entire cacao organic product in items.
JoeFroyo, a conspicuous apportioned refreshment maker, reported the presentation of its very first prepared to-drink (RTD) utilitarian espresso that consolidates protein, caffeine, and probiotics in August 2017. The item professes to be without gluten and absent any trace of soy, refined sugars, and Trans fats.
Restore Kombucha reported the arrival of Revive Sparkling Kombucha in March 2019, a generally matured, natural, and rack stable craftsman drink. Restore's imaginative way to deal with clump blending and regular aging cycles is fortified with the presentation of this new product offering, which is basically practically identical to their crude and chilled packaged Kombucha.
The Coca-Cola Company announced the debut of 'Aquarius,' a low-calorie collection of delicious and functional drinks, in April 2019. The product promises to include essential minerals and is available in two flavours: lime with magnesium and lemon with zinc.
Segments Covered in this report
(Note*: We offer report based on sub segments as well. Kindly, let us know if you are interested)
By Type
Energy Drink
Caffeinated Beverages
Probiotic Drinks
Vegetable and fruit beverages
Dairy-based beverages
Nutraceutical drinks
Juices
Enhanced Water
Others
By Application
Health and Wellness
Weight Loss
By Ingredient Type
Antioxidants
Minerals
Amino acids
Probiotics
Prebiotics
Vitamins
Super-Fruit extracts
Botanical Flavors
By End User
Athletes
Fitness Lifestyle Users
Others
By Distribution Channel
Supermarket and Hypermarket
Specialty Stores
E Commerce
Others
By Geography
North America
Europe
Asia-Pacific

China
India
Japan
South Korea
Malaysia
Philippines

Latin America

Brazil
Rest of Latin America

Middle East & Africa (MEA)

GCC
North Africa
South Africa
Rest of the Middle East & Africa