The global functional ingredients market size was valued at US$ 100 billion in 2022 and is expected to hit US$ 199.48 billion by 2032, poised to grow at a CAGR of 7.20% during the forecast period 2023 to 2032.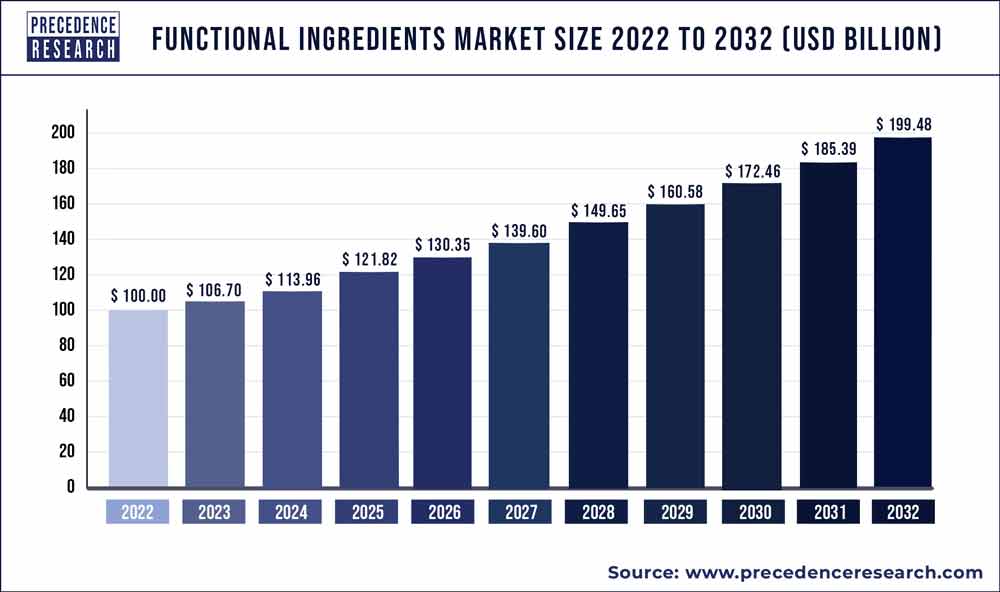 Access our Premium Real Time Data Intelligence Tool, Visit: Precedence Statistics

Functional Ingredients Market Size in U.S. 2023 To 2032
The U.S. functional ingredients market size reached US$ 23.10 billion in 2022 and is predicted to expand US$ 46.51 billion by 2032, at a CAGR of 7.30% between 2023 to 2032.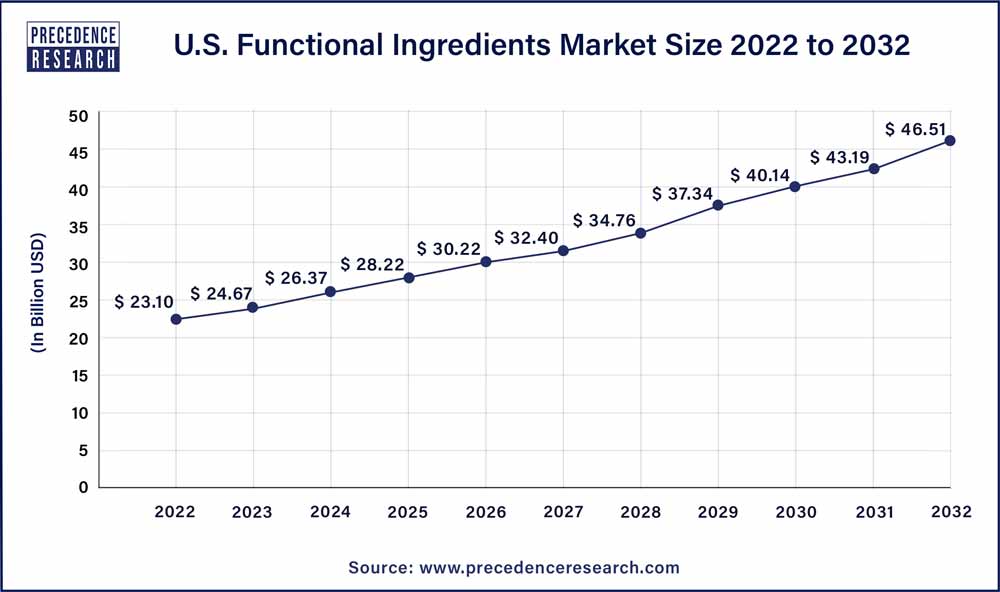 On the basis of region, the market is classified into North America, Europe, Asia-Pacific and LAMEA. Asia Pacific region is estimated to grow at a considerable pace during the forecast period. Growing urbanization, spending capacity and rising population with more health consciousness are majorly boosting the growth of the functional ingredients market in developing countries of the region of Asia-Pacific including India and China. In addition, rising old age population and obese population has been significantly contributing for the growth of functional ingredients market in Asia Pacific region. As clinical nutrition and weight management are the surging applications of the functional food due to proportional and significant sources of proteins, vitamins and fatty acids which helps to improve the health of human body.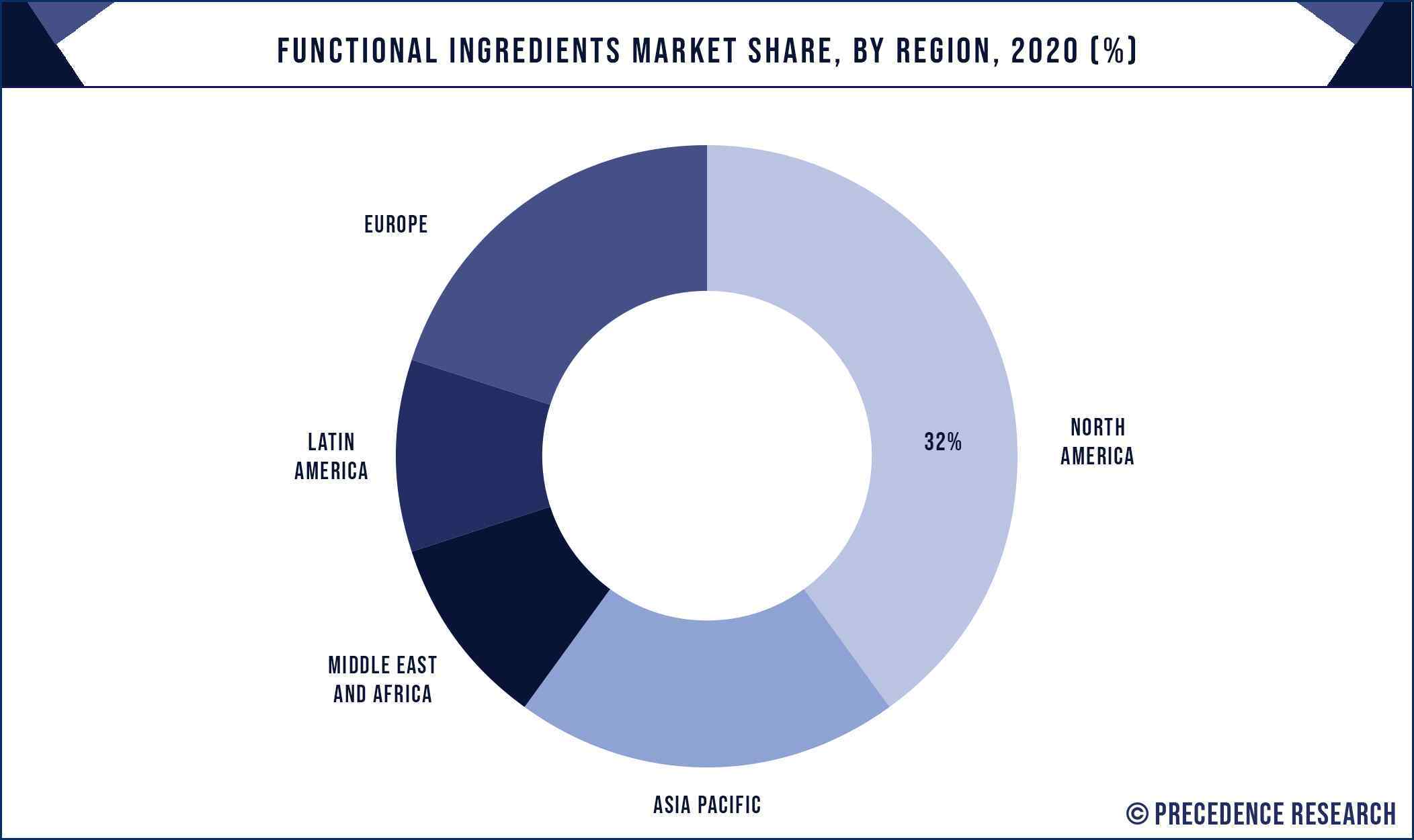 Furthermore, North America had the major market share of the functional ingredients market in the year 2022 with a revenue share of 32%. Increasing buying power, improved access to the digital technologies, higher penetration of internet, and increased adoption online sales channels are some of the major factors that has propelled the growth of the North America functional ingredients market. The high demand for the health supplements coupled with the busy and hectic schedules of the consumers is boosting the demand for the functional ingredients.
Growth Factors
Increasing health concerns and growing health issues like obesity, diabetes, and digestive disorders are the major factors that augment the growth of the functional ingredients market. Furthermore, functional ingredients are considered as ingredients that have the ability to positively influence health besides their basic nutritional value. The growth in demand for functional food & beverage and rising health consciousness among consumers are the key driving factors for the growth of the functional ingredients market. Consumers now expect processed food to be sustainable and nutritional, in addition to factors such as quality, flavor, safety, and convenience. The growing disposable income of consumers, changing preferences, and western-style eating habits augmented the sales for food and beverage industry which in turn augmented the growth of the functional ingredient market. As end-users are aware of consider food safety important, nutritional benefits, and are looking for products that possess health-promoting and disease-preventing properties.
The COVID-19 epidemic has enhanced the market mainstreaming of food bioactives of immune-boosting, nutraceuticals and supplements. However, various studies are reporting regarding the potential of bioactives against the transmission of COVID-19 have been uploaded as preprints with less opportunity to revise content for benefit and impact. The current review discusses current stylish substantiation and information behind the part of food ingredients and bioactive composites in supporting vulnerable functions in humans and creatures, specifically in the prevention and treatment of COVID-19 infection. Currently, some substantiation from clinical trials and randomized population has further suggested that vitamin D situations are likely to be linked with COVID-19 transmission and inflexibility. Multitudinous theoretical studies have refocused to polyphenols and particularly flavonoids as implicit impediments of covid19 infection. There's also inconclusive substantiation to support the unborn use of β-glucan to address COVID-19 due in part to variability in vulnerable response growing from diversity in branch of polysaccharide and length of chain for the absence of a standardized extraction method and different sources. To confirm the promising outcomes and hypothesis for bioactive composites, further randomized and controlled clinical studies are demanded. In addition, the results of such studies had a profound effect over the food supplements and nutraceuticals prospects as potential prophylaxis which was against the virus and serve to help consumers to cover themselves during the post-lockdown recovery period.
In addition, the launch of new various technologies such as nanoencapsulation, encapsulation,and bio-encapsulation propels technological innovations in the industry of functional food ingredients. Also, encapsulation technology aids in increasing the taste of various food products. Like, omega-3 fatty acids are linked with depraved odor. The fragrance and taste of those ingredients are increased by the usage of the technology named encapsulation. The gradual advancements in the technology of liposome are being utilized in the production of many ingredients such as functional food ingredients and probiotics, which offers various health benefits to its consumer.
Report Scope of the Functional Ingredients Market
| | |
| --- | --- |
| Report Coverage | Details |
| Market Size by 2032 | USD 199.48 Billion |
| Growth Rate from 2023 to 2032 | CAGR of 7.20% |
| Largest Market | North America |
| Fastest Growing Market | Asia Pacific |
| Base Year | 2022 |
| Forecast Period | 2023 to 2032 |
| Segments Covered | Type, Application, Nature, Geography |
| Companies Mentioned | Danone, Glanbia plc, Hearthside food solutions llc, Mars, incorporated, Meiji co., ltd, Nestlé s.a, Raisio plc, Royal frieslandcampinan.v, Sanitarium health food company, The kraftheinz company |
Type Insights
Based on the type, the vitamins segment was the dominating segment. This is majorly credited to benefits associated with functional food rich in vitamin such as healthy skin, improved vision, improved blood circulation and better immune system of the body. Furthermore, some consumers require vitamin supplements as they have certain medical conditions which can lead to insufficiencies and functional food provides essential nutrients and vitamins in order to fulfill that particular deficiencies. Casual food or regular meal is not that much efficient enough to provide essential vitamin which led consumer to consume functional food as an additional food to have a healthy body.
On the other hand, the probiotics & prebiotics segment is estimated to be the most opportunistic segment during the forecast period. This is attributed owing to the growing popularity of probiotics among the population which is fuelled by the rising health awareness among the consumers
Source Insights
On the basis of source, the natural segment is the dominating functional ingredient segment in the year 2022 owing the abundant sources of ingredients. Nutritional and epidemiological studies have shown that plants are a rich source of nutraceutical ingredients by having disease-preventing and health-promoting properties. Various plant-based foods arebioactive compound rich in nature with physiological effects, like antioxidant, antimutagenic, anti-inflammatory or antibacterial activities. However, synthetic functional ingredient is the fastest growing segment in the market owing to the myriad demand of the ingredients and inadequate availability fosters huge opportunities to for the synthetic ingredients in the market.
Key Market Developments
In July 2021, the key player named Kerry Group, which is an Irish-based food company, declared that it is acquiring the company named Biosearch Life just for an amount of $150 million deal. Furthermore, via this acquisition, the company can expand its portfolios of healthy ingredient such as omega 3 and probiotics. The healthy ingredient portfolio expansion will boost its functional foods and proactive health ingredients capabilities. However, Biosearch Life, is a company based in Spain, which is a biotechnology company which is into the manufacturing of healthy natural ingredients such as Probiotics,Omega-3,Botanical Extracts.
Some of the prominent players in the global Functional Ingredients Market include:
Danone
Glanbia plc
Hearthside food solutions llc
Mars, incorporated
Meiji co., ltd
Nestlé s.a
Raisio plc
Royal frieslandcampinan.v
Sanitarium health food company
The kraftheinz company
Segments Covered in the Report
By Type
Probiotics & Prebiotics
Proteins
Botanical Extracts
Vitamin
Minerals
Fatty Acids
Others
By Nature
By Application
Food & Beverages

Personal Care

Pharmaceuticals

Animal Feed

Others
By Geography
North America
Europe
Asia-Pacific

China
India
Japan
South Korea
Malaysia
Philippines

Latin America

Brazil
Rest of Latin America

Middle East & Africa (MEA)

GCC
North Africa
South Africa
Rest of the Middle East & Africa