The global probiotics food and cosmetics market size was exhibited at USD 61.24 billion in 2022 and is projected to hit around USD 122.37 billion by 2032, growing at a CAGR of 7.17% during the forecast period from 2023 to 2032. The Asia Pacific region accounted for a revenue share of more than 40.0% in 2021.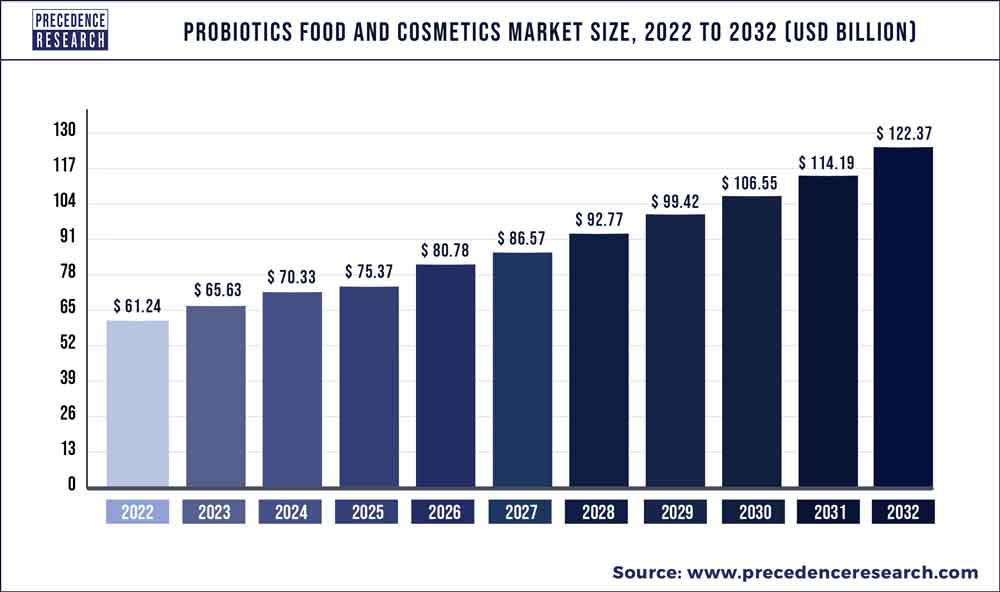 Growth Factors
The market is driven by the developing buyer's tendency towards preventive medical services related to the improvement of proficient probiotic strains. Probiotics, when consumed in satisfactory sums, attractively affect the body, like superior stomach well-being and decreased digestive irritation. Probiotics assume an extraordinary part in preventive medical services as they forestall the event of sicknesses by reinforcing the safe framework. Consequently, rising mindfulness in regard to preventive medical care is supposed to support the market development over the figure period.
Preventive medical services incorporate a sound way of life and dietary decisions that assist with forestalling the event of sicknesses. Mindfulness with respect to preventive medical services is on the ascent because of different elements, like expanding discretionary cash flow, working on the way of life, and development in the maturing populace. Simple accessibility of data relating to preventive medical care on the web is likewise contributing well to the rising mindfulness.
The market in the U.S. is described by the presence of segment-explicit probiotics, for example, for geriatrics and sexual orientations. These specialty markets have offered local players the opportunity to take on various systems to upgrade their item portfolio and boost their assets. Unreasonable interest in probiotic-based food and drink items and dietary enhancements is supposed to drive the U.S. market throughout the following couple of years.
Guidelines relating to the utilization of probiotics in nutraceuticals, nutricosmetics, and dietary enhancements, particularly newborn child recipes, are very rigid in the U.S. furthermore, are supposed to represent a test for the provincial market players. This has brought about dormancy in the development in probiotic items for people born after WW2. Then again, in 2016, 204 probiotic-based items for grown-ups were sent off in the country.
The COVID-19 pandemic brought about a significant spike popular for invulnerability supporting food items and enhancements. Probiotics are notable for their resistance-helping properties as they offer hearty security against gastrointestinal microorganisms and furthermore advance the development of regular antibodies in the body.
According to a review led by Natural Marketing Institute in May 2020, probiotic utilization saw an outstanding flood in 2020. The study reasons that the quantity of U.S. shoppers taking probiotics expanded by 66%, Italy encountered a 188% expansion in new clients, while, China saw a 108% increment in probiotic clients in May 2020 when contrasted with the past a half year. Accordingly, the fast expansion in probiotic shoppers in 2020 altogether helped the market development.
Report Scope of the Probiotics Food and Cosmetics Market
Report Coverage
Details
Market Size in 2022
USD 61.24 Billion
Market Size by 2032
USD 122.37 Billion
Growth Rate from 2022 to 2032
CAGR of 7.17%
Base Year
2022
Forecast Period
2023 to 2032
Segments Covered

By Product
By Ingredients
By Distribution Channel

Regions Covered

North America
Europe
Asia-Pacific
Latin America
Middle East & Africa

Segments Insight
Products Insights
The probiotic food and refreshments portion drove the worldwide market in 2021 with an income portion of over 75%. Based on the item, the market is portioned into probiotic food and refreshments, probiotic dietary enhancements, and creature feed probiotics. The food and refreshments portion are additionally arranged into dairy, non-dairy, oats, prepared food, aged meat, and dry food probiotics. The dietary enhancement is additionally separated into food supplements, healthful enhancements, specialty supplements, and baby recipes.
Probiotics are consolidated to expand the, generally speaking, nutritive worth as well as the kind of heated products. Probiotic biscuits and nutritive bars, among others, have been presented on the lookout. The utilization of these probiotic-imbued prepared items has seen an expansion lately because of the rising tendency toward preventive medical services.
Probiotic dietary enhancements have become more famous among customers looking for regular answers for different well-being illnesses. Probiotics, instead of pharmacological arrangements, are a characteristic approach to treating an assortment of sicknesses connected with stomach well-being, gastrointestinal circumstances, and resistance fortifying. The advancement of novel conveyance frameworks, like chewy candies, bubbly powders, and enjoyable items, is supposed to additional lift development.
The extension of stores, particularly in Asia Pacific, is supposed to make high-development possibilities for probiotic producers before long. China is supposed to set out to reward open doors for the US yogurt makers in the midst of the ascent in the interest in yogurt in the nation, surpassing homegrown creation. Organizations like General Mills (US) and Chobani (US) can enter the yogurt market in the country with the sendoff of their product offering. Shoppers will visit stores and follow through on premium costs for items with wholesome advantages. The pattern of driving a sound way of life draws in young people in the country to shop in stores regardless of whether it is costly. The developing prevalence of online methods of appropriation channels has asked stores to take on various systems. For example, in-store advancements and on-location exhibitions are a portion of the methodologies embraced by grocery stores.
Microbes Insights
The most generally consumed microbes strains are Lactobacilli, Bifidobacteria, and Streptococcus Thermophilus thermophilus, among others (Enterococcus, Bacillus, and Pediococcus). The essential advantage of consolidating deductively determined bacterial strains in probiotic food varieties is the equilibrium in the host's digestive microbiota and the ensuing improvement of the resistant framework. Different benefits incorporate adjusting the pH of the digestive organ, cholesterol decrease, avoidance of sicknesses, therapy of tooth rot, and improvement in ladies' wellbeing.
Distribution Channel Insights
The hypermarkets/stores section drove the worldwide market in 2021 with an income portion of over 30.0%. Based on dissemination channels, the market has been comprehensively characterized into four classifications, in particular, hypermarkets/general stores, drug stores/pharmacies, specialty stores, online stores, and others. Stores/hypermarkets are a well-known channel for the acquisition of protein-based supplement items because of the comfort of shopping and the accessibility of different brands. The portion is supposed to observe increased development over the gauge period. Customers who purchase probiotics in these retail channels are probably going to be more particular in their methodology attributable to the accessibility of scope of probiotic items.
Online storesis one more advantageous choice to buy probiotics. Shopper purchasing conduct has changed throughout recent years as a wide assortment of items, comfort of shopping, determination of the wanted amount and conveyance period, and limited offers have impelled customers to favor online retail. An extensive ascent in the number of drug stores, wellness focuses, and other related dispersion channels has affected the business well throughout the long term and is supposed to do as such during the figure time frame.
Regional Insights
The Asia Pacific area overwhelmed the probiotics food and beauty care products market. Probiotics are becoming one of the fundamental elements for different well-being and wholesome applications. Mindfulness in regards to the advantages of 'good microbes' has forever been high in the European and Asia Pacific business sectors because of bacterially aged milk items accessible in the locales. With the expansion in illnesses, for example, weight, hypertension, and osteoporosis, customers will generally keep a sound eating regimen with the expanded utilization of sustained food sources, refreshments, and dietary enhancements.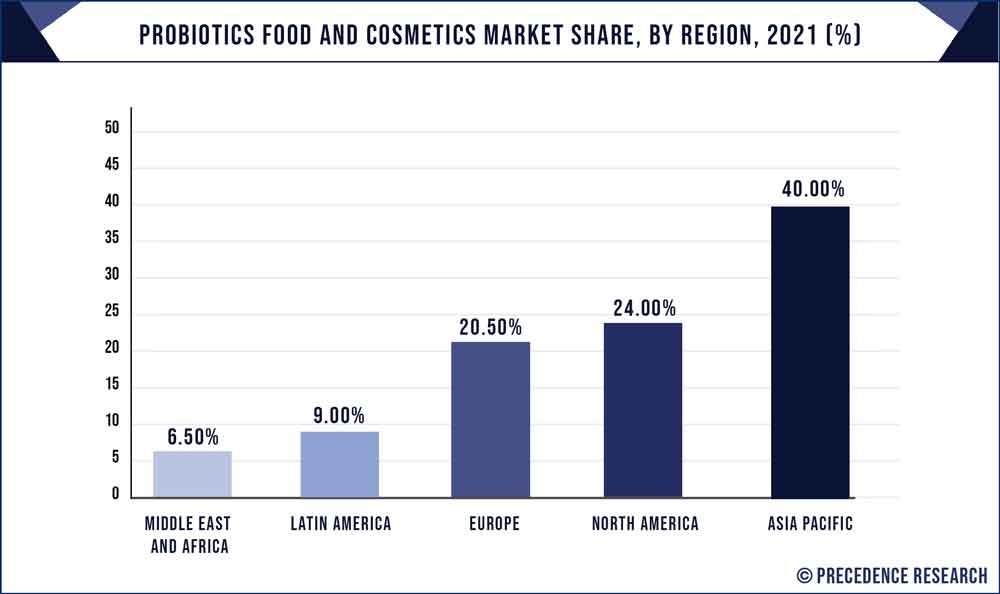 Asia Pacific drove the worldwide market with an income portion of more than 40.0% in 2021. The locale is seeing a significant ascent in shopper mindfulness because of serious procedures took on by the worldwide players. Solid interest from nations, like India, China, and Australia, is adding to the general development. The rising populace, combined with the rising discretionary cashflow and working on the way of life, is additionally expected to take care of the provincial market development.
North America is supposed to observe impressive development over the figure period. The territorial players are putting resources into R&D to think of new items to take care of purchasers of various age gatherings and sexes. Such factors are supposed to speed up the development of the market over the gauge period.
Recent Developments
In February 2021, BioGia targets creating cutting edge probiotic items zeroing in on metabolic circumstances with a unique accentuation on diabetes and related illnesses.
In December 2020, Danone sent off a probiotic item for forestalling lactation mastitis in breastfeeding moms. It is sold only in China.
In November 2020, Kerry gained Bio-K Plus International, which gives a scope of clinically upheld probiotic drink and supplement applications.
In May 2020, Probi AB marked a drawn-out R&D cooperation concurrence with Competence Center on Health Technologies (CCHT). It targets creating novel items in light of probiotics lactobacilli strains for ladies' wellbeing.
Key Market Players
Arla Foods, Inc.
BioGaia AB
Chr. Hansen Holding A/S
Danone
Danisco A/S
General Mills Inc.
i-Health Inc.
Lallemand Inc.
Lifeway Foods, Inc.
Mother Dairy Fruit & Vegetable Pvt. Ltd.
Kerry
Nestle S.A.
Probi
Yakult Honsha Co., Ltd.
Segments Covered in the Report
(Note*: We offer reports based on sub-segments as well. Kindly, let us know if you are interested)
By Product
Probiotic Food & Beverages

Dairy
Non-dairy
Cereals
Baked Food
Fermented Meat
Dry Food

Probiotic Dietary Supplements

Food Supplements
Nutritional Supplements
Specialty Supplements
Infant Formula

Animal Feed Probiotics
By Ingredients
By Distribution Channel
Hypermarkets/Supermarkets
Pharmacies/Drugstores
Specialty Stores
Online Stores
Others
By Geography
North America
Europe
Asia-Pacific
Latin America
Middle East & Africa (MEA)