The global gas turbine market size was estimated at USD 24.47 billion in 2022 and it is expected to hit around USD 50.20 billion by 2032, poised to grow at a CAGR of 7.50% over the forecast period 2023 to 2032.
Access our Premium Real Time Data Intelligence Tool, Visit: Precedence Statistics
Key Takeaway:
The Asia Pacific has held approximately 36% of the total revenue share in 2022.
By capacity, >200 MW segment had a significant revenue share of 66% in 2022.
By technology, the combined cycle turbines sector has the highest revenue share 74% in 2022.
By end use, the power & utility segment held a revenue share of over 82% in 2022.
The aero-derivative segment is growing at 9% of CAGR from 2023 to 2032.
Gas Turbine Market in the Asia Pacific 2023 To 2032
The Asia Pacific gas turbine market size was estimated at USD 8.81 billion in 2022 and it is expected to hit around USD 1774 billion by 2032, growing at a CAGR of 730% from 2023 to 2032.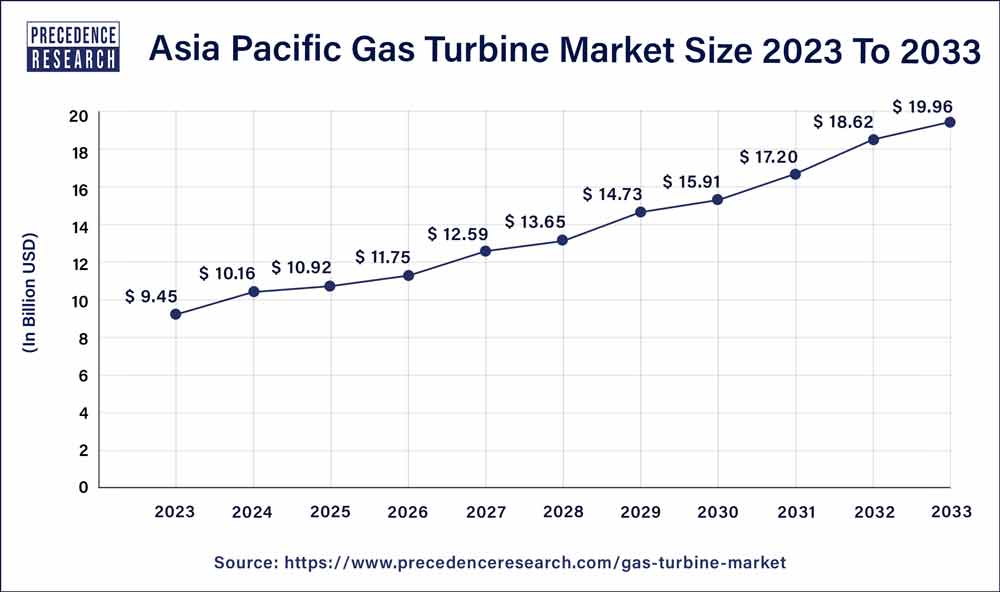 The gas turbine industry in North America is predicted to surpass 10 GW annual installations by 2032. Easy approachability of raw material and constant incorporation of technologically advanced turbines are major factors rushing the product saturation. Escalating focus toward CCGT power technology plus upward applicability of gas-powered systems through drilling and extraction methods will promote product demand further. Middle East and Africa is projected to appear as another significant market in terms of capacity additions and orders. Cumulative demand can be credited to expanding inclination to gas-fired combined cycle plants in the local oil and gas sector.
The EU policymakers deliberate gas turbines more than a connecting technology to attain the 2032 targets till other technologies are developed. It is expected to propel the demand for gas turbines throughout the estimate period. Though, the release of methane and other harmful gases can pose a challenge to this growth in near future.
Asia Pacific is still a budding market nonetheless forceful infrastructure expansion commenced by governments is anticipated to offer the market a momentous boost. India is also growing its focus on the utilization of cleaner resources. Further, China's reliance on coal is foreseen to decline over the upcoming years, alongside its energy mix principally preferring clean energy resources.
Growing concerns for GHG emissions in accordance with severe government regulations for the implementation of gas fired turbines over conventional power generating units is expected to propel the growth of gas turbine market. Growing energy demand in emerging countries as well as constant acceptance of renewables than traditional fuels is predicted to further reinforce the product integration. Technology enhancement has led upsurge in the production of shale gas and plans of numerous nations to phase out coal-based power generation and substitute them with the gas-fired power plant, is expected to flourish the market growth during years to come. Nevertheless, growing renewable deployment on account of superior competence of renewable-based power generation may hamper growth of gas turbine market in the coming years.
It is anticipated that in the coming years, electricity demand may grow by closely one-third of the current demand. Main gas producing regions including the U.S., Middle East, and Russia are observing a foremost revamp in their electricity generation groundwork to rapidly follow gas-based power generation. Noteworthy installations are also observed in Latin America, Southeast Asia, and Africa. As a result of these advancements, demand for gas turbine may increase in these regions during forecast period.
Market Dynamics
Driver: Rising demand for energy
According to the Energy Information Administration of the United States, the electricity consumption in the United States increased by 3% in 2022. Whereas according to the International Energy Agency, China's share in renewable generation will increase by 45% in the period 2023-2025. While the same report suggests that China's share for global electricity consumption will rise to one-third by 2025.
The increasing global demand for electricity and energy in general drives the demand for efficient and reliable power generation technologies, with gas turbines being one of them. Gas turbines are often used as backup or peaking power sources to complement intermittent renewable energy sources like solar and wind, providing grid stability when renewable generation fluctuates. Gas turbines are commonly fueled by natural gas, which is becoming more accessible and cost-effective due to advancements in extraction techniques like fracking. Fluctuations in natural gas prices can affect the attractiveness of gas turbines. The global population continues to increase, leading to more households and more people needing energy for daily activities, such as lighting, cooking, heating, and cooling. Thus, the rising demand for energy across the globe is observed as a driver for the gas turbine market.
Restraint: Environmental concerns
The emissions generated during the combustion process is observed to hamper the growth of the global gas turbine market. Gas turbines release greenhouse gases, nitrogen oxides and other particulate matter, which contribute to air pollution and climate change. Stricter environmental regulations and public pressure to reduce these emissions can lead to increased compliance costs and potential limitations on the use of gas turbines. This can impact the market's growth and attractiveness as more sustainable and cleaner energy alternatives are sought. Thus, environmental concerns are observed to restrain the market's growth.
Opportunity: Rising emphasis on hybrid power plants
In 2023, China aims to generate power with capacity of 2 billion kilowatt per hour under its largest project of hydro power which aims to generate electricity from photovoltaic and hydro powers. The country also aims to achieve carbon neutrality by 2060.
Similarly, multiple countries are focused on the integration of hybrid power plants for power generation. This element brings multiple opportunities for the market to grow. The development of hybrid power plants requires innovation in control systems, integration technologies, and energy storage solutions. Gas turbine manufacturers can invest in research and development to stay competitive in this evolving market and to refine the integration of various energy sources. Gas turbine manufacturers can expand their product offerings by incorporating hybrid solutions. This diversification allows them to cater to a wider range of customer needs, from those focused-on efficiency to those prioritizing sustainability and grid stability.
Challenge: Fluctuating fuel prices
Fluctuating fuel prices pose a challenge for the gas turbine market because gas turbines rely on fossil fuels like natural gas or diesel for operation. When fuel prices are volatile, it becomes challenging for businesses and industries to accurately predict and manage their operational costs. High fuel prices can lead to increased operating expenses and reduced profitability for gas turbine operators. Moreover, unpredictable fuel costs make it harder for investors to assess the long-term viability and return on investment of gas turbine projects, potentially affecting the willingness to invest in new installations or upgrades.
Report Scope of the Gas Turbine Market
| | |
| --- | --- |
| Report Highlights | Details |
| Market Size | USD 46.65 Billion by 2032 |
| Growth Rate | CAGR of 6.7% from 2023 to 2032 |
| Largest Market | North America |
| Fastest Growing Market | Asia Pacific |
| Base Year | 2022 |
| Forecast Period | 2023 to 2032 |
| Segments Covered | Product, Application, Technology, Capacity, Region |
| Companies Mentioned | Wartsila, BHEL, Mitsubishi Hitachi Power Systems, Harbin Electric International Company, Siemens AG, Man Diesel & Turbo, General Electric |
Capacity Insights
Among different capacity segment of gas turbine market, 50 kW - 500 kW capacity is expected to observe an annual deployment of over 2 GW by 2032. Continuing progressions due to budding combustor technology, durability and operating range in line with extension of effective re-generative systems to endure high heat necessities may further accelerate the product penetration. Furthermore, rising preference toward combined cycle power generation plants due to high operational performance, reliability and high efficiency would further spur industry prospects.
Application Insights
Using locally available fuels to produce power is a crucial constraint in upstream oil operations, as services are regularly located in remote places. Gas turbines demonstrate economical and efficient solution of power distribution in plants. Demand in the power generation sector is anticipated to progress at significant rate over the estimate period.
Technology Insights
In 2022, combined cycle turbines technology segment accounted for more than to over 50% share of total revenue of the market. This technology segment is probable to observe the almost growth during years to come. These extremely effectual turbines need marginal consumption of fuel to yield the anticipated output and suggestively diminish transmission and distribution losses.
Key Companies & Market Share Insights
Marubeni and Siemens declared plans to construct a 1,200 MW combined cycle power plant in Thailand in January 2017. In 2015, the company traded about 18 models of SGT-800 industrial gas turbines to Thailand. 6 of these turbines had a capability of 53 MW respectively, whereas the capacity of the outstanding 12 units was 50.5 MW respectively. These units were planned to be connected in 9 combined cycle cogeneration power plants with an entire installed electrical capacity of 1100 MW. Some of the noteworthy players in the Gas Turbine market include:
Wartsila
BHEL
Mitsubishi Hitachi Power Systems
Harbin Electric International Company
Siemens AG
Man Diesel & Turbo
General Electric
NPO Saturn
Kawasaki Heavy Industries
Solar Turbines
Capstone Turbine
Vericor Power Systems
Cryosta
AnsaldoEnergia
Opra Turbines
Zorya-Mashproekt
Segments Covered in the Report
This research report includes complete assessment of the market with the help of extensive qualitative and quantitative insights and projections regarding the market. This report offers breakdown of market into prospective and niche sectors. Further this research study calculates market revenue and its growth trend at global regional and country from 2020 to 2032. This report includes market segmentation and its revenue estimation by classifying it on the basis of end-use and region as follows:
By Capacity Type
> 500 kW to 1 MW
> 1 MW to 30 MW
< 50 kW
50 kW to 500 kW
> 70 MW to 200 MW
>30 MW to 70 MW
> 200 MW
By Product Type
Heavy Duty
Aero-Derivative
By Technology Type
Combined Cycle
Open Cycle
By Application Type
Process Plants
Power Plants
Oil & Gas
Aviation
Marine
Others
By Geography
North America
Europe
Asia Pacific

China
India
Japan
South Korea

Middle East & Africa
Latin America