The global generative AI in construction market size was estimated at USD 164.02 million in 2022 and it is expected to hit around USD 3,327.31 million by 2032, poised to grow at a CAGR of 35.12% during the forecast period from 2023 to 2032.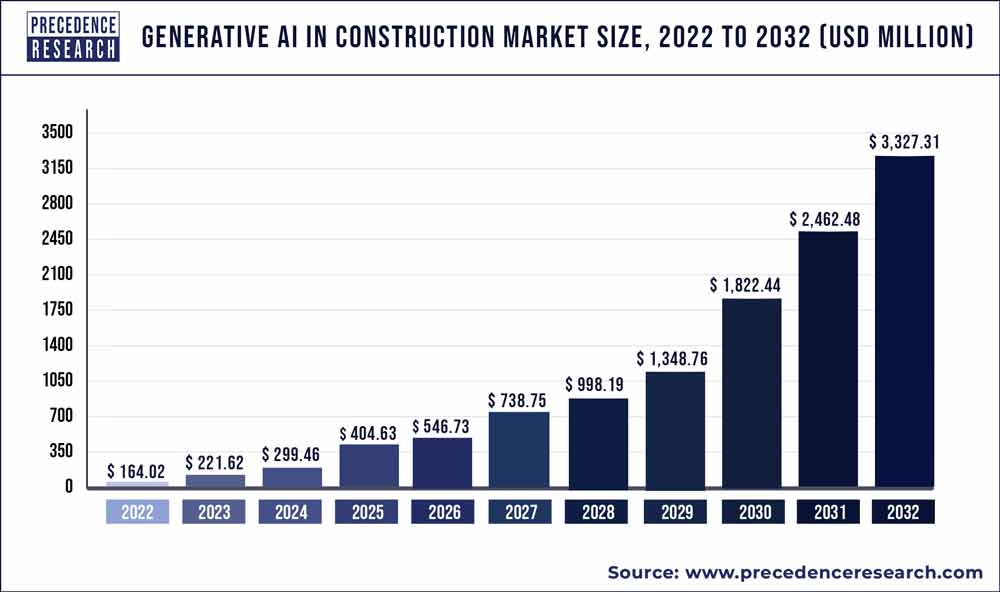 Key Takeaways:
North America dominated the global market and contributed more than 47% of revenue share in 2022.
Europe is expected to witness the fastest CAGR from 2023 and 2032.
By type, the infrastructure segment is expected to hold the largest market share during the forecast period.
By technology, the machine learning segment is expected to dominate the market growth over the forecast period.
By application, the design & planning segment captured more than 39% of the revenue share in 2022 and is expected to dominate the market over the forecast period.
Market Overview:
Artificial intelligence that uses generative techniques may create a variety of material, including text, images, music, and synthetic data. The ease of use of new user interfaces for quickly producing high-quality text, pictures, and pictures has fueled current interest in generative AI.
Construction project design and planning is one of the primary areas where generative AI benefits. Traditional design methods frequently rely on hand-crafted iterations and human imagination, which can be time-consuming and constrained in their ability to explore a broad variety of options. On the other hand, generative AI algorithms can quickly develop and assess a variety of design possibilities based on established parameters, restrictions, and objectives. Having the option to examine several design alternatives enables engineers and architects to find creative solutions that would not have been seen otherwise. In addition, the allocation of resources and building processes may both be optimized with generative AI. Generative models can recognize trends and suggest the best course of action by examining past construction data, including project timelines, prices, and material utilization.
According to Peak's Decision Intelligence Maturity Index, In 2022, 92% of construction companies said they were using or intended to use AI.
Growth Factors:
The most effective building schedules, cost-cutting strategies, and alternative material recommendations that support sustainability objectives may all be determined using these models. The need for large-scale project management, cost-based forecasting, and resource and time savings are driving the growth of the worldwide generative AI market in the construction industry. Additionally, it is projected that efficient operations management would promote market growth by lowering expensive errors and workplace accidents.
Report Scope of the Generative AI In Construction Market:
| | |
| --- | --- |
| Report Coverage | Details |
| Market Size in 2023 | USD 221.62 Million |
| Market Size by 2032 | USD 3,327.31 Million |
| Growth Rate from 2023 to 2032 | CAGR of 35.12% |
| Largest Market | North America |
| Fastest Growing Market | Europe |
| Base Year | 2022 |
| Forecast Period | 2023 to 2032 |
| Segments Covered | By Type, By Technology, and By Application |
| Regions Covered | North America, Europe, Asia-Pacific, Latin America, and Middle East & Africa |

Market Dynamics:
Driver:
Rising use of generative AI for building design
Building information modeling is a 3D model-based technique that provides architects, engineers, and construction workers with the information they can use to effectively plan, design, build, and manage infrastructure and structures. The architecture, engineering, mechanical, electrical, and plumbing (MEP) plans, as well as the order of the various teams' operations, must be considered in the 3D models when planning and designing a project's construction. Making ensuring that the various models from the various sub-teams do not conflict with one another is the problem. To discover and resolve conflicts between the many models produced by the various teams, the industry leverages machine learning in the form of AI-powered generative design. This reduces the need for rework.
There is software that explores every possible variant of a solution and provides design alternatives using machine learning techniques. The generative design program develops 3D models suited for the limitations when the user enters their needs into the model. Iteratively creating models, it learns from each one until it finds the best one. Thus, this is expected to drive the growth of generative AI in the construction market.
Restraints:
Cultural shifts and ethical consideration
A culture shift inside enterprises may be necessary to implement generative AI in construction. Construction industry experts may need to adjust to new working, cooperating, and decision-making processes. The widespread implementation of generative AI in construction may be hampered by organizational buy-in requirements, resistance to change, and a lack of knowledge. Similarly, the use of generative AI in the construction industry raises ethical concerns about the possible effects on employment, intellectual property rights, and prejudice in AI-generated designs. Building credibility and confidence throughout the industry requires addressing these ethical issues and ensuring fair and responsible usage of generative AI technology. Thus, it acts as a major restraining factor for the market growth over the analysis period.
Opportunities:
Sustainable construction practices
Green techniques and sustainability are becoming more and more important in the construction sector. By optimizing designs for energy efficiency, waste reduction, and sustainable material utilization, generative AI may help with sustainable building. Utilizing generative AI to produce eco-friendly design options, suggest eco-friendly materials, and optimize resource utilization presents a chance to meet sustainability objectives and laws. Thus, the advantages of generative AI in sustainable construction practices are expected to offer an attractive opportunity for market development over the projected period.
Segments Insight:
Type Insights:
Based on the type, the global generative AI in the construction market is segmented into residential, commercial, industrial, infrastructure and others. The infrastructure segment is expected to grow at the fastest rate during the forecast period. The segment growth is attributed to the increasing infrastructure investment across the globe. With growing infrastructure projects across the globe, the utilization of AI in infrastructure is growing drastically because of various uses such as design and optimization, structural analysis and risk assessment, process optimization and others. Thereby, driving the segment growth.
Technology Insights:
Based on the technology, the global generative AI in the construction market is segmented into machine learning, natural language processing and others. The machine learning segment is expected to dominate the market growth over the forecast period. Generative AI systems can forecast maintenance requirements, and equipment breakdowns, and improve asset management in building projects through machine learning techniques. Machine learning models can create predictive maintenance plans, enhance asset usage, and reduce downtime by examining sensor data, previous maintenance records, and sector-specific information. Machine learning algorithms can provide energy-efficient designs, suggest sustainable materials, and improve energy management techniques by examining energy usage statistics, environmental conditions, and building specifications. These models help reduce the environmental effect of construction projects and get green building certifications. Thus, the utilization of machine learning in different applications in construction drives the revenue of the segment.
Application Insights:
Based on the application, the global generative AI in the construction industry is divided into design & planning, construction optimization, project management and others. The design & planning segment is expected to dominate the market over the forecast period. The use of AI in the design & planning area of the construction sector has several advantages, including increased efficiency and accuracy as well as improved decision-making.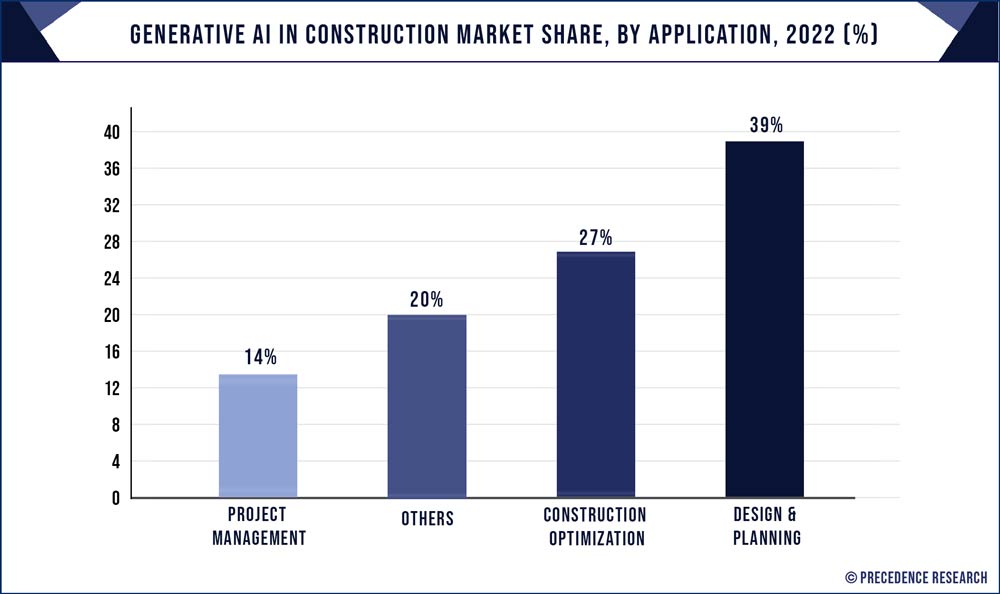 In addition, over the past several years, a new method for producing the 3D models that construction professionals rely on to precisely plan, build, and repair has emerged. The use of building information modelling enhance construction's capabilities with intelligent, AI-driven features. Toric, a data platform used by engineering, construction, and other industries that allowed anybody to connect, convert, model, and visualize data without writing code, secured USD 22 million in investment in 2022. Toric will offer extra interfaces for Autodesk Construction Cloud and the BIM tools for design from Autodesk, including Revit, and Civil 3D, as part of the investment. Thus, the rise in AI technology investment drives segment growth.
Regional Insights:
North America is expected to dominate the market during the forecast period. The regional growth is attributed to the well-developed technology ecosystem and the growing construction industry. North America is an important AI research and development region with a well-established technological ecosystem. This makes it easier for the construction sector to acquire and incorporate generative AI technology. Advances in technology, including cloud computing, data analytics, and machine learning algorithms, support the expansion of the generative AI industry in the region.
Similarly, with multiple substantial infrastructure projects, commercial buildings, and residential construction, they have a thriving construction industry. The requirement for effective project management, cost efficiency, and sustainable practices drives the use of generative AI solutions in the construction industry. The generative AI's capacity to improve decision-making, expedite procedures, and optimize design is in line with the demands of the region's expanding construction industry.
For instance, in 2022, nonresidential expenditure in the United States was estimated to be $888 billion ($534 billion private and $355 billion public). Additionally, the U.S. spent $910 billion on residential construction ($442 billion on single-family homes, $105 billion on multifamily housing, $354 billion on upgrades, and $9 billion on public projects).
Europe is expected to grow at a substantial rate over the forecast period owing to the presence of several market players such as Autodesk, Trimble Inc., RIB Software and others. These companies constantly launch their product, which is expected to penetrate the market expansion in the region. For instance, in May 2023, for improved carbon measurement in construction, RIB Software announced the release of the RIB Carbon Quantifier. To optimize carbon measurement in construction, RIB Software has released the RIB Carbon Quantifier. Building Transparency, a non-profit organization, and RIB Software, a top international provider of cutting-edge technological solutions for the architectural, engineering, and construction (AEC) industry, have teamed together to create the RIB Carbon Quantifier. The program enables users to quickly, simply, and reliably analyze the carbon environmental product declaration (EPD) values.
Recent Development:
In May 2023, Autodesk Inc announced the release of initial set of Autodesk Forma capabilities. The new step by Autodesk aims to integrate processes across teams that design, operate and build the buily environment.
In June 2023, a global learning platform provider focused on AI and innovation, Docebo Inc announced the acquisition of Edugo.AI. The acquisition aims to offer two key goals which are improving existing AI skills and bringing new features to Docebo.
Key Market Players:
Autodesk Inc.
Dassault Systemes
Trimble
Bentley Systems
Katerra
Oracle Corporation
Aurora Computer Services
Building System Planning Inc.
IBM Corporation
Microsoft Corporation
Segments Covered in the Report:
(Note*: We offer reports based on sub segments as well. Kindly, let us know if you are interested)
By Type
Residential
Commercial
Industrial
Infrastructure
Others
By Technology
Machine Learning
Natural Language Processing
Others
By Application
Design & Planning
Construction Optimization
Project Management
By Geography
North America
Europe
Asia-Pacific
Latin America
Middle East and Africa