The global generative AI in design market size was estimated at USD 412.06 million in 2022 and it is expected to hit around USD 7,754.83 million by 2032, poised to grow at a CAGR of 34.11% during the forecast period 2023 to 2032.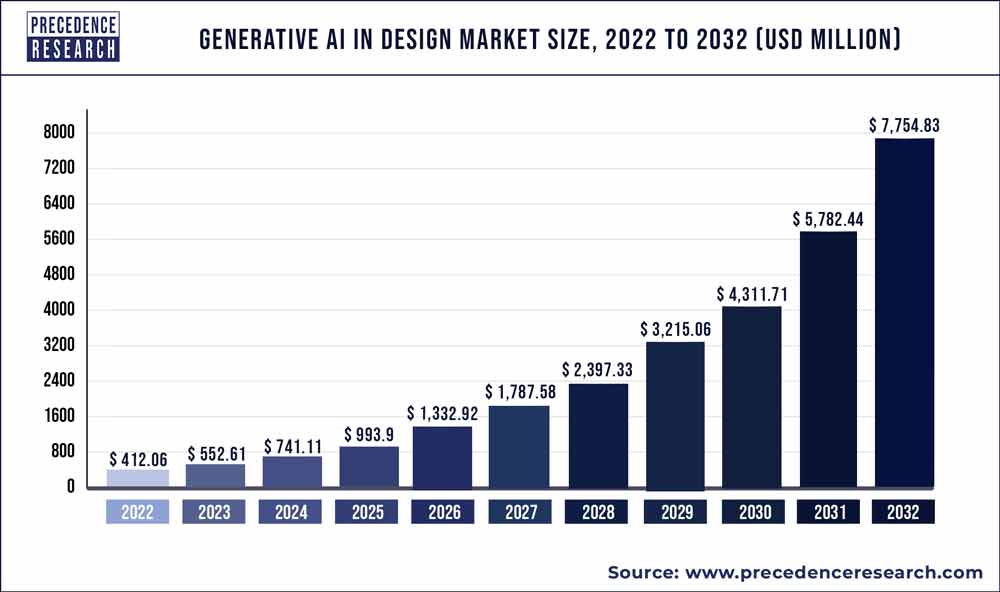 Key Takeaways:
North America generated more than 40% of revenue share in 2022.
By application, the graphic design segment shows a leading growth in the generative AI in the design market.
By end-user, the large enterprises segment contributed more than 47% of revenue share in 2022.
Market Overview:
Generative AI, being one of the most developed branches of artificial intelligence is not being applied widely in the design industry. Generative design effectively offers multiple values with a cost-friendly product, such as presentations, logos, portfolio design, animations, architectural formation, and websites. Increased computerized capacity and advanced developments in machine learning and deep learning methods are accelerating the growth of generative AI in design market. Researchers and programmers involved in the market are focused on improving the algorithms and developing new applications are pushing limits.
For instance, in October 2022, it was discovered by a Japanese industrial designer harvested renewable energy with a generative design of floating solar panels as the need for carbon neutrality increased. It provides two solutions which are storing water and electricity generation.
Growth Factors:
The demand for generative AI in design market is increasing as generative AI can assist in updating and learning about the designing procedure by creating multiple designs, mainly on specifications or inputs delegated to generate artistic and distinctive styles of visual content. It is generally used in graphic design, digital art, and advertising. The designers can explore a variety of options and develop on a faster scale. It serves as a virtual assistant by generating ideas and solutions. It can even help overcome creative blockages as they formulate new ideas and concepts and enhance the design process. All these advantages and capabilities of generative AI models are expected to act as growth factors for generative AI in the design market in the upcoming period.
Report Scope of the Generative AI in Design Market:
| | |
| --- | --- |
| Report Coverage | Details |
| Market Size in 2023 | USD 552.61 Million |
| Market Size by 2032 | USD 7,754.83 Million |
| Growth Rate from 2023 to 2032 | CAGR of 34.11% |
| Largest Market | North America |
| Base Year | 2022 |
| Forecast Period | 2023 to 2032 |
| Segments Covered | By Application and By End-Users |
| Regions Covered | North America, Europe, Asia-Pacific, Latin America, and Middle East & Africa |

Market Dynamics
Driver:
Improved content quality with generative AI
The content created by AI is way more precise than that produced by humans, as the AI models can learn from a large collection of data that carry high-profile unstructured/structured information and content. It provides newly developed ideas and algorithms, designers can use generative AI to explore new design possibilities with more innovative and unique design outcomes. It helps produce a broader product design, each with unique characteristics. Also, designs created with generative AI models can be tailored to a specific category, such as cost-effectiveness or execution, allowing designers to develop the best possible solution.
For instance, machine learning approaches are employed by generative AI to improve component arrangement for mould design (floor planning), cutting the time needed for the creation of products from weeks to hours if utilized by human specialists. Such capabilities of generative AI are observed to offer quality content which subsequently will promote the adoption of AI models while driving the growth of the market.
Restraint:
Lack of skilled professionals
Experienced professionals with good knowledge of AI and generative design are limited to use productive AI tools effectively. Unfortunately, wider adoption is limited due to a need for more designers and engineers skilled in these industries. Experienced professionals with good knowledge of AI and generative design are limited to using productive AI tools effectively. Unfortunately, wider adoption is limited due to a need for more designers and engineers skilled in these industries, which leads to limitations in return of investment on effective AI implementation.
Opportunity:
Rapid innovation and collaborative design processes
There is an enormous demand for creative talent in the design industry, and companies are willing to pay a good amount. It can be done by skill up through continuous learning programs, strong communication, and digitally accessible activities. This rapid product innovation immensely provides an opportunity for the market to grow. Generative AI assists with major collaborations between engineers, designers, and stakeholders by creating a platform for iterative design exploration. It also enhances development by promoting incredible innovation and customizing solutions by designing. Considering such immense advantages of generative Ai in the innovation process for the design industry, the adoption of such AI platforms is observed to grow in the upcoming period by creating a significant opportunity for the market to expand.
Segments Insight:
Application Insights:
The graphic design segment dominated the generative AI in the design market in 2022, the segment is expected to sustain its dominance during the forecast period. The demand for graphic design has increased as it ranges from billboards to mobile apps to cereal boxes to communicate diversities of ideas and messages in visual content. It can affect a mass population's emotions and influence perceptions. Moreover, generative AI models are widely being adopted for graphic design purpose as it enables the creative process without any human intervention. Generative AI has the capability to boost up the designing process by assisting with all variables provided in the data for generative outputs.
As graphic design is considered communication design, it is the path by which multinational or small enterprises connect with clients. It brings visuals to the concept of life by engaging clients through images, text, and graphics and generating a brand identity. The rising emphasis on engaging clients for better business outcomes will boost the demand for graphic designs from businesses which is expected to impact positively the segment's development.
The product design segment is expected to generate a significant growth in the generative AI in design market during the forecast period. The segment's growth is driven by the rising emphasis on product development and innovation. Generative AI is observed to offer a cost-effective product designing process as it can generate predictive visuals with analysis that can detect the failures and errors in the product's design before the final design, this can help the manufacturers or designers in saving time and cost invested in the overall designing process.
For instance, the booming market for electric vehicles is expected to force automotive designers/manufacturers to adopt generative solutions that can bring cost-effective yet precise product designs.
End-users Insights:
The large enterprises segment is expected to be the dominant segment in the generative AI in design market during the predicted period. In large enterprises, generative AI helps develop or improve new product designing process. The AI designs complement client preferences and business objectives by analyzing large datasets of existing designs, user feedback, and market trends, which will assist enterprises in developing innovative and tempting items. In architecture, urban planning, or interior design industries, generative AI can automate by considering available space, client requirements, and design principles. AI models help in building optimized layouts for buildings, offices, or urban areas, saving time and resources for large industries.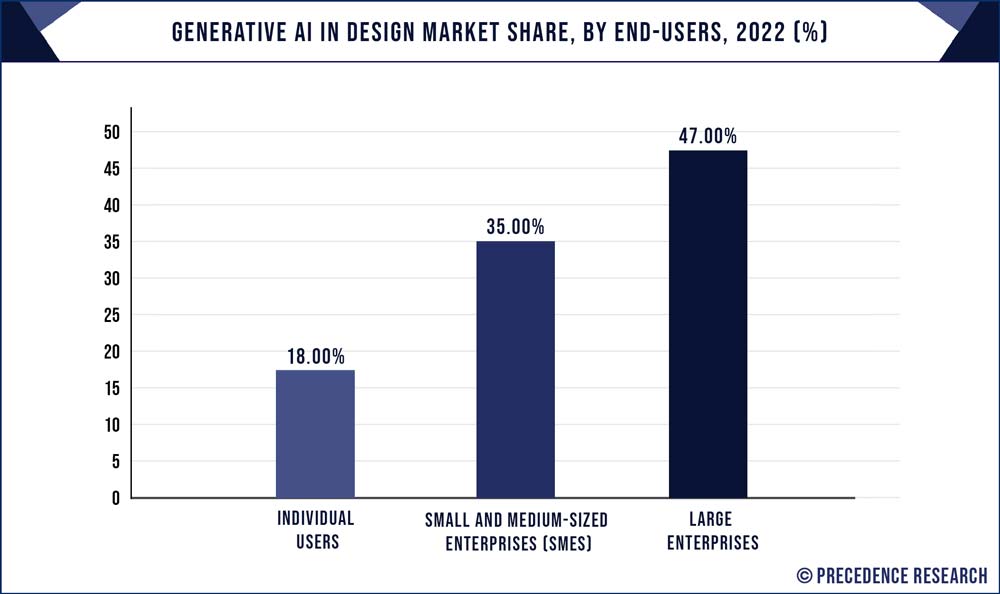 Moreover, the potential of large enterprises to invest in artificial intelligence systems along with the capability and willingness to transform the existing systems into the advanced ones promotes the growth of the segment in the market.
For instance, In May 2023, Tata Consultancy Services extended its collaboration with Google Cloud as it will leverage to get design and customize business solutions for customers by applying generative AI.
The small and medium enterprises segment is the fastest-growing segment in the generative AI in design market. In small and medium enterprises, generative AI can inspire designers to explore innovative solutions by analyzing vast design databases and generating novel design concepts, providing suggestions instantly and feedback to designers. Generative AI when deployed in small or medium enterprises for designing purposes, enhance collaboration with their design teams or external partners, it can accelerate the design iteration process by quickly generating many design options and prototypes. Moreover, the rising focus on enhancing product development and designing processes, the penetration of generative AI models in small and medium enterprises is observed to grow. The availability of cost-effective AI systems such as cloud-based deployment models along with substantial support from the government to boost the production from small and local enterprises promote the growth of the segment.
Regional Insights:
North America is dominating and expected to remain a significant region in the generative AI in design market throughout the predicted timeframe. North America has been the hub for increasingly adopted artificial intelligence-based solutions. Top multinational companies, technological corporations, research institutes, and even AI industry startups are present in the region that contribute to the growth of the market. Moreover, the rising adoption of generative AI solutions in the automotive industry is observed to supplement the growth of the market in North America.
In North America, designers and design firms work with clients ranging from small enterprises to major organizations, offering product designs for better user interface, packaging, branding and identity. As these firms show enormous requirements for precise and quicker product designing techniques, the adoption of generative AI systems in the design market is observed to grow. Many designers and businesses incorporate sustainable materials, techniques, and methodologies to lessen the harmful effects of their designs. This highlights the development of the market with a slight advancement.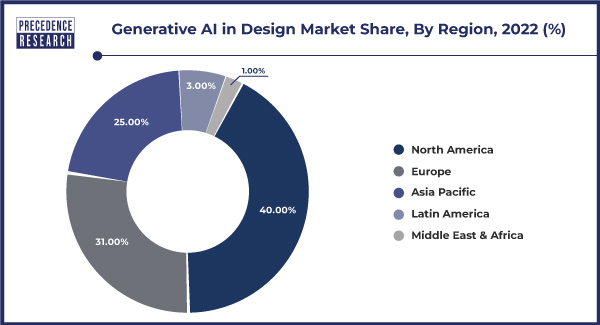 Asia-Pacific is expected to acquire a significant share of the market during the forecast period. Asia-Pacific has significantly developed AI in recent years, especially in Japan, with a history of earthquakes. The country has developed noticeable strides in designing and building earthquake-resistant buildings. With substantial support from the government to adopt generative technologies in industries, the country is observed to adopt the generative AI models into the construction and architecture industries for design purposes. Countries such as China, South Korea and India are witnessing significant growth in the design market as generative AI has numerous applications in the gaming, branding, animation, and advertising industries. Moreover, emerging economies in the countries of Asia Pacific are stimulating the growth of the design market.
Recent Developments:
In June 2023, Bentley Systems Incorporated announced the release of iTwin Activate. It is a 20-week collaborative development program to speed up initial-level startups in infrastructure software. It is simultaneously organized in cohorts to the industrial field and is regulated by Bentley iTwin Ventures. The $100 million enterprise venture capital fund promotes innovation by co-investing in business and developing corporations.
In May 2023, Toyota stated that the company is working on redesigning seat frames to improve safety and enhance comfort and longevity. It focuses on design parameters such as weight and size, which human designers couldn't have considered. It is helping to create a simple yet beautiful life and eventually raising the standard of living.
In February 2023, NASA announced that is has considered using AI to design mission hardware. The design generated with AI models aims to be lightweight, which can endure structural loads, and takes less time to develop.
Key Market Players:
Autodesk inc.
IBM Corporation
Microsoft Corporation
Bentley Systems
Nvidia Corporation
Adobe Inc.
Google LLC
OpenAI
Dassault Systèmes SE
Siemens
Segments Covered in the Report:
(Note*: We offer reports based on sub segments as well. Kindly, let us know if you are interested)
By Application
Product Design
Graphic Design
Interior Design
Fashion Design
Architecture
By End-Users
Large Enterprises
Small And Medium-Sized Enterprises (SMEs)
Individual Users
By Geography
North America
Europe
Asia-Pacific
Latin America
Middle East and Africa