The global haptic technology market size was valued at USD 8.78 billion in 2022 and is projected to reach around USD 25.04 billion by 2032 and is poised to grow at a CAGR of 11.1% from 2023 to 2032.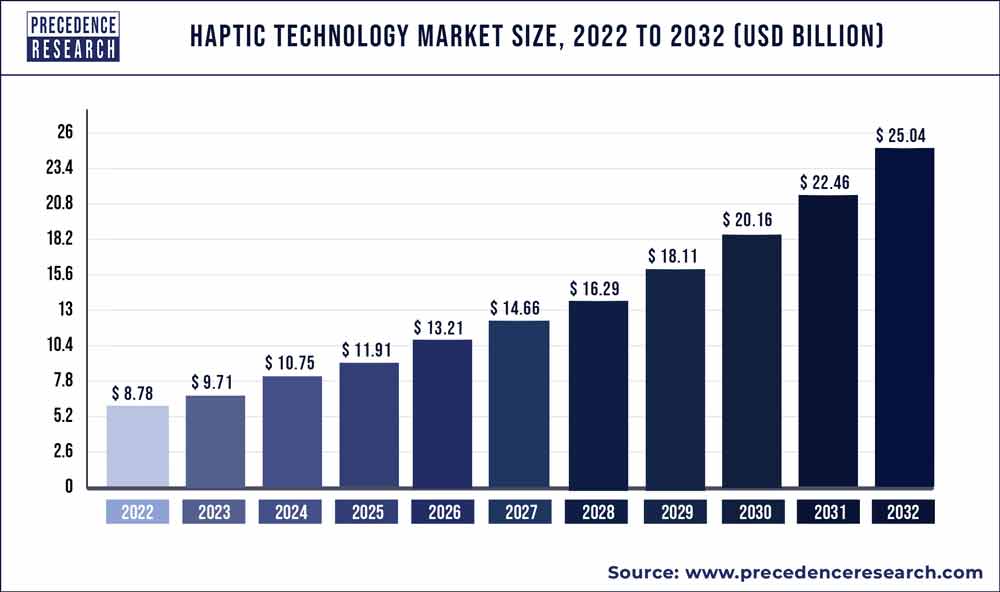 Through pressure, motion, or vibration, haptic technology creates sensory experiences for three-dimensional communication. This method may be applied to many other electrical tasks, such as building better control systems and creating virtual objects. Haptic technology is widely used in a variety of industries, including the automotive sector, wearables, game controllers, phones, and virtual reality. Increased technology integration into consumer electronics devices and touch-enabled household appliances has contributed to market growth. With the use of vibration feedback provided by haptic technology, users may improve touchscreen accuracy.
The market expansion of the haptic technology sector is being driven by the introduction of touch screens in products like music players and household appliances to give consumers with a favourable experience. As customers look for additional game to enhance their gaming experiences, the haptic technology market is also expected to expand. Since the word "haptic" is defined as "able to contact," technologies had a part in the evolution of touch. Haptic technology is being employed on large aeroplanes, and it is used to provide bad responses when it finds faults. Using haptic technology, the inaccuracy or danger was found. The haptic technology market is growing faster and has a greater range of uses. As a consequence of the growing trend of technological integration in augmented reality-enabled gadgets and gaming consoles, the industry for haptic technology is expected to expand. Game input devices such as joysticks and remote consoles utilize haptic technology to provide different vibration intensities that enhance the user experience. The ability of haptics to mechanically recreate a user's sense of touch is among the key factors fuelling market demand.
Due to disruptions in the manufacturing and supply chain, closures of the public and commercial sectors, lockdown and social distancing norms, and a scarcity of workers, the COVID-19 epidemic has slowed the growth of the haptic technology industry. This has caused a steep fall in the sales of touchscreen devices, consumer electronics, and the automotive sector, which has an impact on how haptic technology is made.
Growth factors
Industry drivers are the many elements that affect the development of the haptic technology market. The rising demand for loT devices is one of the key factors driving the haptic technology market. The need for haptic technology is rising as more people own smartphones, tablets, and other wearable gadgets. The need for haptic technology is being driven by the inclusion of haptic technology in smartphones and tablets to provide a positive touch experience. The market is expanding as a result of rising demand for wristbands, smartwatches, and other wearable technology. The expanding need for cutting-edge technologies in the automotive sector is another significant market driver. The market for haptic technology is growing as a result of the widespread usage of this technology in the automotive sector. The coronavirus epidemic has caused a dramatic decline in the market for haptic technologies. Lockdown restrictions resulted in continual supply chain disruptions, which reduced production and sales volume. When lockdown rules are tightened in some of these locations, it's predicted that manufacturing facilities used to make the product would start up again. Once things get back to normal, the product is expected to grow significantly since more people are purchasing technical items.
Report Scope of the Haptic Technology Market
| | |
| --- | --- |
| Report Coverage | Details |
| Market Size in 2023 | USD 9.71 Billion |
| Market Size by 2032 | USD 25.04 Billion |
| Growth Rate from 2023 to 2032 | CAGR of 11.1% |
| Base Year | 2022 |
| Forecast Period | 2023 to 2032 |
| Segments Covered | Component, Application, Feedback Type, and Geography |
| Companies Mentioned | Citizen Electronics Co. Ltd., Immersion Corporation, Cree Inc., Everlight Americas Inc., LG INNOTEK, Merck KGaA, Lumileds Holding B.V., Nichia Corporation, OSRAM GmbH, Seoul Semiconductor Co. Ltd., Stanley Electric Co., Toyoda Gosei Co. Ltd. |

Key Market Drivers
Increasing Consumption of Electronic Devices to Spur Growth: The increased usage of electronic devices like smartphones, tablet, smartwatches, notepads, headset, and earbuds has increased the need for energy storage devices. For instance, according to the Global System for Mobile Communications Association, there will be 5.9 billion distinct users globally by 2025. The electronics industry's adoption of the technology is expected to be accelerated by its various advantages, including improved touchscreen, sound, and visual effects in display touch applications. The market for haptic technology is anticipated to grow as a consequence of the growing trend of technological integration in gaming apps and gadgets that support augmented reality.
Increasing utilization of haptic technology in gaming applications: Gaming input devices, such joysticks and control consoles, employ technology to deliver varying vibrational intensities and mechanical impulses, creating an immersive user experience. The developing trend of haptic technology integration with dynamic, functional, and contextual user interfaces for augmented reality devices. So, the market for haptic technology will increase significantly with the growing need for interactive audio feedback in gaming applications.
Key market challenges
High Cost of Force Feedback Haptic Devices - The cost of employing haptic technology is not exorbitant, but the industry for haptic technology has been severely limited by the expense of force-feedback haptic devices, which are more costly than tactile information haptic devices. Customers may experience a simulated haptic feeling in real-time for a range of applications with force haptic feedback technology. Force-feedback haptic devices are used in several sectors, including automobile, healthcare, aerospace, and other industrial enterprises. These devices provide a challenge for wearable technology due to their size. In addition, makers of haptic technology-enabled gadgets like game controllers, cellphones, cars, tablets, etc. have a technological difficulty. The user experience is improved and the gadget is made more user-friendly via haptic technology. However, it becomes challenging for the producers to choose which component would work in a certain system. The significant switching costs associated with this technology may also make it prohibitive for many organizations. This acts as a sizable roadblock to adoption in a number of application sectors. Power-hungry haptic technology-based goods make it difficult to deploy haptic technology in smartphones and other portable gadgets.
Key market opportunities
Adoption of Haptic Technology in education
The haptic technology market will experience rapid expansion thanks to the growing demand for holographic displays, increased use of haptic technology in robotics and education, and other factors. Robots utilising haptic technology, such as gloves, are able to manipulate a robotic hand and other items with complete control. Thanks to haptic technology, the robots can easily control robotic arms. As 3D touchscreen displays are increasingly used in automotive and medical equipment, the industry is growing.
Rising integration of haptic technology in gaming applications for immersive user experience
Through 2030, the gaming industry is expected to experience considerable growth, driven by a rise in the popularity of mobile-based video games. Gamers have a better real-life experience when haptic technology is integrated into gaming consoles and smartphone devices. Gaming controllers with haptic capabilities give video game events like crashes and explosions a tangible feeling of reality, creating significant market development prospects. To meet the growing demand for cutting-edge consoles, a number of market participants in the virtual gaming sector are introducing new devices that use better haptic technology. With instance, Sony declared in April 2020 that their DualSense gaming controller with haptic feedback will be released for the next PlayStation 5. On the L2 and R2 buttons of the controller, DualSense has adjustable triggers that deliver powerful sensations and enhance player interaction.
Market Segments
Component Insights
According to the component analysis, the software sector will be in demand and command the largest market share globally. Numerous advantages of haptic software include better accuracy, more user happiness, quicker response times, and improved gadget performance.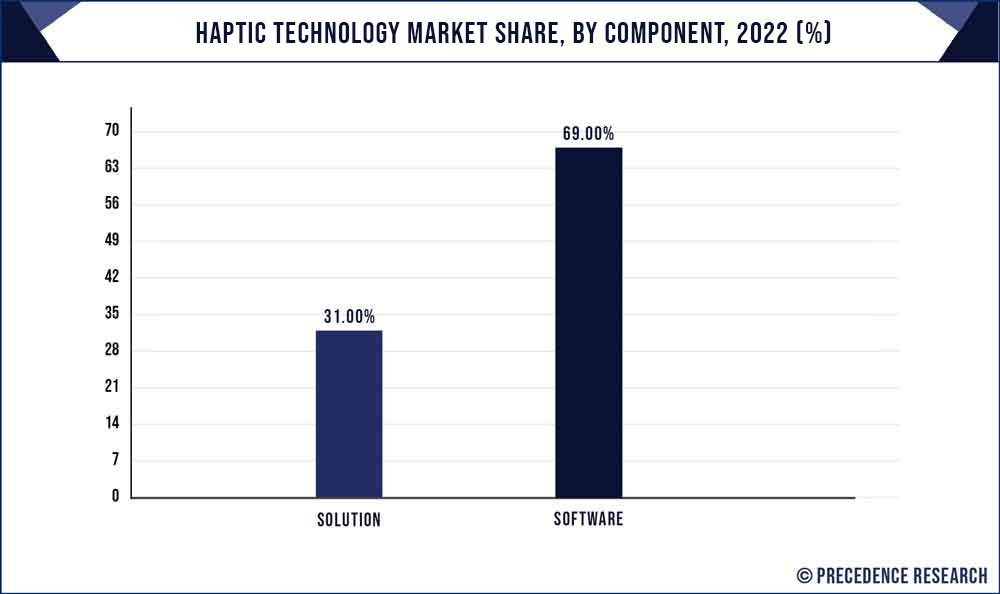 The rise of smartphones, widespread use of haptic-based devices across a variety of sectors, and high penetration of high-end consumer electronics are all driving the software market.
Application Insights
The market is broken down into categories including healthcare, automotive, transportation, consumer electronics, business & industrial, gaming, and military based on the application study. The automobile and transportation sector will have rapid growth and maintain the current trend between 2021 and 2030. The main driving forces behind this development are the advancements in the automotive industry, the rising demand for sophisticated electronic systems among electrical vehicles, the preference for luxury and safety vehicles, and the incorporation of haptics technology into in-car entertainment systems. The technology is employed in steering wheels, dashboards, climate control displays, and accelerator pedals. The top automakers, including BMW, Honda, Toyota, Benz, Tesla, and Audi, are incorporating haptic technology into their vehicles.
Feedback Type Insights
Because it allows users to customise their SMS alerts and other smartphone notifications, the tactile feedback category leads the worldwide haptic technology industry. This has a favourable influence on haptic technology. The market will rise as a result of rising consumer desire for a realistic smartphone experience and the introduction of Internet of Things (IoT)-enabled products like smart watches and wristbands, which will make it easier for people to monitor their health.
Electric Vehicle Test Equipment Market Share, By Region, 2022 (%)
| | |
| --- | --- |
| Regions | Revenue Share in 2022 (%) |
| North America | 43% |
| Asia Pacific | 21% |
| Europe | 26% |
| Latin America | 6% |
| MEA | 4% |

Geography Insights
In the next years, North America is expected to account for a sizeable portion of the global haptic technology industry. This is a result of the region's widespread smartphone use. Additionally, according to data from GSMA Intelligence, 80% of the region's population already uses a smartphone, with that number rising to 91% by 2025.
The market for haptic technology in Europe is being driven by rising consumer expenditure on technologically sophisticated consumer electronic devices. Europe is demonstrating a huge need for touchscreen technology, particularly for applications in the automotive, consumer, and retail industries.
According to projections, Asia Pacific will experience significant development in the next years. This is a result of the presence of significant manufacturers in the area as well as growing nations like China and India. For instance, the Indian electronics market is predicted to develop at a rate of 41% by 2020 and reach a milestone of USD 400 billion, according to the Indian Brand Equity Foundation.
Recent Developments
In February 2021, Immersion Corporation and Faurecia Corporation approved a multi-year licencing deal to allow Faurecia to purchase Immersion's haptic technology solutions. Faurecia will be able to design an intricate, interactive haptic user interface using cutting-edge technology from Immersion Corporation.
The S9A0H ASIC TouchPadTM solution, which offers a hardware/software platform and enables the greatest degree of firmware security, was introduced by Synaptics Incorporated in January 2022. Scalability is also provided to meet the desire for larger, more smarter, and more responsive haptic-enabled touchpads in order to boost productivity.
Key Market Players
Citizen Electronics Co. Ltd.
Immersion Corporation
Cree Inc.
Everlight Americas Inc.
LG INNOTEK
Merck KGaA
Lumileds Holding B.V.
Nichia Corporation
OSRAM GmbH
Seoul Semiconductor Co. Ltd.
Stanley Electric Co.
Toyoda Gosei Co. Ltd.
Segments covered in the report
(Note*: We offer report based on sub segments as well. Kindly, let us know if you are interested)
By Component
Solution

Actuators

Drivers and Controllers

Others

Software
By Application
Consumer Electronics

Gaming

Healthcare

Robotics

Education

Research

Others
By Feedback Type
By Geography
North America
Europe
Asia-Pacific
Latin America
Middle East & Africa (MEA)