The global hazmat packaging market size was reached at USD 12.32 billion in 2022 and it is projected to be worth around USD 38.19 billion by 2032, expanding at a CAGR of 11.98% from 2023 to 2032.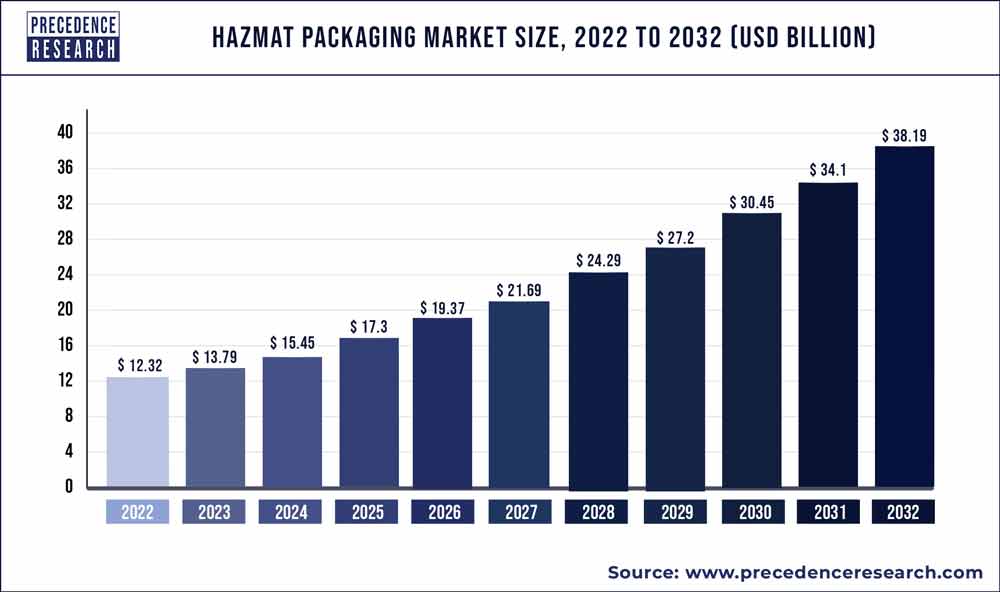 Access our Premium Real Time Data Intelligence Tool, Visit: Precedence Statistics
Key Takeaways:
Asia Pacific is expected to lead the global market from 2023 to 2032.
North America is projected to hold the largest revenue share from 2023 to 2032.
By Material Type, the plastics segment is estimated to record the highest revenue share from 2023 to 2032.
By End-use Industry, the chemical segment is expected to hold a maximum market share between 2023 and 2032.
Market Overview:
The hazmat packaging market refers to the industry involved in the design, manufacturing, and distribution of packaging solutions specifically designed to safely transport hazardous materials. Hazardous materials are substances or products that pose a risk to health, safety, property, or the environment due to their chemical or physical properties. The transportation of hazardous materials requires compliance with stringent regulations and guidelines set by regulatory bodies such as the International Air Transport Association (IATA), the International Maritime Organization (IMO), and the Department of Transportation (DOT) in various countries.
Hazmat packaging ensures the safe containment and transport of these materials, minimizing the risk of leakage, spills, or accidents during transportation. Hazmat packaging solutions are designed to meet specific requirements based on the nature of hazardous material including its chemical composition, physical state, toxicity, flammability, corrosiveness, and other hazardous characteristics. These packaging solutions typically include containers, drums, boxes, totes, and other specialized packaging products that provide containment, protection, and resistance against various hazards. The hazmat packaging market is being driven by increasing regulations, growing awareness of hazards, expansion of chemical and pharmaceutical industries, and growth in international trade and logistics.
According to the International Air Transport Association (IATA), around 1.25 million hazmat packages are shipped every year, with three types of dangerous products commonly shipped being flammable liquids, dry-ice, and lithium-ion batteries.
The sector will invest an additional $26 billion in oil and gas this year as it works to recover from the worst effects of the epidemic and the obstacles the Omicron variant created. According to a Rystad Energy study, total investments in oil and gas would increase by 4% to $628 billion in 2022 from $602 billion in 2021.
The Australian government gave Plant Health Australia USD 600,000 to fill urgent research and development needs discovered during a national workshop.
Report Scope of the Hazmat Packaging Market:
| | |
| --- | --- |
| Report Coverage | Details |
| Market Size in 2023 | USD 13.79 Billion |
| Market Size by 2032 | USD 38.19 Billion |
| Growth Rate from 2023 to 2032 | CAGR of 11.98% |
| Base Year | 2022 |
| Forecast Period | 2023 to 2032 |
| Segments Covered | By Product Type, By Material Type, and By End-use |
| Regions Covered | North America, Europe, Asia-Pacific, Latin America, and Middle East & Africa |

Market Dynamics:
Driver:
Growing regulations
The stringent regulations and guidelines imposed by regulatory bodies, such as IATA, IMO, and DOT, mandate the use of proper hazmat packaging for the safe transportation of hazardous materials. Compliance with these regulations drives the demand for specialized packaging solutions and ensures the safety of handling and transporting hazardous materials. For instance, the revised IATA dangerous goods regulations (64th Editions) are:
7L-04 Overpacking is required for liquid hazardous commodities in a single package. When liquid dangerous items are packaged in plastic drums or plastic jerricans as a single unit, they must be shielded by additional sturdy exterior packaging.
8V-03 All internal combustion and fuel cell engines that are being shipped separately or as part of a machine, vehicle, or other apparatus and whose fuel tank or fuel system contains or has contained fuel are required to be classified by these Regulations; special provision A70 cannot be used.
Thus, these types of regulations imposed by these bodies are expected to fuel the growth of the hazmat packaging market over the projected period.
Restraints:
Stringent regulations and compliance cost
While regulations are the key driver for the hazmat packaging market, the complexity and strictness of these regulations can pose challenges. Compliance with multiple and ever-changing regulations requires significant investments in training, certifications, testing, and documentation, which can increase the overall cost of hazmat packaging for manufacturers and end-users. Thus, the stringent regulations and compliance costs might be a major restraint for the market growth to some extent.
Opportunities:
Advancements in packaging technologies
Technological advancements in the field of packaging materials, manufacturing processes, and design have the potential to revolutionize hazmat packaging. Opportunities lie in the development of high-performance materials that offer superior resistance to chemical, temperature, and physical hazards. Additionally, innovations such as smart packaging technologies can provide real-time monitoring of hazardous materials during transportation, further enhancing safety and efficiency. Therefore, the advancements in packaging technologies are expected to offer an attractive opportunity for market growth during the forecast period.
Segments Insight:
Product Type Insights:
Based on the product type, the global hazmat packaging market is segmented into Drums, Intermediate Bulk Containers (IBCs), Pails, Bottles and Others. The drums segment is expected to dominate the market during the forecast period. Hazmat packaging drums are widely used for the transportation and storage of hazardous materials in various industries including chemicals, oil & gas, pharmaceuticals and others. Hazmat packaging drums can be made from various materials including steel, plastic and fibreboard. Each material has its advantages and is suitable for different types of hazardous materials and transportation requirements. It is designed to withstand the rigors of transportation and handling, providing robust protection against hazardous materials. Steel drums are known for their strength and resistance to impacts, punctures, and fire. Plastic drums offer good chemical resistance and are lightweight and sturdy. Fiberboard drums are less durable but are often used for non-hazardous or less regulated materials. Therefore, the advantages offered by these drums to the transportation of hazardous materials are expected to propel the segment growth over the forecast period.
Material Type Insights:
Based on the material type, the global hazmat packaging market is segmented into plastics, metal and corrugated. The plastics segment is expected to capture the largest revenue share over the forecast period. There are different types of plastics used for hazmat packaging, including high-density polyethylene (HDPE), polypropylene (PP), polyethylene terephthalate (PET), and fluoropolymers like polyvinylidene (PVDF).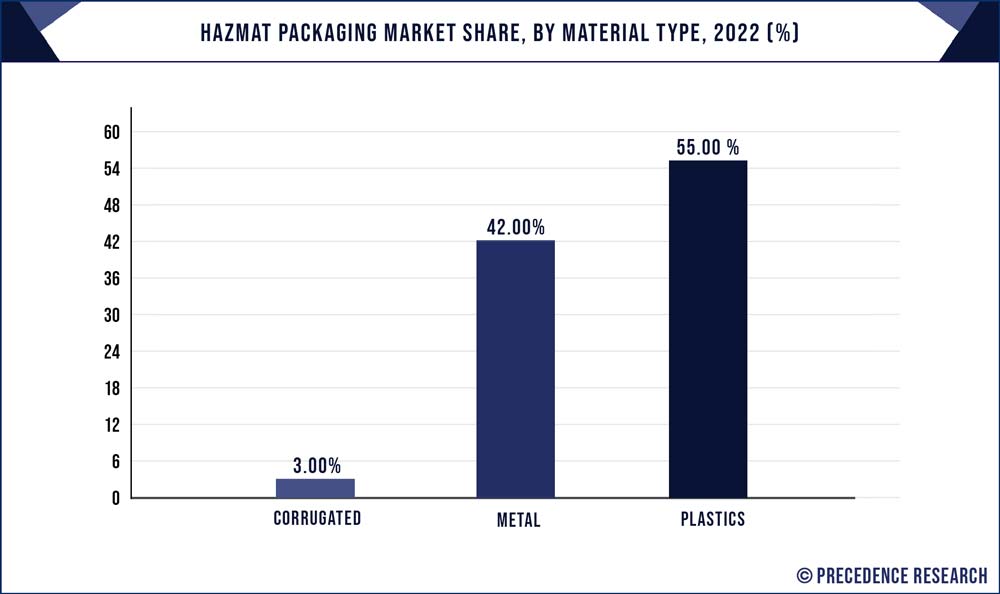 Each type of plastic has specific properties and chemical resistance that make it suitable for different hazardous materials. Moreover, plastic hazmat packaging can be recycled, contributing to the circular economy and reducing the environmental impact. Many plastic materials used in hazmat packaging are recyclable, and recycling programs are available to properly manage end-of-life plastic packaging waste. Thereby, propelling the segment growth.
End-Use Industry Insights:
Based on the end user, the global hazmat packaging market is divided into chemicals, pharmaceuticals, oil and gas and others. The chemical segment is expected to hold a significant market share over the forecast period. The growth in the segment is driven by the growing chemical industry, which includes petrochemicals, specialty chemicals, agrochemicals, and industrial chemicals. For instance, according to the International Energy Agency, petrochemicals are expected to account for more than a third of the increase in oil consumption through 2030 and almost half through 2050, outpacing trucks, aircraft, and shipping. This is due to the surge in demand for petrochemical products. By 2030, petrochemicals will need an extra 56 billion cubic meters of natural gas, which is about equal to the current total gas consumption in Canada.
Regional Insights:
The Asia Pacific is expected to dominate the market during the forecast period. The growth in the region is attributed to the growing chemical, manufacturing, and pharmaceutical industries in the countries like China, India, Japan, South Korea, and Southeast Asian nations. For instance, as per India Brand Equity Foundation, by 2024 and 2030, respectively, the Indian pharmaceutical market is projected to grow to $65 billion and $130 billion. India's pharmaceutical market is presently estimated at $50 billion. With almost 200 nations receiving Indian pharmaceutical exports, India is a significant pharmaceutical exporter.
Moreover, as per the data by Invest India, with almost 200 nations receiving Indian pharmaceutical exports, India is a significant pharmaceutical exporter. India meets nearly 50% of Africa's need for generic drugs, over 40% of the US's demand for generics, and about 25% of the UK's total demand for drugs. India is a major source of the DPT, BCG, and measles vaccinations and accounts for over 60% of the world's vaccine demand. According to the WHO's recommended vaccination schedule, 70% of the organization's vaccinations come from India. Thus, the aforementioned fact supports the market expansion during the forecast period.
North America is expected to hold a significant market share during the forecast period. The regional growth is attributed to stringent safety regulations. North America has stringent safety regulations and standards for the handling, transportation, and storage of hazardous materials. These regulations are implemented by regulatory bodies such as the U.S. Department of Transportation (DOT), the Pipeline and Hazardous Materials Safety Administration (PHMSA), and the Canadian Centre for Occupational Health and Safety (CCOHS).
Moreover, the growing oil & gas industry is expected to drive market growth over the forecast period. For instance, BP PLC announced the launch of the Herschel Expansion project in the Gulf of Mexico in February 2022. The first of the four significant projects to be completed globally in 2022 was Herschel. The project's first phase focuses on creating a new subsea production system. The first well is anticipated to boost the platform's yearly gross output by 10,600 barrels of oil equivalent per day at its peak. Thus, the growing oil & gas sector is expected to drive the growth of the market during the forecast period.
Recent Development:
In November 2022, Auberst Inc., a California-based distributor of plastic and metal rigid packaging solutions, was acquired by Novvia Group, a global distributor of rigid containers and life sciences packaging. The acquisition helped to expand the company footprint on West Coast.
In June 2022, Verrerie du Comtat, a provider of glass packaging for the French wine and olive oil end industries, was acquired by Berlin Packaging, the largest Hybrid Packaging Supplier in the world. The wine and olive oil business portfolio of Berlin Packaging will increase as a result of this acquisition.
In August 2020, a producer and distributor of packing containers for the secure transport of hazardous goods, HAZMATPAC, Inc., was purchased by Pipeline Packaging, the biggest US distributor of rigid industrial containers. This purchase represents a considerable extension of the product range and presents an interesting chance to grow into this specialized industry.
Key Market Players:
Greif, Inc.
Sicagen India Limited
Peninsula Drums
Great Western Containers Inc.
Myers Container
Balmer Lawrie & Co. Ltd.
Schtz GmbH & Co. KGaA
THIELMANN US LLC
Mauser Group
Fibrestar Drums Limited
Segments Covered in the Report:
(Note*: We offer reports based on sub segments as well. Kindly, let us know if you are interested)
By Product Type
Drums
Intermediate bulk containers (IBCs)
Pails
Bottles
Others
By Material Type
Plastics
Metal
Corrugated
By End-use
Chemicals
Pharmaceuticals
Oil and Gas
Others
By Geography
North America
Europe
Asia-Pacific
Latin America
Middle East and Africa