The global heat meter market size was estimated at US$ 1006.94 million in 2021 and is predicted to hit US$ 2,222 million by 2030, exhibiting CAGR of 9.2% during the forecast period 2022 to 2030.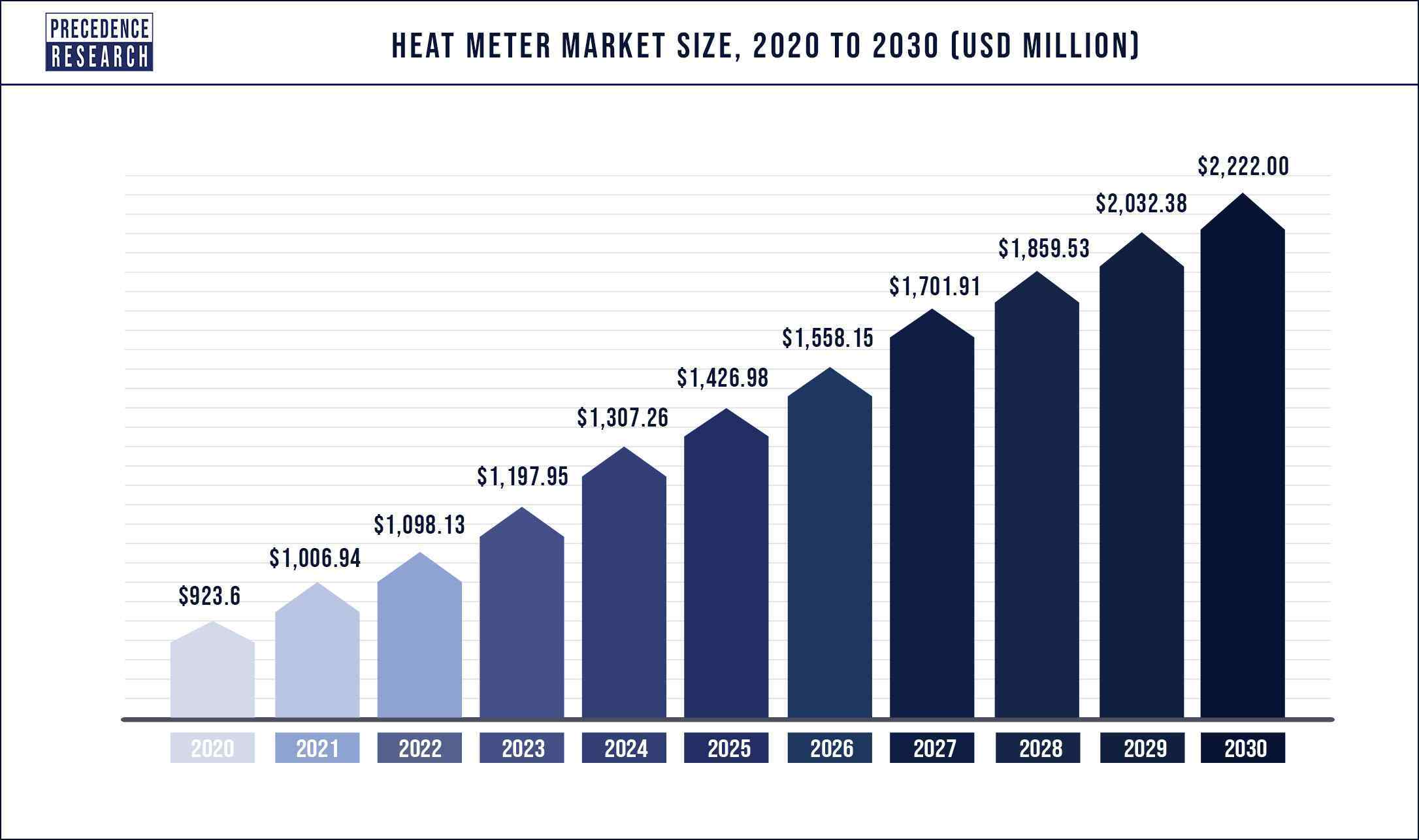 Market Overview:
Mandatory regulations in some countries that require installation of heat meters have turned out to be a major driver for the progress of the worldwide heat meter market. Moreover, administrations around the world are developing guidelines to encourage the usage of energy conservation, because of energy import carried out in numerous developing economies.
The European Union member nations are mandated to have a nationwide regulation grounded on the EED 2012, that implies the setting up of measurement equipment's for separate apartment billing. Furthermore, heat meter equipment's must be included inside several schemes for new structure and renovation of area heating networks conforming with EU standards in the immediate future, with Poland, Denmark,and France providing some of the biggest volumes for heat meter consignments.
In other nations, regulatory modification is currently taking effect. For instance, in Russia all big structures on the district heating array must contain a hub (district) meter connected. The Canadian market has observed increased demand for sub-metering thermal energy and seems to be adhering to endorsements from organizations like The Pacific Institute for Climate Solutions which has suggested thermal sub-metering as a way to accomplish energy management and cost regulation.
The technological advancement has today changed the entire usability of heat meters. There are smart heat meters with billing meters designed to offer landlords and service providers a reliable, cost-effective and secure metering solution. This brings the customer a feature-rich and intuitive system which provides information to make informed decision in their energy usage. The credit billing mode and pre-payment mode options are the features among them which indirectly enable the consumer to increase their saving by heat conservation.
Crucial factors accountable for market growth are:
Increasing construction activity in developing regions
Changes in the climate conditions
Rapidly growing awareness in customers
Increasing number of heat meter installations by individuals
Growth in the luxury housing market
Technological advancements and integration of latest technologies
Rapidly increasing awareness regarding energy conservation
COVID-19 Impact on Global Heat Meter Market
The corona virus pandemic is expected to have a major impact on the heat meter industry. The output of many manufacturers is expected to decline due to closure of factories. Heat meters have applications in multiple industries for measuring boiler output from a heater or conversely, the cooling output from a chiller unit. Residential properties are a major source of end users for heat meters. However, the disruption of construction sector due to COVID-19 pandemic has resulted is expected to have a negative impact on the sale of heat meters. The luxury residential construction industry is going through a difficult phase coupled with ambiguous recovery timespan. Companies with low liquidity are finding it difficult to sustain in this hour of crisis. The declining employment rate will also impact the buying decisions of consumers. Lockdown measures have resulted in halting of rollout of new products especially in the smart heat meter domain. On the contrary, the demand for software is expected to show an upward trend in the near future.
| | |
| --- | --- |
| Report Highlights | Details |
| Market Size | US$ 2,222 Million by 2030 |
| Growth Rate | CAGR of 9.2% from 2022 to 2030 |
| Base Year | 2021 |
| Historic Data | 2017 to 2021 |
| Forecast Period | 2022 to 2030 |
| Segments Covered | Type, Connectivity, Technology, Application |
| Regional Scope | North America, Europe, Asia Pacific, Latin America, Middle East & Africa (MEA) |
| Companies Mentioned | Weihai Ploumeter Co. Ltd., Landis + Gyr, Quadlogic Meters Canada Inc, Kamstrup, Micronics Ltd, MWA Technology Ltd, Qundis, Apator S.A., Qundis, Sontex SA, Siemens AG |
Significant Market Trends:
Ultrasonic Meters Segment Reported Foremost Market Stake in 2020
The ultrasonic meters segment displayed a major share in the worldwide heat meter market in 2020. High durability and accuracy of the ultrasonic meters are expected to boost the growth of the segment in the near future. Vortex Meters are expected to grow at highest CAGR within the forecast time-duration.
Static Segment Dominated the Market Revenue By Technology in 2020
Static technology accounted for the highest share in the target industry due to increasing demand for combined cooling and heating applications.
Residential Segment Will Dominate the Heat Meter Market Revenue By Application
Factors such as rapidly increasing demand for home automation systems are driving growth of the segment. Industrial segment is expected to grow at highest CAGR within the forecast time-duration.
North America is Estimated to be the Largest Market for Heat Meter
The comprehensive research account covers substantial projections and inclinations of heat meter throughout chief regions encompassing Africa, Asia Pacific, Europe, Latin America, North America, and Middle East.By region, heat meter market is led by Asia Pacific due to high urbanization, strong growth in construction activities, and availability of latest metering products. North America accounted for successive highest stake primarily due to availability of latest products, high requirement for energy monitoring, and developed construction sector. Europe is projected to advance at top-most CAGR predominantly due to high demand from new markets such as Turkey, Russia, and Germany. African, South America, and Middle Eastern region is expected to exhibit note-worthy growth in the projected time-frame.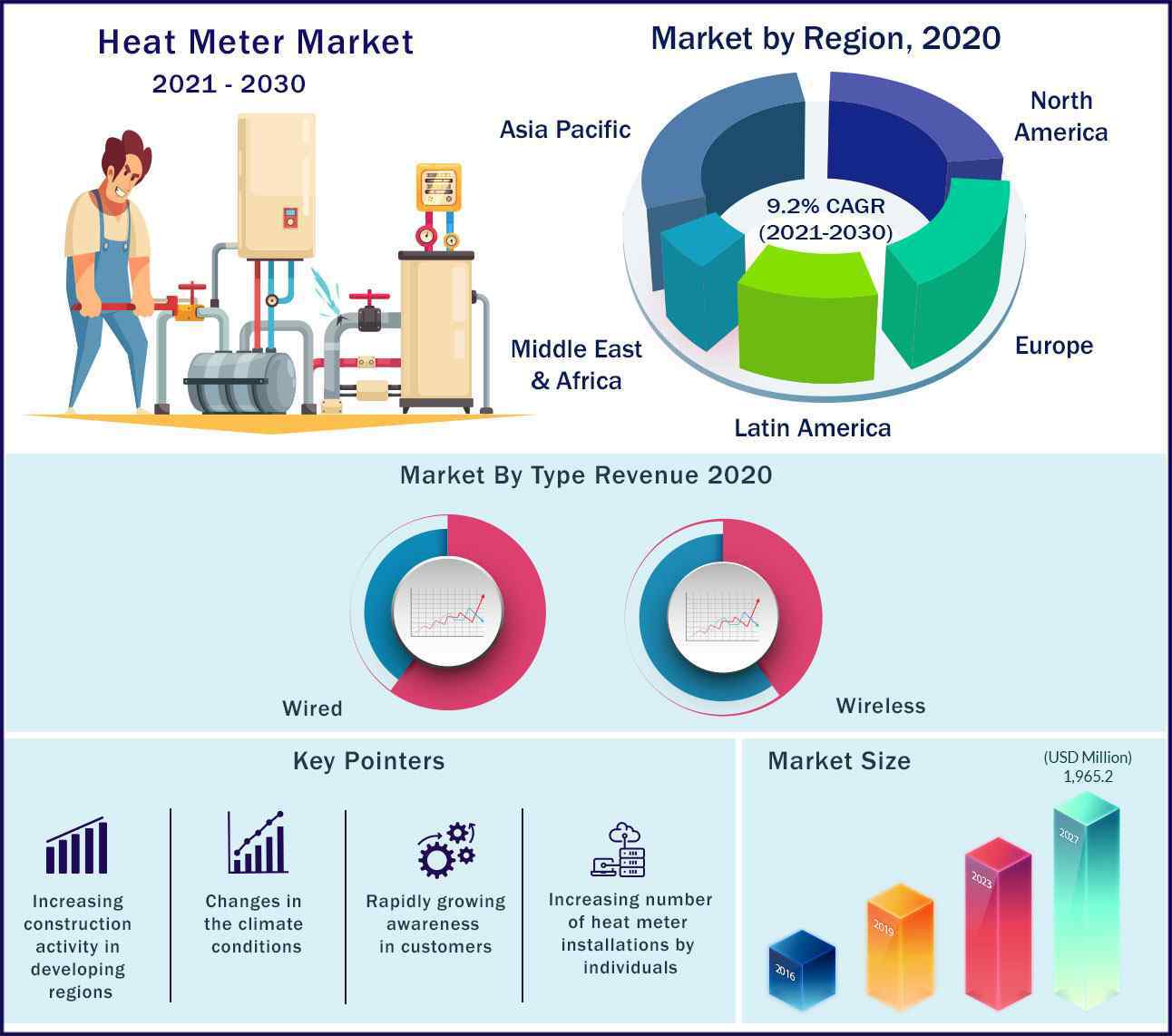 Top Players contending in the Market:
The companies focusing on research and development are expected to lead the global heat meter market. Leading competitors contending in global heat meter market are as follows:
Weihai Ploumeter Co. Ltd.
Landis + Gyr
Quadlogic Meters Canada Inc
Zenner International GmbH & Co. KG
Kamstrup
Micronics Ltd
MWA Technology Ltd
Qundis
Apator S.A.
Qundis
Sontex SA
Siemens AG
WECAN Precision Instruments Co. Ltd.
Ista
Huizhong Instrumentation Co. Ltd.
Techem
Secure Meters Ltd
Weihai Ploumeter Co. Ltd.
In order to well recognize the present status of heat meter, and policies implemented by the foremost nations, Precedence Research projected the future progress of the heat meter market. This research report bids quantitative and qualitative insights on heat meter market and valuation of market size and progress trend for probable market segments.
Major Market Segments Covered:
By Type
Turbine Meters
Ultrasonic Meters
Vortex Meters
Others
By Connectivity
By Technology
By Application
Residential
Commercial and Public
Industrial
By Geography
North America
Europe

Germany
France
United Kingdom
Rest of Europe

Asia Pacific

China
Japan
India
Southeast Asia
Rest of Asia Pacific

Latin America

Brazil
Rest of Latin America

Middle East & Africa (MEA)

GCC
North Africa
South Africa
Rest of Middle East & Africa