The global hematology analyzer market size was estimated at USD 3.59 billion in 2022 and is projected to hit around USD 6.47 billion by 2032, growing at a CAGR of 6.06% during the forecast period 2023 to 2032.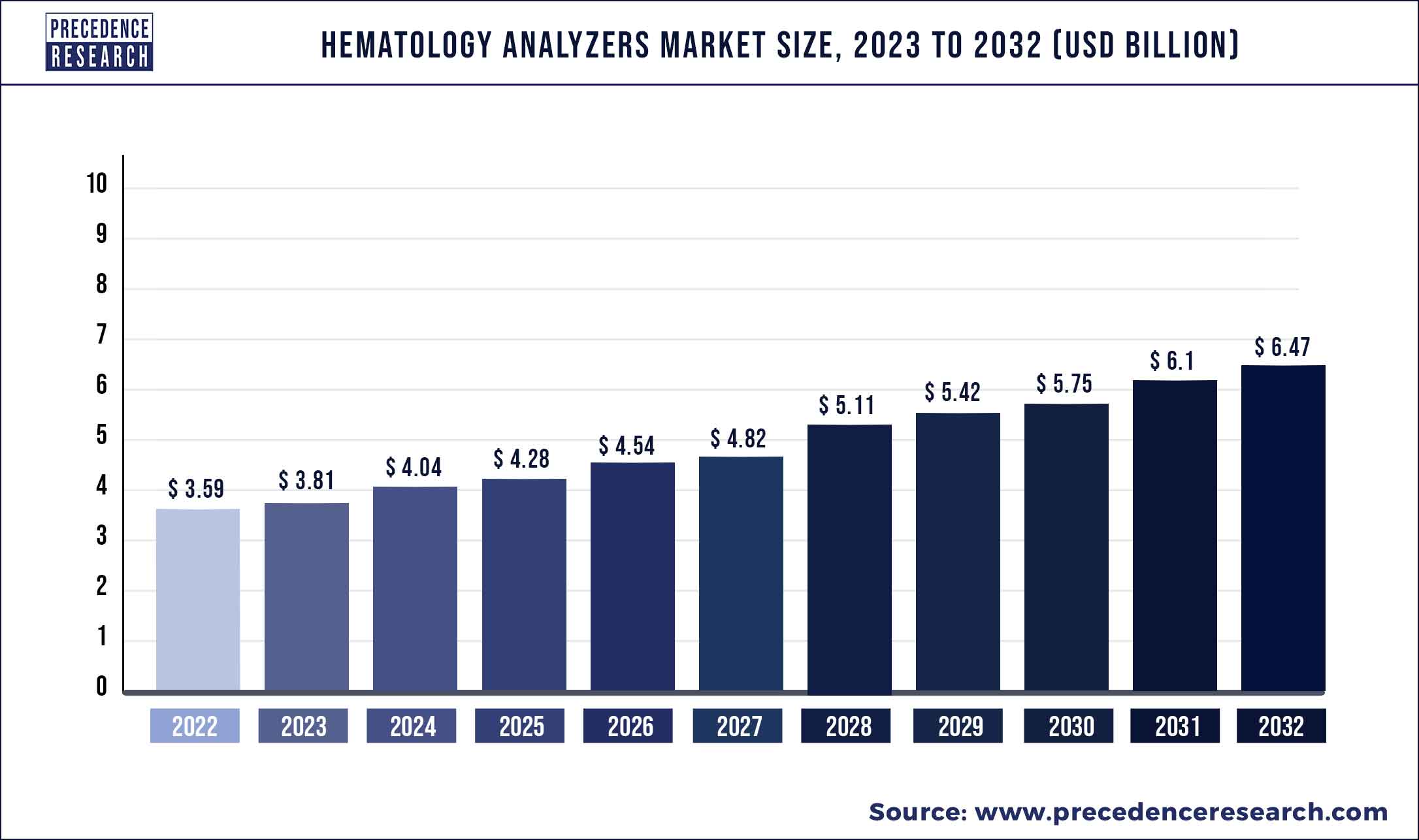 Access our Premium Real Time Data Intelligence Tool, Visit: Precedence Statistics
Blood samples are subjected to testing using hematology analyzers. These analyzers are used in the medical sector to perform coagulation tests, reticulocyte analyses, complete blood counts, and white cell counts. Hematology analyzers are available for both human and animal blood, which is helpful for research labs, zoos, and veterinarians. Hematology analyzers have different features, such as closed vial testing and open sampling testing. Some hematological analyzers give the customer the option of selecting their preferred testing method.
Key Points:
By geography, The North America regions sales are increasing steadily from 2023 to 2032.
By product type, the reagents segment captured more than 45% of revenue share in 2022.
By end-use, the hospital segment dominates the market and accounted for the largest share in 2022.
Key Factors
The increasing burden of blood disorders
Increasing adoption rates of automated hematology instruments
Technological advancements
Due to advancements of several fields, including genetic treatments, pharmacogenomics, bleeding disorders, hemoglobinopathies, stem cell research, and proteomics, the global market for hematology analyzers is predicted to expand significantly during the forecast period. Likewise, the worldwide hematology market has been expanding due to factors such as the increase in public awareness and the consolidation of diagnostic laboratory chains.
It is expected that increasing adoption rates of automated hematology equipment and rising consumer demand for high-sensitivity hematological tests will propel the global market during the forecast period. Additionally, the market has been growing due to rising technological advancements, like the introduction of basic cytometry methods analyzers and the high throughput expansion of hematology analyzers, and the trend is anticipated to continue over the next seven years.
The rising rates of blood donation activities are significant factors anticipated to propel the growth of the hematology analyzer market during the forecast period. Additionally, it is projected that a rise in the prevalence of blood disorders among patients would fuel the hematology analyzer market's expansion. Furthermore, the market for hematology analyzers is expected to grow because of the increase in product demand. On the other side, there is a lack of acceptance and preference for the innovative products that are available in the market from developing nations worldwide.
Report Scope of the Hematology Analyzer Market
| | |
| --- | --- |
| Report Coverage | Details |
| Market Size in 2022 | USD 3.59 Billion |
| Market Size by 2032 | USD 6.47 Billion |
| Growth Rate from 2023 to 2032 | CAGR of 6.06% |
| Base Year | 2022 |
| Forecast Period | 2023 to 2032 |
| Segments Covered | By Product Type, By End-Use and By Price Range |
| Regions Covered | North America, Europe, Asia-Pacific, Latin America and Middle East & Africa |

Key Market Drivers
Rising awareness of chronic illnesses - The rising global awareness of chronic diseases is anticipated to fuel the market for hematology analyzers' revenue growth during the forecast period. With a high incidence, chronic diseases are the main cause of death. Globally, the rate of these diseases is increasing, spreading to every region of the world, and impacting people from all socioeconomic strata. Healthcare is strongly focused on the early detection and treatment of such disorders to control the progression of such diseases. Previously, only tissue biopsy tests can be used for early diagnosis of many chronic diseases, but blood analysis has grown in popularity over a period. The development of the market for hematology analyzers is significantly influenced by improvements in blood indicators for illnesses.
Increased prevalence of blood diseases - The prevalence of blood disorders is on the rise, technological improvements are accelerating, and automated hematology devices are being adopted at an increasing rate. With several causes and a high fatality rate, blood diseases have emerged as a global health concern. Anemia, blood malignancies, hemorrhagic diseases, and blood-borne infections are just a few of the blood problems that impact millions of individuals annually across all ages.
The Department of Health and Aged Care of the Australian Government reported in 2022 that there were about 330,000 affected babies born every year, 83% of whom had disorders of sickle cell and 17% had thalassemia, 7% of expectant mothers had hemoglobin disorders, and more than 1% of the couples worldwide were at risk. According to a World Federation of Hemophilia research study published in July 2022, there were a higher number of 1,125,000 males worldwide having an inherited problem of bleeding, and about 418,000 of these have a severe type of condition that is the most underdiagnosed. Early diagnosis, as well as treatment, are some of the most effective ways to maintain a patient's quality of life when they have a blood cell problem. The increased prevalence of blood diseases is therefore expected to boost the market in the future.
Key Market Challenges
Local players' emergence and the availability of less expensive automated hematology instruments in developing nations - The industry development is expected to be constrained by fierce competition between the existing players and the high price of hematology analyzers. Additionally, it is expected that time-consuming and strict regulatory standards for hematological instruments will restrain market expansion during the forecast period. The new hematology analyzing devices that are launched in the market are expensive as compared to the already existing analyzers and these automated products have less demand in the underdeveloped other developing nations of the world and this is one of the biggest challenges for the growth of the market.
Key Market Opportunities
Rising adoption of the new products in the market – In the upcoming years, the use of the product in combination with flow cytometry processes will offer further potential growth prospects for the hematology analyzer market. Moreover, in the hematology analyzers market, many new products are launched in the global market and these new product launches will proliferate the market to a great extent.
Segments Insight
Product Type Insights
In 2022, the reagents segment generated more than 45% of the revenue share. Coulter's Principle is used in a three-part differential cell counter to determine the cell's volume and size. A solution of electrolytes is used to lyse and dissolve the sample in a larger container. For small hospitals, clinics, and physician offices that conduct sophisticated testing, 3-part hematology analyzer systems are the best option. Although 3-part hematology analyzers are more economical for typical hematological tests, 5-part hematology analyzers are gaining in popularity. Additionally, the market is anticipated to rise significantly due to technological developments, the global availability of these instruments, and their reasonable prices.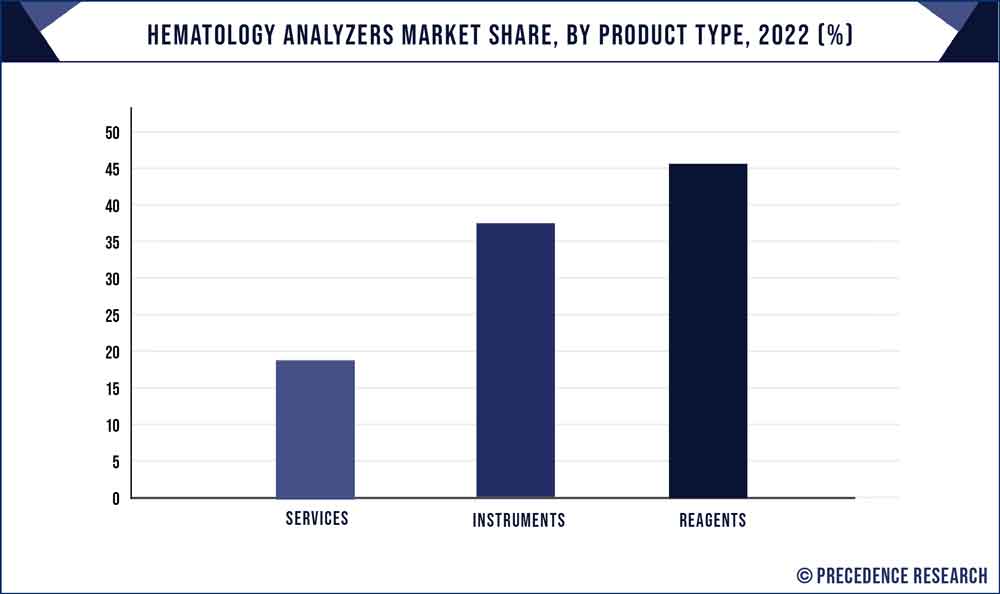 Transasia Bio-Medicals Ltd. debuted the fully automated 3-Part Differential (3PD) hematology controls, reagents, and analyzers in India in March 2019. Erba Lachema is a 100% owned Transasia subsidiary in Europe. Later in the month of September 2019, an announcement was made by Transasia Bio-Medicals Ltd. that it had sold more than 1,000 of its Erba Hematology analyzers in India. Additionally, convenience and reliable findings are the two main factors boosting the segment's growth over the projection period.
End Use Insights
In 2022, the hospital segment dominates the market with the largest share. Factors contributing to this segment's dominance include the identification of abnormal hemoglobin and cytochemistries in blood and bone marrow, as well as the rising prevalence of the disorders of the blood, like hereditary spherocytosis, lead poisoning of a chronic nature, sickle cell disease, and granulomatous disease.
Regional Insights
Hematology analyzer sales are increasing steadily in the continent of North America. This is related to the increased incidence of various blood disorders as well as the expanding use of hematology analyzers in the diagnostic sector. For instance, anemia, a chronic disease that is more common in women of "childbearing age," affects about three million people in America. 1 in 5000 male babies is born with hemophilia A, according to a report from the Centers for Disease Control and Prevention (CDC) in 2020. 400 newborns are diagnosed with hemophilia A every year. In the U.S., a blood cancer diagnosis will be made every three minutes in 2021, according to the Leukemia and Lymphoma Society. It is expected that 186,400 Americans will be diagnosed with leukemia, melanoma, or lymphoma in 2021.
There are numerous market players in North America, and they are all focused on developing and introducing new products. In order to alleviate the resource and time constraints experienced by small-sized and mid-sized laboratories, Beckman Coulter released the DxH 560 AL desktop hematology analyzer in February 2021. Additionally, there are numerous organizations in the U.S. that aid scientists and medical professionals working to find a solution for various blood diseases around the globe. A few of the state's medical facilities are also pioneers in the detection and treatment of different blood diseases, and they work on numerous research initiatives to expand the diagnostic and therapeutic options for these conditions. These factors fuel the region of North America's need for hematology analyzers.
Recent Developments
In February 2022 – As part of its major clinical research, AVEIR DR i2i, Abbott introduced the first dual-chamber leadless pacemaker patient implants in history. Abbott's experimental Aveir dual-chamber leadless pacemaker was initially implanted globally within the pivotal study marks that is an important development for leadless pacing technology.
In April 2022 – Launched by Sysmex Europe the new automated three-part differential hematology analyzer XQ-320. The XQ-320 offers superior quality to a range of clinical laboratory situations with robust technology and a new level of usability. It is a dependable device that only needs a small amount of bench space, sample volume, and upkeep in Europe.
In April 2020 - The RAPIDPoint 500e Blood Gas Analyzer from Siemens Healthineers received FDA clearance for use in acute care settings with critically ill patients. In order to diagnose and keep track of critically ill patients in the intensive care unit, operating room, or emergency room, the analyzer produces blood gas, electrolyte, metabolite, CO-oximetry, and newborn bilirubin readings. The RAPIDPoint 500e Blood Gas Analyzer, which is already available in nations requiring CE certification, is now accessible in the U.S. for use in critical care testing.
In January 2020 - A tabletop hematology analyzer called the DxH 560 AL has been made available by Beckman Coulter. The DxH 560 AL takes just a 17 L sample, one of the smallest aspiration volumes on the market, and less than a drop of blood, making it the ideal tool to use with difficult-to-draw patients (infants, oncology patients, and the elderly). Results are available in 60 seconds or less. The analyzer also provides market-unique privacy and security features, such as customized user login, paperless data management, and fully traceable automated timeouts that safeguard patients' electronic personal health information.
Key Market Players
Siemens Healthineers
Sysmex Corporation
Abbott Laboratories
Beckman Coulter Inc. (Danaher Corporation)
Bio-Rad Laboratories
Boule Diagnostics AB
F Hoffmann-La Roche Ltd
Horiba Ltd
Nihon Kohden Corporation
Mindray Medical International Limited
Stratec Biomedical Systems (DIATRON)
Ortho Clinical Diagnostics
Accurex Biomedical Pvt. Ltd
Segments Covered in the Report
(Note*: We offer reports based on sub-segments as well. Kindly, let us know if you are interested)
By Product Type
Instruments

Part Hematology Analyzer
Part Hematology Analyzer
Point-of-care Testing Hematology Analyzers
Others

Reagents
Services
By End-Use
Hospitals
Clinical Laboratories
Research Institutes
Other
By Price Range
Low-end Hematology Analyzers
Mid-range Hematology Analyzers
High-end Hematology Analyzers
By Geography
North America
Europe
Asia-Pacific
Latin America
Middle East & Africa (MEA)