The global hyperscale data center market size was estimated at USD 80.16 billion in 2022 and is expected to hit around USD 935.3 billion by 2032, poised to grow at a compound annual growth rate (CAGR) of 27.9% during the forecast period 2023 to 2032.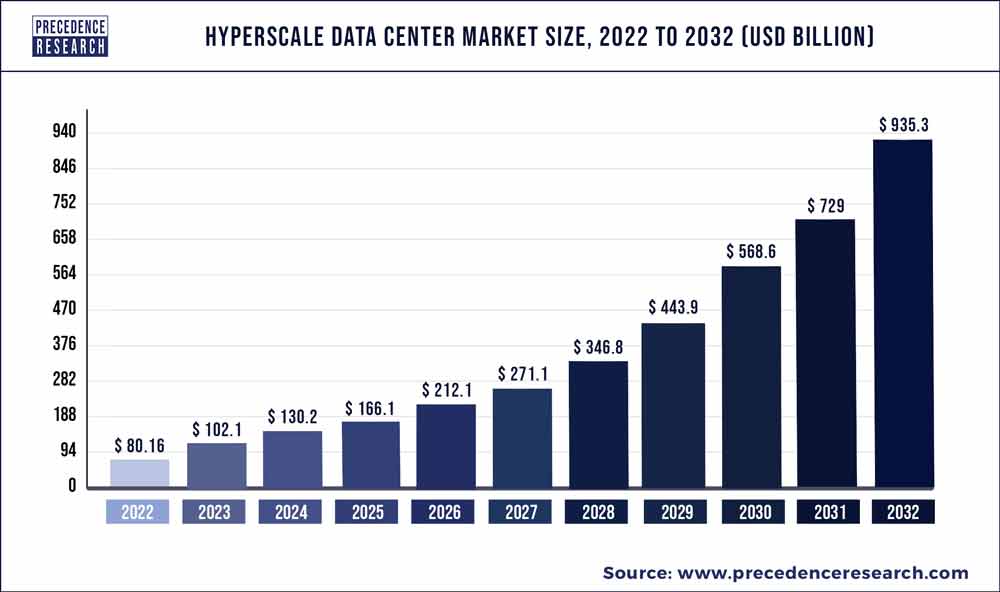 Access our Premium Real Time Data Intelligence Tool, Visit: Precedence Statistics
Key Takeaways:
By user type, the cloud providers segment held market share of around 62% in 2022.
By component, the solution segment has contributed revenue share of around 60% in 2022.
North America region has made up 42% revenue share in 2022.
The goal of a hyperscale data center is to offer a single, broadly scalable computational architecture to serve a technology's digital and cloud infrastructure. Nodes, which are tiny, independent servers with computer, networking, and storage capabilities, are the building blocks of the hyperscale data center architecture. The global hyperscale data center market is expanding as a result of an increase in demand for data centers to improve productivity and customer experiences. The market for hyperscale data centers is growing as a result of the need to improve network operating efficiency.
The scale and performance of enterprise data centers and hyperscale data centers can be contrasted. Because of the benefits of economies of scale and specialized engineering, hyperscale data centers beat enterprise data centers significantly despite being significantly bigger. Due to the rising demand for compute and storage needed to serve high-end applications, data centers have recently grown highly powerful. The number of mission-critical apps is increasing, which has led to more complex requirements for data centers.
Growth Factors
The IT infrastructure of an organization includes data storage, communication, and processing power. And it naturally tends to become scattered, just like the business itself. A hyperscale data center is more like a distribution hub than a warehouse, or what Amazon's retail division would refer to as a fulfilment center. Although these facilities are already quite enormous and run by very large service providers, hyperscale is actually more about scalability than size. Hyperscale is automation used in a sector that was initially intended to be about automation. It is about major organizations seizing the moment and taking charge of every area of their production.
In most data centers across the world, running the climate control systems is more expensive than running the computers. To compartmentalize high-intensity computing tasks and focus cooling power on the servers hosting those workloads, a hyperscale structure may be divided. A hyperscale architecture optimizes airflow throughout the building for general-purpose tasks, making sure that hot air flows in a single direction, and frequently recuperating the heat from that exhaust flow for recycling purposes.
Balanced workload across servers to prevent servers from overheating, workloads are divided equally throughout the servers. This avoids having one server do all the work, which could generate a lot of heat. Data centers have recently developed into becoming highly powerful due to the increased need for computation and storage to support high-end applications. The number of mission-critical business apps is growing, which has increased data center complexity.
The sector for hyperscale data centers will have more opportunities for expansion as datacenter traffic is expected to expand. In many firms nowadays, a huge amount of data is flowing. Massive traffic is produced when network operations increase. Network operations and productivity can be harmed by data traffic. Hyperscale data centers will be used increasingly frequently by the biggest online enterprises in the globe. It is a factor that raises the profitability of the hyperscale data center market. The market for hyperscale data centers is growing quickly as a result of the IoT's quick ascent.
Report Scope of the Hyperscale Data Center Market
| | |
| --- | --- |
| Report Coverage | Details |
| Market Size in 2023 | USD 102.1 Billion |
| Market Size by 2032 | USD 935.3 Billion |
| Growth Rate from 2023 to 2032 | CAGR of 27.9% |
| Base Year | 2022 |
| Forecast Period | 2023 to 2032 |
| Segments Covered | Component, End-User, Enterprise Size, Infrastructure, Industry, and Geography |
| Companies Mentioned | Mellanox Technologies, Inc., SanDisk Corporation, Hewlett-Packard Company, Avago Technologies, Nlyte Software, Cavium, Inc., Cisco Systems, Inc., Ericsson, Intel Corporation, International Business Machines Corporation. |
Segment Insights
Component Insights
Depending upon the component, the service segment is the dominant player and is anticipated to have the biggest impact on hyperscale data center market. The service segment is expanding primarily as a result of the increased emphasis placed by businesses on achieving optimized workload management with increased agility, speed, and security without having to deal with the challenges of training, integration and deployment, support, and maintenance.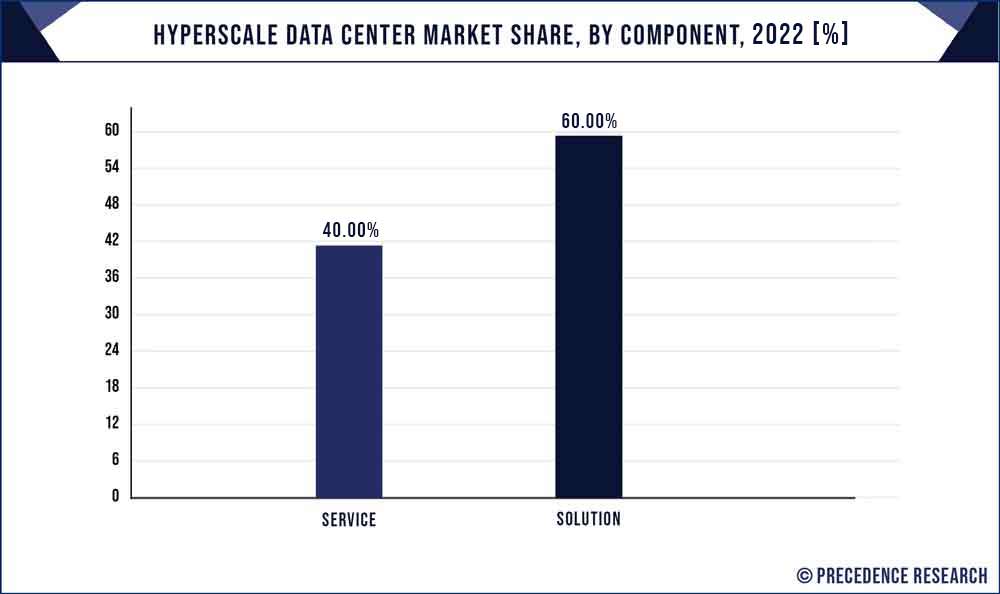 One of the main factors in the growth of hyperscale data center in enterprises is the demand for services that is created by their utilization. Despite the advantages of hyperscale data center, some problems still call for the use of services that are above and beyond what a typical IT staff can provide. As a result, many businesses are seeking help from as-a-service providers. Hence, the service segment is dominating the market.
Industry Insights
During the projected period, the banking, financial services, and insurance segment is anticipated to be the largest in the hyperscale data center market. The major issues related to data storage, recovery, and cybersecurity that BFSI firms must manage, together with processing enormous amounts of data that must be processed, saved, and copied periodically, has led to the implementation of a number of cloud techniques. The constant need for data protection and scalability in hybrid cloud environments fuels the demand for hyperscale data center to automate and manage IT services across heterogeneous clouds.
The IT & telecom industry has a significant share in the hyperscale data center market during the forecast period. Large, mission-critical facilities known as hyperscale data centers are frequently connected to well-known data-producing companies like Facebook, Google, Amazon, IBM, and Microsoft. Due to the advantages of economies of scale and specialist engineering, hyperscale data centers outperform corporate data centers significantly while being significantly larger. The IT & Telecom industry is on rise hence, the segment is expected to rise and share dominant position in the forecast period. One of the most rapidly developing industries in terms of technology, the IT and telecom sector is always in need of cutting-edge solutions that would give it a competitive edge over other sectors.
The IT and telecom industries have benefited from the developments in communication technology, which have also paved the way for high-reliability computing systems to manage and store data traffic coming from multiple data sources. This industry is characterized by a constant increase in demand, which is accompanied by a sharp rise in the infrastructure and resources needed for data centers. To meet the growing demand from the IT and telecom industries, data center manufacturers are implementing cutting-edge, cost-effective solutions that are scalable and secure. As a result, this industry is making use of hyperscale data centers due to their advantages in terms of scalability. The market for hyperscale data centers as a whole is predicted to increase due to the rising need for efficient hyperscale solutions.
The government and defence segment is expected to grow during the forecast period. All government institutions, agencies, and the defence business are all included in the government and defence industry. Security concerns in this sector include those relating to safety, tax collection, the general public's interest, and sensitive data. The surge in demand for more storage space and data usage is partly attributable to the growing number of government programs in various emerging nations. Data usage has been influenced by initiatives in APAC's developing nations, like Digital India and Smart Cities. Additionally, the demand for effective, scalable, and secure data centers has increased due to the growing need for information security and infrastructure availability. Due to the advantages of scalability, the deployment of hyperscale data center solutions may readily meet this growing need.
Hyperscale Data Center Market Share, By Region, 2022 (%)
| | |
| --- | --- |
| Regions | Revenue Share in 2022 (%) |
| North America | 42% |
| Asia Pacific | 21% |
| Europe | 30% |
| Latin America | 4% |
| MEA | 3% |
Regional Insights
North America holds the largest market share and a prominent position in the hyperscale data centers sector. U.S. and Canada are included in this region. The presence of significant companies like Cisco Systems, Inc., SanDisk Corporation, and others has aided in the growth. Furthermore, it is projected that the rise of the market in North America would be fueled by big firms increasing their global reach through product launches and collaborations. The U.S. has the greatest market share on the global market for hyperscale data centers. According to predictions, North America will hold its position as the market leader for hyperscale data centers for some time to come.
During the predicted period, Asia Pacific is expected to grow at the fastest rate. Due to growing industrialization and developing markets, the area has expanded significantly. The basic IT infrastructure of the APAC area is evolving more swiftly, which results in a self-replicating cycle that promotes more investment and growth. As a result, IT management will require more authority, resources, and accountability. This area has qualified programmers who are at least on par with those found elsewhere in the world. It is also advantageous to use the infrastructure that China and India provide. China and India, two growing economies, are expected to contribute significantly to Asia Pacific's notable economic and technical growth during the predicted period.
Key Market Developments
The release of IBM Hyper-Scale Manager version 5.1, which offers a unified user management interface, was announced by IBM.
Key Market Players
Mellanox Technologies, Inc.
SanDisk Corporation
Hewlett-Packard Company
Avago Technologies
Nlyte Software
Cavium, Inc.
Cisco Systems, Inc.
Ericsson
Intel Corporation
International Business Machines Corporation.
Segments covered in the report
(Note*: We offer report based on sub segments as well. Kindly, let us know if you are interested)
By Component
Solution

Server
Storage
Networking
Software

Service

Consulting
Installation and deployment
Maintenance and support
By End-User
Cloud providers
Colocation providers
Enterprises
By Enterprise Size
By Infrastructure
Electrical Infrastructure

UPS Systems
Generators
Transfer Switches & Switchgears
PDUs
Other Electrical Infrastructure

Mechanical Infrastructure

Cooling Systems
Racks
Other Mechanical Infrastructure

Cooling System

CRAC & CRAH Units
Chiller Units
Cooling Towers, Condensers & Dry Coolers
Economizers & Evaporative Coolers
Other Cooling Units

Cooling Technique

Air-Based Cooling Technique
Liquid-Based Cooling Technique

General Construction

Core & Shell Development
Installation & Commissioning Services
Building & Engineering Design
Physical Security
DCIM/BMS
By Industry
BFSI
IT and Telecom
Government
Energy and Utilities
Retail
Manufacturing
Healthcare
Others
By Geography
North America
Europe
Asia-Pacific
Latin America
Middle East & Africa (MEA)