The global industrial sensors market size was evaluated at USD 23.57 billion in 2022 and is projected to hit around USD 54.29 billion by 2032, growing at a CAGR of 8.74% during the forecast period from 2023 to 2032.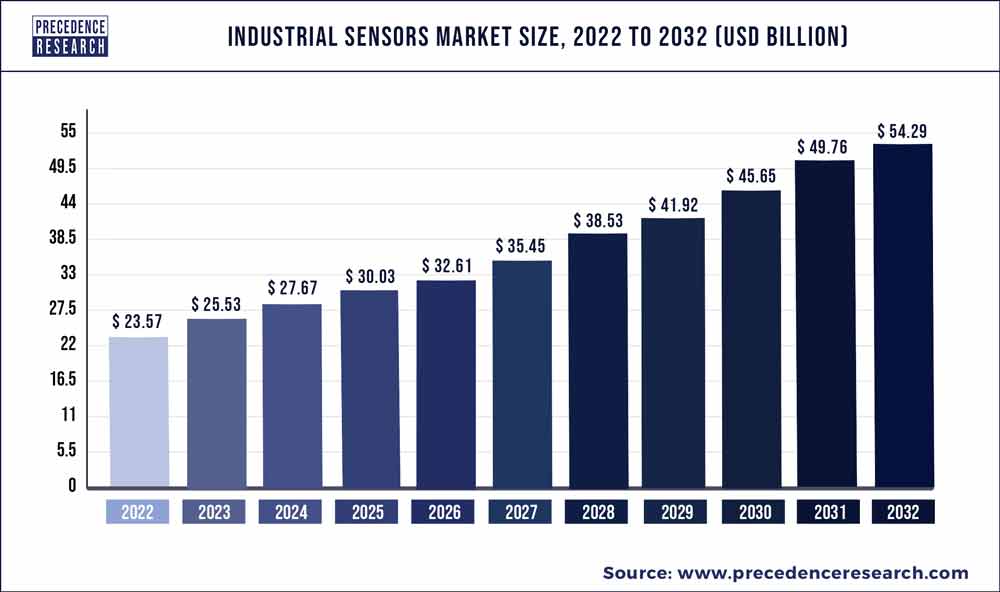 Access our Premium Real Time Data Intelligence Tool, Visit: Precedence Statistics
Key Points:
The industry sensor market of sensor technology is anticipated to develop at the greatest CAGR from 2023 To 2032.
The non-contact commercial sensor market is anticipated to expand at the greatest CAGR from 2023 To 2032.
The automobile segment is anticipated to develop at the greatest CAGR from 2023 To 2032.
Particularly the industrial sensing market is anticipated to occupy the second-largest market from 2023 To 2032.
An industry sensor is a tool that detects environmental events or changes and then produces related output. These sensors are crucial to Industry 4.0 and manufacturing automation. Equipment condition is checked using motion detectors and monitoring devices for linear or rotational positioning, leveling, tilt detection, and shocks or accident detection. They react by producing output on a display or sending the information and data for further processing when they detect physical input including temperature, motion, light, wetness, tension, or other entity. These give an overview of the primary uses for artificial illumination energy conservation, environmental control, and hardware fault diagnosis. For almost any industrial need, a wide range of sensors is readily available. Commercial sensors can improve operations for mission-critical commercial processes and offer unrivaled asset protection. Sensor technology and its many uses are always changing to meet new technical developments and commercial demands. Sensors pick up on a variety of physical characteristics, including heat, pressure, and distance. Industrial sensors can also be used to precisely and repeatedly measure a variety of chemical, mechanical, and biological parameters. Because of their dependability, they are widely used in the manufacturing, construction, and healthcare sectors. The Internet of Things, which makes extensive usage sensors, also connects network infrastructure including smart grids, home automation, water-efficient systems, and navigation systems.
Growth Factors
Industrial sensors are tools that may identify environmental changes and produce additional signals or outputs as a result. They are able to detect inputs including light, temperature, pressure, heat, voltage, humidity, and motion, and produce outputs on a display screen for sending data for additional processing. Proximity, velocity, capacitive, inductive, photoelectric, and magnetic ultrasonic sensors are a few of the frequently utilized industrial sensors.
They are crucial for machine automation since they help to ensure precise alignment of mechanical parts and give information about how well they are working. As a result, such sensors are widely used in many different industries, including mining for chemicals, petroleum & gas, manufacturing, healthcare, power generation, and water and sewage treatment. One of the main factors boosting the market is the increased digitization and demand for factory automation.
In keeping with this, the widespread use of wireless technology and the expanding desire for increased productivity at industrial facilities have led to an increase in the use of industrial sensors. Such sensors are also being used by businesses to increase productivity, keep an eye on plant assets, diagnose equipment problems, and boost worker safety. Additionally, a large-scale industrial sensing deployment to track flood and sea levels, ecological factors, and energy usage is promoting market expansion. Other growth-promoting elements are being acted upon by numerous technological developments, including the introduction of automation and a Network of Things-enabled sensing devices. These sensors have the ultimate decision, processing software, and on-chip processing capacity, which help to enhance a variety of industrial operations. Additional reasons, such as the growth of Industry 4.0 and intensive research and development programs, are predicted to fuel the market even more.
Report Scope of the Industrial Sensors Market
Report Coverage
Details
Market Size in 2023
USD 25.53 Billion
Market Size by 2032
USD 54.29 Billion
Growth Rate from 2023 to 2032
CAGR of 8.74%
Base Year
2022
Forecast Period
2023 to 2032
Segments Covered

By Sensor Type
By Type
By End-User Industry

Regions Covered

North America
Europe
Asia-Pacific
Latin America
Middle East & Africa

Key Market Drivers
Industrial sensors continue to progress technologically - Micro-Electro-Mechanical Systems are one of the cutting-edge technologies used in industrial sensing applications. MEMS is a system that, in its broadest sense, can be characterized as miniature mechanical and electromechanical components (i.e., structures and devices) created by the process of microfabrication. The crucial measurements of Microelectronic devices can range from far below one micrometer on the low end to many millimeters on the high end. MEMS technology in sensing devices is enabling the production of an increase in the number of microscopic-sized sensors. In most instances, it is worth considering as it is far faster and more sensitive than larger-scale sensors.
Increasing industry 4.0 & IOT penetration in production - The need for industrial sensors is anticipated to increase as the Internet of Things usage spread throughout manufacturing sectors. Significant market demand has been created by the expanding integration of IoT across numerous industries, including industrial, health, and many others. In addition, it is projected that the burgeoning Industry 4.0 revolution will drive demand for the market for industrial sensors. The industry 4.0 transformation is being fuelled by an increase in technological adoption and digitalization as a result of the expanding development of more efficient & cost-effective production across a variety of industries. The manufacturers have been able to boost production, efficiency, and revenue thanks to the increased integration of IoT and the Industrial Internet in manufacturing. The market for sensing devices has now grown as a result of the industries' increasing demand for greater performances.
Key Market Challenges
Specific performance standards for upcoming sophisticated sensors - According to end-user applications, the detecting capacity of the sensor varies, which causes erroneous measurements and detecting performance. The functional requirement of sensors becomes crucial for advanced applications because, for instance, flow, temperature, pressure, and particular input characteristics in the automobile end-user sector differ from others in the oil and gas finished sector. 
High ownership costs - A variety of parts, including position magnetic, sensor rods, electronic housing fittings, diagnostics light-emitting diode, and connections, are used in the manufacturing and assembly of an industrial sensor. The cost and availability of ingredients and raw materials, along with the length of time it takes to introduce the finished product to the market, are the main factors that affect profitability. The main obstacles facing businesses in this sector are raising their manufacturing capabilities, delivering goods of higher quality, and lowering overall costs of production. The real cost of using the control technique is included in the ownership cost, which must take into account installation expenses, operational costs throughout the course of its use, upkeep and reappraisal costs, operation, and potential replacement costs. The market for sensing devices is expected to experience growth challenges due to the rising overall cost of ownership.
Key Market Opportunities
Predictive maintenance will present industry participants with profitable opportunities - A branch of monitoring systems called "predictive maintenance" is concerned with figuring out when commercial machinery and equipment require maintenance. It ensures production facilities are operational and permits ongoing product design to confirm satisfied customers and profitability. Collecting sensor data, simplifying data transfers, and creating predictions are the three fundamental improvements of predictive maintenance above conventional maintenance schedules. One of the key components of proactive maintenance systems is sensors. Market expansion prospects for sensor devices are anticipated to be excellent in the foreseeable future. Industry and IoT are being adopted more frequently in production, wearable devices with smart sensors are in high demand, and industrial sensors are advancing technologically, all of which are contributing to this market's growth. Additional aspects that are anticipated to provide substantial potential for the expansion of this market include the use of sensing devices for preventive analytics and the rising adoption of smart sensors in the automotive sector.
Segments Insight
Sensor Type Insights
During the anticipated period, the industry sensor market of sensor technology is anticipated to develop at the greatest CAGR. Machine vision applications are what are essentially driving the market expansion for industrial sensor technology. Image sensors are also predicted to play a crucial role in new areas like the Internet of Things, system infrastructure, smart cities, smart manufacturing, smart cars, and intelligent medical devices. Additionally, more and more important biometric techniques—like fingerprint and iris scanning—are using picture sensors. Manufacturing, oil & gas, pharmaceutical, chemical, and energy & electricity are a few sectors that use sensor technology.
Type Insights
The non-contact commercial sensor market is anticipated to expand at the greatest CAGR during the anticipated period. Due to the several benefits, non-contact sensors provide over contact devices, including spontaneity, dependability, lifespan, and performance uniformity, this market is expected to increase. Non-contact sensors are employed in a variety of operations, including process control, engineering, automation, manufacturing, and others, which is fuelling the expansion of this market. The best option for maintaining corrosive media is generally thought to be the non-contact approach. The technique utilized determines the type of sensor. For example, the most popular non-contact level detection systems include ultrasonic, optical, microwave/radar, laser, nuclear, MEMS, capacitance, conductivity, and loading cells. Non-contact thermocouples track temperature changes by using the principles of radiation and convection. They pick up infrared radiation, which is the heat radiation emitted by an object. Infrared and fiber optics thermocouples are examples of non-contact temperature measurements.
End-User Industry Insights
During the projection period, the automobile segment is anticipated to develop at the greatest CAGR. This market's expansion is driven by the growing adoption of IoT technology in processing and manufacturing facilities. Additionally, IoT-based automated production sensors enable firms to remotely monitor plant locations, enhance worker & asset security, and maximize operational effectiveness. By accomplishing early fault detection, incorporating these industry sensors into production services helps reduce maintenance expenses.
Regional Insights
During the anticipated period, particularly in the industrial sensing market is anticipated to occupy the second-largest market. Due to the widespread adoption of Industry 4.0 and the Industrial Web of Things in manufacturing facilities, as well as the existence of sensor producers in the region, particularly in the US, North America is predicted to hold the second-largest market for sensing devices. The US government is implementing several initiatives to advance Industry 4.0 across the nation.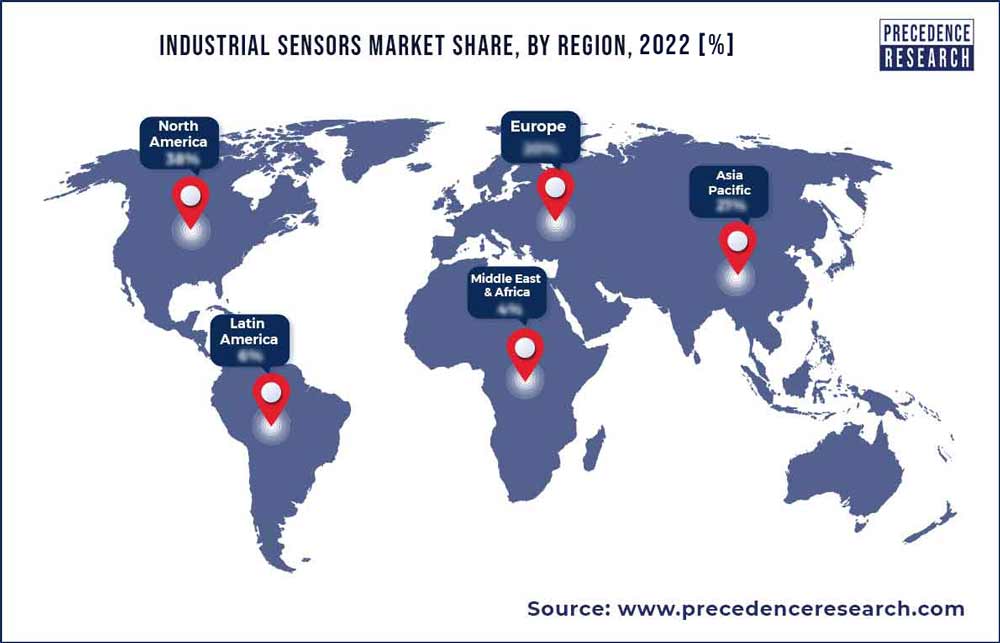 The Nationwide Network for Industrial Innovation is one such initiative. The nation is creating the NNMI as part of this program, which will be made up of regional centers that will hasten the acceptance of slashing production technology for the production of novel products that are competitive on a worldwide scale.
Recent Developments:
Honeywell was designated the recipient of 11 product development awards in May 2022, such as the Red Dot and also if Design Awards, two of the most prominent and well-recognized award schemes in the sector. By displaying innovation, practicality, and design longevity, those product-specific awards recognize Honeywell's ongoing dedication to providing a superior user experience that promotes workplace and employee safety.
In April 2022, Build- bought 17 businesses and made investments in another two. The transactions cost the company almost $ 3.08 billion. TE Connectivity has made investments in a variety of fields, including sensors, cardiovascular and arterial diseases, micro-electro-mechanical systems, and others.
In April 2022, Spectris Plc & venture capital company Arcline Capital Management reached an agreement to sell Omega Engineering's industrial control and measurement equipment in the United States for $525 million cash. According to a statement published by Spectris on Tuesday, Omega Engineers is valued at roughly 20.4 times its normalized profits before interests, taxation, amortization, and amortized for 2021. The announcement claims that Arcline will combine Omega Engineering with the sensor maker Dwyer Group, which it acquired last year.
Plants and electric cars in March 2022 at APEC 2022. New technology, examples, and business presentation will be helpful to power designers in reducing EMI and sound while also boosting energy capacity or reliability.
Texas Instruments unveiled the 3D Auditorium control technique in October 2021. Engineers can obtain improperly calibrated ultra-high accuracy with the TMAG5170 at rates up to 20 kSPS for quicker and more precise real-time control in motor-drive and industrial automation and control systems.
Rockwell Automation introduced LifecycleIQ Services as a brand name in June 2021. With the help of Rockwell Automated systems and extremely skilled personnel, customers may now interact with the company in new and innovative ways that will help them perform better and rethink what's possible for their industrial manufacturing value chain.
In May 2021, Honeywell reported that dnata US has implemented its Honeywell Thermo Rebellion temperature measurement technology at Boston Airport International Airport to assist both domestic and foreign travelers.
Key Market Players:
ABB LTD. (Switzerland)
Amphenol Corporation (US)
AMS AG (Austria)
Analog Devices, Inc. (U.S.)
Bosch Sensortec (Germany)
Corporation (Japan)
Dwyer Instruments (US)
Endress+Hauser
Figaro Engineering Inc. (Osaka, Japan)
First Sensor AG
Honeywell International (US)
Infineon Technologies AG (Germany)
Integrated Device Technology (United States)
Microchip Technology (United States)
NXP Semiconductors N.V. (Netherlands)
Omega Engineering (Switzerland)
Omron Corporation
Panasonic Corporation (Japan)
PCB Piezotronics, Inc. (United States)
Renesas Electronics Corporation
Rockwell Automation (US)
Safran Colibrys SA (Switzerland)
Sensirion AG (Switzerland)
Siemens AG (Germany)
STMicroelectronics International N.V. (Switzerland)
TE Connectivity (Switzerland)
Teledyne Technologies Incorporated (United States)
Texas Instruments (US)
Segments Covered in the Report
(Note*: We offer reports based on sub-segments as well. Kindly, let us know if you are interested)
By Sensor Type
Pressure Sensors
Position Sensors
Level Sensors
Gas Sensors
Temperature Sensors
Image Sensors
Humidity & Moisture Sensors
Flow Sensors
Force Sensors
By Type
By End-User Industry
Oil & Gas
Pharmaceuticals
Chemicals
Automotive
Manufacturing
Mining
Energy & Power
By Geography
North America
Europe
Asia-Pacific
Latin America
Middle East & Africa (MEA)