The global inhaled nitric oxide market size was estimated at USD 951.72 million in 2022 and it is expected to hit around USD 2,045.2 million by 2032, growing at a CAGR of 7.95% during the forecast period from 2023 to 2032.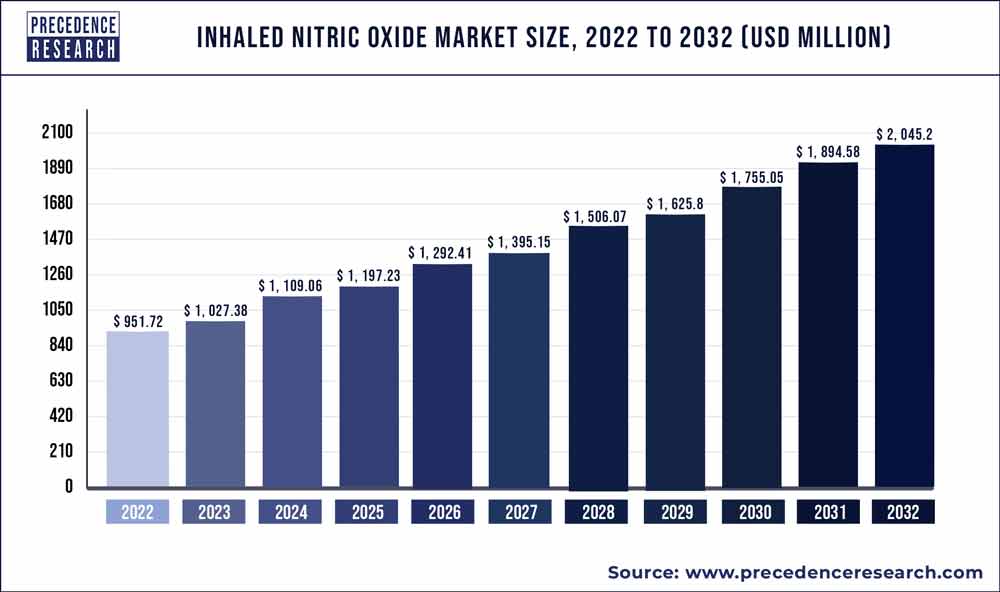 Key Takeaways:
North America generated more than 32% of the revenue share in 2022.
Europe region is expected to expand at the fastest CAGR between 2023 and 2032.
By Product Type, the gas segment is predicted to dominate the global market between 2023 and 2032.
By Application, the neonatal respiratory treatment segment is predicted to lead the global market in 2023 and 2032.
By Application, the acute respiratory distress syndrome segment is expected to expand at the fastest CAGR between 2023 and 2032.
Market Overview:
Nitric oxide is an important molecule in vascular homeostasis and the maintenance of multiorgan viability. It is useful in cardio-cerebrovascular, respiratory disorders, and antimicrobial properties. By predominantly widening circulating pulmonary arteries, inhaled nitric oxide enhances ventilation-perfusion matching and arterial oxygenation by increasing blood flow toward ventilated parts of the lungs. Nitric oxide supplementation is popular among athletes and fitness enthusiasts. It enhances exercise performance by increasing blood flow, oxygen delivery, and muscle nutrient uptake. Major key players involved in the market revolve around the distribution of nitrogen, argon, hydrogen, carbon monoxide, and oxygen through their industries' pipeline connections. The distribution is done under observation by the key players to various end-user industries that include healthcare and pharmaceuticals.
Growth Factors:
The global inhaled nitric oxide market is expected to accelerate with the expansion of end-users across the globe. Growing awareness and acceptance of nitric oxide application in the healthcare industry, increasing prevalence of respiratory and cardiovascular diseases, technological advancements, and research and clinical trials contribute to the growth of inhaled nitric oxide market. As medical professionals become more familiar with inhaled nitric oxide's usages its utilization is predicted to increase, driving the growth of the market.
As the respiratory and cardiovascular cases are immensely rising, eventually the demand for inhaled nitric oxide will increase as it will support the treatment. Technological advancements in the delivery systems and administration techniques for inhaled nitric oxide are enhancing its effectiveness, safety, and convenience, which expands its application for patients and research studies and clinical trials evaluating the efficacy of inhaled nitric oxide for various medical conditions is also helping the market to grow in near future.
Report Scope of the Inhaled Nitric Oxide Market:
| | |
| --- | --- |
| Report Coverage | Details |
| Market Size in 2023 | USD 1,027.38 Million |
| Market Size by 2032 | USD 2,045.2 Million |
| Growth Rate from 2023 to 2032 | CAGR of 7.95% |
| Largest Market | North America |
| Fastest Growing Market | Europe |
| Base Year | 2022 |
| Forecast Period | 2023 to 2032 |
| Segments Covered | By Product Type and By Application |
| Regions Covered | North America, Europe, Asia-Pacific, Latin America, and Middle East & Africa |

Driver:
Rising prevalence of respiratory diseases
The increasing incidence of respiratory diseases is a significant driver for the inhaled nitric oxide market. As these conditions continue to affect many patients worldwide, the demand for inhaled nitric oxide as a treatment option is expected to grow. Exposure to environmental pollutants, such as air pollution, cigarette smoke, and occupational hazards, can significantly impact respiratory health and increase the risk of developing respiratory diseases. The aging population is more susceptible to respiratory infections due to natural changes in lung function and weakened immune systems. As the global population ages, the prevalence of respiratory diseases is expected to rise.
Unhealthy lifestyle choices, including smoking, poor diet, lack of physical activity, and substance abuse, can contribute to developing and progressing respiratory diseases. Rapid urbanization and city overcrowding can lead to increased exposure to pollutants and infectious agents, this is increasing the risk of respiratory infections.
Restraint:
Regulatory hurdles
The product needs to have complied with numerous regulatory guidelines. Pharmaceutical products need standardization and approvals, which is time-consuming and costly, limiting the market and delaying product production and market launch. In some healthcare systems, pricing and reimbursement for inhaled nitric oxide can be a substantial regulatory hurdle. Companies need to drive pricing negotiations with payers and the complex landscape of health technology assessment to ensure reimbursement for their products and access to the market.
Opportunities:
Increasing healthcare expenditure
The rise in healthcare expenditure globally, driven by factors such as increasing per capita income, government support, and improving healthcare infrastructure, has provided a favorable environment for the growth of the inhaled nitric oxide market. As healthcare systems invest in advanced therapies and technologies, the demand for inhaled nitric oxide is expected to rise. Researchers and pharmaceutical companies are exploring innovative ways to deliver nitric oxides, such as inhaled nitric oxide systems, nitric oxide-releasing drugs, and combination therapies. The expanding healthcare infrastructure provides a research, development, and implementation platform, which is expected to offer a plethora of opportunities for the market of inhaled nitric oxide.
Segments Insight:
Product Type Insights:
Gas is the dominating segment in the inhaled nitric oxide market during the predicted period. Persistent Pulmonary Hypertension of the Newborn is a condition where the normal circulatory transition after birth fails to occur, resulting in high pulmonary artery pressure and poor oxygenation. Inhaled nitric oxide dilates the pulmonary vessels, improving blood flow and oxygenation.
The delivery system shows lucrative growth during the forecast period. Delivery systems for inhaled nitric oxide have undergone significant technological advancements, leading to more efficient and user-friendly devices. These advancements include the development of compact and portable delivery systems that allow for easier administration of nitric oxide therapy in various healthcare settings.
Respiratory conditions such as acute respiratory distress syndrome (ARDS) and pulmonary hypertension are becoming more prevalent. Inhaled nitric oxide is an important therapeutic option for managing these conditions, as it helps to improve oxygenation and reduce pulmonary vascular resistance. The increasing prevalence of these respiratory conditions is driving the demand for delivery systems that can efficiently deliver inhaled nitric oxide to patients.
Application Insights:
Neonatal respiratory treatment is the dominating segment in the inhaled nitric oxide market during the forecast period. Nitric oxide has a significant application for neonatal respiratory disease treatment. It is used to treat newborn infants with persistent pulmonary hypertension. It helps to improve oxygenation and reduce the need for extracorporeal membrane oxygenation in neonates. Nitric oxide is generated endogenously from L-arginine by nitric oxide synthase. Nitric oxide diffuses into vascular smooth muscle cells processing towards vasodilation and enhanced ventilation-perfusion matching. When administered, inhaled nitric oxide is a prominent pulmonary vasodilator in newborns with hypoxic respiratory failure (HRF) linked with pulmonary arterial hypertension.
Acute respiratory distress syndrome is the fastest-growing segment in the inhaled nitric oxide market during the predicted period. Acute respiratory distress syndrome (ARDS) is a severe lung condition characterized by acute inflammation and the inability of the lungs to provide sufficient oxygen to the body. Inhaled nitric oxide is suggested to protect against ventilator-induced lung injury by reducing inflammation and improving oxygenation, potentially allowing for lower ventilator pressures.
Regional Insights:
North America is dominating and expected to remain a significant region in the inhaled nitric oxide market throughout the predicted timeframe. This is due to the advanced healthcare infrastructure and well-renowned organizations for conducting research and development. North America provides advanced healthcare infrastructure, such as hospitals and clinics, with the equipment and expertise to administer inhaled nitric oxide therapy. The accessibility drives the demand for the treatment.
Canadian anti-infective-focused therapeutics corporation SaNOtize Research & Development Corp. declared an oversubscribed $24 million Series B funding to enhance its nitric oxide-derived therapeutics pipeline. The firm's nitric oxide nasal spray to treat and stop COVID-19 infection includes a recent Phase 3 study circulated in The Lancet Regional Health Southeast Asia.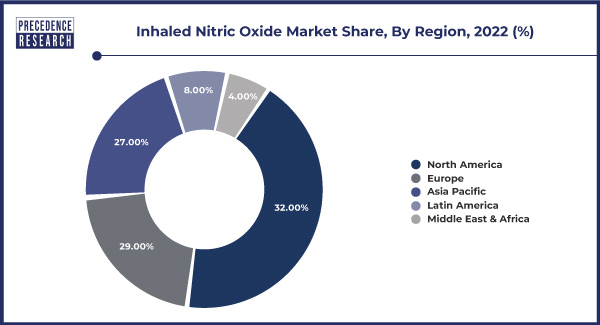 Europe is the fastest-growing segment in the inhaled nitric oxide market during the forecasted timeframe. This is due to the presence of major key players in the region, ongoing studies, and clinical trials on the efficacy and safety of inhaled nitric oxide. Pulmonary hypertension is a relatively common condition in Europe, affecting many individuals. The demand for inhaled nitric oxide is driven by the need to manage the situation effectively.
Recent Developments:
In May 2023, Pieris Pharmaceuticals, Inc., a clinical-stage biotechnology firm advancing new biotherapeutics throughout its proprietary Anticalin technology stage for a respiratory disorder, and cancer, declared the safety survey of 10 mg dry powder amount safety cohort from the latest multi-center placebo-organized phase 2a study.
In February 2023, Vero Biotech declared that the FDA accepted Genosyl, second-generation, for rebreathing anesthesia in the functional room setting. Vero Biotech made Genosyl for the delivery of inhaled nitric oxide, which underlines the second-generation Genosyl. The third-generation device recently obtained FDA approval has yet to be verified with rebreathing anesthesia.
Key Market Players:
Vero Biotech LLC
International Biomedical
Bellerophon Therapeutics
Mallinckrodt Pharmaceuticals
Praxair, Inc.
SLE
Getinge AB
Segments Covered in the Report:
(Note*: We offer reports based on sub segments as well. Kindly, let us know if you are interested)
By Product Type
By Application
Neonatal Respiratory Treatment
Asthma and COPD
Acute Respiratory Distress Syndrome
Malaria Treatment
By Geography
North America
Europe
Asia-Pacific
Latin America
Middle East and Africa