The global internet of behaviors (IoB) market size was valued at USD 402.6 billion in 2022 and is expected to surpass around USD 3592.6 billion by 2032, poised to grow at a compound annual growth rate (CAGR) of 24.97% from 2023 to 2032.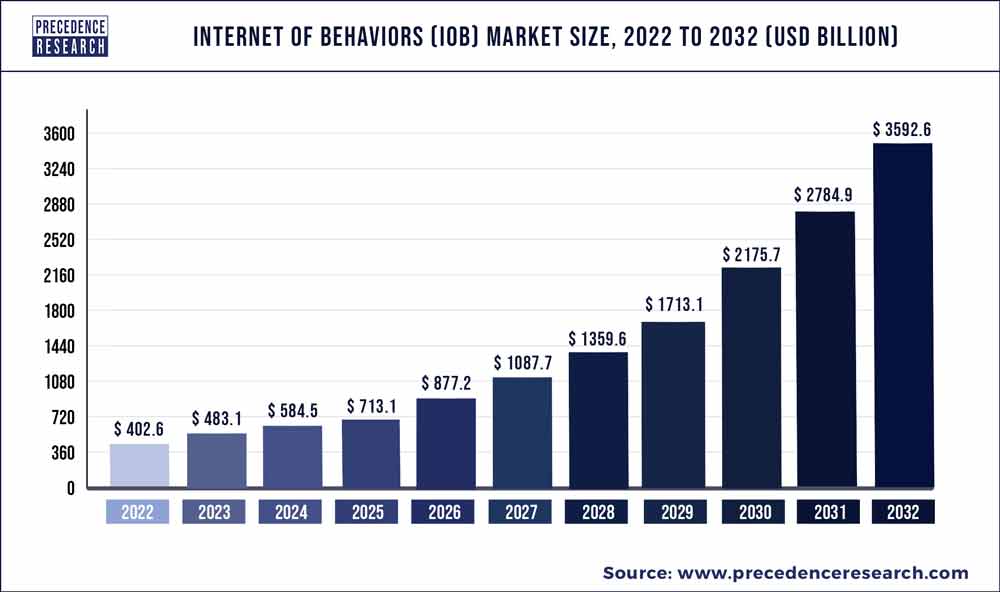 Access our Premium Real Time Data Intelligence Tool, Visit: Precedence Statistics
The Internet of Behaviours (IoB) seeks to debate how data may be best understood and is used to build and launch new products from the perspective of human psychology. The IoB may be utilized in a variety of ways by both public and commercial enterprises. This innovation will become an enticing big branding and distribution platform for businesses and organizations all around the world. Every firm gets an in awareness of its clientele, which the IoB platform enables. For instance, IoB links all mobile phones in the program, allowing them to observe their faults and receive visual tips on how to improve their swinging and stroke. The linking of devices generates a large number of new pieces of data and spans beyond the Internet of Things (IoT). Businesses acquire information from customers by 'sharing' data amongst linked devices, which are then monitored in real time by a single computer.
While refers to the interconnection of networked physical things that acquire and exchange data over the internet. IoB interprets this data in conjunction with particular human actions ranging from purchasing habits to demographic preferences. Location tracking, big data, and face recognition devices basically map client behavior. Here's an easy example: Uber. Its Internet of Things app monitors both drivers with passengers. Once the consumer has been left off, Uber polls to assess the ride, allowing the driver's conduct to be monitored and the quality of customer to be interpreted properly. By 2025, 40% of the world population would be subject to at least 1 IoB program (government or corporate) and digitally tracked in order to affect human behavior. IoB may be a great instrument for leveraging sales and marketing to develop effective strategies that make a difference in the products and services given to customers. But that's not all; it's also beneficial to other industries. IoB, for example, is useful in the medical arena, assisting healthcare personnel in assessing individuals' illnesses, responsiveness to medicines, and other lifestyle information.
Growth factors
Over the last decade or so, there has been an astonishing increase in chronic and weakens the immune system illnesses (NCDs). Every year, over 41 million individuals die as a result of NCDs, resulting in exorbitant healthcare cost. IoB-enabled devices have enabled significant advancements in artificial pancreas technology. According to 2015 research, IoB devices resulted in a 50% reduction in 30-day hospital readmissions. IoB aids in the reduction of automobile insurance premiums. Users can install an app on their phones that collects crucial information such as distance traveled, automobile speed, and time of day the user is driving, and so on. As a result, determine the right premium that the user is entitled to pay. According to the study, prudent drivers would pay minimal rates. Aviva was the first insurance provider to create a smartphone app for tracking driving behavior in 2013.
Several digital advertising firms are already utilizing analytics technologies to gain insights into regular customer habits. Marketers may utilize the Internet of Things to monitor client purchasing behaviors across platforms, gain access to previously unavailable data, reconfigure the value chain, and even bring honest point-of-sale notifications and customized marketing. IoB is regarded as one of the top technology trends for 2021. The COVID-19 epidemic is mostly to blame for IoB becoming a trend since it has revolutionized how consumers engage with brands, forcing businesses to reconsider how they communicate with customers. From the angle of human psychology, the IoB concept attempts to accurately analyze data and use that understanding to build and market new things. The IoB attempts to understand data obtained from users' online actions from the perspective of behavioral psychology. It seeks to address questions about how to analyze data and how to apply that information to develop and market new products, all from the standpoint of human psychology. This new approach occasionally has an impact on Quality Infrastructure since many organizations might increase their connectivity.
Using IoB technology has assisted numerous firms in reaching out to more clients through internet advertising. Companies may easily identify and target certain individuals or groups to offer their services and goods using the Internet of Behavior. Google and Facebook, for example, both utilize behavioral data to provide relevant adverts to its customers. Companies may use IoB to not only communicate with their target audience, but also track their habits in order to enhance services. Furthermore, new technologies such as Alexa, OK Google, and Siri are designed to study and analyze data and human behavior in order to perform more effectively.
Report Scope of the Internet of Behaviors (IoB) Market
| | |
| --- | --- |
| Report Coverage | Details |
| Market Size in 2023 | USD 483.12 Billion |
| Market Size by 2032 | USD 3592.6 Billion |
| Growth Rate from 2023 to 2032 | CAGR of 24.97% |
| Base Year | 2022 |
| Forecast Period | 2023 to 2032 |
| Segments Covered | Application, Enterprise Size, Industry, Geography |
| Companies Mentioned | Aware Inc., Traceable, Guardian Analytics, Vertica Systems, Trifacta, NuData Security, Mazu Networks Inc., Qubit Digital, Cognitive Scale, Capillary Technologies, Among others. |

Application Insights
Advertising Campaigns, Digital Marketing, Content Delivery, Brand Promotion, and Others are the market segments. Over the projected period, the Digital Marketing sector is likely to occupy a major proportion of the worldwide Internet of Behaviors (IoB) market. Because the internet of behavior (IoB) requires an internet connection, digital marketing services will benefit greatly from IoB technology. Data is the key commodity of digital marketing, which promotes products and services to consumers all over the world. If companies have access to behavioral analysis and interpretation technology, they will be better positioned to engage customers following the purchase process.
In 2022, the digital marketing category is expected to have the highest share. Because an internet connection is required for the internet of behavior (IoB), digital marketing services will benefit the most from IoB technology. Digital marketing is a field that markets products and services to individuals all over the world using data as its primary commodity. They will be in a better position to contact customers at the conclusion of the purchasing process if they have access to tools for behavioral analysis and interpretation. Globally, there is expected to be a major increase in digital marketing. Digital marketing will be used to promote brands, generate leads, and increase sales. The Internet of Business is a big boon to the sales profession. At the same time, for decades, corporations relied on data to make judgments. Why has the IoB trend become so important in today's commercial, government, and non-profit sectors? First and foremost, IoB focuses on gathering, analyzing, and comprehending user behavior in order to enhance service quality and the value chain. This technology collaborates closely with behavioral science and can provide greater data insights. It also aids in the development of stronger client connections because IoB allows for two-way contact with them. Instead of doing surveys to learn from them, businesses may better understand their consumers' demands and deliver significant improvements.
Industry Insights
BFSI, Telecom and IT, Media and Entertainment, Tourism & Travel, Retail and e-Commerce, Healthcare, Manufacturing, and Others are the major segments. The BFSI category is expected to occupy a considerable part of the worldwide Internet of Behaviors (IoB) market by 2032. IoB is extensively utilized in the BFSI business for statement generation and automatic notification applications. Brands may maintain an omnichannel presence by swiftly determining a customer's preferred channels and providing tailored messaging solely through those channels. Consumer connection is being prioritized by financial institutions and retail banks through location-based advertising. These reasons are expected to drive IoB adoption in the BFSI industry.
The most obvious and effective examples of capitalizing on the Internet of Behaviours are Facebook and Google, which display adverts to surfers at frequent intervals depending on the detailed analysis and understanding they have created from consumer behavioral data obtained on a regular basis. However, collecting and analyzing data from IoT is difficult, and many businesses do not have simple access to this data. With the number of IoT devices predicted to triple by 2025, IoT, which has so far had momentum in the B2B industry, is expected to experience rapid acceptance in the consumer segment.
Regional Insights
The adoption of the internet of behaviors in North America is expected to rise at a rapid pace. Furthermore, North America has made significant progress in the use of IoT, particularly in the industrial and automotive industries. Because of the demand for IoT, cloud platforms are seeing widespread acceptance, boosting the growth of the internet of behaviors market throughout the forecast period.
South Asia and the Pacific are expected to emerge as the most opportunistic markets for the internet of behaviors due to the presence of a large consumer population, creating opportunities for organizations engaged in behavioral analytics to better understand consumer behavior and strategize their sales/marketing campaigns accordingly. Furthermore, rising government smart city efforts and cloud investment in the area are expected to fuel market expansion in the near future. Furthermore, the introduction of high-speed networking technologies, increased interest in the area by international firms, and rising demand from developing countries such as India, Indonesia, and Australia are expected to boost market expansion.
Key market developments
Aware, Inc., a major global provider of biometrics software products, solutions, and services, will exhibit its digital identification expertise in many sessions at the Identity Week London 2021 conference, which will be held from September 22 to 23 in London, England. Identity Week London is an ideal venue for Aware to showcase its extensive biometric expertise and solutions for password-less authentication and identity ownership, with a focus on digital identity and complex authentication technologies.
Maxar Technologies' AFIXTM suite of biometric products was bought by Aware, Inc., a prominent global provider of biometrics software products, solutions, and services, in November 2020. The Aware ABIS product line has expanded with the inclusion of AFIX, which provide turn key also face and fingerprint biometrics matching, in addition forensic analysis softwares for small and medium-sized law enforcement and government organizations.
Key market players
Aware Inc.

Traceable

Guardian Analytics

Vertica Systems

Trifacta

NuData Security

Mazu Networks Inc.

Qubit Digital

Cognitive Scale

Capillary Technologies

Among others.
Segments Covered
(Note*: We offer report based on sub segments as well. Kindly, let us know if you are interested)
By Application
Advertising Campaign

Digital Marketing

Content Delivery

Brand Promotion

Others
By Enterprise Size
By Industry
BFSI

Telecom and IT

Media and Entertainment

Tourism & Travel

Retail and e-Commerce

Healthcare

Manufacturing

Others
By Geography
North America
Europe
Asia-Pacific

China
India
Japan
South Korea
Malaysia
Philippines

Latin America

Brazil
Rest of Latin America

Middle East & Africa (MEA)

GCC
North Africa
South Africa
Rest of the Middle East & Africa