The global internet of things (IoT) in agriculture market was valued at USD 13.61 billion in 2022 and is projected to be worth around USD 33.57 billion by 2032 with a registered CAGR of 9.50% from 2023 to 2032.
Key Takeaways
The monitoring segment will surpass USD 8 billion globally by 2032.
The smart sensor systems segment will hit USD 3.2 billion globally by 2032
The global agriculture drones market will surpass USD 2.21 billion by 2032.
Asia Pacific region accounted largest revenue share of around 44% in 2022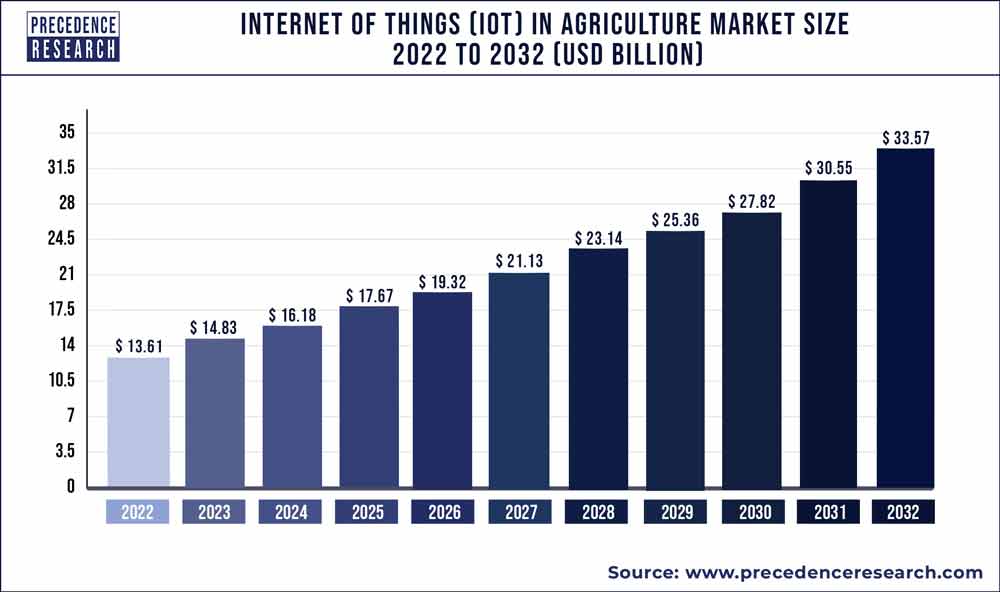 Access our Premium Real Time Data Intelligence Tool, Visit: Precedence Statistics

Expanded reception of the Internet of Things (IoT) and computerized reasoning (AI) by ranchers and cultivators, expanded centre around domesticated animals observing and illness location, popularity for new produce, populace development, loss of arable land, rising reception of hydroponics checking and feed improvement gadgets in emerging nations, and solid government support for accuracy cultivating rehearses are driving the development of the agribusiness IoT market.
With the presentation of current innovations like direction frameworks, variable rate innovation, IoT, AI, and remote detecting, the horticulture business has been changed over into a mechanically serious and information rich industry. Brilliant agricultural advancements help to increment benefit, further develop manageability, safeguard the climate, and decrease asset utilization like water, manure, and power.
Exact cultivating, animals checking, accuracy hydroponics, brilliant nurseries, and more applications utilize IoT. The method involved with robotizing an errand or activity that was previously taken care of physically however is currently performed by machines or PCs is known as mechanization. Ranchers embrace cultivating robotization frameworks since they decrease manual work and increment cultivating proficiency. Since it diminishes functional expenses, saves time, and increments cultivating accuracy, the cultivating robotization framework has impacted the horticulture business.
Ranchers, for instance, may effortlessly supplant customary farm vehicles used to furrow their fields, sow crops, etc. with a farm hauler autopilot framework. On account of a farm vehicle autopilot framework, the driver sits in the lodge and steers or drives the farm vehicle on the field utilizing the regulator, which is connected to a few sensors.
Growth Factors
A scope of contributing elements, for example, the joining of IoT-based arrangements and AI instruments by ranchers and cultivators, as well as a rising spotlight on animals checking and early infection finding, are anticipated to possess the worldwide rural IoT market. Besides, the rising accentuation on upgraded new produce yield and extending populace is probably going to drive the worldwide rural IoT market higher than ever all through the conjecture period.
Moreover, the quick reception of hydroponics observing and feed advancement gadgets by cultivators in arising nations, as well as the increasing pace of cultivatable land misfortune, are probably going to grow the worldwide horticultural IoT market's impression all through the conjecture period. To make reference to a couple, the worldwide horticultural IoT market is probably going to be driven by the reconciliation of modern innovations like direction frameworks and variable rate innovation, as well as remote detecting and improved information stream inside the area.
Besides, factors, for example, expanding overall revenues with accurately incorporated rural IoT cultivating frameworks, as need might arise for lessening developing assets, are probably going to drive the worldwide agribusiness IoT market all through the conjecture period. In any case, expanding execution costs, restricted customer mindfulness, and an absence of qualified work are probably going to decrease the worldwide farming IoT industry's piece of the pie all through the projection period.
Report Scope of the Internet of Things (IoT) in Agriculture Market
| | |
| --- | --- |
| Report Coverage | Details |
| Market Size in 2023 | USD 14.83 Billion |
| Market Size by 2032 | USD 33.57 Billion |
| Growth Rate from 2023 to 2032 | CAGR of 9.50% |
| Sugarcane Segment Market Share in 2022 | 69% |
| Base Year | 2022 |
| Forecast Period | 2023 to 2032 |
| Segments Covered | Component, Type, Application, Geography |
| Companies Mentioned | Trimble Inc., Deere & Company, AGCO Corporation, Raven Industries, Inc., Komatsu, Ltd, Farmer Edge Inc., CropX, Inc., The Climate Corporation, AgJunction Inc., TeeJet Technologies, Antelliq Corporation, Topcon Positioning Systems, Inc., DICKEY-john |

Type Insights
The generally IoT in agriculture market is parcelled into structure segments, for instance, automation and control systems, recognizing and checking contraptions, tamed creatures noticing hardware, fish developing gear, splendid nursery hardware, and programming. In 2022, the automation and control structures class created the most unimaginably pay. The most well-known approach to robotizing a task or action that was recently managed actually yet is by and by performed by machines or PCs is known as automation. Farmers embrace developing robotization structures since they decrease manual work and addition developing capability. Since it lessens utilitarian costs, saves time, and additions developing precision, the developing computerization structure has impacted the cultivating business. Farmers, for instance, may handily supplant conventional farm trucks used to furrow their fields, sow crops, etc. with a work vehicle autopilot framework.
On account of a work vehicle autopilot framework, the driver sits in the lodge and steers or drives the farm truck on the field utilizing the regulator, which is connected to a few sensors. From water system frameworks to pesticide showering, robotization has facilitated each activity for ranchers. It increments exactness by applying the suitable amount of water, manure, and pesticides to crops. It likewise brings down working costs by bringing down work uses. Ranchers can likewise utilize satellite correspondence frameworks, for example, telematics frameworks, to work horticultural hardware from far off regions. This innovation empowers ranchers to screen all homestead exercises from a distance. They can undoubtedly work metropolitan water system frameworks and run farm trucks while sitting at the workplace.
Moreover, ranchers who don't live on their homesteads or who have restricted opportunity to execute cultivating undertakings attributable to different obligations might profit from this innovation. Automation frameworks enjoy different benefits when applied in rural applications. It significantly diminishes the working expenses of cultivating. Moreover, by supporting accuracy, agrarian robotization saves time and assets that would somehow or another be important to create the best return. One of the most significant advantages is that it utilizes less water, compost, and pesticides while yielding more prominent result by helping field accuracy.
Application Insights
The overall IoT in agriculture market is characterized into animals checking, savvy nursery, accuracy ranger service, fish ranch observing, accuracy cultivating, and others in light of use. In 2022, the accuracy cultivating class created the most pay. Accuracy cultivating is the study of working on rural yields and the board decisions by means of the utilization of super advanced sensors and examination devices. It is the most common way of supporting efficiency while diminishing work time and ensuring legitimate manure and water system the board. Accuracy cultivating utilizes information and data to streamline farming asset use, yields, and harvest quality. Accuracy cultivating is a rural strategy that enhances field-level administration to expand the convenience of assets on farming fields.
Moreover, accuracy cultivating permits ranchers to change inputs like water and compost to expand quality and creation. Accuracy farming purposes information from various sources to upgrade horticultural yields and limit costs, and the development of remote detecting innovation and Unmanned Aerial Vehicles (UAV) has decisively worked on worldwide use of this technique.
Besides, satellite and UAV-based remote detecting applications empower accuracy farming ways to deal with gauge high-spatial-goal data about soil boundaries, plant wellbeing, and harvest yields utilizing multispectral perceptions. Soil reflectance spectra additionally give data about soil boundaries like soil dampness and natural matter focus. Contingent upon the instrument's ghastly goal, explicit components, for example, dirt minerals, calcium carbonates, and iron oxides that effect soil fruitfulness and dampness holding capacity can likewise be analysed.
Geography Insights
Because of the presence of rising countries basically reliant upon agrarian ability, as well as expanding populated regions like as India and China, Asia-Pacific is anticipated to have the quickest developing CAGR and the best piece of the pie toward the beginning of the projection. This locale's rising interest is generally because of more prominent information on current agrarian innovation and the execution of ideal unofficial laws to support ranch digitization.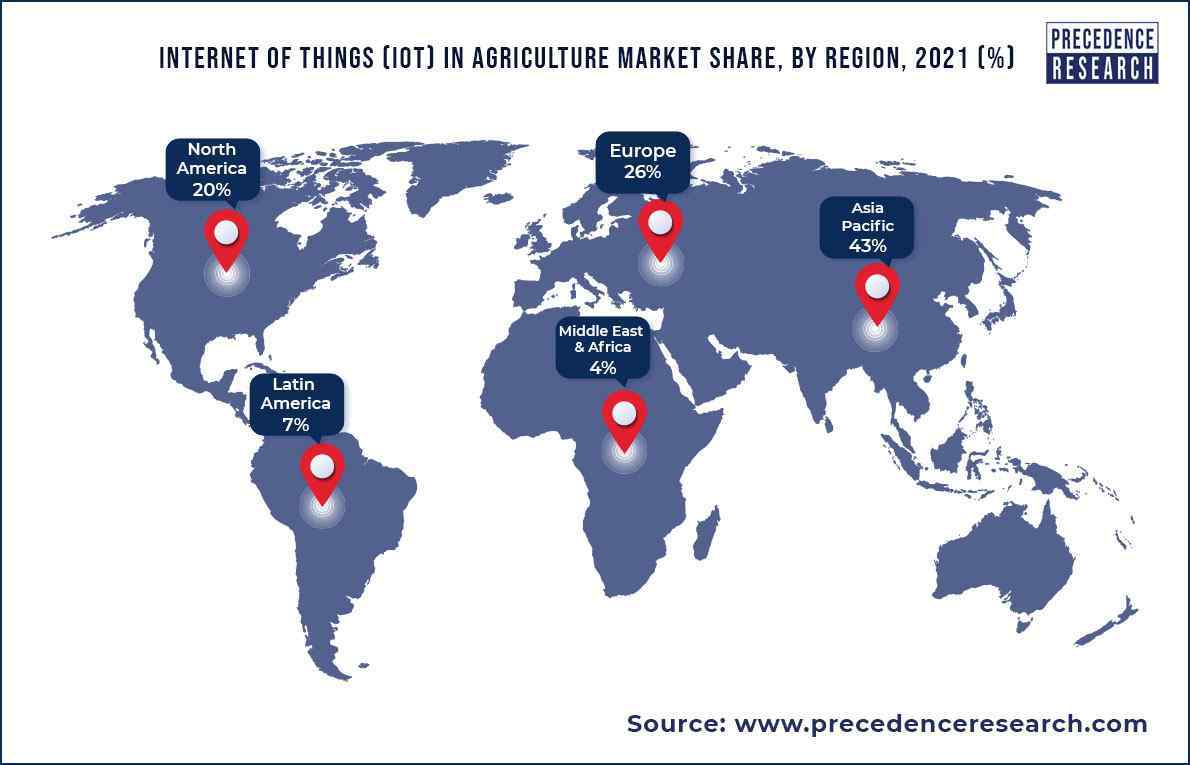 Moreover, as urbanization rises and the requirement for more noteworthy food security develops, so will interest for computerized agribusiness, bringing about IoT suggestions in agrarian districts around here. Besides, expanding buyer request decisions because of higher discretionary cash flow have added to the district's market improvement all through the anticipated period. Moreover, the extending accessibility of arable land, alongside more noteworthy government strategy support pointed toward making agribusiness the centre point, is probably going to grow the impression of the horticulture IoT market all through the estimate period.
Moreover, all through the estimate period, the joining of remote detecting innovation and satellite imaging techniques is probably going to help the extension of the agribusiness IoT market. Expanded cell phone entrance among ranchers nearby, along with expanded association measures, is probably going to support the client base for the agrarian IoT market all through the conjecture period. In 2022, Europe's market represented the third-biggest income share. The developing comprehension of the advantages of IoT in rural creation has brought about more noteworthy interest in this area.
Moreover, by conveying IoT gadgets, ranchers are better ready to screen and assess horticultural regions, adding to the locale's supported extension during the projection time frame. Because of the district's dependence on horticultural merchandise, the market in Latin America, the Middle East, and Africa is anticipated to increase at a moderate income rate during the conjecture time frame. Besides, rising populace in nations like Saudi Arabia, Brazil, and South Africa is supposed to increment territorial interest for horticultural products, adding to showcase advancement all through the projection period.
Key Market Developments
On February 15, 2022, Kacific Broadband Satellite Ltd, a Singapore based provider of fast, strong, and negligible cost satellite web to homes, associations, and states across Asia Pacific, detailed plans with Farmer Charlie, a UK-based provincial information and dominance provider, to bring satellite-controlled green information and expertise to farmers in remote and confined bits of Southeast Asia and the Pacific. Plus, Kacific and Farmer Charlie will collaborate to outfit smallholder farmers and agribusinesses with agrarian guidance, bound environment information, and agribusiness information, consolidating data from in-field sensors, with a ultimate objective to help them with additional creating region the chiefs and food creation utilizing clever high level contraptions. The help is likewise expected to help ranchers in decreasing post-collect misfortune, dealing with the gamble of dry season, floods, and other outrageous climate occasions, and managing the impacts of environmental change.
On February 3, 2022, Semtech Corporation, arranged in California, said ICT International, an IoT plan provider for environmental applications, has composed Semtech's Long-Range contraptions and the Long-Range Wide-Area Network standard into their water quality really taking a look at system. LoRaWAN development engages long-range, low-power, wide-district network consideration, allowing these sensors to impart assessed data, for instance, temperature, water level or tide, water pungency, and more to shellfish farmers in the area.
AKVA Group has consented to supply a full RAS office west of Shanghai to Nordic Aqua Ningbo in November 2020. In 2026, the undertaking is supposed to create 8,000 tons.
Deere and Company will purchase Unimil (Brazil), a Brazilian maker of secondary selling parts for sugarcane gatherers, in September 2020. The firm made interests in the Brazilian market because of this buy, which will help clients in Brazil cut their sugarcane creation costs. This obtaining would likewise permit Deere to give a more extensive exhibit of parts that give clients practical arrangements.
DeLaval purchased milkrite|InterPuls (UK), a draining point arrangement provider to dairy makers, in July 2020 to grow its item advertising. Milkrite|InterPuls would keep on working autonomously following the obtaining.
Key Market Players
Trimble Inc.
Deere & Company
AGCO Corporation
Raven Industries, Inc.
Komatsu, Ltd
Farmer Edge Inc.
CropX, Inc.
The Climate Corporation
AgJunction Inc.
TeeJet Technologies
Antelliq Corporation
Topcon Positioning Systems, Inc.
ICKEY-john
Segments Covered in the report
(Note*: We offer report based on sub segments as well. Kindly, let us know if you are interested)
By Component
Introduction
Hardware

Irrigation Controllers
Flow and Application Control Devices
Variable Rate Controllers

Soil Sensors
Water Sensors
Climate Sensors
Sensors for Livestock

Automation and Control Systems
Sensing and Monitoring Devices
Guidance and Navigation
Drones
Handheld Computers
Displays
Smart Harvesters & Forwarders
RFID Tags and Readers
LED Grow Lights

Software
Connectivity & Services
By Type
Small Farms
Mid-Sized
Large
By Application
Precision Aquaculture
Precision Farming
Smart Greenhouses
Precision Livestock
Precision Forestry
Others
By Geography
North America
Europe
Asia-Pacific

China
India
Japan
South Korea
Malaysia
Philippines

Latin America

Brazil
Rest of Latin America

Middle East & Africa (MEA)

GCC
North Africa
South Africa
Rest of the Middle East & Africa