The global internet of packaging market size was valued at USD 18 billion in 2022 and it is expected to reach around USD 45.22 billion by 2032, growing at a compound annual growth rate (CAGR) of 9.7% during the forecast period 2023 to 2032.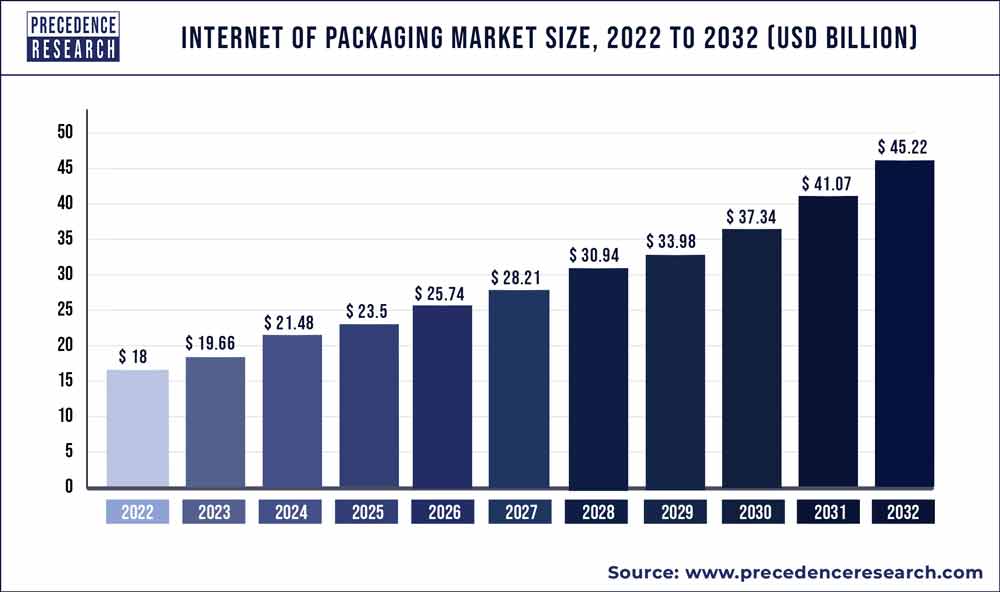 Access our Premium Real Time Data Intelligence Tool, Visit: Precedence Statistics
Traditional packaging is disrupted by the Internet of packaging, which also improves customer-company communication. Smart packaging makes use of Near Field Communication (NFC) chips, smart labels, RFID, and QR codes. By enabling protection, authentication, and connection, these cutting-edge solutions provide value by converting product packaging into a data carrier and digital tool. This enables information about specific packages to be registered and updated in the cloud during the course of the product's lifespan.
Additionally, manufacturers may add diagnostic and indication functions into their packaging thanks to Internet of Things sensors and devices. Customers may now view the product's progress in real-time thanks to this. Significant options for customer marketing and brand interaction, image management, tracking, optimization, and other areas are provided by the Internet of Packaging. As a consequence of the Internet of Packaging, there is now a value network rather than a value chain. Information no longer moves in a single direction. Technology development and the use of Internet of Things (IoT) in packaging solutions across a variety of industrial verticals are major drivers fueling market revenue growth.
In addition, demand for Internet of Packaging is anticipated to be fueled by digitization, improved tracking, increased operational efficiency, and greater customer involvement. IoT is being used by packaging businesses to increase the effectiveness of their operations. When paired with AI, connected sensors provide real-time asset monitoring and the ability to anticipate errors before they happen. The Industrial Internet is being used by packaging makers to help them meet their ESG (environmental, social, and governance) goals. Thus, businesses are using the Industrial Internet to monitor a variety of environmental factors, such as energy and water consumption.
Growth factors
Online Packaging Throughout the projection period, market growth is anticipated to increase significantly. Extremely recent and innovative technology developments, such as smartphone marketing codes, quick feedback, and electronics in the packaging industry, may be the cause of the increase in demand. Sector companies create affordable and effective wrapping services to remain competitive in the commercial market. Due to the rising need for multi-specialty wrapping with the goal of maintaining nutritional and health value and freshness quality in the products at cheap competitive costs, the global Internet of packaging market trend and market size are predicted to increase.
The complexity of goods, advancements in packaging techniques, and expenditures in R & D are some of the major market share drivers. The need for Internet of Packaging Market Services is being driven by the rising customer desire for comfort food, which will accelerate the expansion of the Internet of Packaging Market throughout the forecast period. The e-commerce sector's growing demand for smart packaging with enhanced capabilities like simple tracking and detection utilizing rapid response (QR) codes is boosting sales of clever packaging and A key factor driving the need for active packaging, such as oxygen scavengers and ethylene absorbers, is the implementation of strict laws surrounding the storage and transportation of different food, beverage, and healthcare items in order to maintain product safety.
Report Scope of the Internet of Packaging Market
| | |
| --- | --- |
| Report Coverage | Details |
| Market Size in 2023 | USD 19.66 Billion |
| Market Size by 2032 | USD 45.22 Billion |
| Growth Rate from 2023 to 2032 | CAGR of 9.7% |
| Base Year | 2022 |
| Forecast Period | 2023 to 2032 |
| Segments Covered | Technology Deployed Type, Industry Verticals and Geography |
| Companies Mentioned | Wiliot, Tetra Pak, Scanbuy, Inc., Kezzler, Identiv, Inc., Unipac Corporation, Vesta Smart Packaging, Sepio Products, CuePath Innovation designs, Tapwow, Blippar, Rover, Insignia Technologies, RePack, IO, The Porch Pod, ColorSensing, kaiosID, Impacx, RightMash, QTrust, Iungo |

Key Market Drivers
Consumer demand for convenience food:

Due to urbanization, where there is a rising migration from rural to urban regions, and changes in dietary conditions, the consumption of ready-to-eat meals and convenience foods is becoming more popular. People in nations like India have begun to abandon the custom of preparing meals at home and sharing them with family and friends. Consequently, encouraging the use of convenience foods, where it is anticipated that internet of packaging packaging would give a variety of customers accurate information on the food product.

Internet of packaging demand in e-commerce:

With the introduction of clever packaging, the global e-commerce market is growing. It is utilized for shipping purposes throughout the whole e-commerce process. The product can be easily tracked from the manufacturer's facility, warehouse, shipper's warehouse, delivery partner, and all the way to the ultimate customer thanks to internet of packaging's many advanced capabilities. These characteristics differ from conventional packaging, which required the maker, seller, and shipper to keep accurate records of the packing from the very start of the supply chain. Tracking packaged goods has become easier because to the development of clever packaging, particularly in the e-commerce sector. The whole supply chain is transformed when internet of packaging is used. The market demand is anticipated to rise in the upcoming years as a result of this.
Key market challenges
High costs of hardware, software, and training expenditures

- The key issue impeding the growth of the internet of packaging market is the high cost of hardware, software, and training expenses. Internet of packaging solutions are relatively pricey in comparison to traditional packaging solutions. The development of the internet of packaging market trend is being constrained by growing worries about the conditions and application of several legislation and standards surrounding the use of plastics for packaging sectors.

Less acceptance of non-digestible items

- The lower acceptance of non-digestible ingredient present in food products separately from the packaged food by its own, as well as concern over the risks associated with the irresponsible release of elements from intelligent devices that come into direct contact with food products, are known to be the reasons why customers are hesitant to use online packaging services. Customers are also concerned and upset that the information about food quality has been conveyed. Those clever gadgets could be blatantly deceptive.
Key Market Opportunities
Monitor progress of goods

- The requirement for internet of packaging solutions is being driven primarily by the increase in demand for tracking items during transit and ensuring product safety and delivery. Additionally, as distributors always look for methods to improve their product offering through several channels including services, packaging, and faster delivery, the growing market trend of eCommerce and online shopping is also escalating the need for the market's internet of packaging. Monitoring the movement of the products through the supply chain and the brand might detect problems in advance. Additionally, it guarantees product safety measures and product authenticity. The governments and administrations of the numerous nations that participate in the internet of packaging market make significant efforts to develop and research the packaging sectors, including those for food and beverage, pharmaceutical, and healthcare industries, among others.

Integration of Advanced Technologies

- The use of internet of packaging solutions is spreading. In turn, it is anticipated that market competitiveness would intensify. More businesses are incorporating cutting-edge technology to improve packaging in order to acquire a competitive advantage. For example, some are spending money on augmented reality integration. With augmented reality, customers can look beyond the product's packaging, which helps them better comprehend the brand and its positioning. With the use of smart packaging and augmented reality (AR), Tetra Pak and the digital experiences studio have unveiled a milk carton that motivates consumers to live better lives. The need for internet of packaging is being fueled by the rising trend of learning about a product's features and information simply by scanning a QR code with a smartphone. Customers will be able to identify the origin of the meat and the time it reached the shop thanks to Tyson Foods' addition of a QR code to its meat products.
Segmental Insights
Technology Deployed Type Insights
The near field communication segment is anticipated to account for the greatest revenue share during the projection period based on the kind of technology implemented. NFC tags, which may be integrated into packaging, offer an exciting possibility to enhance the intelligence and interactivity of commonplace items. These NFC tags have distinctive identifiers for every item, not simply the kind of goods, enabling customized, location-specific, and dynamic content. Since NFC technology's unique ID prevents product fraud and enables identification, it is also less likely to be copied. These are two major elements influencing this market's expansion.
Industry Verticals Insights
The food and beverage category is anticipated to outperform the other categories in terms of revenue share throughout the projected period, according to industry verticals. By making it possible to promptly correct food safety breaches and provide customers with product-related information, internet of packaging technologies prevent food fraud. Since the Internet of Packaging minimizes the amount of time needed to identify an event, tracing the origin of food safety incidents saves lives and money. This suggests more focused recalls, fewer confusion, and higher levels of consumer confidence in food safety. The market is expanding as a result of research into various F&B uses for nanotechnology, the desire from retailers and manufacturers for shelf-stable and sustainable packaging options, and rising packaged food product consumption.
Internet of Packaging Market Share, By Region, 2022 (%)
| | |
| --- | --- |
| Regions | Revenue Share in 2022 (%) |
| North America | 40% |
| Asia Pacific | 21% |
| Europe | 29% |
| Latin America | 6% |
| MEA | 4% |

Geography Insights
With the highest market share, North America emerged as the biggest regional market for the Internet of Packaging in 2022. The region's growing preference for Internet of Packaging over conventional packaging and the accessibility of widespread Internet connectivity are primarily responsible for the development in revenue in the North American market. Additionally, thanks to the Internet of Packaging, better safety assurance, transparency, and dependability. Due to the presence of top industry players in the area, such as Unipac Corporation, Scanbuy, Inc., Identiv, Inc., and Tapwow, the Internet of packaging market in North America is anticipated to have strong revenue growth throughout the course of the projection year.
Over the projected period, the Asia Pacific Internet of Packaging market is anticipated to develop at the quickest CAGR. The main drivers of market expansion in APAC are changing lifestyles, growing need for technological packaging solutions, and improved product traceability. The expansion of the APAC market is also aided by the rising clientele and rising e-commerce shipments that make Internet of Packaging possible in the region's emerging nations, notably in China and India.
Recent Developments
The self-powered, stamp-sized computer created by Internet of Things (IoT) technology pioneer Wiliot, which can be attached to any product or packaging to detect a range of physical and environmental data, revealed in July 2021 that it had secured $200 million in a Series C financing round.

Tetra Pak will launch "universal" smart packaging software in November 2021, which brands can modify to suit their own requirements. Packaging company Tetra Pak has introduced a connected packaging white label app solution that companies can tailor to match their unique needs as they convert their packaging into a point of interaction.
Key market players
Segments covered in the report
(Note*: We offer report based on sub segments as well. Kindly, let us know if you are interested)
By Technology Deployed Type
By Industry Verticals
Personal & Home care

Health care

Food & Beverages

Automotive

Consumer Electronics

Others
By Geography
North America
Europe
Asia-Pacific
Latin America
Middle East & Africa (MEA)