The global learning management systems market size accounted for USD 17.62 billion in 2022 and is expected to hit around USD 91.83 billion by 2032, poised to grow at a CAGR of 18% during the forecast period from 2023 to 2032.
Key Takeaways:
North America has generated more than 41% of revenue share in 2022.
By Delivery Mode, the distant learning segment has contributed more than 41% of revenue share in 2022.
By Component, the solution segment held a market maximum market share in 2022.
By Deployment, the on-premises segment led the global market in 2022.
By Enterprise, the large enterprise size segment global market in 2022.
By End-user, the academic segment dominated the global market in 2022.
Market Overview:
Learning management systems (LMS) is most commonly used for online learning, but they can also be used for other things, like acting as a platform for online courses that are both synchronous and asynchronous. Additionally, LMS software, sometimes referred to as computer-based training software, helps organizations and educational institutions manage their online learning programs better. This may be a very successful strategy to boost employee engagement and retention while also raising staff skill levels.
Growth Factors:
One of the main factors driving the market is the rising adoption of learning management systems for online and classroom instruction to cut costs and improve convenience. Additionally, rising consumer desire for learning management systems, rapid internet access, and widespread use of these systems by educational institutions are all factors that are accelerating the growth of the learning management systems market. Things like the automation of procedures that require human intervention, and the integration of artificial intelligence (AI) presents huge opportunity for learning management system firms to extend their products. Additionally, the industry may have room to grow as advances and pushes toward digitalized education continue to grow.
Report Scope of the Learning Management Systems Market:
| | |
| --- | --- |
| Report Coverage | Details |
| Market Size in 2023 | USD 20.7 Billion |
| Market Size by 2032 | USD 91.83 Billion |
| Growth Rate from 2023 to 2032 | CAGR of 18% |
| Largest Market | North America |
| Base Year | 2022 |
| Forecast Period | 2023 to 2032 |
| Segments Covered | By Component, By Deployment, By Enterprise, By Delivery Mode, and By End-user |
| Regions Covered | North America, Europe, Asia-Pacific, Latin America and Middle East & Africa |

Market Dynamics:
Driver:
Rising adoption and proliferation of E-learning
E-learning is one of the knowledge-based sectors with one of the fastest global growth rates. By integrating learning management systems across business organisations and educational institutions, advances in e-learning have made training and learning simpler. Numerous advantages including adaptability, promptness of access, powerful integration with internet-based services, and affordability, are persuading more and more users to utilise contemporary technologies for teaching staff members and students. A growing number of businesses worldwide are modernizing their training environments by embracing e-learning solutions in order to guarantee staff efficiency.
Learning management systems, which offer all the requirements for successfully managing training practises, such as performance management, administration, content management, and the delivery of unique and customized courses for employees, are an additional support for these solutions. As LMS allows for learning delivery in a short amount of time while retaining high employee productivity, corporations find it simple to teach their staff more effectively. As a result, the development of e-learning platforms, particularly in the corporate sector, is refocusing attention on online learning platforms and fostering the expansion of the LMS market.
Restraint:
Technical limitations
Specific technological requirements for LMS might be necessary; these needs might not be supported by all hardware or operating systems. This may restrict learners' access, which would slow the market's expansion.
Opportunity:
Gamification
Gamification in LMS improves learning, engages users, and addresses problems. LMS includes gamification components like badges, leaderboards, and awards that encourage active involvement from learners.
Impact of COVID-19:
Significant changes have been made to the learning management system (LMS) market as a result of the COVID-19 epidemic. Since schools and universities have closed, remote learning has become commonplace, increasing the need for LMS solutions. The use of remote learning has greatly raised demand for LMS products. To continue teaching throughout the pandemic, several colleges and institutions were forced to quickly implement online learning tools. Both the number of LMS providers and the number of students utilizing these systems have increased as a result of this.
The pandemic has caused a huge increase in the size of the LMS market. The popularity of cloud-based LMS solutions has also surged due to the pandemic. Scalability, flexibility, and convenience of access from anywhere are just a few advantages of cloud-based LMS systems. As a result, many colleges and institutions have switched to LMS platforms that are based in the cloud to accommodate distance learning.
Segments Insight:
Component Insights:
In 2022, the solution sector held the market's largest share. Players in the market, including Cornerstone, Oracle, SAP, and others, are incorporating cutting-edge technology into the platforms for learning management systems (LMS), including machine learning (ML), artificial intelligence (AI), and analytics.
As an illustration, Cornerstone offered expanded content options for the corporate workforce in 2021. Through collaborations and financial investments in original content production, the company concentrated on enhancing its curated content. Additionally, Cornerstone provides Skill Pill with customizable catalogues, which let businesses pick individual courses and customize their records to suit their unique needs.
Over the projected period, the service category is anticipated to increase more quickly. The significant growth in the service sector is a result of the increasing need for installation and technical support. Implementation, consulting, and support are just a few of the educational services that providers of education and learning services offer. These services can be used by learners to support the creation of curricula as well as the efficient execution and upkeep of present activities. The advanced system has a feature called integration-as-a-service that reduces installation complexity and time. Similar to how training and learning collaborations have developed, the business consulting sub-segment will probably dominate this sector.
Deployment Insights:
In 2022, the on-premises segment dominated the industry. In the future years, it is expected that demand for on-premises services will decrease. Complete control, customization, better integration, and a longer deployment time are all advantages of on-premises deployments.
All business organizations' training and development divisions are quickly embracing mobile learning. The majority of businesses use technology-assisted learning, which enables staff members to generate, store, and present creative ideas at work. Businesses that use mobile learning solutions have noticed an increase in employee loyalty, creativity, and productivity. The majority of vendors are moving away from on-premises deployment and towards cloud-based options. Players in the market publish cloud-based applications and work with companies to offer premium and new content to end users. For instance, in August 2021, D2L Corporation purchased Bayfield Design, a company that specialized in creating and delivering cloud courses to employees and students. By gaining access to the premium courses developed by Bayfield Design and offering top-notch services to students and parents, the company hopes to provide teachers and students with premium digital curriculum courses.
Enterprise Size Insights:
In 2022, the large enterprise size category dominated the industry. Companies now use LMS software because of its many benefits, which include reduced training and development expenses, centralized training resources, quicker training, and more. The aforementioned elements are expected to boost demand for LMS software created for the corporate and educational sectors in large businesses.
To grow the client base and creative material, the players team up with businesses. For instance, Cornerstone bought EdCast Inc. in March 2022, a company that offers a learning platform to organizations, businesses, and governments around the world. With the aid of EdCast Inc., the company hopes to increase the value of clients through this acquisition by offering some cutting-edge learning, skill-building, and content.
During the projection period, the small and medium enterprise segment is anticipated to develop significantly. A learning management system has helped a lot of international institutions, educational organizations, and businesses. Every level of the organization needs LMS software since businesses need to train employees to comply with safety regulations.
A small business needs a learning management system (LMS) for a number of reasons, including cost-effectiveness, tracking employee growth, employee training, and others. For small businesses and startups, cloud infrastructure has made the LMS platform convenient and economical.
Delivery Mode Insights:
In 2022, the distance learning sector led the industry. Additionally, it is predicted that the instructor-led training (ILT) category would experience the highest CAGR during the projection period. A seamless learning experience is provided through instructor-led training programs, which promote conversation and interaction between instructors, learners, and staff.
Since LMS manages instructional content, online course administration, and student work assessment, its demand in academia has skyrocketed. In the future years, distant learning is probably going to rise somewhat, but employees and students are probably going to prefer instructor-led training.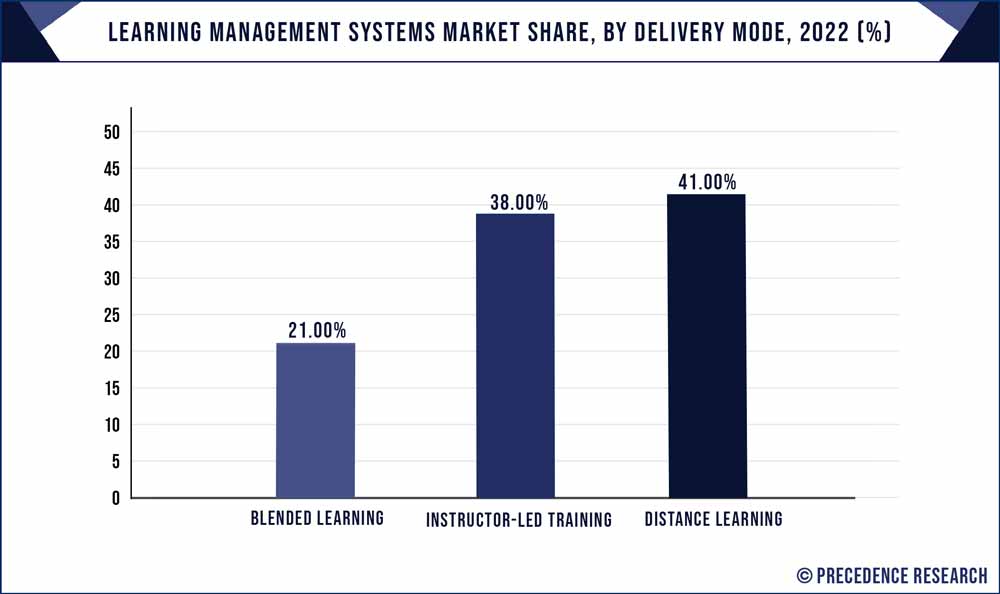 More educational innovations, like webinars, mobile learning, and virtual classrooms, are included in blended learning. These techniques mix varied degrees of digital media interactivity with content delivery. Blended learning can involve personalized teaching strategies for higher learning outcomes in addition to its main goal of enhancing the teaching experience. Combined K–12 and higher academic settings are where blended learning is most common. Flexibility, improved education, corporate training, and a higher return on investment (ROI) are all benefits of blended learning.
End-User Insights:
In 2022, the academic category dominated the global market. The market is divided into corporate and academic end users. A learning environment should offer adaptable training programs that are tailored to the individual needs of each learner. To reinforce learning systems and make them adaptable to future advancements in education and technology, e-learning should employ a holistic and ecological learning strategy.
On the other hand, modernized learning modules for the future that are heavily focused on digital learning may be possible thanks to new technological advancements like mobile learning and the integration of AI and ML into academic learning environments.
LMS market adoption in the business sector is anticipated to increase as a result of the flexibility it offers for holding training sessions, meetings, and onboarding procedures. E-learning has been utilized by the retail sector, and sales staff have received training and product information. All of your e-Learning materials are kept in one location using corporate LMS software. The staff may spend less time searching through various discs and devices for content by using the LMS software, which also lessens the chance of losing crucial training materials and data.
Regional Insights:
In 2022, North America had the largest shares because of the growing Ed-tech activity, The LMS market is expected to be led by North America. There may be an opportunity for LMS providers to expand their businesses in the U.S. because it has more institutions and colleges than any other country.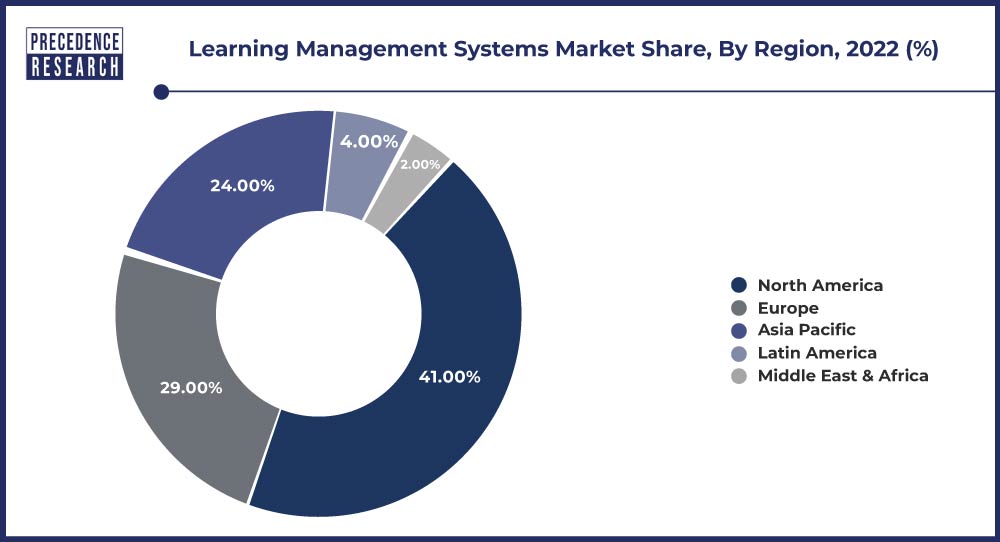 The North American market's success is influenced by the region's growing demand for effective and high-quality education. The LMS market share in North America has expanded as a result of the rapid adoption of innovative learning strategies.
Recent Developments:
In July 2022, one of the top providers of association management software, GrowthZone, has increased its integration relationship with Blue Sky eLearn. Through the cooperation, clients of GrowthZone would be able to use Path LMS, a learning management system from Blue Sky eLearn, to deliver their courses and get training for GrowthZone products in a more organized, learner-centered setting.
In May 2022, one of the world's top providers of talent acquisition, onboarding, learning management, and talent management solutions, SumTotal Systems, a Skillsoft company, recently announced a strategic alliance with Udemy Business, the corporate training arm of one of the top online learning and teaching platforms, Udemy. As a part of this partnership, SumTotal is offering Learning Management Experience Platform (LMXP) and can provide Udemy Business material. With the SumTotal/Udemy Business connection, customers could anticipate a more interesting learning experience and a quicker purchasing process.
Key Market Players:
Cornerstone
Blackboard Inc.
D2L Corporation
PowerSchool
Instructure, Inc.
Adobe
Oracle
SAP
Moodle
McGraw Hill
Xerox Corporation
Segments Covered in the Report:
(Note*: We offer report based on sub segments as well. Kindly, let us know if you are interested)
By Component
By Deployment
By Enterprise
Small & Medium Enterprise
Large Enterprises
By Delivery Mode
Distance Learning
Instructor-led Training
Blended Learning
By End-User
Academic
K-12
Higher Education
Corporate
Healthcare
Banking, Financial Services, And Insurance (BFSI)
IT And Telecommunication
Retail
Manufacturing
Government & Defense
Others
By Geography
North America
Europe
Asia-Pacific
Latin America
Middle East and Africa