The global life science tools market size was valued at USD 111.28 billion in 2022 and it is expected to be worth around USD 367.16 billion by 2032, poised to grow at a CAGR of 13% from 2023 to 2032. The increasing adoption of inorganic growth strategies such as acquisition by the key players in the market is expected to drive market growth over the forecast period.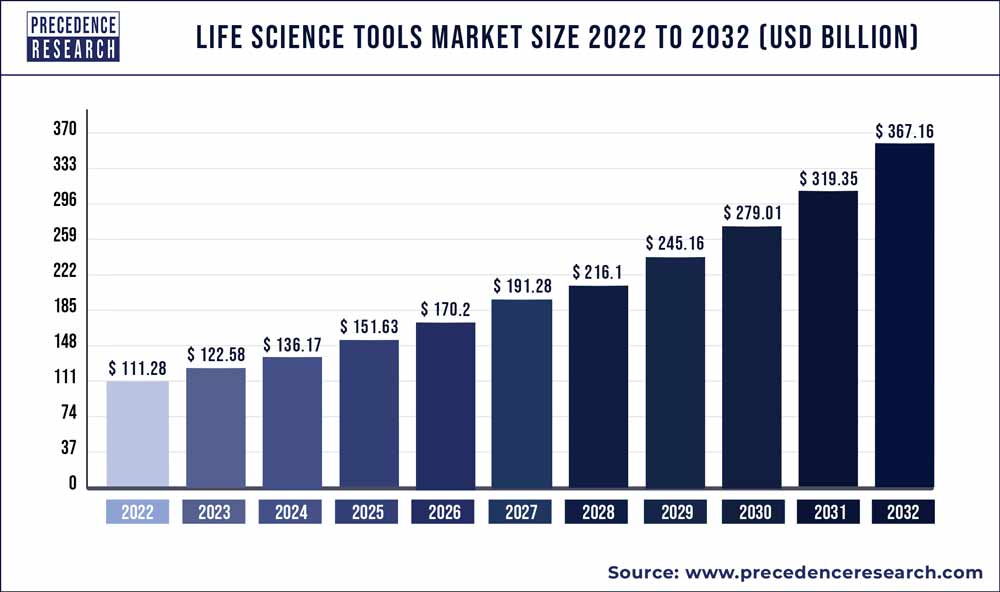 Access our Premium Real Time Data Intelligence Tool, Visit: Precedence Statistics
Key Takeaway:
North America is estimated to account for the share of 43.3% in 2023 and is projected to reach 44.9% by 2032
Europe is estimated to account for the share of 25.6% in 2023 and is expected to reach 22.6% by 2032
By Technology, in 2022, cell biology technology has captured a revenue share of 34.5%.
The Proteomics technology segment is growing at the fastest CAGR over the forecast period.
By Product, in 2022, cell culture systems and the 3D cell culture segment have captured a revenue share of 18.4%.
Next-generation sequencing is growing at a CAGR of 7.8% from 2023 to 2032.
By End-use, the healthcare segment has generated a revenue share of around 33.8% in 2022.
The Asia Pacific region is growing at the highest CAGR over the projected period.
The China biotechnology market is growing at a CAGR of 7.9% over the forecast period.
Life Science Tools Market in the U.S. 2023 To 2032
The U.S. life science tools market size was valued at USD 37.39 billion in 2022 and is expected to reach USD 125.24 billion by 2032, poised to grow at a CAGR of 12.9% from 2023 to 2032.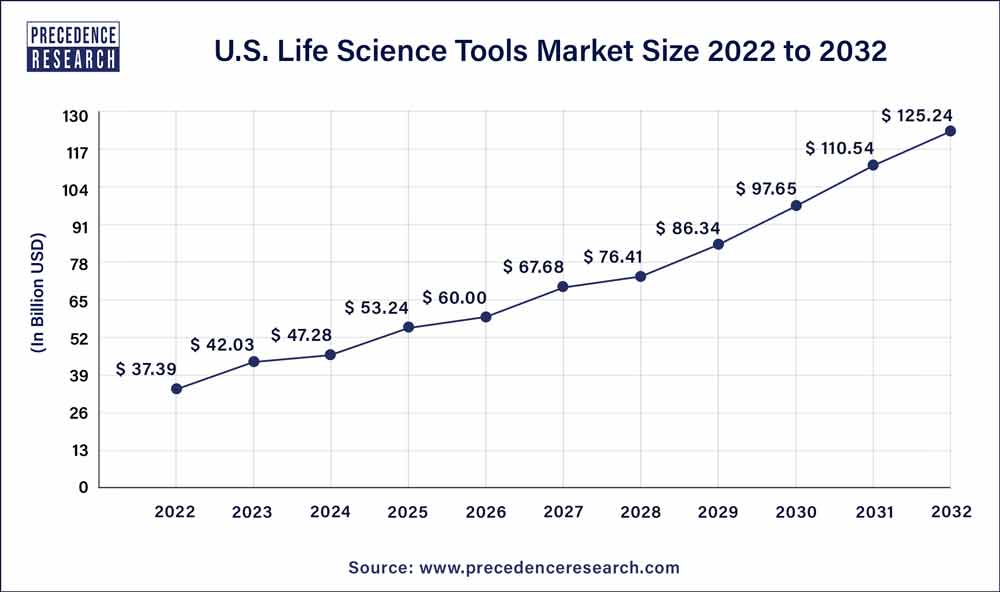 In terms of revenue, North America accounted for the maximum revenue share in 2022 due to local presence of major market leaders such as Thermo Fisher Scientific. Reputable informatics network along with well-regulated framework for approval and usage of genomic tests in the region again propel the growth of market. In addition, significant rise in the number of genomic procedures for clinical and academic application in the United States expected to fuel the North America market throughout the forecast period.
The North American region is predicted to dominate the life science tools industry. The biopharmaceutical business in the United States has grown dramatically with the introduction of novel product categories such as immunotherapeutic, nanoantibodies, synthetic vaccines, and others. The market is anticipated to be driven by the pharmaceutical and biopharmaceutical industry' increased R&D investments in life science tools, academics, and research.
For instance, the US biopharmaceutical industry has emerged as the global leader in the discovery of new drugs, according to the Pharmaceutical Research and Manufacturers of America. The total amount of funds spent on research and development by the pharmaceutical and biopharmaceutical industries was anticipated to be USD 91.1 billion in 2021, up from roughly USD 83 billion in 2020.
Furthermore, the use of human tissue in the creation of novel assays is crucial to personalized therapy. Tissue diagnostics are increasingly used due to the expansion of customized medicine brought about by the increased use of healthcare IT systems and sequencing technologies in the clinical workflow. The sector for tailored treatment is growing owing to the United States Precision Medicine Program. Therefore, the aforementioned instances in the North American region are projected to boost global market growth.
On the other hand, the Asia Pacific poised to witness the fastest growth during the analysis period. This is attributed to the increasing penetration of leading market players in emerging Asian countries and rising investments for design of advanced diagnostic methods.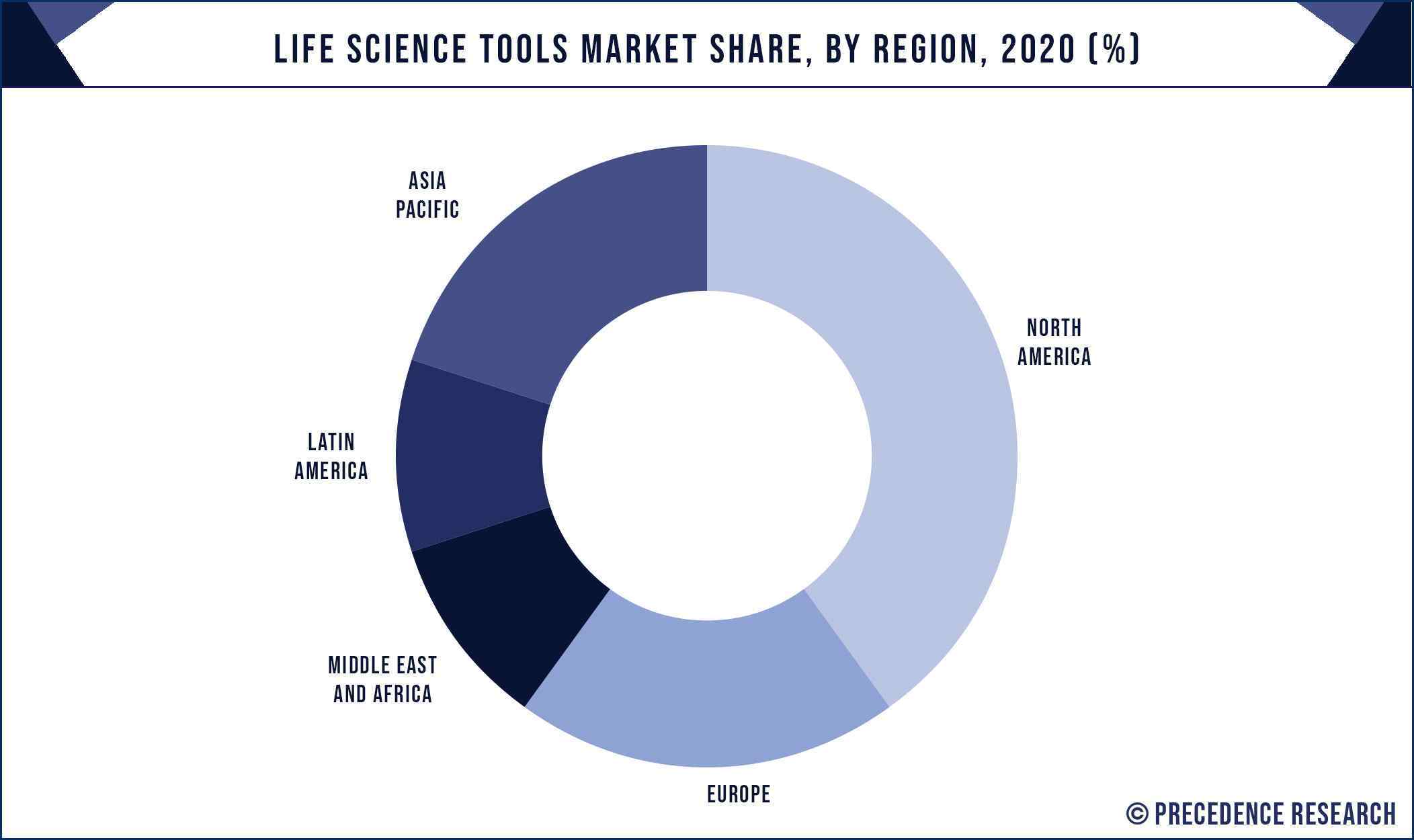 Life Science Tools Market Regional Outlook:
The North America life science tools market is estimated to be valued at US$ 53,052.7 million in 2023 and is projected to increase to US$ 164,966.9 million by 2032, growing at a CAGR of 13.4% between 2023 and 2032.
The U.S. life science tools market is estimated to be valued at US$ 43,817.3 million in 2023 and is projected to increase to US$ 138,749.2 million by 2032, growing at a CAGR of 13.7% between 2023 and 2032.
The Europe life science tools market is estimated to be valued at US$ 31,414.3 Mn in 2023 and is projected to reach US$ 82,917.0 Mn by 2032, exhibiting a CAGR of 11.4% between 2023 and 2032.
Growth Factors
Rapid technological advancements adopted by the companies operating in the life science tools market in the field of sequencing technologies, mass spectrometry, NMR, chromatography methods, and other products significantly drives the market growth. Further, market players invest significantly towards research & development related to life science tools and services along with increase in the developments and number of strategic deals predicted to fuel the market growth prominently. The field of life sciences and biopharma witnessed large number of acquisitions in the year 2018 that paved a way for flourishing industry growth in 2019 and in the coming years. Initially, only few industry participants were having infrastructure to deal with the entire value chain of biological production. This has dramatically changed in the recent past, presently there are several firms operating in the market and are involved in the development of biologics. The aforementioned factor significantly drives the market growth.
Life Science Tools Market Scope
| | |
| --- | --- |
| Report Highlights | Details |
| Market Size in 2023 | USD 122.58 Billion |
| Market Size by 2032 | USD 367.16 Billion |
| Growth Rate From 2023 To 2032 | CAGR of 13% |
| Fastest Growing Market | Asia Pacific |
| Largest Market | North America |
| Base Year | 2022 |
| Forecast Period | 2023 to 2032 |
| Segments Covered | Technology, Product, End User, Region |
| Companies Mentioned | Agilent Technologies, Becton, Dickinson and Company, F. Hoffmann-La Roche Ltd., Bio-Rad Laboratories, Inc., Bruker Corporation, Danaher Corporation, GE Healthcare, Hitachi, Ltd., Illumina, Inc., Merck KGaA, Oxford Instruments plc, Qiagen N.V. |
Market Dynamics
Market Drivers
Increasing Demand for Biopharmaceuticals:
Rising demand for biologics frequently utilizing recombinant DNA technology is projected to drive the market expansion of life science tools. In order to increase the production of biological treatments and keep up with the rising demand, the life science industry is currently concentrating on cutting-edge innovations like predictive analytics. With the help of significant improvements in technology, laboratories, strategy, and operations, these goods, which make up about 20% of the global pharmaceutical market, may end up serving as the foundation of the pharmaceutical industry during the course of the projection period. Demand has grown as a result of biopharmaceutical products' greater safety, effectiveness, and capacity to cure medical illnesses that were previously incurable.
Market Opportunities
Advancements in Technology:
The adoption rate of tools, including next sequencers, PCR and qPCR, flow cytometers, spectrometers, microscopes, chromatography columns, nucleic acid processing equipment, and cell biology instruments, is increasing in technological developments. The introduction of DNA assay in clinical settings has been impacted by improvements in molecular diagnostic methods such as digital droplet PCR, Next-Generation Sequencing (NGS), and genome-wide sequencing concerning accuracy, timescale, and reproducibility. The optimal use of circulating nucleic acids in therapeutic applications depends on an efficient extraction process.
By Product

In terms of cost-effectiveness, unparalleled sequencing speed, high resolution, and accuracy in genomic analysis, next-generation sequencing (NGS) technologies are advancing. Next-generation sequencing technology includes de novo assembly sequencing, whole genome sequencing, transcriptome sequencing, and resequencing at the DNA or RNA level. The market is projected to develop due to factors such as the rise in the use of next-generation sequencing technology in clinical diagnostics and the speed, affordability, and accuracy of this sequencing approach. For instance, next-generation sequencing has several benefits over conventional sequencing techniques, according to an article published by PubMed Central in January 2021. These benefits include faster turnaround times for large sample numbers, lower cost, and improved sensitivity in detecting low-frequency variations. Sample multiplexing also increases throughput.
Owing to its importance in researching tumor heterogeneity, discovering new genes linked to cancer, and identifying changes associated with carcinogenesis, next-generation sequencing is expected to grow dramatically. For instance, the clinical study of cancer with an unknown origin and the assessment of prospective treatments were done using a sequencing-based method by the Genomic Medicine Service of the National Health Service in the United Kingdom.
Technology Insights
Cell biology technology dominated the global life science tools market in 2022 and followed by genomics technology. Traditional genome editing technologies have limited capacity to maintain pace with rapidly growing genome modification era as these technologies require time, are inefficient, and also require in-depth work. The introduction of CRISPR/Cas9 nuclease and ZFN provides precise and easy genome editing. Presently, the genomic industry has witnessed substantial growth in the number of advancements and prominent expansion in the application gene-editing tools to treat genetic disease. The aforementioned factor prominently drives the market growth for cell biology in the forthcoming years.
The cell biology technology segment is expanding due to the increased funding by the National Institutes of Health for cell biology and the application of cell biology technology in drug discovery. Also, the use of cell-based assays for drug discovery has increased as a result of advancements in liquid handling and flow cytometry.
Cell biology remains to be impacted by further advancements in AI tools. For instance, the cell morphology atlas maintained by the life science business Deepcell, founded by Stanford University, just reached one billion photos. The atlas was created as part of the company's effort to enhance AI models for cell characterization and isolation in order to uncover patterns that humans are not capable of seeing. Identification of cell types based on morphology will benefit from expanding the volumes of these datasets.
Also, major industrial companies' increasing research practices propel the demand for tools and equipment. For instance, Haihe and EdiGene Laboratory declared a strategic partnership to create platform technologies and stem regenerative cell treatments in January 2022. The cooperation intends to investigate cutting-edge biomarkers to improve stem cell production quality control. Owing to these strategies, the demand for life science tools has proliferated.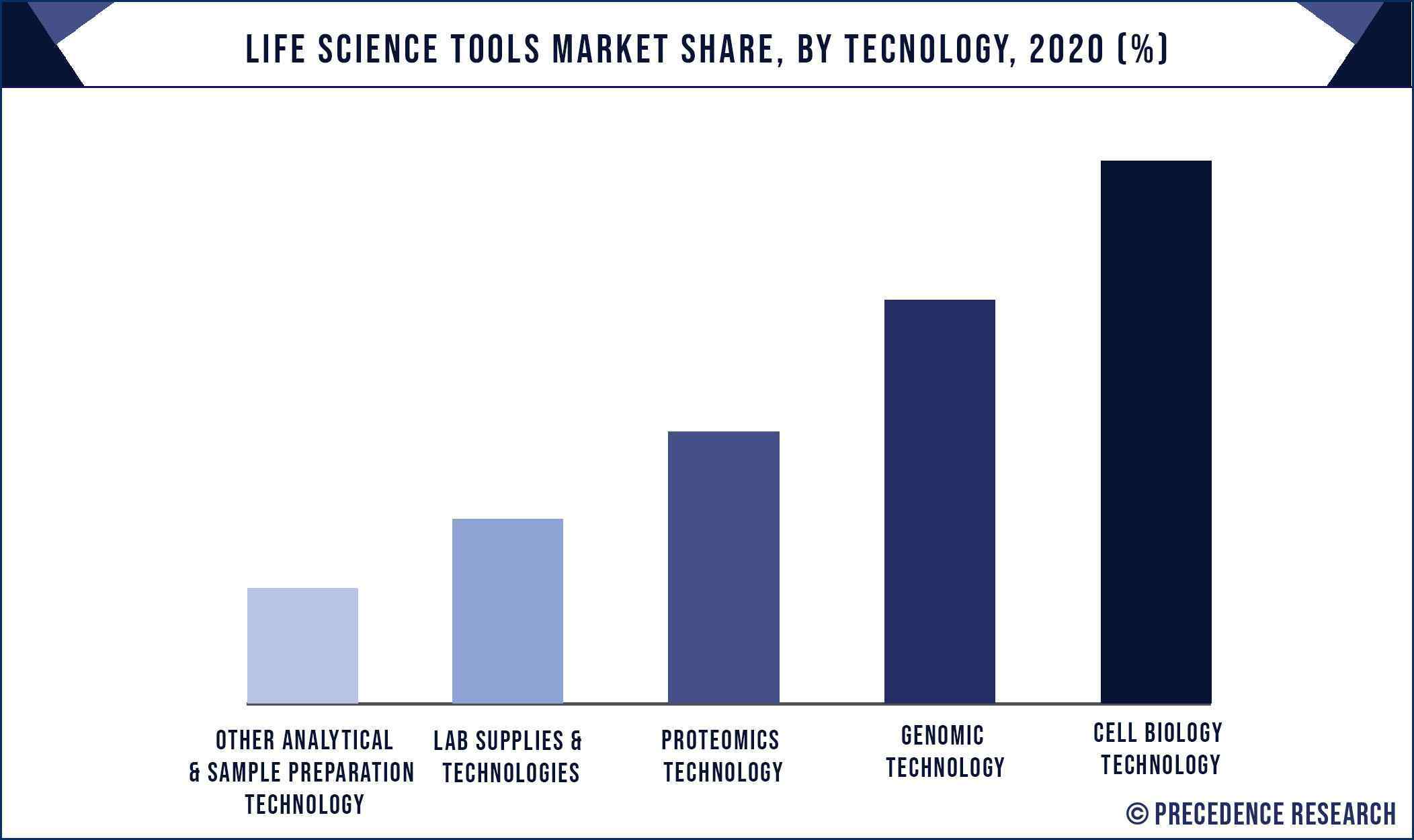 Besides this, proteomics application segment projected to register the highest growth over the forecast period. This is attributed to complete illustration provided by the proteome analysis related to structural and functional information of the cell as well as their response mechanisms against drugs and other outside factors. Mass spectrometry is the key technology used during proteomic analysis. Technological advancements in the field of mass spectrometry expected to drive the capabilities of proteomic analysis.
End-use Insights
The healthcare segment occupied maximum market value share in 2022 and expected to witness substantial growth over the forecast period. The segment comprises of clinics, hospitals, community centers, diagnostic laboratories, and physician offices. Rising adoption of proteomic and genomic workflow in hospitals to treat and diagnose various clinical abnormalities analyzed to fuel the market growth. In addition, efforts taken by the clinics and hospitals to expand their research gateway in the field of genomics also projected as the major factor to propel the market growth of life science tools.
Due to hospitals' high usage and consumption rates of tissue diagnostic solutions, the healthcare sector is anticipated to expand. With greater frequency, clinicians are using tissue-based diagnostic testing procedures instead of more conventional testing approaches. This is because tissue diagnostic tests are quicker than more traditional methods.
It is anticipated that genomic sequencing in a hospital or clinical setting would enhance patient care while bringing down medical expenses. As a result, the healthcare sector is expected to grow at the fastest rate going forward.
Also, a number of innovations in tools and equipment have increased the accuracy of very complex procedures in hospitals. The laboratory tools used to conduct the analysis are predominantly responsible for the accuracy of medical diagnostic outcomes, and this primarily has a favorable impact on the market expansion.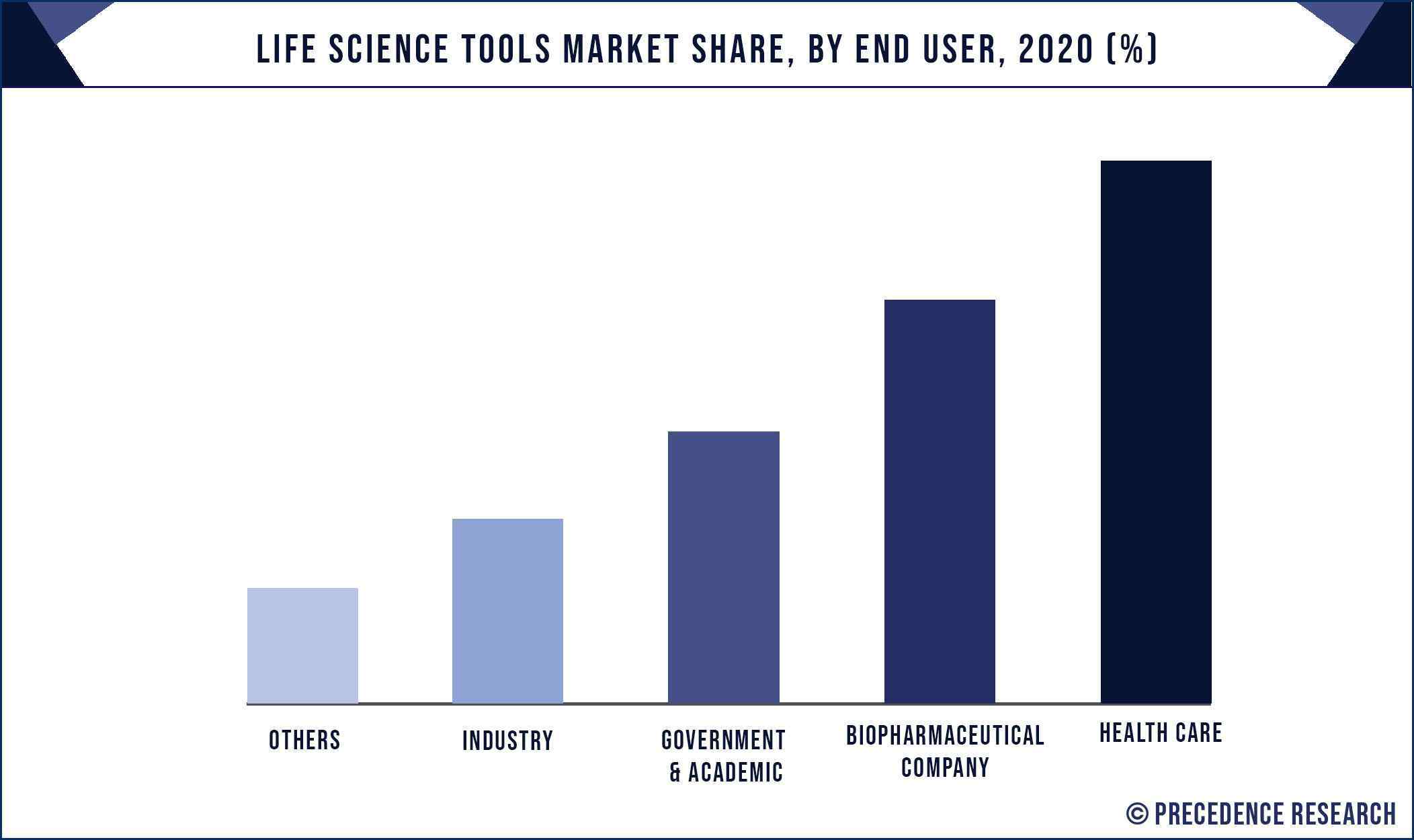 However, biopharmaceutical companies expected to grow at a lucrative CAGR during the forecast period. These companies have initiated large number of genome sequencing projects by collaborating with academic medical centers and community health systems. For instance, Grail, Inc. has conducted studies for detecting genomic fingerprints from tumors using blood sample, with an intention to identify cancer at their early stage. Regeneron collaborated with Geisinger Health System, a Pennsylvania-based company to enroll patients in the study. Therefore, increasing interest of biopharmaceutical companies in genomics predicted to trigger the market growth.
Recent Developments
In January 2023, Avida Biomed, a fledgling life sciences firm that creates high-performance target enrichment workflows with distinctive features for clinical researchers using next-generation sequencing (NGS) methods to study cancer, has been acquired by Agilent Technologies Inc.
In January 2023, to enhance companion diagnostics for genetic disorders, QIAGEN established an exclusive strategic agreement with California-based population genomics company Helix.
In August 2022, A framework has been established for the development, production, marketing, and commercialization of flow cytometry-based companion diagnostics (CDx), which are meant to complement patients with potentially life-altering therapies for cancer and alike diseases. Becton, Dickinson and Company, a leading global medical technology company, and Labcorp, a premier life sciences company, declared their strategic collaboration.
In August 2022, the developer of cutting-edge technology solutions for the medical diagnostic and healthcare markets, Curiosity Diagnostics, with headquarters in Poland, announced that it has reached a deal to be acquired by Bio-Rad Laboratories, Inc. for a registered capital of up to $170 million, consisting of roughly $100 million in cash and up to $70 million in potential future milestone payments.
Key Companies & Market Share Insights
The global life science tools market is highly competitive due to rapid advancements and on-going technological development in the life sciences tools. In addition, the market players adopt collaboration, merger, partnership, and other inorganic growth strategies to offer wide range of innovative and attractive solutions to their customers. Market leader are significantly investing in genomic research to provide early diagnosis solutions for major diseases such as cancer.
Some of the prominent players in the life science tools market include:
Agilent Technologies
Becton, Dickinson and Company
Hoffmann-La Roche Ltd.
Bio-Rad Laboratories, Inc.
Bruker Corporation
Danaher Corporation
GE Healthcare
Hitachi, Ltd.
Illumina, Inc.
Merck KGaA
Oxford Instruments plc
Qiagen N.V.
Shimadzu Corporation
Thermo Fisher Scientific, Inc.
ZEISS International
Segments Covered in the Report
This research study encompasses comprehensive assessment of the marketplace revenue with the help of prevalent quantitative and qualitative intelligences, and prognoses of the market. This report presents breakdown of market into major and niche segments. Furthermore, this research study gauges market revenue growth and its drift at global, regional, and country from 2020 to 2032. This report comprises market division and its revenue valuation by categorizing it depending on technology, product, end-use, and region:
By Technology
Genomic Technology
Cell Biology Technology
Proteomics Technology
Lab Supplies & Technologies
Other Analytical & Sample Preparation Technology
By Product
NGS
Sanger Sequencing
Nucleic Acid Preparation
Nucleic Acid Microarray
PCR & qPCR
Flow Cytometry
Mass Spectrometry
Separation Technologies
Electron Microscopy
NMR
Others
By End-User
Biopharmaceutical Company
Government & Academic
Industry
Health Care
Others
By Regional Outlook
North America
Europe
Asia Pacific

China
India
Japan
South Korea

Rest of the World