The global livestock farm equipment market size reached USD 21.4 billion in 2022 and is projected to hit USD 28.90 billion by 2032, registering a CAGR of 3.10% from 2023 to 2032.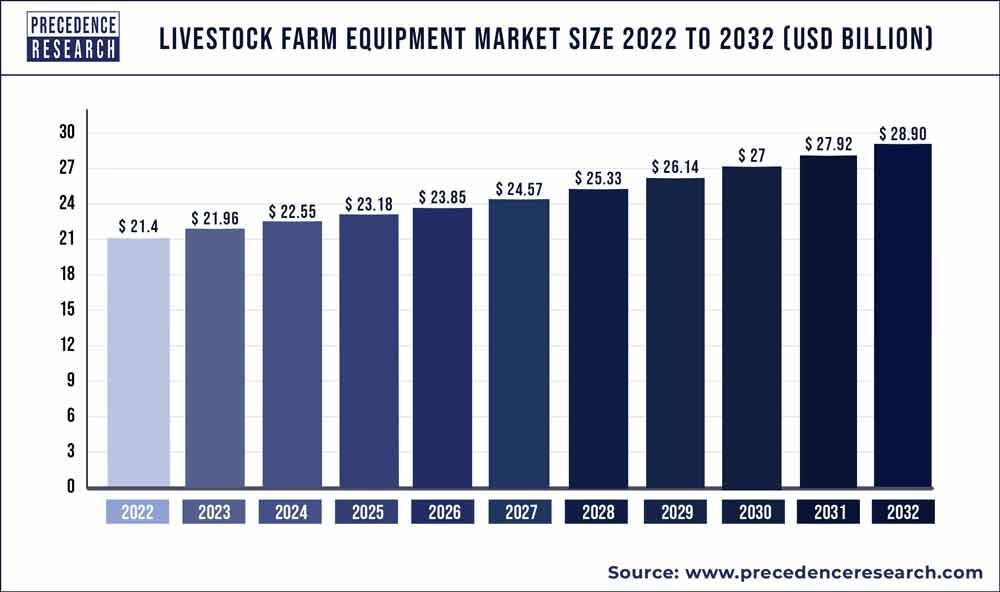 Access our Premium Real Time Data Intelligence Tool, Visit: Precedence Statistics
Key Takeaways
Asia-Pacific contributed the largest revenue share of 33% in 2022.
Europe region is expected to expand at the fastest CAGR between 2023 and 2032.
By Product Type, the feed equipment segment contributed the highest market share of 23.5% in 2022.
By Product Type, the housing equipment segment is anticipated to grow at a significant CAGR of 4.6% during the projected period.
By End users, the poultry farm segment contributed the largest market share of 38.3% in 2022.
By End users, the dairy farm segment is projected to expand at the fastest CAGR over the projected period.
Livestock Farm Equipment Market in the Asia-Pacific 2023-2032
The Asia Pacific livestock farm equipment market size is predicted to hit around USD 9.72 billion by 2032 from USD 7.06 billion in 2022, expanding at a CAGR of 3.30% between 2023 and 2032.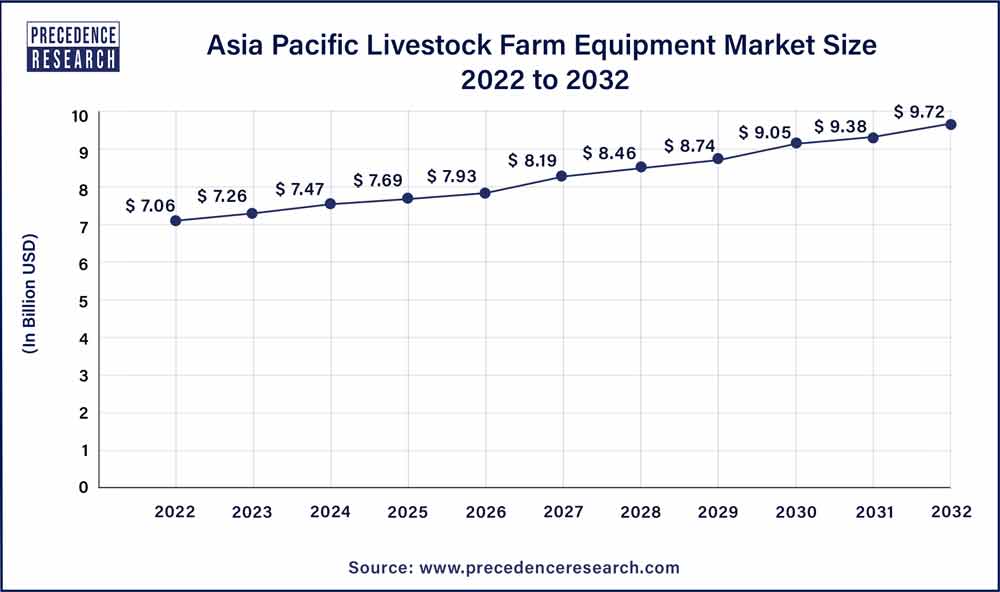 Asia-Pacific has held the largest revenue share of 33% in 2022. In the Asia-Pacific region, the livestock farm equipment market is experiencing significant trends. The growing demand for high-quality animal products, driven by rising incomes and urbanization, fuels the adoption of advanced livestock equipment. Automation and digitalization are on the rise, enhancing farm productivity. Apart from this in Asia-Pacific, the trend of sustainable and eco-friendly farming practices has led to the adoption of equipment that reduces environmental impact. As the region continues to modernize its agriculture sector, the livestock farm equipment market is projected to witness substantial growth.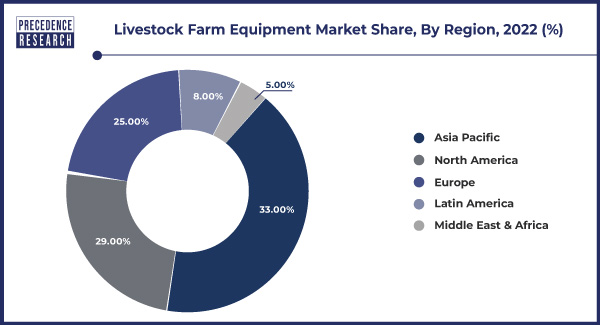 Europe is estimated to observe the fastest expansion. In Europe, the livestock farm equipment market is witnessing several key trends including a growing emphasis on animal welfare and sustainable farming practices, driving demand for equipment that enhances livestock comfort and reduces environmental impact. The adoption of precision livestock farming techniques, including IoT and data analytics, is on the rise, improving operational efficiency. Moreover, the pandemic has accelerated the adoption of remote monitoring and automation technologies, further fueling the market's growth in the region.
Moreover, in the LAMEA (Latin America, Middle East, and Africa) region, the livestock farm equipment market is witnessing significant trends. The adoption of modern livestock farming practices is growing, driven by rising meat and dairy consumption. The market is also influenced by sustainability concerns, with an emphasis on eco-friendly equipment. Additionally, technological advancements, such as IoT integration for remote monitoring, are gaining traction, improving farm management efficiency. Overall, the LAMEA region is experiencing a shift toward advanced and sustainable livestock farming practices.
Livestock Farm Equipment Market Overview
The livestock farm equipment market encompasses the manufacturing, distribution, and sale of machinery, tools, and systems designed for livestock management, feeding, and housing in agricultural operations.
This market caters to the needs of livestock farmers and ranchers, offering equipment such as feeders, milking machines, animal housing structures, and healthcare devices. It is characterized by innovations in automation and technology integration, aimed at improving livestock welfare, farm productivity, and sustainability, while also addressing the challenges of modern animal farming practices.
Livestock farm equipment serves a multitude of critical purposes in modern agricultural operations. These tools and machinery are instrumental in ensuring the well-being and productivity of livestock.
Feeders and watering systems provide efficient and consistent nourishment, while milking machines streamline the milking process, enhancing milk production. Animal housing structures offer shelter and protection from harsh weather conditions, ensuring the comfort and safety of livestock.
Growth Factors
The livestock farm equipment market is poised for continuous growth, as Livestock farmers are increasingly investing in equipment that provides better living conditions for animals, reduces stress, and minimizes the environmental impact of farming practices. These considerations align with evolving consumer preferences for ethically produced and sustainable animal products. In addition, there is rising demand for animal-derived products such as meat, dairy, and eggs, such factors heightened demand necessitates higher levels of efficiency and productivity in livestock farming operations, spurring the adoption of advanced farm equipment.
Technological advancements play a pivotal role in the market's expansion. Automation and data-driven solutions have become integral components of modern livestock farming. Smart feeding systems, automated milking machines, and sensor-based monitoring devices enhance productivity, reduce labor costs, and optimize resource utilization, contributing to overall profitability. Furthermore, government initiatives and regulations promoting sustainable farming practices and the adoption of advanced technologies encourage farmers to invest in modern livestock farm equipment. Grants, subsidies, and incentives provided by governments further stimulate market growth.
Moreover, the globalization of the food supply chain and the need for efficient livestock operations to meet export requirements and international quality standards fuel the demand for advanced equipment. The integration of data analytics and precision agriculture techniques into livestock farming practices enhances decision-making, animal health management, and resource optimization. As the world grapples with increasing population and food security concerns, the Livestock Farm Equipment Market remains a vital component in addressing the challenges of sustainable, efficient, and responsible animal farming.
Livestock Farm Equipment Market Scope
| | |
| --- | --- |
| Report Coverage | Details |
| Market Size in 2023 | USD 21.96 Billion |
| Market Size by 2032 | USD 28.90 Billion |
| Growth Rate from 2023 to 2032 | CAGR of 3.10% |
| Largest Market | Asia-Pacific |
| Base Year | 2022 |
| Forecast Period | 2023 to 2032 |
| Segments Covered | By Product Type, By End Users |
| Regions Covered | North America, Europe, Asia-Pacific, Latin America, and Middle East & Africa |

Livestock Farm Equipment Market Dynamics
Driver: Precision livestock farming, automation, and IoT integration
Precision livestock farming (PLF) is propelling market demand in the livestock farm equipment market. PLF leverages advanced technologies such as IoT sensors and data analytics to monitor and manage livestock with precision. Farmers benefit from real-time insights into animal health, behavior, and feeding patterns. This not only enhances productivity and animal welfare but also optimizes resource utilization. The demand for PLF-driven equipment is rising as farmers seek to modernize operations, maximize efficiency, and meet sustainability goals. Moreover, automation and IoT integration drive market demand in the livestock farm equipment sector by enhancing operational efficiency and animal management. IoT sensors and smart devices monitor livestock health, feeding, and environmental conditions in real time, enabling timely interventions and resource optimization. This not only boosts productivity but also reduces labor costs and enhances animal welfare, making such equipment indispensable for modern, data-driven livestock farming practices.
Restraint: High initial investment and compatibility issues
The high initial investment required for livestock farm equipment poses a significant restraint on market demand. Many farmers, especially small-scale and resource-constrained operations, may find it challenging to afford the upfront costs associated with advanced equipment. This financial barrier can deter potential buyers from adopting modern farming technologies, limiting their ability to improve efficiency and productivity. Reduced affordability can hinder market growth and widen the technology gap between well-funded and less-resourced farms.
Moreover, compatibility issues in the livestock farm equipment market can hinder market demand by creating complexities for farmers. When equipment from different manufacturers is not seamlessly interoperable, it can lead to inefficiencies, increased costs, and operational disruptions. Farmers may hesitate to invest in equipment that doesn't integrate smoothly into their existing systems, delaying adoption and potentially opting for more compatible solutions or delaying upgrades, affecting market growth.
Opportunity: Data analytics and remote monitoring services
Data analytics surge market demand for livestock farm equipment by providing actionable insights into animal health, behavior, and productivity. Farmers can make informed decisions, optimize feeding regimes, detect diseases early, and improve overall management. This enhances efficiency, reduces operational costs, and increases yield. As the demand for sustainable and efficient livestock farming practices grows, equipment with data analytics capabilities becomes indispensable, driving its adoption and fueling market growth.
Moreover, remote monitoring services elevate market demand in the livestock farm equipment market by offering farmers real-time oversight of livestock operations. These services provide valuable data on animal health, feeding patterns, and environmental conditions, enabling proactive decision-making and preventing potential issues. This not only improves animal welfare but also enhances operational efficiency and profitability. Farmers increasingly recognize the benefits of these services, which foster higher adoption rates of advanced equipment integrated with remote monitoring capabilities.
Impact of COVID-19
The livestock farm equipment market exhibited resilience and adaptability in overcoming the challenges posed by the COVID-19 pandemic. While the initial phase of the crisis witnessed disruptions in supply chains and uncertainties, several factors contributed to its recovery and resurgence. The essential nature of livestock farming persisted throughout the pandemic. The demand for animal-derived products remained steady, necessitating efficient and productive farming practices. Livestock farm equipment, which enhances the welfare and productivity of animals, became indispensable for maintaining the global food supply chain's integrity.
Technological advancements played a pivotal role in the market's rebound. Automation and remote monitoring capabilities embedded in livestock equipment allowed for reduced human contact and more efficient management during lockdowns. These features resonated with farmers seeking ways to maintain operations while adhering to social distancing measures. Additionally, government support and stimulus packages provided crucial financial aid to the agricultural sector, including livestock farming. This assistance facilitated investments in modern equipment, ensuring the continuity of farming operations and boosting the market.
Furthermore, the heightened focus on food security and self-sufficiency during the pandemic emphasized the importance of efficient and sustainable livestock farming practices. Farmers increasingly adopted equipment and technologies that optimize resource utilization and reduce waste, aligning with these broader objectives.
Product Type Insights
According to the product type, the feed equipment has held 23.5% revenue share in 2022. Feed equipment in the livestock farm equipment market includes tools and machinery designed for the efficient handling, storage, and distribution of animal feed. This encompasses feed mixers, silos, conveyors, and automated feeding systems. A key trend is the integration of digital technology, allowing precise control of feed portions and monitoring of consumption. This minimizes wastage, enhances nutrition management, and ultimately improves livestock health and productivity, aligning with modern farming practices that prioritize resource efficiency and sustainability.
The housing equipment sector is anticipated to expand at a significant CAGR of 4.6% during the projected period. Housing equipment in the livestock farm equipment market refers to structures and systems designed for sheltering and managing livestock. This includes barns, pens, feeding and watering systems, and ventilation solutions. Trends in this segment involve the integration of automation and IoT technologies to create smart and climate-controlled housing. Additionally, there is a growing focus on sustainability, with equipment designed for efficient resource utilization and eco-friendly materials, aligning with the broader agricultural industry's move towards environmentally responsible practices.
End Users Insights
Based on the end users, poultry farm is anticipated to hold the largest market share of 38.3% in 2022. Poultry farming involves the rearing of domesticated birds, primarily chickens, ducks, turkeys, and geese, for their meat, eggs, and feathers. In the Livestock Farm Equipment Market, poultry farms represent a significant end-user segment. Trends in this segment include a growing focus on automation, biosecurity measures, and sustainability. Equipment such as automated feeders, climate control systems, and disease monitoring technologies are increasingly adopted to enhance poultry welfare, productivity, and farm profitability while reducing environmental impact.
On the other hand, the dairy farm sector is projected to grow at the fastest rate over the projected period. Dairy farms are livestock farming operations primarily focused on the production of milk and dairy products. They house and manage dairy cattle, utilizing specialized equipment for milking, feeding, and animal health. In the Livestock Farm Equipment Market, trends related to dairy farms include the increasing adoption of automated milking systems, data-driven herd management solutions, and precision feeding equipment. These trends aim to enhance milk production efficiency, improve animal welfare, and align with sustainability goals in the dairy industry.
Recent Developments
In 2021, Texha designed the HitFeed Feeder for broilers, revolutionizing poultry farming. This innovative feeder ensures efficient and uniform feed distribution, optimizing broiler growth and minimizing wastage, ultimately improving productivity and profitability in poultry farming operations.
In 2018, Cargill collaborated with Cainthus, an AI-based computer vision company, to enhance livestock monitoring and management. This partnership integrates advanced technology into Cargill's operations, improving animal welfare and farm efficiency in the livestock farm equipment market.
In 2020, Zoetis, a global animal health company, acquired Performance Livestock Analytics, a livestock data management company. This acquisition strengthens Zoetis' digital offerings for livestock producers, providing advanced data solutions for improved herd management and productivity.
In 2019, Allflex Livestock Intelligence has partnered with Kaleidoscope, leveraging Kaleidoscope's expertise in blockchain technology. This collaboration aims to enhance traceability and transparency in livestock farming, ensuring the authenticity and quality of livestock products.
In 2018, Antelliq's Allflex, a livestock monitoring solutions provider, partnered with Nestlé farms to implement advanced monitoring technology in dairy farming. This collaboration enhances dairy herd management, ensuring better animal welfare and productivity.
In 2017, Cargill Animal Nutrition acquired Diamond V, a global animal health and nutrition company. This acquisition enhances Cargill's portfolio of feed additives and solutions for livestock, reinforcing its commitment to improving animal health and performance.
Livestock Farm Equipment Market Players
Pearson International LLC
Bob-White Systems
Murray Farm care Ltd.
Afimilk Ltd
FarmTek
Royal Livestock Farms
Real Tuff Livestock Equipment
DeLaval
GEA Group AG
Lely Holding S.A.R.L.
Trioliet B.V.
Agco Corporation
Fancom B.V.
Marel HF
Big Dutchman International GmbH
Ziemann Holvrieka GmbH
Market Segmentation
(Note*: We offer reports based on sub-segments as well. Kindly, let us know if you are interested)
By Product Type
Milking Equipment
Cleaning Equipment
Egg Handling Equipment
Feed Equipment
Housing Equipment
Livestock Handling
Foggers, Coolers, and Heaters
Others
By End Users
Poultry Farm
Dairy Farm
Swine Farm
Others
By Geography
North America
Europe
Asia-Pacific
Latin America
Middle East and Africa