The global medical drones market size was estimated at USD 217.3 million in 2021 and is expected to hit around USD 727.88 million by 2030, poised to grow at a compound annual growth rate (CAGR) of 12.9% from 2023 to 2032.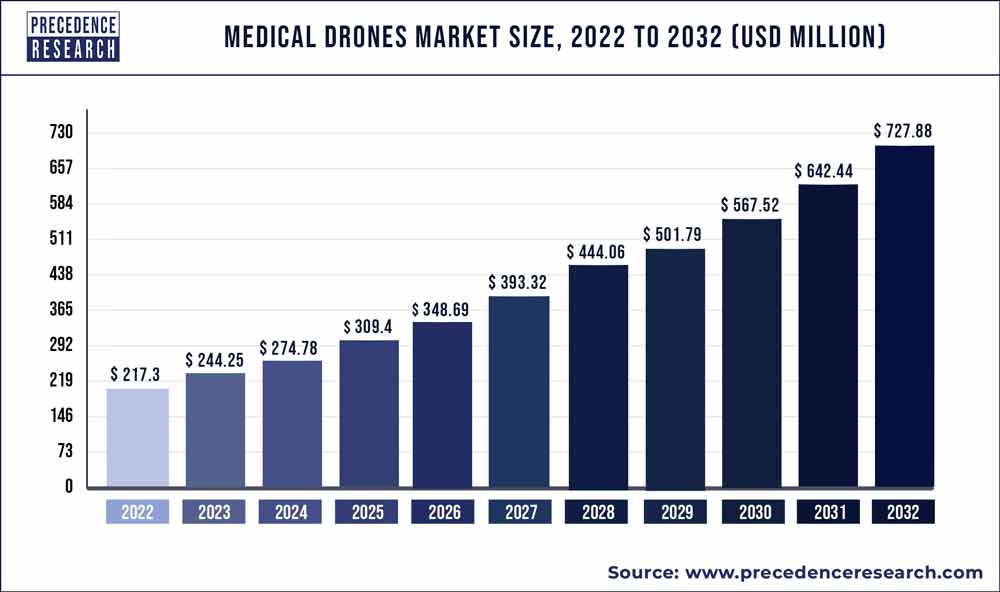 Access our Premium Real Time Data Intelligence Tool, Visit: Precedence Statistics
Key Takeaways:
North America medical drone market was valued at USD 91.73 million in 2022.

Blood transfer segment is expected to grow at a CAGR of 23% between 2023 to 2032.

In 2022, the fixed wing segment dominated the market with a revenue share of 53.28%

In 2022, the rotary wing segment accounted market share of over 31.62%
In regions with easy access, drones are quite useful for delivering medical supplies including drugs, vaccines, and aids. These medical drones are used to provide secure and quick distributions in remote, conflict-torn, or inaccessible places. Recent years have seen a rise in the use of medical drones by the government and healthcare organizations to assist fight infectious and fatal diseases. All throughout the world, drones are being tested for use in healthcare. It is a tool that enhances current transportation networks and has advantages over conventional methods in certain situations. By enabling just-in-time delivery of vital medical supplies and devices, accelerating lab testing turnaround times, and lowering the cost of normal prescription care in rural areas, drone use presents a chance to improve healthcare, particularly in remote and/or underserved environments.
Depending on the model and size, drone prices can vary. Drones generally have lower startup and ongoing costs than more conventional modes of transportation. The majority of drones are fairly simple to use and don't have a steep learning curve. Drones can also be conveniently launched by medical professionals from parking lots, roofs, and nearby fields.
A growing number of government efforts, public acceptability, and the use of medical drones are all contributing to the expansion of the global market for medical drones. The medical drones are subject to certain tight rules, though.
Growth factors
The market for medical drones is expanding significantly due to a number of different considerations. Undoubtedly, one of the major driving forces is the increasing participation of governments around the world. One of the largest advances in this area is the expanding use of drones in the health care industry. These drones help carry the essential medicines, vaccines, and blood-related supplies around the world by taking care of a number of vital criteria. The ability to quickly transport supplies to medical staff makes these drones more well-liked by the general public, which ultimately helps patients receive treatment without interruption. Medical drone sales are rising as their market share is expanding and more of them are being used in disaster or emergency situations. Additionally, these drones are competent enough to accurately deliver the required medical supplies to patients' beds. With all these advantages, medical drones are becoming more and more accepted by the general public, which can greatly aid in the market's growth.
Governments and OEMs have moved more quickly to adopt and begin flexible laws, approvals, experiments, and test flights for medical uses as a result of the epidemic. As a result, numerous nations quickly began evaluating the effectiveness of UAVs.
Time is essential and can be a lifesaver in the healthcare industry. This is why it's imperative to move as quickly and efficiently as possible when moving biomedical samples between hospitals or laboratories. The majority of hospitals and laboratories utilise conventional courier services, so even though each sample is small and light, they frequently need to wait for a minimum volume before sending it. Delivery times are not always consistent because they depend on traffic conditions, which might further slowdown the procedure. Because they can offer faster, less expensive, and more dependable delivery services, drones present a good option in this situation.
Report Scope of the Medical Drones Market
| | |
| --- | --- |
| Report Coverage | Details |
| Market Size in 2023 | USD 244.25 Million |
| Market Size by 2032 | USD 727.88 Million |
| Growth Rate from 2023 to 2032 | CAGR of 12.9% |
| Base Year | 2022 |
| Forecast Period | 2023 to 2032 |
| Segments Covered | Type, Service Type, Technology, Package Size, Application, Geography |
| Companies Mentioned | DHL, Embention, Flirtey, Matternet, Vayuvision, Volocopter GmbH, Volansi, Inc., Flytrex Inc., Airbus, Zipline International Inc, AT&T Intellectual Property., EHang |

Type Insights
Depending upon the type, the rotary wing segment is the dominant player and is anticipated to have the biggest impact on medical drones market. The rotary-wing segment maintained a dominant share due to the considerable demand for rotary wing for medical supplies, public area cleaning, monitoring and surveillance applications during the COVID-19 pandemic worldwide. Additionally, effective VTOL capabilities and confined area operability have an impact on the market growth of the rotary-wing category. They can hover in position for extended periods of time, are far more agile than other types of UAVs at low airspeeds, are simpler to operate than other types of UAVs generally, can takeoff and land in confined locations, and take less time to set up, takeoff, and land, among other benefits.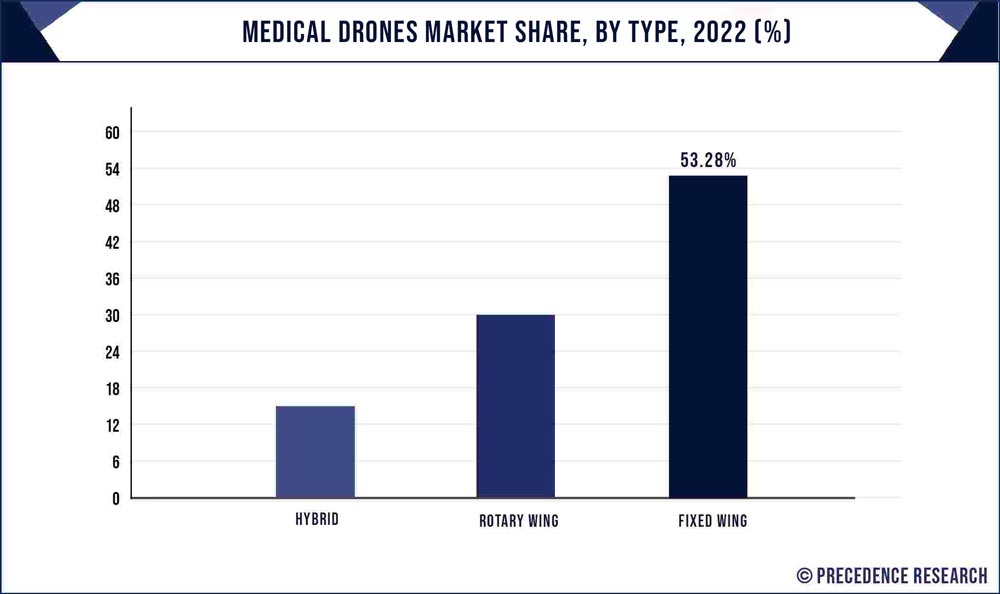 Due to increased need for extended endurance and range, heavy and large payload carrying capabilities, and a wide area of coverage for medical applications, the hybrid category is predicted to rise as the fastest-growing segment. In addition to improving capabilities for applications such as crop imaging, military surveillance, emergency response, and remote infrastructure inspection, hybrid drones may one day enable drone package delivery. Any number of industrial-strength uses can be made for the drone. The engine weighs around 17 pounds and has a maximum power output of 10 kilowatts. The lift motors, backup batteries, and onboard electronics, including computers, sensors, and communications gear, are all powered by gasoline-powered generators. Users only need to refuel to resume flying; the inbuilt batteries never need to be recharged. The forms of flight control include fully autonomous and semi-autonomous.
Service Type Insights
During the projected period, the government segment is anticipated to be the largest in the medical drones market. Inaccessible places can benefit greatly from the deployment of medical drones to deliver medications, vaccines, and other supplies. These medical drones provide safe and quick distribution in inaccessible, distant, or conflict-torn locations. In order to assist minimize infectious and life-threatening infections, the usage of medical drones in government and healthcare services has recently gained popularity.
Due to the increasing demand among hospital facilities for UAV-based deliveries for various medical applications, such as human organ logistics, medical supply logistics, and other medical applications, the hospital-based segment is expected to experience the fastest growth during the forecast period. The speed, altitude, acceleration, and drones' ability to carry an AED and properly deliver it to a bystander are all factors that affect how quickly they can react. Drone dispatch to arrival time is 5.21 minutes as opposed to 22 minutes for an ambulance. A smartphone app might be used to call a drone. Bystanders would receive instructions from the drone on how to administer CPR and begin using the automated defibrillator until help arrived from the emergency services. These facilities and improvements are driving the drones market in the hospital based segment.
Logistical Application Insights
The market's dominating category has generally been emergency blood logistics, and this trend is expected to continue during the projection period. The increased demand and acceptance rate for unmanned system logistics to supply blood samples and pathological blood products is responsible for this segmental expansion.
The market's fastest expanding area is the logistics for vaccines. Due to the strong demand for vaccinations for numerous diseases, epidemics, viral outbreaks, and the continuing COVID-19 pandemic, it increases during the projection period. The ability of medical drones to quickly transport immunizations to remote locations is one factor in the development. Additionally, a number of organizations, including UNICEF, are sponsoring medical drones to provide vaccines in remote locations and during emergencies, which is promoting segment growth.
Medical Drones Market Share, By Region, 2022 (%)
| | |
| --- | --- |
| Regions | Revenue Share in 2022 (%) |
| North America | 38.6% |
| Asia Pacific | 21.7% |
| Europe | 27.5% |
| Latin America | 8% |
| MEA | 4.2% |

Region Insights
The highest market share and dominant position in the medical drones market belongs to North America during the forecast period. This region includes U.S. and Canada. The market for medical drones in this region is expanding as a result of customer demand for them and technological advancements. The development of medical drones has received significant research funding, and hospitals, clinics, and ambulatory surgical centers have used medical drones widely. These factors have led to the expansion of the North American medical drones market. Additionally, the U.S. and Canada both have important rules that support the use of drones in the healthcare industry, which also helps the market expand in the area.
Europe is considered as second largest region in the medical drones market. This region includes UK, Germany, and France. Several nations have become more adaptable and are prepared to change the administrative rules that are already in place, making it simple for medical drones to enter the healthcare industry. This market expansion is due to accommodating rules, high government and OEM investment rates in unmanned technology, and a flood of government initiatives for a strong healthcare system in light of the pandemic.
The market growth in Asia Pacific, the third-largest area, is due to the region's high adoption rate, investments by OEMs and governments, the presence of OEMs there like DJI, and market expansion by international market players like Zipline. Moreover, one of the main motivating elements is undoubtedly the increasing participation of governments from all around the nations in the region. Additionally, significant investments have been made in the fields of research and development.
Key Market Developments
Avy BV, a Dutch manufacturer of UAVs, has announced a partnership with Robotic Skies Inc., a global provider of drone maintenance services, for the creation of an in-field fleet support program for Avy's burgeoning fleet of autonomous long-range life-saving UAVS. This partnership will help maintain Avy's sizable operational fleet for vital medical and humanitarian flight operations across the globe.
Key market players
DHL

Embention

Flirtey

Matternet

Vayuvision

Volocopter GmbH

Volansi, Inc.,

Flytrex Inc.,

Airbus

Zipline International Inc

AT&T Intellectual Property.

EHang
Segments covered in the report
(Note*: We offer report based on sub segments as well. Kindly, let us know if you are interested)

By Type
Fixed Wing

Rotary Wing

Hybrid
By Service Type
Hospital-based

Independent

Government
By Technology
Fully Autonomous

Semi-autonomous

Remotely Operated
By Package Size
Less than 2 KG.

2 - 5 KG.

Greater than 5
By Application
By Geography
North America
Europe
Asia-Pacific

China
India
Japan
South Korea
Malaysia
Philippines

Latin America

Brazil
Rest of Latin America

Middle East & Africa (MEA)

GCC
North Africa
South Africa
Rest of the Middle East & Africa