The global medical simulation market size was exhibited at USD 1.89 billion in 2022 and is expected to surpass around USD 5.54 billion by 2032, poised to grow at a projected CAGR of 11.4% during the forecast period 2023 to 2032.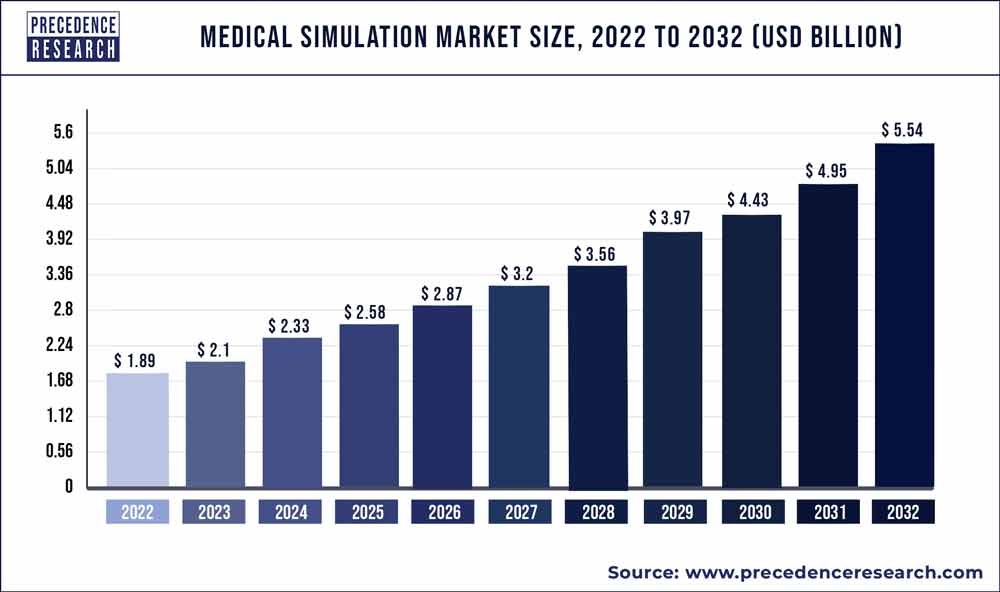 Access our Premium Real Time Data Intelligence Tool, Visit: Precedence Statistics
Key Takeaways:
The North America region has held the highest revenue share of around 47.6% in 2022.
By end-use, the academic institute's segment has contributed a market share of 31.7% in 2022.
By technology, the procedure rehearsal segment has accounted market share of over 41.6% in 2022.
By product, the healthcare anatomical model segment has captured a market share of 33% in 2022.
The need to uphold regulatory compliance, the rising need for healthcare cost containment and the requirement to increase patient-centricity are the drivers propelling market expansion. However, a lack of qualified IT specialists and security issues are in some ways limiting the growth of the worldwide medical simulation industry.
The functions and characteristics of a particular actual object or process are represented by a medical simulation, which is a virtual copy of genuine actions or events. It's a form of simulation that's used to instruct and prepare people for careers in medicine. Simulations can happen in a classroom, in real-world situations, or in venues designed specifically for them.
Medical simulation is a training technique that allows healthcare professionals to practice tasks and methods in actual situations using virtual reality or simulation models. Medical simulation enables the deliberate application of clinical skills as opposed to the apprentice model of learning.
The term "simulation" refers to an artificial model of a real-world process used to further educational objectives through experiential learning. Any educational activity that uses simulation tools to simulate clinical circumstances is referred to as simulation-based medical education.
The rise of the medical simulation market is being driven, in part, by an increase in the usage of simulation in the healthcare industry, an increase in mortality from medical errors, and the desire to improve patient safety outcomes. Growing in popularity, virtual and augmented reality have proven beneficial for communication and training in healthcare simulation programs. For instance, virtual reality (VR) may be used to help faraway students collaborate on procedures like operations. Students may use their knowledge in practice and correct their errors because of this. Virtual and augmented reality may be a great supplement to hands-on training that involves performing surgery and putting IVs in healthcare simulation.
Report Scope of the Medical Simulation Market
Report Coverage
Details
Market Size in 2023
USD 2.1 Billion
Market Size by 2032
USD 5.54 Billion
Growth Rate from 2023 to 2032
CAGR of 11.4%
Largest Market
North America
Fastest Growing Market
Asia Pacific
Base Year
2022
Forecast Period
2023 to 2032
Segments Covered

By Product and Services
By Technology
By End-Use

Regions Covered

North America
Europe
Asia-Pacific
Latin America
Middle East & Africa

Growth Factors
Patient safety and outcomes can be improved by the expanded use of simulation-based training and certification of healthcare personnel. As a result, the addressable market would be substantially more than it is now, which is mostly dependent on education. In low- and middle-income countries, patient harm in healthcare is responsible for roughly 2.6 million deaths annually, ranking it as the 14th biggest cause of morbidity and mortality, according to a 2019 study released by the WHO. The most harmful mistakes include diagnosis and medical care. Clinicians who participate in simulation training may become more knowledgeable and confident.
Healthcare organizations throughout the world have made reducing medical mistakes and ensuring patient safety and high-quality treatment a top priority. 2019 WHO publication claims that roughly 25% of patients worldwide have difficulties as a result of hazardous surgical care methods. Additionally, the University Health Network reports that more than 28,000 Canadians died in 2019 as a result of avoidable medical mistakes. According to the Journal of Patient Safety, between 210,000 and 440,000 fatalities in the US occur each year as a result of avoidable medical mistakes; in 2019, they made up one-sixth of all annual deaths in the country. Each year, these mistakes cost somewhere around USD $1 trillion. In 2018, the market for reporting drug errors was valued $326 million. Of this, knowledge-based mistakes accounted for one-third.
Key Market Drivers
Growing technological advancements
The market is expected to develop as a result of factors such as the choice for less invasive treatments, growing technical improvements, and a focus on patient safety. Different market participants have been adversely affected by the COVID-19 epidemic. According to Canadian Aviation Electronics, Ltd., a significant portion of the market for simulation goods is made up of medical and nursing schools. This has made it more difficult for them to fulfill contracts and deliver on current orders.
Due to border limitations, COVID-19 started to affect demand early in the fourth quarter of the 2020 fiscal year in Asia, and later in March, in North America and Europe. Customers in the hospital sector were primarily concerned with managing urgent operational demands as a result of the ongoing healthcare crisis rather than their training requirements. In the short term, this can mean less attention and funding allocated to routine operations and training programs. Throughout the epidemic, manufacturing activity for medical supplies continued. Other businesses also showed a similar demand trend.
Medical simulation in healthcare creates a safe learning environment
Healthcare practitioners and researchers may test out novel clinical procedures and develop the abilities of their teams and individual members in a secure learning environment created by medical simulation. Artificial patients are a common feature of simulation applications; these patients can exhibit symptoms and react to simulated treatments. Specialists can improve their professional abilities in this way without endangering patients' lives.
Key Market Challenges
Operational challenges - Most medical procedures interact with diverse tissues in some way. The majority of the time, tissues are heterogeneous and very anisotropic. A good medical model must be instantly computable in order for its reactions to operator inputs to be immediately available. For instance, during a straightforward incision, the scalpel first cuts through the skin, which is made up of several tissues, before moving on to cut through adipose tissue, muscular tissue, and finally an organ. The scalpel will in this instance cause blood vessels to rupture and spill blood. The scalpel will continue to cut through over 10 distinct tissues. For a more realistic training environment in medicine, the tissue reactions (visual, haptic, and olfactory) in each scenario must be acceptable. Patients may exhibit more realistic behaviors as a result of the use of physics-based modeling and simulation techniques for tissue modeling. They are not sensitive enough to provide a real-time performance of different tissues, nevertheless.
Key Market Opportunities
The use of simulation for training healthcare professionals helps them gain confidence, knowledge, and expertise
The use of simulation in healthcare training gives staff members the confidence, knowledge, and skills they need to increase patient safety. In order to improve patient safety results and further reduce medical mistakes, simulation offers a chance to better educate and train professionals. There are several simulators on the market that offer consistent, repeatable training and exposure to more patients and settings outside of standard clinical practice. Numerous technical developments in the medical field have increased the necessity for simulation.
Additionally, due to better healthcare infrastructure, growth in unmet healthcare demands, and an increase in the occurrence of medical mistakes in populations, there are possibilities in underserved, emerging markets with significant potential. The availability of numerous facilities offering these minimally invasive procedures is an emerging opportunity for the key market players to invest in the healthcare simulation market and will subsequently accelerate market growth while providing significant growth prospects for the market over the course of the forecast period.
Segments Insight
Product and Services Insights
The market is divided into web-based simulators, simulation training services, healthcare anatomical models, and healthcare simulation software based on goods and services. Task trainers, patient simulators, ultrasound simulators, interventional/surgical simulators, endovascular simulators, dental simulators, and eye simulators are other categories within the healthcare anatomical model industry.
In 2021, the healthcare anatomical model category accounted for more than 33% of the market. These simulators are proven useful for conducting tests and combinations before settling on designs, procedures, or systems in the research and production sectors, particularly in the medical devices sector. Over the course of the forecast period, these variables are predicted to support the segment's expansion.
Technology Insights
The medical simulation market is divided into the virtual patient simulation, 3D printing, and procedural rehearsal technologies on the basis of technology. In 2022, the procedural rehearsal technology market had the highest share, accounting for 41.6%. The need for process rehearsal technology is anticipated to increase as a result of the increased number of medical mistakes and the resulting demand for patient safety. Technology advances are being worked on by industry participants, and this is projected to drive market expansion.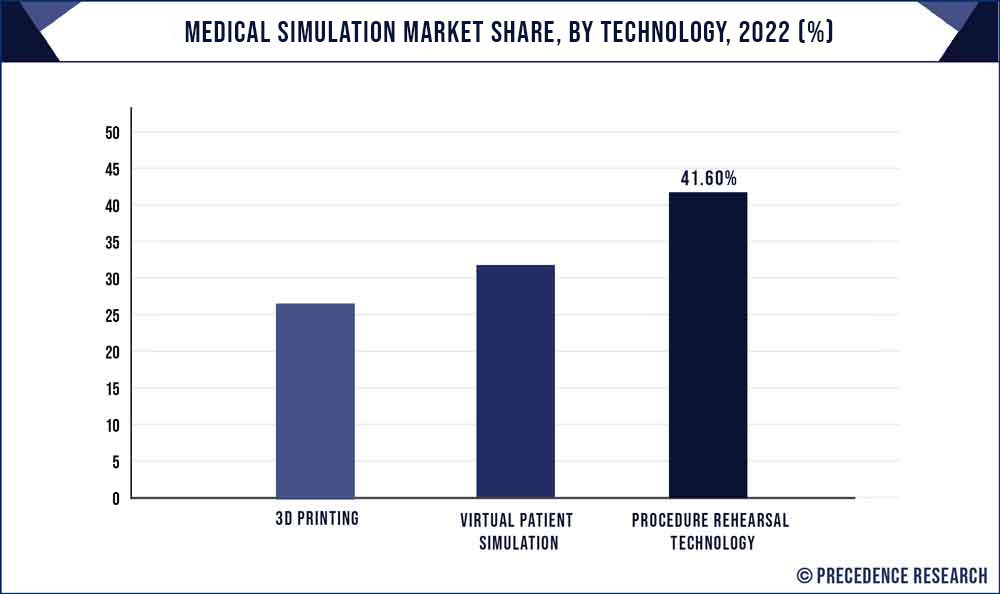 During the projected period, the virtual patient simulation market is anticipated to grow at a profitable CAGR of over 19.3%. Technology has several uses in the academic programs of medical schools. 3D Systems, Simulaids, Simulab Corporation, and Surgical Science Sweden AB are businesses that deal in virtual patient simulation.
End-Use Insights
Military organizations, academic institutions, research facilities, and hospitals are the different end-use segments of the market. With a share of 31.7% in 2022, the academic institutes' sector had the majority. Due to the existence of several academic research groups engaged in the study of complex biological systems using computer models, the market for academic research institutions is predicted to continue growing. For instance, using PBPK modeling, the NIDDK investigated how medicines that are excreted from the kidneys through organic anion transporters are affected by decreasing kidney function.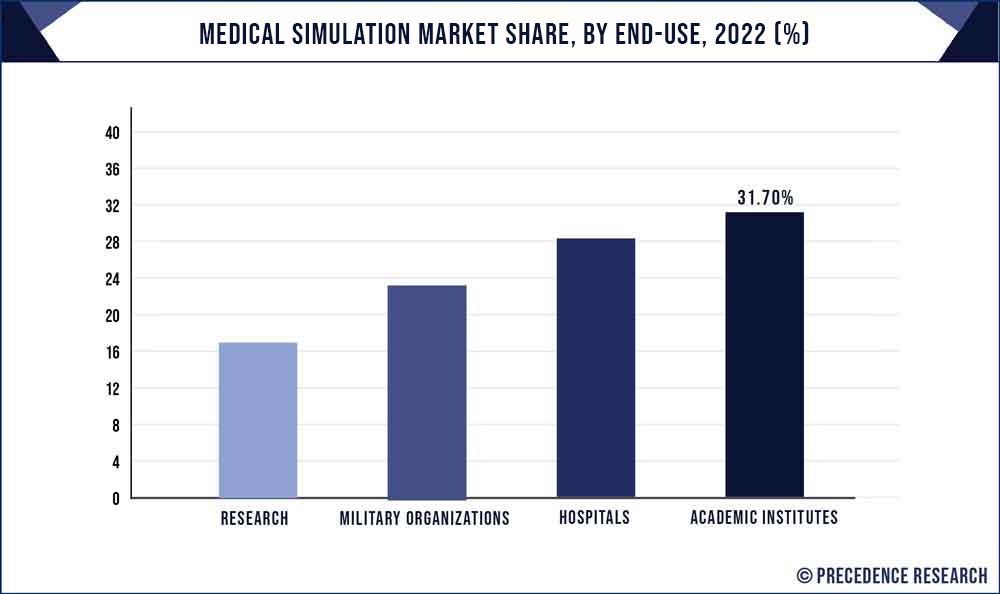 Due to a gradual shift in emphasis toward advanced learning, the introduction of cutting-edge simulation-based technologies, the full utilization of simulation models in medical procedures, the growing emphasis on minimizing errors, and the cost-effectiveness of procedural training for medical doctors, the hospitals' segment is anticipated to experience the fastest growth rate of about 16.9% during the forecast period.
Medical Simulation Market Share, By Region, 2022 (%)
| | |
| --- | --- |
| Regions | Revenue Share in 2022 (%) |
| North America | 47.6% |
| Asia Pacific | 20.4% |
| Europe | 25% |
| Latin America | 4% |
| MEA | 3% |

Regional Insights
In 2021, North America held the largest share of the worldwide medical simulation market, and it is expected to continue this position during the forecast period. This is due to an increase in medical mistakes, the presence of important actors, rising healthcare costs, technological improvements, and an increase in regional government activities. However, due to the region's growing population, the boom in institutions offering medical simulation services, and rising investments, Asia-Pacific is expected to experience significant development.
Recent Developments
May 2021: With the release of CAE Vimedix 3.2, a new product from CAE Inc., the CAE Vimedix simulation platform now delivers enhanced fidelity, ultrasonography realism, 3D/4D ultrasound, and multiplanar reconstruction (MPR).
Key Market Players
CAE Healthcare, Inc
Simulab Corporation
3D Systems, Inc
Cardionics
Simulaids
Mentice
Laerdal Medical
Kyoto Kagaku Co., Ltd
Gaumard Scientific
Intelligent Ultrasound (MedaPhor Ltd.)
Limbs & Things LTD
Market Segmentation
(Note*: We offer reports based on sub-segments as well. Kindly, let us know if you are interested)
By Product and Services
Anatomical Models

Patient Simulators

High-Fidelity Simulators
Medium-Fidelity Simulators
Low-Fidelity Simulators

Task Trainers
Interventional/Surgical Simulators

Laparoscopic Surgical Simulators
Gynaecology Surgical Simulators
Cardiac Surgical Simulators
Arthroscopic Surgical Simulators
Other Interventional/Surgical Simulators

Endovascular Simulators
Ultrasound Simulators
Dental Simulators
Eye Simulators

Web-Based Simulation
Medical Simulation Software

Performance Recording Software
Virtual Tutors

Simulation Training Services

Vendor-Based Training
Educational Societies
Custom Consulting and Training Services
By Technology
Virtual Patient Simulation
3D Printing
Procedure Rehearsal Technology
By End-Use
Academic Institutes
Hospitals
Military Organizations
Research

Medical Device Companies
Others
By Geography
North America
Europe
Asia-Pacific
Latin America
Middle East & Africa (MEA)