The global newborn eye imaging systems market size was evaluated at USD 1,535.97 million in 2022 and is expected to hit around USD 2,785.32 million by 2032, growing at a CAGR of 6.50% from 2023 to 2032.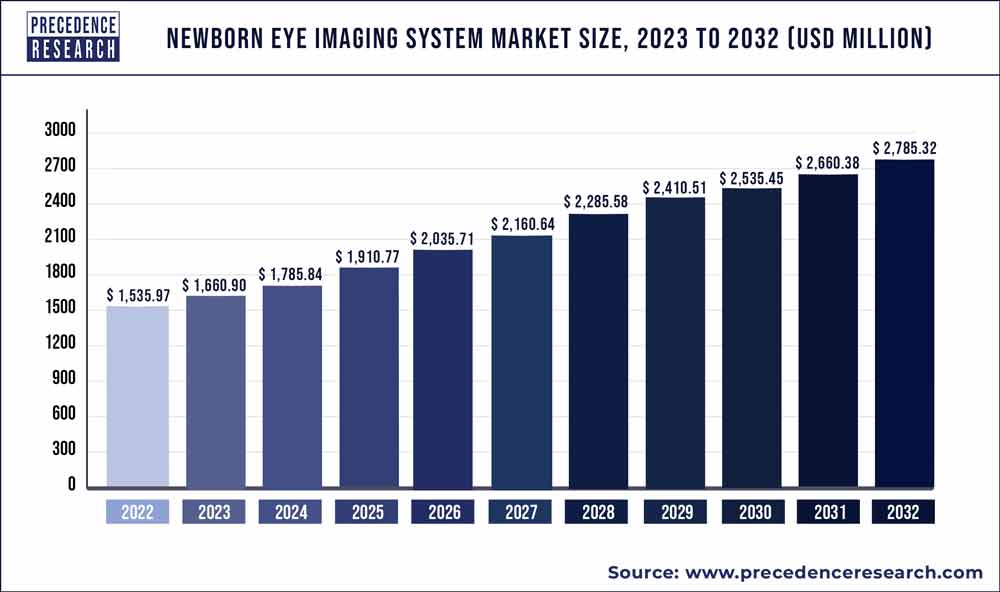 Access our Premium Real Time Data Intelligence Tool, Visit: Precedence Statistics
Key Points:
By geography, North America generated more than 34.76% of revenue share in 2022.
By geography, Europe gained a notable share of around 25.66% in 2022 and will grow at the quickest rate from 2023 to 2032.
By disease type, the ROP segment accounted for more than 37.39% of revenue share in 2022.
By disease type, the retinal disease segment is progressing at a CAGR of 6.7% from 2023 to 2032.
By device type, the basic device segment captured around 55.97% of revenue share in 2022.
By device type, the wireless device segment is growing at a CAGR of 7.1% from 2023 to 2032.
By end user, the hospital segment generated around 38.46% of revenue share in 2022.
By end user, the ophthalmology & diagnosis center segment is growing at a CAGR of 6.9% from 2023 to 2032.
Market Overview
Most vision problems that cause adolescent blindness can be treated if detected early through comprehensive newborn screening. Some of the common eye disorders are retinopathy of prematurity (ROP), ocular development, strabismus, visual acuity, color vision, visual functions, and visual fields. These disorders require an eye imaging system for detection and treatment. Over the years, there have been significant advancements in both design and technology.
Such advances have applications in most pediatric retinal illnesses, whereas new device designs are frequently limited to adult use. The rising number of pediatric retinal operations, the increasing prevalence of eye disorders of different etiologies, and technological advancements in product development are all expected to boost product demand and thus drive the growth of the newborn eye imaging systems market.
Report Scope of the Newborn Eye Imaging Systems Market
| | |
| --- | --- |
| Report Coverage | Details |
| Market Size in 2023 | USD 1,660.90 Million |
| Market Size by 2032 | USD 2,785.32 Million |
| Growth Rate from 2023 to 2032 | CAGR of 6.50% |
| Base Year | 2022 |
| Forecast Period | 2023 to 2032 |
| Segments Covered | By Disease Type, By Device Type and By End User |
| Regions Covered | North America, Europe, Asia-Pacific, Latin America and Middle East & Africa |

Market Dynamics
Drivers
Increasing expenditure on healthcare
Growing healthcare expenditure in various economies significantly impacts the constant growth of the newborn eye imaging systems market. The COVID-19 outbreak highlighted the importance of the healthcare industry and its links to other economic sectors.
According to National Health Expenditure data, hospital expenditures increased 6.4% to $1,270.1 billion in 2020, up from 6.3% in 2019. Furthermore, rising awareness and spending on neonatal care and screening procedures to prevent a wide range of disorders are driving market growth. For instance, on March 30, 2022, the World Health Organization issued its first global guidelines to support women and newborns in the postnatal period.
Restraints
Lack of skilled and experienced staff
There is a need for a more clinical and skilled workforce in newborn eye imaging systems and trained ophthalmic photographers. Thus, new technologies must be designed, and healthcare providers with minimal training can use that. Most imaging requires large tabletop systems, but there is also a demand for portable imaging devices such as hand-held OCT and intra-operative OCT.
Furthermore, as reimbursements for imaging have decreased, the amount of time retina professionals spend on each patient has reduced. Many doctors now spend 5 to 10 minutes per patient gathering patient history, examining, analyzing, interpreting imaging, responding to patient questions, informing, and treating the patient.
Opportunities
Advances in newborn eye imaging systems technology
Emerging imaging technologies, such as artificial intelligence (AI) and deep learning, have the potential to screen large populations, including infants, for retinal disorders in a resource-constrained environment. Clinical studies have demonstrated AI's effectiveness in detecting the existence of various vision-threatening conditions such as age-related macular degeneration, diabetic retinopathy, retinopathy of prematurity, and neurological disorders such as Alzheimer's.
Furthermore, smartphones are used primarily as fundus cameras due to specialized adaptors. It is the least expensive method of photographing a retina. In numerous studies, the smartphone-based retinal camera has produced results comparable to those of a desktop fundus camera. Most smartphone-based retinal cameras have a field of vision of 30 to 45 degrees. For instance, the Volk iNview is an ophthalmic camera that uses an Apple iPhone or iPod to capture wide-angle digital color images of the retina (fundus). Volk iNview is a hybrid product that combines a mobile app (Apple App Store) and an indirect ophthalmoscopic lens attachment.
Impact of COVID-19:
The COVID-19 pandemic significantly impacted the newborn eye imaging systems market due to strict lockdown measures and supply chain disruptions. Moreover, procurement teams from hospitals, ambulatory surgery centers, and other medical aid organizations were focused primarily on treating the population affected by the global pandemic.
Furthermore, healthcare systems had to modify treatment and diagnostic procedures because newborns are at a higher risk of infection than other age groups worldwide. As a result, most diagnostic and elective procedures were postponed or canceled during COVID-19's exponential phase.
Despite their best efforts, parents may occasionally have limited or no access to a qualified ophthalmologist for ROP treatment and screening. Additionally, this does not necessarily imply that the infants who did not visit the center received no assessment or treatment; they could have called a different facility closer to their home.
Nonetheless, after the relaxation of the lockdown, all the clinics and hospitals were back to regular routines. This led to easy access to physicians for the treatment of eye disorders, which increased the demand for newborn eye imaging products.
Segments Insight
Disease Type Insights
The ROP segment dominated the market in 2022 with a revenue share of over 37.39%. Retinopathy of prematurity (ROP) is the leading cause of preventable infant blindness worldwide. Access to care, a need for doctors knowledgeable about ROP, and difficulties with reliable documentation are all barriers to ROP screening and subsequent evaluation and management. These challenges are manageable, and digital retinal imaging can help us understand the condition's pathophysiology.
Technological advancements have enabled the development of new non-mydriatic and mydriatic cameras with larger fields of vision and equipment that can simultaneously use optical coherence tomography (OCT), fluorescein angiography, and OCT angiography. Telemedicine programs have used imaging to expand ROP screening to infants in rural areas.
For instance, in 2022, Mary's Medical Center in Grand Junction launched Colorado's first telemedicine service for infants with ROP. These programs have demonstrated digital retinal imaging's dependability, accuracy, and economic viability. Digital retinal images are also used in tele-educational programs to increase the number of ROP-trained medical professionals.
The retinal disease segment is expected to grow at a CAGR of 6.7% over the forecast period. The retina is a layer of tissue at the back of the eye that detects light and transmits images to the brain, and retinal diseases impact this vital tissue. Some retinal conditions can be treated early, while others can be slowed or controlled to protect vision. Typical retinal issues include retinal tears, retinal detachment, retinopathy, epiretinal membranes (ERMs), macular holes, and macular degeneration. The growing prevalence of these issues will drive segment growth.
Device Type Insights
The basic device segment contributed the maximum revenue of around 55.97% in 2022. The basic device captures an image of a newborn baby's eye, including pupil dilation and the retina. It also provides information on optic nerve function, corneal thickness, anterior chamber depth, etc. Hospitals use basic devices to diagnose eye diseases.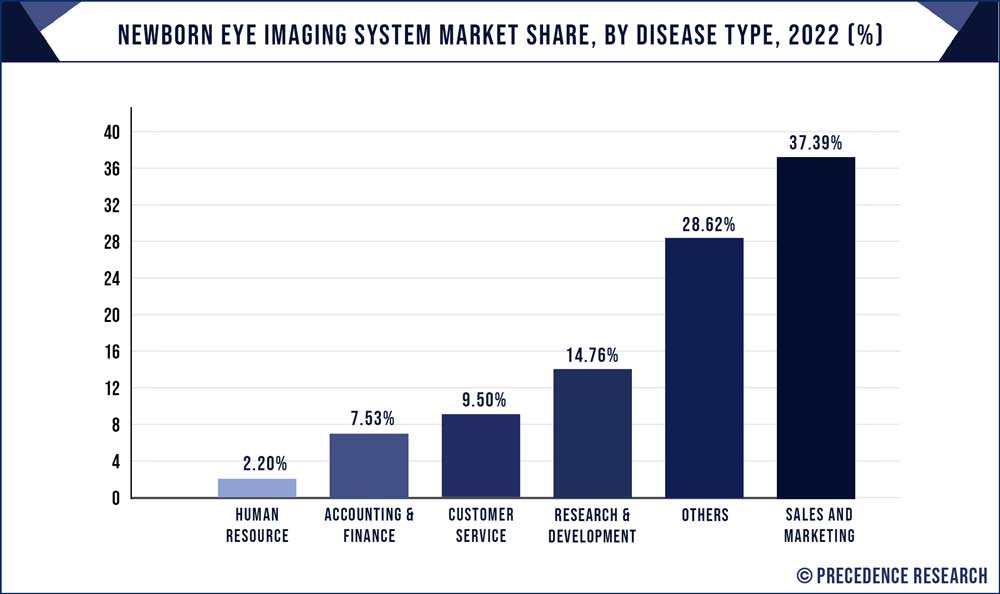 The wireless device segment is expected to grow at a CAGR of 7.1% from 2023 to 2032
. Most wireless devices capture images or videos of the eye's interior. These devices have numerous advantages, such as their use anywhere and anytime. They are also beneficial for photographing difficult-to-reach areas, such as the back of the eye. Wireless devices have several advantages over other types of devices, making them an essential tool for procedures such as visual acuity testing, glaucoma screening, and intraocular pressure measurement, as well as others.
End-User Insights
In terms of end-user, the hospital segment generated the largest revenue share of over 38.46% in 2022 and is estimated to reach hundreds of millions by 2032. The hospital performs several eye care procedures and treatments using cutting-edge medical equipment from well-known manufacturers, and the market grows as new eye care equipment is launched. Newborn eye imaging systems are used in hospitals for various therapeutic and diagnostic purposes, such as cataracts, glaucoma, cornea, pediatric ophthalmology, and oculoplastic.
The systems include the specialized application of devices to provide primary care, monitoring, and treatment to newborns and infants with eye-related problems such as ROP, amblyopia, strabismus, and other disorders. This newborn eye imaging system detected a variety of eye diseases in the hospital.
Additionally, the ophthalmology & diagnosis center segment is anticipated to grow at a CAGR of 6.9% over the forecast period. The specialty medical field known as ophthalmology is concerned with eye health. The physiology, anatomy, and disorders that may affect the eyes are all covered in the ophthalmology & diagnosis center. The Ophthalmology & Diagnosis Centre has been successfully diagnosing patients with retinal conditions, optic nerve diseases (e.g., glaucoma), strabismus (i.e., misalignment of the eyes), and other eye diseases.
Regional Insights
North America accounted for the largest revenue share of over 34.76% in 2022. The global dominance of North America can be attributed to the rising prevalence of eye diseases such as diabetic retinopathy and glaucoma. An increasing number of newborns are suffering from eye disorders and looking for minimally invasive treatments. According to the Boston Children's Hospital, in 2022, around 250 children in the United States were diagnosed with retinoblastoma, a type of cancer.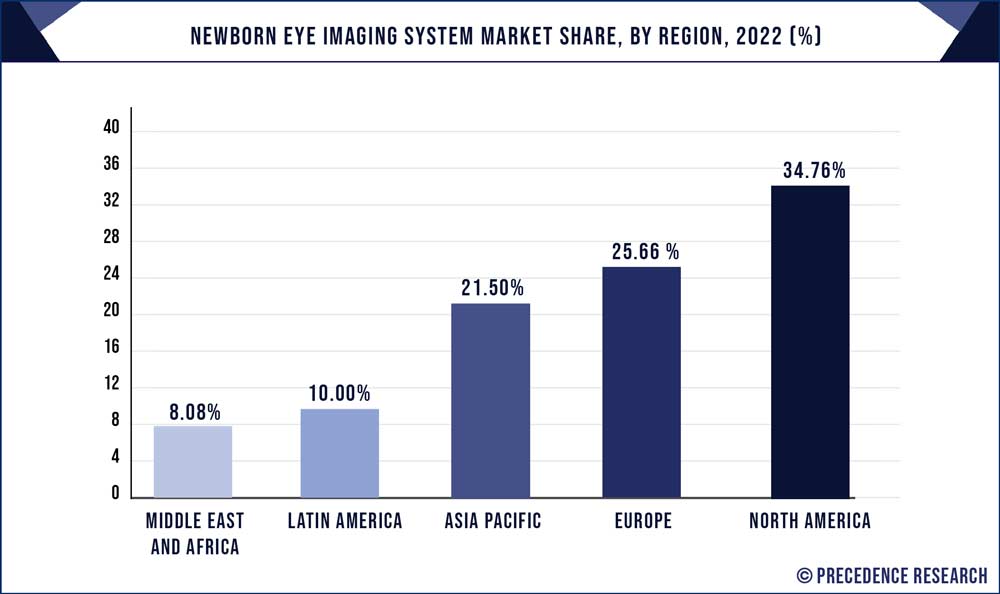 It primarily affects children under the age of five, with the highest incidence occurring between the infant stages and the age of two. Retinoblastoma can develop in either eye but is found in both eyes in approximately 25 to 30% of cases. Furthermore, the increasing adoption of AI is propelling this region's growth. In the United States, AI has effectively diagnosed a blindness-causing disease in premature newborns.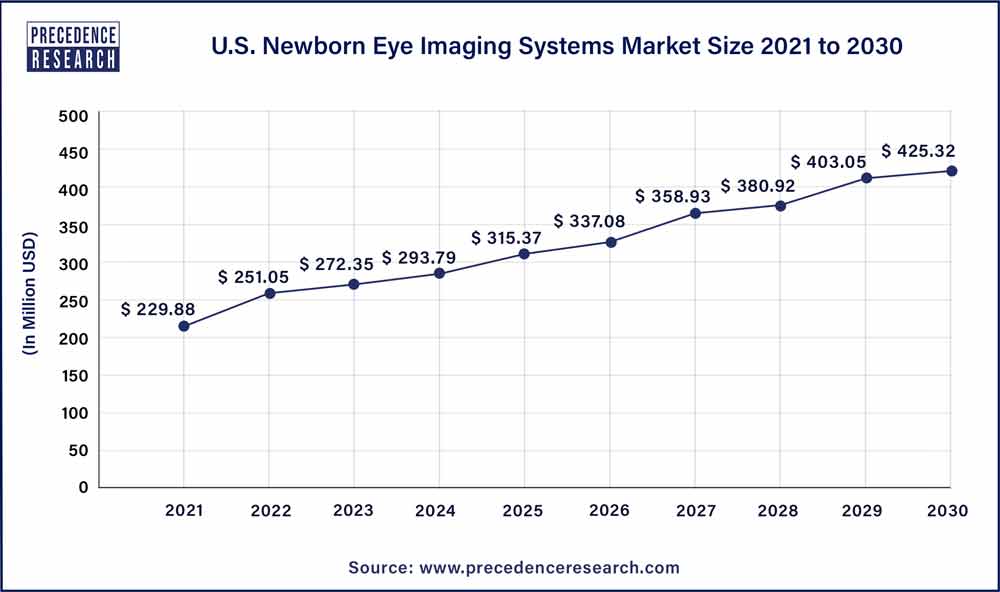 Europe gained a significant share of around 25.66% in 2022 and will grow at a CAGR of 7.2% in the forecast period. Germany had the largest share, followed by the United Kingdom and France. The rising prevalence of ROP is driving the expansion of this region. ROP is a Vaso proliferative retinal condition that primarily affects premature infants. ROP has become the leading cause of preventable childhood blindness in this region, owing to the increased survival of premature newborns. According to the Europe PMC Funders' Group, ROP is a blinding disease that affects premature children.
Recent Developments:
In November 2022, Advancing Eyecare, North America's leading provider of ophthalmic instruments, announced the acquisition of Veatch Ophthalmic Instruments, a leading US distributor of ophthalmic equipment.
In October 2022, ZEISS Medical Technology announced a strategic partnership with the European Association of Neurosurgical Societies (EANS). With this partnership, the company aims to support neurosurgical specialists' training & further education, promote sharing of experiences between users & medical technology manufacturers, and advance scientific progress in neurosurgery.
In July 2022, Meditec and Precise Bio, a regenerative medicine company advancing the use of bio-printed tissues and organs, partnered for the development and commercialization of fabricated corneal tissue for transplants in patients that require endothelial keratoplasty and natural lenticular transplants for treating keratoconus and vision correction.
In April 2022, Quest Diagnostics, a provider of diagnostic information services, collaborated with IRIS (Intelligent Retinal Imaging Systems) to deliver diabetic retinal imaging services through designated Quest Diagnostics patient service centers across the US to aid in screening patients for retinal assessment by a healthcare provider. The collaboration aims to increase convenience and improve screening rates for diabetic retinopathy, the leading cause of blindness in the United States, for members of population health management programs sponsored by health plans.
Key Market Players
Visunex Medical Systems
Eye Photo Systems
MergeHealthcare
D-EYE
Imagine Eyes
Natus Medical
Servicom Medical
Segments Covered in the Report
(Note*: We offer report based on sub segments as well. Kindly, let us know if you are interested)
By Disease Type
ROP
Retinal Disease
Strabismus
Refractive Error
Color Blindness
Others
By Device Type
Basic Device
Wireless Device
By End-User
Hospitals
Ophthalmology Diagnosis Centers
Ambulatory Surgical Centers
Others
By Geography
North America
Europe
Asia-Pacific
Latin America
The Middle East and Africa