The global nuclear power market demand was estimated at 423.19 giga-watt in 2022 and is expected to hit around 498.41 giga-watt by 2032, growing at a CAGR of 1.7% during the forecast period from 2023 to 2032.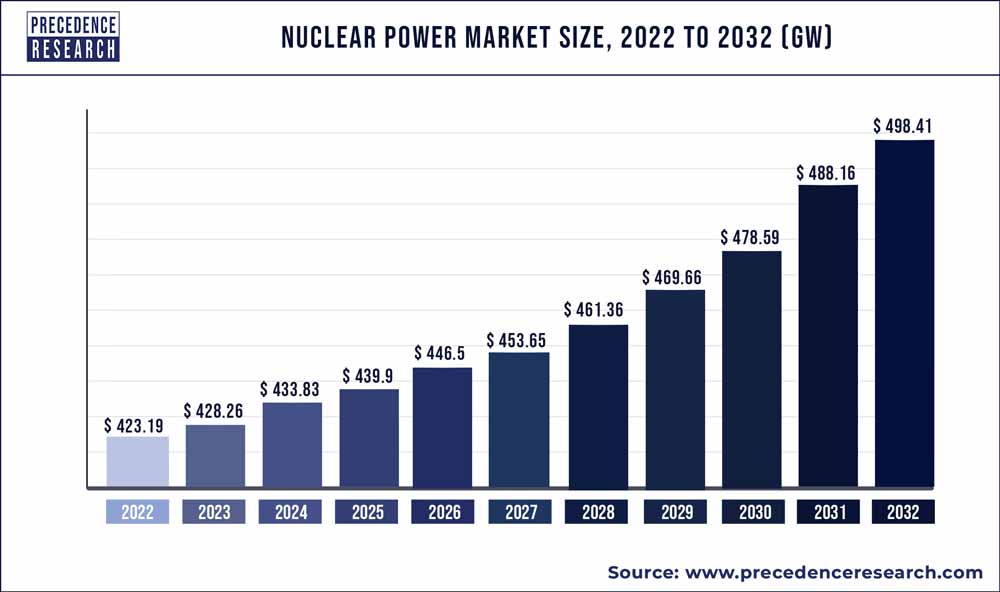 Key Takeaways:
North America has captured the maximum revenue share of around 39% in 2022.
Asia-Pacific is expected to expand at the fastest CAGR between 2023 and 2032.
By Reactor Type, the pressurized water reactors (PWRs) segment contributed the highest revenue share in 2022.
By Application, the energy segment recorded the largest market share in 2022.
Market Overview:
In order to achieve carbon neutrality, nuclear power is a crucial source of heat and electricity with low carbon emissions. New technologies that are currently being developed will allow nuclear power to continue to develop and will increase its integration with other low-carbon energy sources, such as variable renewables and fossil fuels with carbon capture and storage (CCS), in a future decarbonized energy mix. Modern nuclear power plants are thermal facilities that use heat to transform water into steam, which turns a turbine generator. Instead of using hydrocarbons as fuel, nuclear power plants use processed forms of uranium, plutonium, and (possibly) thorium. Inside a reactor, nuclear fission generates heat rather than hydrocarbon burning. About a million times more energy is released during the fission process than during combustion.
Growth Factors:
The increasing demand for electricity as the global population grows and becomes more urbanized is expected to augment the growth of the market during the forecast period. Nuclear power provides a reliable and efficient source of energy that can meet this growing demand. Unlike other sources of energy such as fossil fuels, nuclear power does not produce greenhouse gas emissions or air pollution, making it an attractive option for meeting energy needs while also reducing environmental impact.
Furthermore, with the increasing concern about climate change, reducing carbon emissions is a top priority for many countries. Nuclear power is a low-carbon energy source that can help reduce greenhouse gas emissions and support the transition to a more sustainable energy system. Nuclear power is also a reliable source of energy that can help stabilize the grid, providing a secure source of energy that is not subject to the volatility of fossil fuel markets.
Additionally, nuclear power provides a secure source of energy that is not subject to the geopolitical risks associated with fossil fuel imports. This can help reduce the dependence on foreign energy sources and enhance energy security. Also, globally, the electrification of the transportation and heating industries accelerated, with record sales of electric cars and heat pumps in 2022 fueling the expansion.
Report Scope of the Nuclear Power Market:
| | |
| --- | --- |
| Report Coverage | Details |
| Market Demand in 2023 | 428.26 Giga-Watt |
| Market Demand by 2032 | 498.41 Giga-Watt |
| Growth Rate from 2023 to 2032 | CAGR of 1.7% |
| Largest Market | North America |
| fastest Growing Market | Asia Pacific |
| Base Year | 2022 |
| Forecast Period | 2023 to 2032 |
| Segments Covered | By Reactor Type, By Reactor Size, and By Application |
| Regions Covered | North America, Europe, Asia-Pacific, Latin America and Middle East & Africa |

Market Dynamics:
Driver:
Increasing demand for electricity
According to the 2023 Electricity Market Report by IEA, over the next three years, China, India, and Southeast Asia will collectively account for more than 70% of the increase in the world's electricity demand. The growth of emerging and developing economies is mirrored by an increase in the demand for power. Advanced economies are promoting electrification at the same time to decarbonize their industrial, heating, and transportation sectors. As a result, compared to the growth rate in 2022, the worldwide demand for energy is anticipated to increase by 3% annually between 2023 and 2025. More than twice as much power will be consumed globally between now and 2025—a total increase in demand of nearly 2,500 terawatt-hours (TWh).
Nuclear power facilities generate steam by heating water. Steam is used to power enormous turbines, which create energy. Nuclear power now accounts for 20% of electricity generated in the UNECE region, as well as 43% of low-carbon generation. However, fossil fuels continue to dominate supply, accounting for more than half of the region's electricity. Many UNECE nations, including Bulgaria, Belgium, Croatia, the Czech Republic, France, Finland, Hungary, Slovenia, Slovakia, Spain, Ukraine, Sweden, and the United States, rely heavily on nuclear power to generate low-carbon electricity. Twenty UNECE Member States now operate nuclear power facilities, and 15 countries are either building or preparing to build new reactors. Furthermore, for the first time, nuclear power programs are being developed in 7 UNECE Member States. Nuclear power is expanding outside of the UNECE region in Asia, the Middle East, South America, and Africa. Additionally, developing nations, which are looking into ways to fulfill their pledges to sustainable development, have a keen interest in nuclear power.
Restraints:
High cost of nuclear power
Nuclear power expenses are frequently divided into capital costs and operating costs. Site preparation, engineering, construction, manufacture, commissioning, and financing are all capital expenses. Fuel expenditures, decommissioning, maintenance, and waste disposal are all part of operating expenses. Nuclear power plants have far higher beginning costs than other energy sources like coal and natural gas, and their annual repayment expenses are much greater than their annual operating costs.
This is due to the technical complexity of nuclear power facilities and the severe licensing and design standards they must meet. A new nuclear power plant's design and construction require a large number of highly skilled specialists and frequently take many years, compounding finance expenses that can grow significantly. Design modifications or legal disputes may result in delays that raise the finance expenses, which in certain situations are higher than the actual building costs.
Furthermore, due to the high cost of developing plants, nuclear energy finds it difficult to compete with alternative energy sources, particularly natural gas. The high price of nuclear energy has led to a major decline in the construction of new nuclear power stations. For instance, two South Carolina utility dropped two incomplete Westinghouse AP1000 reactors in 2017, left just two other AP1000 reactors under development in Georgia as a result of difficulties in equipment production, significant construction delays, and cost overruns. These reactors have likewise experienced delays and cost overruns. Construction is ongoing spite the reality that the initial price estimated at $14 billion was raised to $23 billion by 2019, given the assurance of government financial support for these reactors.
Opportunities:
Development of advanced reactor systems
Move over, millennials; a new generation is set to emerge by 2030. 14 countries, including the United States, are working together to create Generation IV nuclear reactors. These advances will provide enormous potential prospects for the market in the next years. Currently, the United States Department of Energy and its national laboratories are funding research and development on a wide range of new advanced reactor technologies that potentially revolutionize the nuclear sector.
These cutting-edge solutions will be cleaner, safer, and more efficient than earlier generations. Sodium-cooled fast reactors (SFR), extremely high-temperature reactors, and molten salt reactors are among the emerging advanced reactor technologies. These technologies are projected to meet future energy needs at a reasonable cost. Furthermore, advanced small modular reactors (SMRs) could revolutionize the way we think about reliable, clean, and economical nuclear power within the next decade.
Rather than going big, scientists and engineers developed microreactors that are around one-third the size of a typical nuclear power station. As a result, the largest clean energy source may be entering the market, making nuclear more scalable and versatile than ever before.
Impact of COVID-19:
The Covid-19 pandemic had a significant disruption in global supply chains. The pandemic had an impact on both the supply and demand sides of nuclear power and the nuclear fuel business. In the immediate term, the impact was greatest on the uranium supply side, since several mines and nuclear fuel cycle facilities ceased operations due to health concerns. As a result, the price of uranium surged by 33% and surpassed the $30 level for the very first time since 2016. COVID-19 difficulties also hindered reactor construction timetables. Some new reactor projects in China, which accounts for the majority of the world's new reactor construction, were temporarily paused but have now been restarted. Construction of reactors in the United States, France, the United Arab Emirates, Bangladesh, and the United Kingdom was also hampered. These delays were the result of staff reductions on building sites and supply chain interruptions.
Furthermore, limits on economic and social activities during the COVID-19 pandemic in 2020 resulted in an unusual and persistent drop in electricity demand in many countries, of 10% or more, compared to 2019 levels. This posed difficulties for both generators and system operators. With the increasing contribution of renewable electricity, low-carbon electricity triumphed, and nuclear power generation proved to be reliable, resilient, and adaptive. Nuclear power's adaptability revealed how it can help with the clean energy transition. Throughout the COVID-19 epidemic, however, the use of available nuclear power capacity supplied reliable, low-emission electricity. This is projected to provide the industry with lucrative growth prospects in the coming years.
Segments Insight:
Reactor Type Insights:
On the basis of reactor type, the pressurized water reactors (PWRs) segment held the largest revenue share in 2022. Approximately 300 of these reactors are now operational for power generation, and several hundred more are used for naval propulsion, making them the most prevalent type. PWRs were originally intended to be submarine power plants. Ordinary water is used by PWRs as a coolant and a moderator. Since less electricity is produced as the heat rises, operating this reactor is simple. The reactor is also safer and easier to operate since its core contains less fissile material, which lowers the likelihood of more fission events. Also, the PWR's turbine cycle is its most advantageous component. Water cannot ever be polluted by radioactive material in the main system loop because the primary and secondary loops are distinct. In conclusion, contamination is impossible because the water from the primary and secondary loops will never come into contact or mix. These factors are expected to present enormous prospects for the segmental growth of the market.
Application Insights:
Based on the application, the energy segment held the largest market share in 2022. The increasing energy and water demand, coupled with strained supply sources is expected to support the segmental growth of the market. By 2030, global power consumption is expected to have doubled due to population increase, industrialization, and expectations of improved living standards. Additionally, due to these pressures, there is a growing demand for energy-intensive desalination plants and are further leading in lack of fresh water. Significant prospects exist to use nuclear energy to produce clean water on an industrial scale and meet the growing need for base-load electricity.
Regional Insights:
North America has held the largest revenue share in 2022. This is owing to the availability of large-production nuclear reactors along with rising energy demand in the region. As per the World Nuclear Association, the 92 nuclear reactors that are currently in operation in the USA have a net capacity of 94.7 GWe. 19.6% of the nation's electricity was produced by nuclear power in 2021. With a total net capacity of 13.6 GWe, Canada has 19 operational nuclear reactors. 14.3% of the nation's electricity was produced by nuclear power in 2021. With a total net capacity of 1.6 GWe, Mexico has two nuclear reactors that are currently in operation. 5.3% of the nation's electricity was produced by nuclear power in 2021. Thus, with so many nuclear reactors, the market in the region is expected to grow within the estimated timeframe.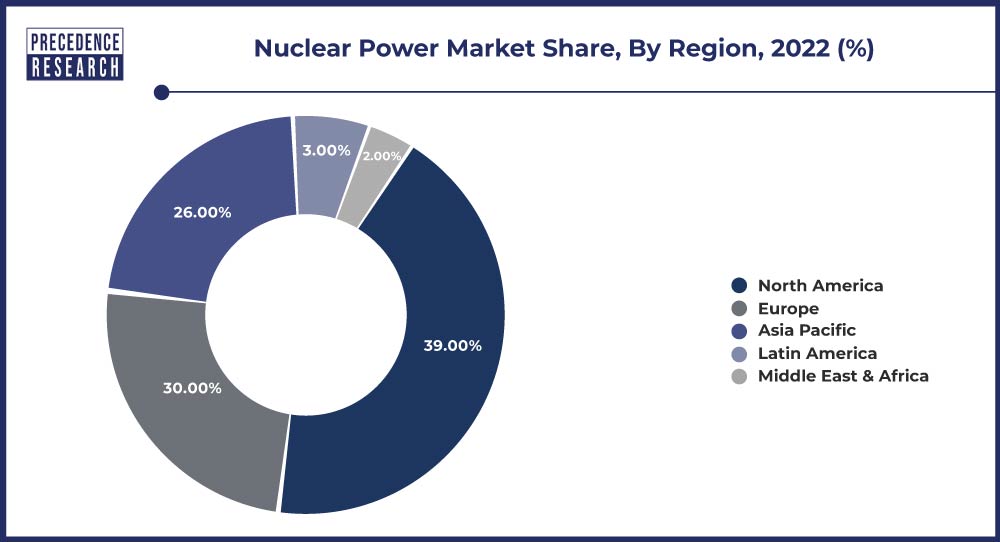 Asia-Pacific is expected to grow at the fastest CAGR during the forecast period. This is attributable to the increasing urbanization and increasing electricity demand due to the growing population across the region. China has held the largest share in the APAC region. According to the World Nuclear Association, with a total net capacity of 53.3 GWe, China has 55 nuclear reactors that are currently in operation. Nuclear power produced 5.0% of the nation's electricity in 2021. With 21 reactors planned to be completed by the end of July 2022, the nation continued to lead the new nuclear build market.
The urgent need to enhance urban air quality and lower greenhouse gas emissions is a major driving force behind the development of new nuclear power in China. India currently has 22 nuclear reactors that are operational, with a total net capacity of 6.8 GWe. Nuclear power produced 3.2% of the nation's electricity in 2021. As part of its extensive infrastructure development program, the Indian government is committed to increasing nuclear power capacity. The government set the lofty goal of having 14.6 GWe of nuclear capacity online by 2024 in 2010. With a total capacity of 6.7 GWe, eight reactors were being built in India as of the end of July 2022. These initiatives are likely to encourage the adoption of nuclear power solutions, which is driving market growth in the region.
Recent Developments:
In April 2023, Saskatchewan and New Brunswick signed a formal agreement to construct small modular reactors (SMRs). This revitalized relationship will benefit both provinces by capitalizing on opportunities arising from nuclear energy development efforts in Canada and around the world, as well as accelerating progress towards decarbonizing power networks and industrial facilities using SMR technologies.
In December 2022, the administration told the Lok Sabha that India is expected to commission 20 nuclear power stations by 2031, adding roughly 15,000 MW of power generating capacity. The first of these 20 nuclear power plants, a 700 MW unit, is scheduled to be completed in 2023 at Kakrapar in Gujarat, which already has three active nuclear power plants.
Key Market Players:
GE Hitachi Nuclear Energy
China National Nuclear Corporation
Westinghouse Electric Company LLC
Centrus Energy
Electricite de France
Cameco Corp.
Nuscale Power
Rosatom
Energy Harbor Nuclear Generation LLC
Orano SA
Constellation Energy Corporation
Korea Hydro & Nuclear Power Co., Ltd.
FirstEnergy Corp.
Engie SA
Segments Covered in the Report:
(Note*: We offer report based on sub segments as well. Kindly, let us know if you are interested)
By Reactor Type
Pressurized Water Reactors (PWRs)
Boiling Water Reactors (BWRs)
Pressurized Heavy Water Reactors (PHWRs)
Others
By Reactor Size
Large Reactors
Small Modular Reactors (SMRs)
By Application
Energy
Hydrogen Production
By Geography
North America
Europe
Asia-Pacific
Latin America
Middle East and Africa