The global omega 3 market size accounted for USD 7.5 billion in 2022 and is projected to hit around USD 15.1 billion by the end of 2032 with a registered compound annual growth rate (CAGR) of 7.3% from 2023 to 2032.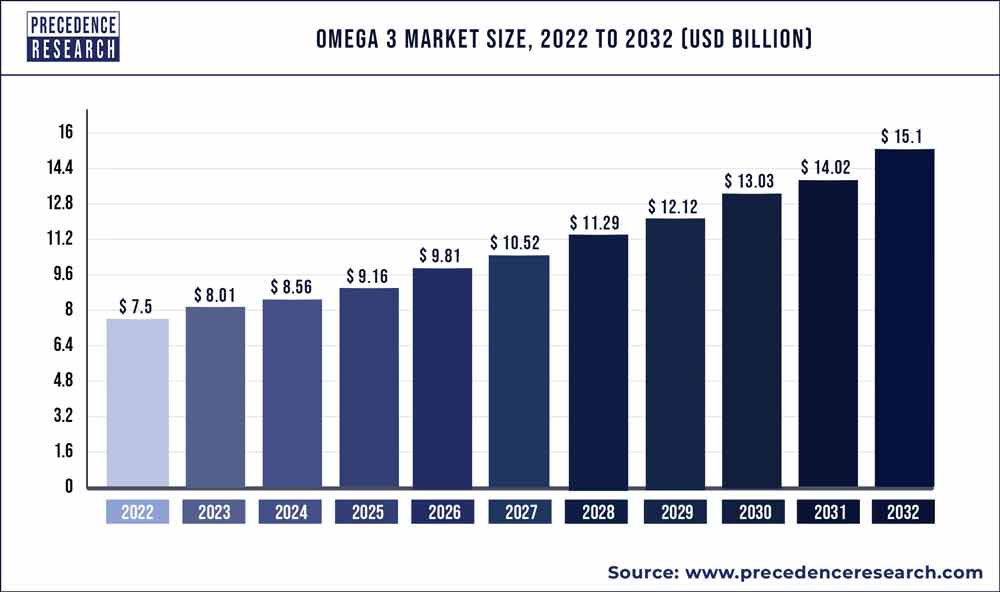 Access our Premium Real Time Data Intelligence Tool, Visit: Precedence Statistics
Key Takeaways:
The North America market was accounted for 38.2% revenue share in 2022.
By application, the supplement and functional foods segment has accounted revenue share of over 52.6% in 2022. However, the infant formula segment is growing at the fastest CAGR from 2023 to 2032.
By source, the marine source segment has held a revenue share of around 83.4% in 2022.
By type, docosahexaenoic acid (DHA) has accounted revenue share of more than 63% in 2022.
The omega-3 market is anticipated to be driven by rising consumer awareness of the benefits of polyunsaturated fatty acids for healthy eating and body composition, as well as rising investments in clinical research and development facilities. Additionally, rising chronic illness awareness and expanding product usage among active pharmaceutical ingredients (API) are anticipated to boost the market over the next several years.
The Omega-3 fatty acids help lower the risk of cardiopathy and support healthy skin. These are consumed along with a healthy lifestyle and regular physical activity to help reduce levels of certain blood fat (triglycerides) and raise levels of "good" cholesterol (HDL). Additionally, it's also desired to help with an immune disorder or high blood pressure. Chronic conditions are on the rise, and this ever-changing environment has helped the omega-3 market grow.
Consumers' growing knowledge of the importance of a balanced diet and the health advantages of omega-3 fatty acids, together with rising investments in clinical study and development, is anticipated to propel the global omega-3 market over the coming years. Omega-3 fatty acids are found in plants, nut oils, fish like salmon, tuna, and halibut, and other sea foods like krill and algae. These saturated fats are crucial for human development and growth in addition to brain function. Consuming omega-3 fatty acids reduces the risk of developing chronic illnesses like cancer, cardiovascular disease, or arthritis.
Growth Factors
As health products gain popularity, top fish oil companies are focusing on delivering omega flax seed oil probiotics on the global market. Because of the intense rivalry, producers are adding more nutrients to their products. Leading fish oil companies are focusing on implementing new products into the global market due to the increased demand for oily fish from the pharmaceutical industry. Industries including fisheries, improved animal & pet food, supplementation & food ingredient, pharmaceuticals, and others all need large quantities of omega-3 fatty acids. Additionally, fish oil enhances cardiac health and helps the neurological system work properly.
Due to a greater understanding of the value of omega-3 fatty acids among both medical experts and the general public, fish oil demand has greatly increased. As a result, companies are expanding their lines of nutraceutical products that include boosted EPA and DHA. The growing need for DHA and EPA in human diets has had an influence on the market for oily fish worldwide.
Report Scope of the Omega 3 Market
Report Coverage
Details
Market Size in 2023
USD 8.01 Billion
Market Size by 2032
USD 15.1 Billion
Growth Rate from 2023 to 2032
CAGR of 7.3%
Base Year
2022
Forecast Period
2023 to 2032
Segments Covered

By Type
By Source
By End-Use

Regions Covered

North America
Europe
Asia-Pacific
Latin America
Middle East & Africa

Key Market Drivers:
Growing health knowledge of omega-3 fatty acid consumption
The danger of irregular heartbeats or arrhythmia, which might result in the patient's abrupt death, is decreased by the omega-3 fatty acids. Additionally, it helps lower blood pressure, lower triglyceride levels, and limit the rate at which atherosclerotic plaque grows. While perceiving preventative care as a crucial tool to help them lead healthy lifestyles, consumers are increasingly switching to healthy options. Since they are an excellent source of proteins, vitamins, and minerals and can aid in the treatment of conditions like asthma, cancer, and melancholy, Omega 3s are consequently growing in popularity.
Marketing tactics and product endorsements to spur market expansion
Brand recognition, nutritive quality, and consumer safety are a few aspects that affect consumers' purchase choices. The advantages of omega-3-based supplementation have been widely publicized in print and online media, and this is also likely to affect an effect on consumers' purchasing decisions. The use of fish is anticipated to increase even further, especially in developing nations. The major source of Omega-3 fats is fish oil.
Key Market Challenges:
Extremely volatile fish oil prices
Fish and other sea oils used to produce omega-3 are expensive and highly unstable. This element is making it difficult for the market for omega-3 fatty acids to expand. The omega-3 business is suffering from the shifting cost of raw materials. The abrupt increase in the price of these raw resources is a result of the rising aquaculture costs.
The key ingredient in aquaculture is feed, and because feed costs fluctuate frequently, it is costly to keep. Fish that is bought or imported is becoming much more expensive. The labor cost, electricity, and power are rising, and fishing is restricted on high seas, which is restricting the industry's expansion even more. Thus, the industry's ability to expand is being hampered by the rising cost of raw resources.
Fish oil allergies and difficult extraction methods
The main two marine resources for the production of omega-3-rich oils are fish and krill. The acceptance of these goods may be constrained and the market expansion may be somewhat hampered over the projection period due to the difficulty producers experience in extracting omega-3, such as controlling fish odor and taste. Additionally, process-related difficulties like low yield and high-temperature extract might lower the quality of the product, which can have an impact on the final product's price and, in turn, restrain the worldwide omega-3 market's ability to grow in revenue terms.
Key Market Opportunities:
The use of omega-3 fatty acids for animal feeds and medications is growing
Increased customer wellness and fitness initiatives, along with the expanded use of omega-3 acids in food for animals and pharmaceuticals, are all contributing to the market's growth. The growing public awareness of the medical benefits of omega-3 is driving the necessity for financial institutions to develop. On the contrary hand, the technique diffuses strong oil in some kind of micro-emulsified composition to enhance surface penetration. By helping odoriferous oil emulsify in the stomach instead of forming a coating on the outside of gastric juice, OmegaZero® Nanotechnology considerably reduces the oil's surface area in contact with air.
Segmental Insights:
Type Insights
Because DHA can help lower the risks associated with cardiac illnesses, the segment is anticipated to experience strong revenue growth during the projected period. DHA also aids in lowering blood triglycerides while raising HDL cholesterol levels and blood flow while doing mental work. Attention Deficit/hyperactivity/ Hyperactivity Disorder may be helped by DHA (ADHD).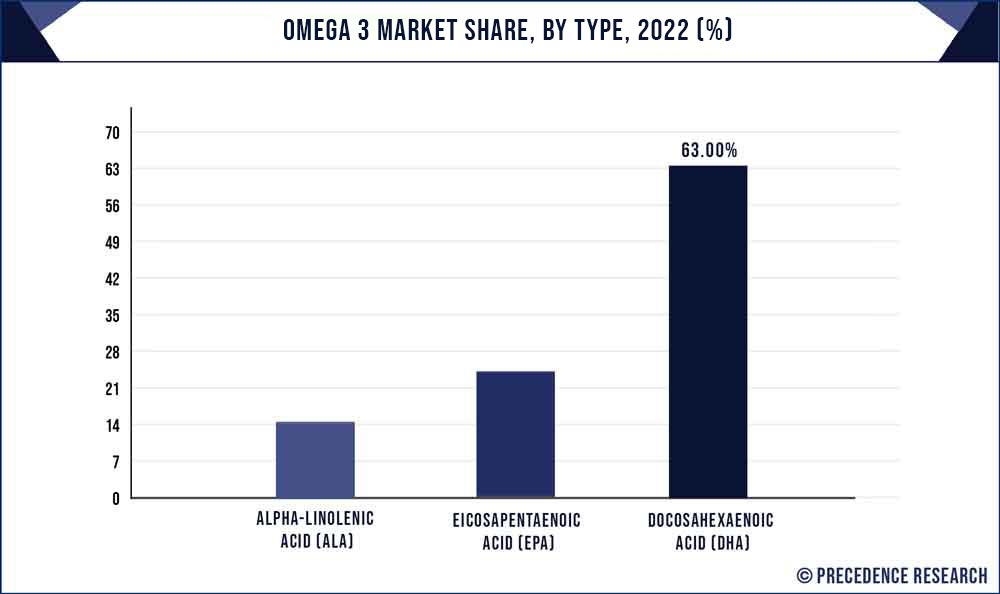 Omega-3 fatty acids can be used to address impulsive behaviors and concentration problems experienced by people with ADHD. DHA possesses anti-inflammatory qualities that could lower the risk of time of life illnesses including gingivitis (periodontitis) as well as other heart-related disorders, as well as ameliorate autoimmune ailments like rheumatoid arthritis.
Source Insights
The marine category had the greatest share of the revenue in 2022 and also is anticipated to raise its revenue quickly over the next few years. The ocean resource of omega-3 acids is fish or fish oil. Fish high in omega-3 fatty acids include tuna, mackerel, sardines, herring, and salmon. Because they include critical nutrients like DHA and EPA fish oil or vitamins are crucial for preventing heart disorders. Additionally, it lessens the likelihood of an irregular heartbeat and decreases the growth of arterial plaque. Omega-3 concentration powder made from organic fish oils and distributed by AlaskOmega was introduced on January 4, 2020. This product doesn't taste or feel fishy and provides 205 mg/g of DHA and also EPA.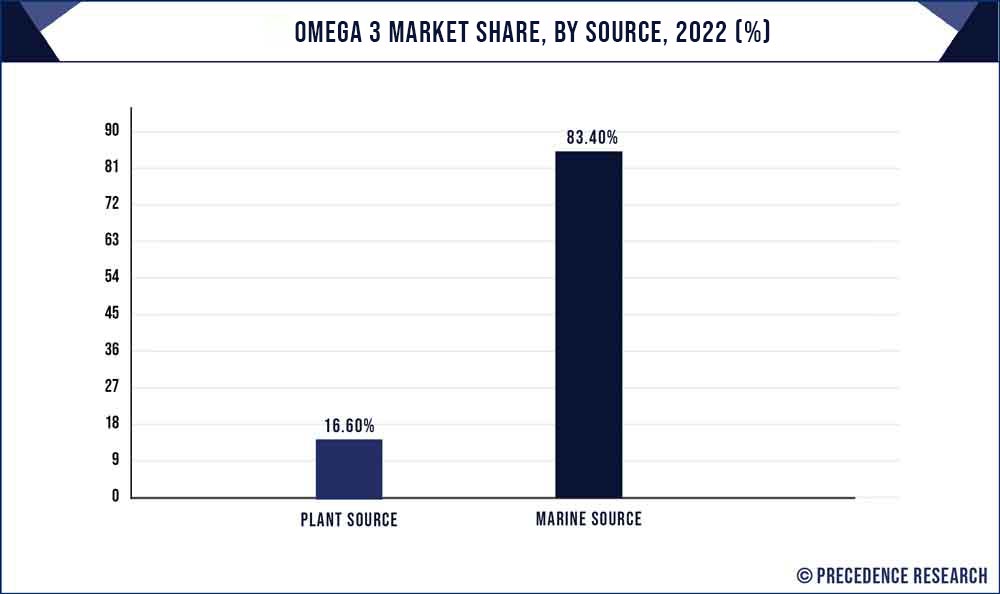 During the anticipated period, several new introductions are anticipated to fuel market expansion. During the projected timeframe, the nuts & seed sector is expected to experience substantial revenue growth. ALA is found in seeds like flaxseeds, which is crucial for human wellness and has been linked to several advantages like less inflammation, enhanced cardiovascular health, and preservation of the brain against the signs of aging. Additionally, research conducted in test tubes has generated comparable results, with multiple studies demonstrating that flaxseed oil can slow the growth of breast carcinoma cells.
End-User Insights
Due to changing food requirements among customers, particularly younger generations around the world, the nutraceutical & supplement sector, which accounted for the biggest revenue share in 2022, is anticipated to increase rapidly over the forecast period. Additionally, as a result of the COVID-19 outbreak and the growing need for omega-3 nutritional supplements, companies are investing in modern production technology to produce cutting-edge goods on a wider scale and satisfy continuous demand.
During the predicted period, the infant formulae segment experienced consistent growth. It is advised to add omega-3 fatty acids to infant formulae because they contain docosahexaenoic acid (DHA) as well as arachidonic acid (ARA), which are present in breast milk. These healthy fatty acids support a child's neurological and visual development.
Omega 3 Market Share, By Region, 2022 (%)
| | |
| --- | --- |
| Regions | Revenue Share in 2022 (%) |
| North America | 38.2% |
| Asia Pacific | 22.5% |
| Europe | 28.9% |
| Latin America | 6.4% |
| MEA | 4% |

Regional Insights
Asia Pacific's omega-3 market is anticipated to grow quickly throughout the course of the forecast timeframe. Consumer choice changes toward nutritious eating, beverage, and nutritional supplements are fueling income expansion in the Asia Pacific market. Additionally, the rising costs of hospitalization and unpleasant treatments have prompted customers to choose precautionary measures over curative ones, which means choosing healthy beverages and foods. This has led to a significant increase in demand for meals made with nutritional ingredients. Significant factors influencing the market's income expansion in this region include the abundance of materials available, the region's countries' affordable labor, and the existence of big corporations that employ omega-3 as a necessary element in a variety of goods.
Additionally, governments from different nations in this area are funding R&D projects to help women's nutritional status, which can aid in the fight against diseases like obesity and other cardiovascular conditions. To match the ongoing customer demand, numerous start-ups and new companies are expanding into this market sector with a variety of unique and improved products, including RuVega. This is helping the industry in this area grow in terms of revenue.
Recent Developments:
In January 2021, Genesis Biosciences and Croda International Plc announced a worldwide marketing and sales partnership. Croda Worldwide Plc is a specialty chemical firm that combines cutting-edge science to develop high-performance chemicals and solutions that enhance lives. With this new collaboration, Croda can further increase its selection of eco-friendly and secure scrubbing fresh ingredients.
In June 2021, Moderna and Lonza announced a partnership for the Dutch drug substance production of the COVID-19 epidemic vaccine. At Lonza's facility in Geleen, Netherlands, a novel medication element production line will supplement the current production system and enable the production of up to a further 300 Mn amounts of doses annually.
In June 2021, Lonza will continue to work with a significant biopharmaceutical partner to supply commercialized monoclonal antibodies on a large scale. A long-term partnership for the large shipments of monoclonal will finish the integrated process for the production of an antibody medicine combination for use in the treatment of tumors that are difficult to treat.
On April 20, 2021, The KD Pharmaceutical Group purchased the manufacturing equipment from a cannabinoid manufacturer based in Switzerland. KD Pharma now has access to technologies for creating Pharmaceutical Active ingredients depending on Phyto cannabinoids as well as other botanical extracts thanks to the acquisitions.
NutraQ was purchased by Orkla Health in June 2021, and this move will give Orkla exciting new growth prospects. Direct-to-consumer sales as well as the health category are expanding fields that will keep developing NutraQ's essential ideas while also looking into new opportunities for such sales.
In Aug 2021, Corbion declared that it had purchased Granolife, a supplier of functional mixes of Mexican sweltering and protection businesses situated in Queretaro, Mexico. At its manufacturing plant and applications in the training center, Granolife employs about 60 people.
Key Market Players:
Adisseo (France)
ADM (US)
ALGISYS LLC (US)
BASF SE (Germany)
Biosearch Life (Spain)
BTSA Biotechnologias Aplicadas S.L. (Spain)
Church & Dwight, Inc.
Colpex International
Copeinca AS
Corpesca S.A.
DSM (Netherlands)
Epion Brands
Farbest Brands (US)
FF Skagen A/S
FMC Corporation
Glanbia Plc (Ireland)
Golden Omega (Chile)
Huatai Biopharm (China)
Kinomega Biopharm Inc. (China)
Lonza Group (Switzerland)
Marvesa Holding N.V.
Nordic Naturals
NOW Foods
Omega Protein Corporation
Pesquera Diamante S.A.
Pharma Marine AS (Norway)
Pharma Nord B.V.
Pharmavite LLC
Polaris (US)
Prestige Consumer Healthcare Inc.
Queenen Research Institute
Rabar Pty Ltd (Australia)
Reckitt Benckiser Group PLC
Rimfrost AS.
Sinomega Biotech Engineering Co. Ltd. (China)
SternVitamin GmbH & Co. KG (Germany)
TripleNine Group A/S
Segments covered in the report:
(Note*: We offer reports based on sub-segments as well. Kindly, let us know if you are interested)
By Type
Docosahexaenoic acid (DHA)
Eicosapentaenoic acid (EPA)
Alpha-linolenic acid (ALA)
By Source
Marine Source

Fish Oil
Algal Oil
Krill Oil
Others

Plant Source

Nuts & Seeds
Vegetable Oils
Soy
By End-Use
Nutraceuticals & Supplements
Food & Beverages
Pharmaceuticals
Personal Care
Infant Formulas
Fish Feed
Others
By Geography
North America
Europe
Asia-Pacific
Latin America
Middle East & Africa (MEA)