The global ophthalmic packaging market size was reached at USD 6.31 billion in 2022 and it is expected to hit around USD 20.16 billion by 2032, poised to grow at a CAGR of 12.32% during the forecast period from 2023 to 2032.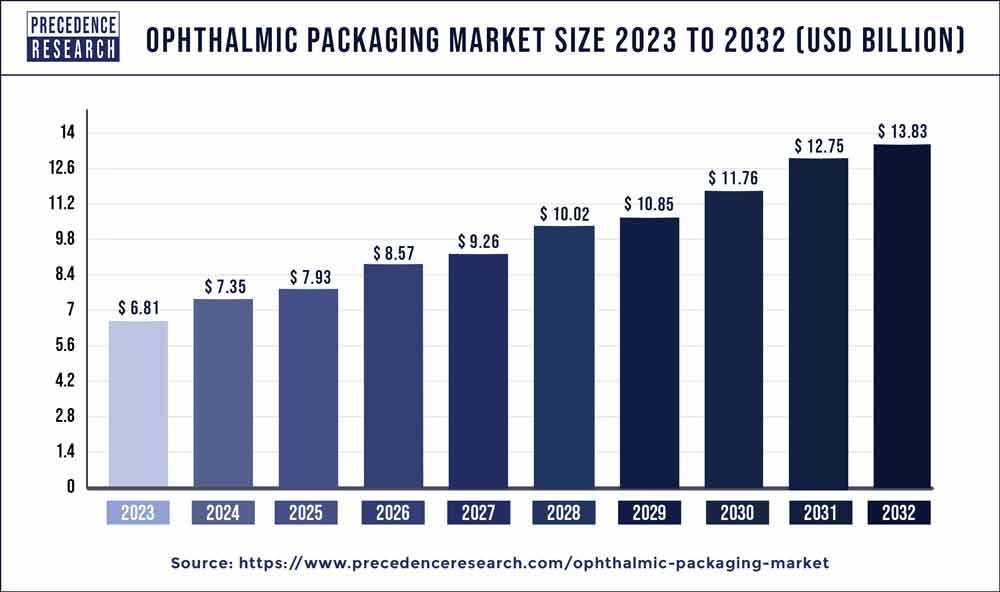 Access our Premium Real Time Data Intelligence Tool, Visit: Precedence Statistics
Key Takeaways:
North America generated more than 37% of revenue share in 2022
Asia Pacific is expected to expand at the fastest CAGR from 2023 to 2032.
By Dose, the multi dose segment contributed more than 72% of revenue share in 2022.
By Type, the prescription segment registered more than 57% of revenue share in 2022.
By Material, the plastic segment recorded for the biggest market share in 2022.
Market Overview:
The ophthalmic packaging market refers to the industry involved in the production and distribution of packaging materials specifically designed for ophthalmic products and devices. Ophthalmic products include various pharmaceuticals, medical devices, and surgical instruments used for the treatment and diagnosis of eye-related conditions and diseases. Ophthalmic packaging plays a crucial role in ensuring the safety, integrity, and sterility of these products throughout their lifecycle. It involves the design, manufacturing, and distribution of packaging solutions that protect ophthalmic products from contamination, breakages, and other forms of damage. These packaging materials also provide information about the product, such as its ingredients, dosage instructions, expiration dates, and regulatory information. The ophthalmic packaging market encompasses a wide range of packaging formats, including vials, bottles, ampoules, blister packs, tubes, cartons and labels. These packaging solutions are typically designed to meet specific requirements, such as maintaining the sterility of ophthalmic medications or protecting delicate surgical instruments from damage.
The market for ophthalmic packaging is driven by factors such as the increasing prevalence of eye disorders and diseases, the growing demand for advanced ophthalmic products, and stringent regulations regarding product safety and quality. Additionally, the rise in the aging population and the increasing adoption of contact lenses and other vision correction devices also contribute to the growth of this market.
According to the World Health Organization, one in six individuals on the globe will be 60 or older by 2030. By this point, there will be 1.4 billion people over the age of 60, up from 1 billion in 2020. The number of individuals in the world who are 60 or older will double (to 2.1 billion) by 2050. Between 2020 and 2050, the number of people 80 or older is projected to treble, reaching 426 million.
According to the World Glaucoma Association, in 2020, glaucoma will affect 79.6 million people, according to estimates. In 2040, there will probably be 111.8 million people in the world. At least 50 percent of glaucoma sufferers are not aware of their condition. 90% of glaucoma cases in certain underdeveloped nations go undiagnosed.
Report Scope of the Ophthalmic Packaging Market:
| | |
| --- | --- |
| Report Coverage | Details |
| Market Size in 2023 | USD 7.09 Billion |
| Market Size by 2032 | USD 20.16 Billion |
| Growth Rate from 2023 to 2032 | CAGR of 12.32% |
| Largest Market | North America |
| Fastest Growing Market | Asia Pacific |
| Base Year | 2022 |
| Forecast Period | 2023 to 2032 |
| Segments Covered | By Dose, By Type, and By Material |
| Regions Covered | North America, Europe, Asia-Pacific, Latin America, and Middle East & Africa |

Market Dynamics:
Driver:
Increasing prevalence of eye disorders
The rising prevalence of eye disorders and diseases, such as cataracts, glaucoma, and age-related macular degeneration, is driving the demand for ophthalmic products. This, in turn, fuels the need for specialized packaging to ensure the safety and efficacy of these products. For instance, according to the Centers for Disease Control and Prevention, in the United States, 12 million persons aged 40 and older have a visual impairment, of which 1 million are blind, 3 million have it after having their vision corrected, and 8 million have it because of uncorrected refractive error. In addition, there are 6.8% of children under the age of 18 who have an eye or visual issue that has been medically diagnosed. Children under the age of 18 make up about 3% of those who are blind or visually impaired, which is defined as having vision problems even while using glasses or contact lenses. Thus, the increasing prevalence of eye disorders is expected to propel the growth of the market during the forecast period.
Restraints:
Environmental concerns
The increased focus on sustainability and environmental conservation poses challenges for the ophthalmic packaging market. The use of traditional packaging materials, such as plastics, can contribute to environmental pollution. Market players need to explore sustainable packaging alternatives and implement eco-friendly practices, which may require investments in research and development. Thus, the growing environmental concerns related to the use of plastics are expected to hamper the growth of the market during the forecast period.
Opportunities:
Growth in e-commerce
The increasing popularity of e-commerce platforms for purchasing healthcare products presents an opportunity for ophthalmic packaging. Packaging solutions that are designed to protect products during shipping, enhance the unboxing experience, and provide clear product information can cater to the needs of online consumers and drive sales in the e-commerce channel. For instance, IBEF predicts that online retail penetration would increase from 4.7% in 2019 to 10.7% by 2024.
The number of online shoppers in India will reach 220 million by 2025. India's e-commerce industry is rated 9th in the world for cross-border growth, per a Payoneer analysis. In India, e-commerce is anticipated to increase from 4% of all retail sales of food and consumables, clothing, and consumer electronics to 8% by 2025. Therefore, the growth in the e-commerce sector drives the growth of the market during the forecast period.
Segments Insight:
Dose Insights:
Based on the dose, the global ophthalmic packaging market is segmented into multi dose and single dose. The multi dose segment is expected to capture the largest revenue share over the forecast period. A packaging method or format called "multi-dose packaging" is made to hold several doses of a drug or other product in a single box. In the pharmaceutical sector, it is frequently utilized to offer a practical and organized method of distributing and giving pharmaceuticals over a long period.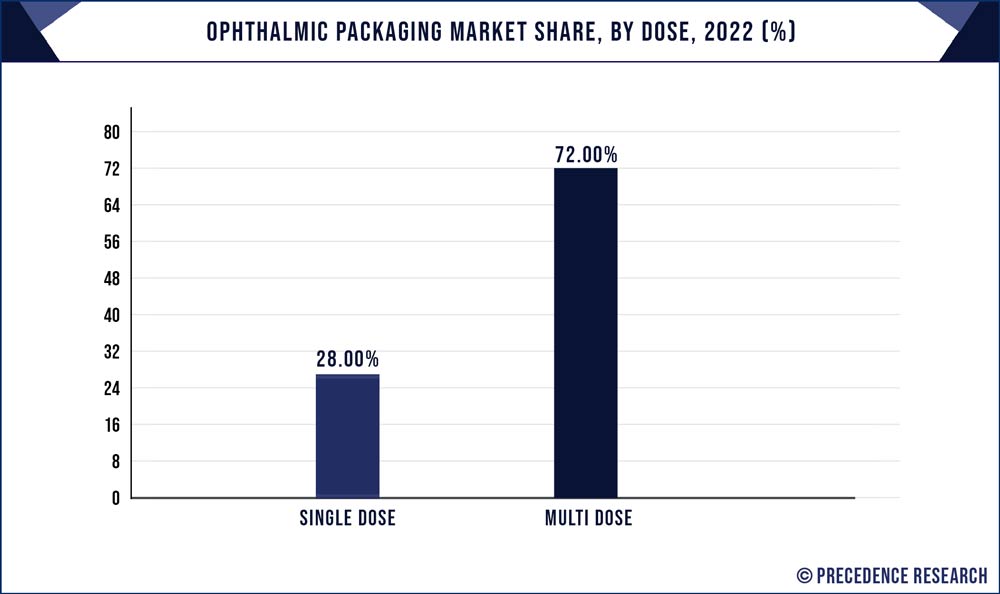 The design, manufacture, and distribution of containers or packages that can store numerous doses of a product are all part of the multi-dose packaging system, a holistic approach to packaging. This system usually comes with specialized packaging components, such as blister packs or strip packs, labeling, and usage instructions. In addition, the numerous benefits of multi dose packaging including convenience, enhanced safety, protection and longevity, portability and cost-effectiveness are expected to drive the growth of the market during the forecast period.
Type Insights:
Based on the type, the global ophthalmic packaging market is segmented into OTC and prescription. The prescription segment is expected to dominate the market during the forecast period. The majority of the share is explained by elements like the high prevalence of eye diseases and the expanding number of ophthalmic clinics, hospitals, and ambulatory care facilities. A study by the National Center for Biotechnology Information estimates that 61.4 million individuals worldwide suffer from eye disease.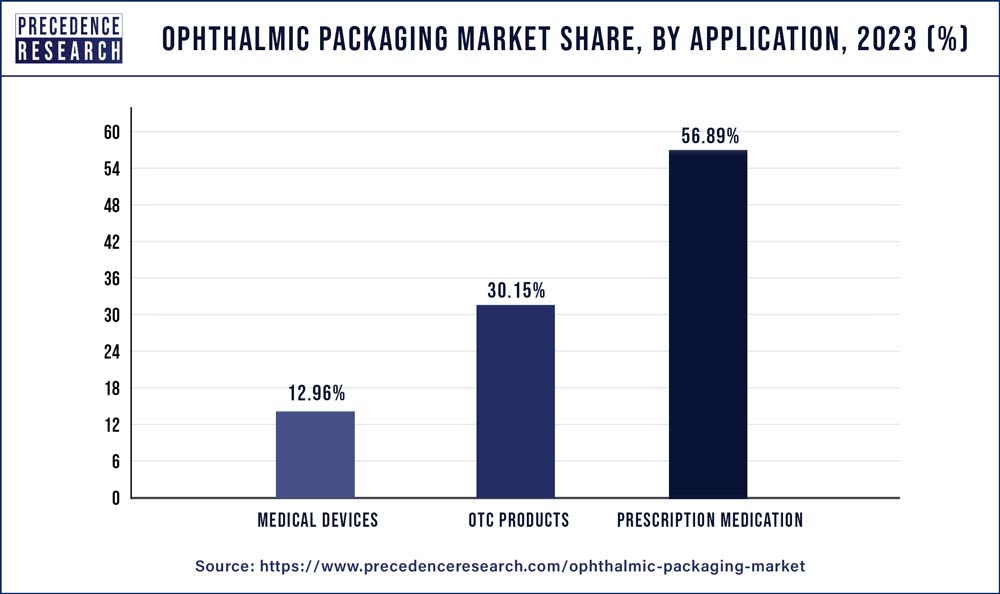 The market for prescription-only ophthalmic packaging is expected to grow as a result of improved accessibility to eye care facilities and the advancement of cutting-edge medication delivery technologies. In addition, individuals are far less likely to utilize over-the-counter (OTC) drugs for ocular ailments; they would rather visit an ophthalmologist to prevent their condition from getting worse. Thus, this is expected to drive the segment growth during the forecast period.
Material Insights:
Based on the material, the global ophthalmic packaging market is divided into glass, plastic and others. The plastic segment accounted for the largest market share in 2022 and is expected to continue the same pattern during the forecast period. Plastic is widely used in ophthalmic packaging due to its versatility, durability, cost-effectiveness, and ease of customization. HDPE is a popular plastic material used in ophthalmic packaging due to its excellent chemical resistance, durability, and suitability for various manufacturing processes. PET is commonly used for plastic bottles in ophthalmic packaging.
It offers transparency, lightweight properties, and good barrier properties against moisture and gases. PP is another widely used plastic in ophthalmic packaging, offering good chemical resistance, impact strength, and moisture barrier properties. Thus, the numerous benefits offered by these plastic types drive the market growth during the forecast period.
Regional Insights:
North America held the largest market share of more than 37% in 2022 and is expected to continue the same pattern over the forecast period. The regional growth is driven by factors such as an ageing population, increasing prevalence of eye disorders, technological advancements in ophthalmic products, and a robust healthcare infrastructure. For instance, according to the Population Reference Bureau (PRB) projections, the number of Americans 65 and older will nearly double from 52 million in 2018 to 95 million by 2060, increasing their percentage of the overall population from 16 percent to 23 percent.
Moreover, as per the study by Urban Institute, over the next 40 years, the number of Americans 65 and older will more than quadruple, reaching 80 million in 2040. Between 2000 and 2040, the proportion of persons 85 and older, who frequently require assistance with basic personal care, will nearly double. Furthermore, sustainability and environmental concerns are gaining prominence in North America. Market players in the ophthalmic packaging sector are increasingly adopting sustainable practices, such as using eco-friendly materials, reducing packaging waste, and implementing recycling programs. Therefore, these factors penetrate the market growth in the North American region over the forecast period.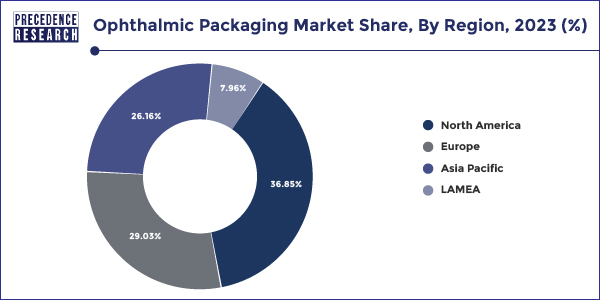 The Asia Pacific is expected to grow at the highest CAGR over the forecast period. The growth in the region is attributed to the rising healthcare expenditure, large population base, increasing prevalence of eye disorders and improving access to healthcare services. Moreover, there is rising awareness about eye health and the importance of regular eye examinations in the Asia-Pacific region. This increased focus on eye care translates into higher demand for ophthalmic products and subsequently drives the need for quality packaging solutions.
The Asia-Pacific ophthalmic packaging market comprises a mix of local packaging manufacturers and global companies. Local players often cater to domestic markets, while global companies have a significant presence and cater to both local and international demands. Key players in the region include Amcor Limited, SGD Pharma, Gerresheimer AG, Berry Global, Inc., and AptarGroup, Inc., among others. Thereby, driving the market growth in the Asia Pacific region.
Recent Development:
In July 2021, by opening an office in Baldwin, Wisconsin, Nolato expanded its geographic reach. The business would increase its manufacturing and storage capabilities to meet the demands of medical products as a result of this development. The extension was also designed to support the manufacturing of diagnostic tools and components for pharmaceutical drugs.
In August 2021, a unique healthcare lidding technology was revealed by Amcor. Combination goods, which have two or more controlled components, would take advantage of the technology.
In October 2020, DropControl, the most modern type of drug dispenser, was introduced by Gerresheimer. In an ophthalmic context, this solution is appropriate for medications with an exceptionally low solids content.
In September 2021, Amcor collaborated with Michigan State University's Department of Packaging and contributed $10 million to build a pipeline for a more environmentally friendly packaging sector.
In August 2021, the BD COR System has been made available in the United States by Becton Dickinson (BD). This completely autonomous diagnostic technology raises the bar for diagnosing infections and diseases.
Key Market Players:
Amcor
West Pharmaceutical Services, Inc.
Gerresheimer AG
SCHOTT AG
AptarGroup, Inc.
Akorn, Inc.
Johnson & Johnson Vision
Mitotech, SA
Bausch & Lomb Incorporated
AERIE PHARMACEUTICALS, INC.
Novartis AG
Merck Sharp & Dohme Corp.
Bayer AG
F. Hoffmann-La Roche Ltd.
ALLERGAN
Santen Pharmaceutical Co.
Teva Pharmaceutical Industries Ltd.
Segments Covered in the Report:
(Note*: We offer reports based on sub segments as well. Kindly, let us know if you are interested)
By Dose
By Type
By Material
By Geography
North America
Europe
Asia-Pacific
Latin America
Middle East and Africa