The global packaging primer market size was estimated at USD 1.70 billion in 2022 and it is expected to hit around USD 2.70 billion by 2032, growing at a compound annual growth rate (CAGR) of 6.73% from 2023 to 2032.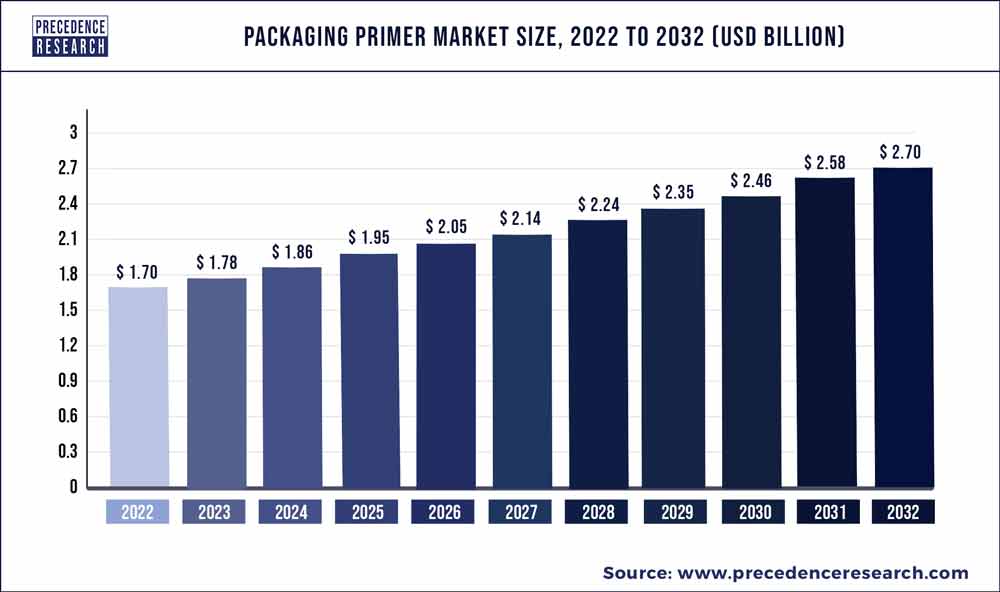 Access our Premium Real Time Data Intelligence Tool, Visit: Precedence Statistics
Key Takeaways:
By primer, the solvent-based primer segment dominated the primer packaging market and will show significant growth in the predicted period.
By application, the aluminum segment will grow the most during the forecast period.
By region, the packaging primers market is dominated by Asia-Pacific as a result of the slow rise of developing nations. The packaging primer market will also grow significantly in North America.
Market Overview:
The packaging primer market is the global industry that produces and supplies primers or coating materials specifically for the packaging industry. These primers are adhesives that are applied to various packaging materials to enhance their performance. Packaging primers are typically used to increase the effectiveness of high-end printing, providing anti-blocking, slip control, moisture resistance, and release. They can be water-based, solvent-based, or wax and poly coatings based. Poly and solvent-based coatings offer reliable, high-quality print finishes and protection for various applications. Nearly all end uses in the beverage, food, personal care and cosmetic, and pharmaceutical sectors, among others, are provided by manufacturers of packaging primer solutions.
Such primers for packaging purposes serve multiple benefits in packaging applications while adding a subsequent layer to the packaging material to improve its durability along with print quality.
The market for packaging primers is growing globally with industry leaders such as the Sherwin-Williams company seeing substantial growth in revenue. For instance, the annual revenue for Sherwin-Williams was $22.149B in 2022, which was an increase of 11.05% from 2021.
Growth Factors:
The rise in construction-related needs and activities due to commercial structures, such as warehouses, offices, manufacturing facilities, and so forth, are significant factors anticipated to propel the expansion of the packaging primers market over the estimated time frame. Additionally, the building and construction industries make extensive use of primers. The packaging primers market is expected to rise quickly because it is used as a base coat before paint is applied to many surfaces, including walls. Another factor expected to temper the expansion of the packaging primers market is the water-based coatings' relative cost-effectiveness in contrast to their solvent-based equivalents. However, it is also anticipated that the pandemic's effects will restrain the demand for packaging primers during that time.
Report Scope of the Packaging Primer Market:
| | |
| --- | --- |
| Report Coverage | Details |
| Market Size in 2023 | USD 1.78 Billion |
| Market Size by 2032 | USD 2.70 Billion |
| Growth Rate from 2023 to 2032 | CAGR of 6.73% |
| Largest Market | North America |
| Base Year | 2022 |
| Forecast Period | 2023 to 2032 |
| Segments Covered | By Primer and By Application |
| Regions Covered | North America, Europe, Asia-Pacific, Latin America, and Middle East & Africa |

Market Dynamics:
Driver:
Growing demand for sustainable packaging solutions
Multiple key players are focused on the development of the products that are in demand and consumers prefer the most. Sustainable packaging meets these important industrial drivers by being resource and material-efficient, extending product shelf life to decrease food waste, increasing product to package ratio, improving transportation owing to lightweight, and reducing waste to landfill. The rising demand for sustainable packaging solutions has boosted the emphasis on the production of eco-friendly primers that release zero volatile organic compounds (VOCs) during the application. Moreover, such production of chemical-free primers is expected to boost the growth of the market during the forecast period.
For instance, Michelman professionals prioritize recyclability and health & safety when using innovative materials and coatings, using a "sustainability first" strategy. With chances to decrease waste, improve product protection, and utilize fewer natural resources, their next-generation primers, topcoats, barrier coatings, and heat seal coatings provide greater functionality in sustainable packaging.
Restraint:
Limitations in advancements
Primers for packaging provide a significant recycling issue, at least for multilayer systems used today. Due to the numerous layers of various materials utilized to achieve package performance, recycling flexible packaging is currently problematic. Most recent regulation changes are motivated by a goal to increase package sustainability. Several new restrictions on using materials, many of which target single-use plastics. Flexible packaging must employ recycled material following other programs. These initiatives range from aspirations for the years to formal restrictions or regulations.
Opportunity:
Introduction of water-based coating
A chemical primer is typically required in multilayer flexible packaging designs to strengthen bindings between a coating and a substrate, such as ink or an extrudate. The barrier qualities, appearance, and general performance of the completed construction can all be improved by primers. Water-based primers are a popular option since they operate well on a wide range of substrates. When compared to materials made from solvents, they are also a more secure and sustainable option. Packaging industry players can protect a surface against minor stains like pencil, ink, water stains, scuff marks, and rust, as well as more prominent stains like soot, fire damage, and charring with a water-based primer. Water-based primers are thereby contributing to the expansion of the packaging primer industry.
Segments Insight:
Primer Insights:
By primer, the solvent-based primer segment dominated the primer packaging market and will show significant growth in the predicted period. The solvent-based segment is in high demand due to its advantageous properties over the other application segments. It offers durability, ensures the integrity of packaging material, and has a faster drying time. It is compatible with different primers and has barrier properties for packaging materials such as aluminum and rigid plastic. Water based segment is expected to witness notable growth in the forecast period. It is eco-friendly and doesn't release VOCs like solvent-based primers. It is growing in popularity because of the rising environmental concerns; it is safer to handle and has better adhesion. It is versatile and can be used with multiple materials.
Application Insights:
By application, the aluminum segment will grow the most during the forecast period. This is because of its valuable properties, such as offering a protective layer against air, temperature, light, micro-organisms, moisture, and odor. It is also recyclable and lightweight. The packaging primers are applied on multiple aluminum packaging solutions widely as the application is comparatively easy and helps in enhancing the durability of the product inside. Aluminum is a material that is prone to get affected by sun exposure, air and even humidity in some cases. Protecting aluminum packaging material, especially used in pharmaceuticals and food & beverages industries becomes crucial. The rising demand for aluminum packaging with the expanding end-users also gains the requirement of primer coating, this element is observed to promote the growth of the segment.
Regional Insights:
Asia-Pacific dominates the packaging primers market due to the slow rise of developing nations. The demand for more packaging primers and the region's strong economic growth is also driving regional firms to expand their businesses in the sector, which will help the market grow during the estimated time frame. The need for packaging primers is expected to expand significantly in North America due to the presence of several important key players.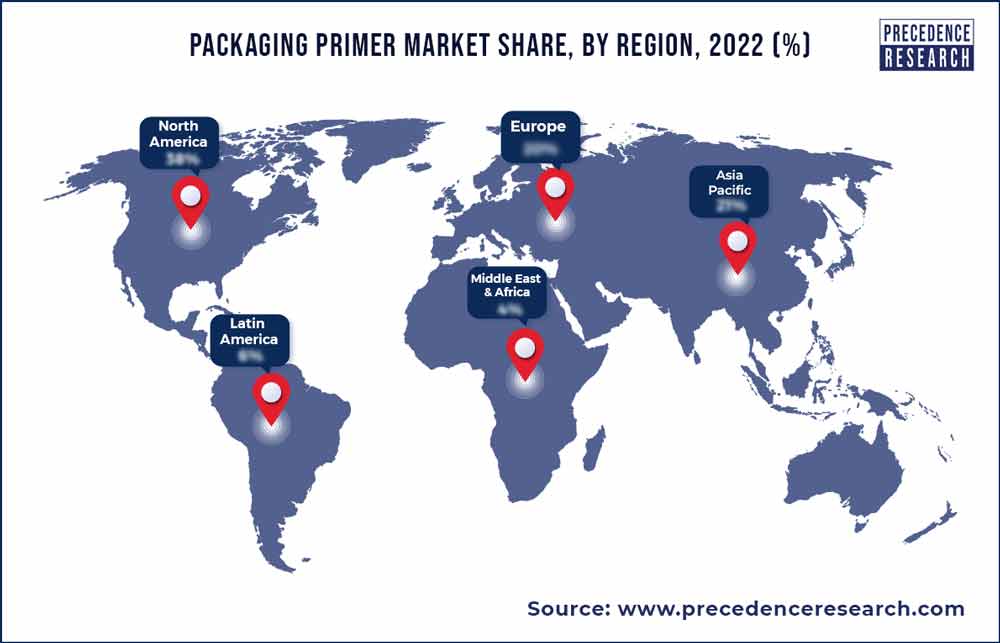 Several governments in Asia Pacific are implementing stringent regulations on packaging materials to ensure consumer safety. These regulations are expected to boost the production as well as innovation of sustainable primers for the packaging industry, which promotes the development of the market in the Asia Pacific.
The packaging primer market will also grow significantly in North America. The presence of multiple key layers in the nation and potential of investing in product development, the United States is expected to be the largest contributor to the market's growth in North America. For instance, Michelman, a packaging primer manufacturer based in the USA, is one of the leading producers. Significant advancements in the primer formulations as well as the development of low-VOC and UV curable primers in the region are highlighting the growth of the market in North America.
Recent Developments:
In June 2022, the most prominent global supplier of packaging labels and coatings, Siegwerk announced an important improvement in deinking. The improvement has been made especially for rigid plastic packaging materials. The invention aims to enhance mechanical recycling in the industry. As a result of this improvement, Siegwerk is aiming to offer a UV-curing primer that can work with pressure-sensitive materials.
In February 2021, Ashland revealed a brand-new primer. Ashland's Purekote coater-ready 29100 primer line is made for on-demand water-based inkjet printing and provides a variety of matte, high gloss, and satin finishes for the packaging, label, and graphic arts sectors. Water-based inkjet technology has significantly improved performance and costs compared to other digital platforms. It has the greatest expected growth rate over the next five years as digital print spreads into the traditional printing industry. Adding the Purekote 29100 series to Ashland's electrophotographic and UV inkjet product lines significantly improves their selection of digital primers.
In April 2023, INX International Ink, Co., a major supplier of coating solutions announced the launch of a GB-XA oxygen barrier coating solution, EcoStage, especially designed for mono-material packaging and food preservation purposes. The new coating solution is expected to enhance the shelf life of food products while maintaining the color and clarity of external packaging material.
Key Market Players:
The Sherwin-Williams Company
Axalta Coating Systems
PPG Industries, Inc.
ACTEGA Terra GmbH
DIC Corporation
Akzo Nobel N.V.
BASF SE
National Paints Factories Co. Ltd.
Aqua Based Technologies
KANGNAM JEVISCO CO., LTD.
Michelman, Inc.
Paramelt B.V.
Mica Corporation
Coim Group
S-One Holdings Corporation
Segment Covered in the Report:
(Note*: We offer report based on sub segments as well. Kindly, let us know if you are interested)
By Primer
Water-Based Coatings
Solvent-Based Coatings
Other Coatings
By Application
Film Makers
Aluminium Makers
Paper And Aluminium Converting
Paper Coaters And Makers
Film
Others
By Geography
North America
Europe
Asia-Pacific
Latin America
Middle East and Africa