The global personal care ingredients market size was estimated at USD 13 billion in 2022 and is supposed to be worth USD 22.74 billion by 2032, poised to grow at a CAGR of 5.80% during the estimated time frame from 2023 to 2032.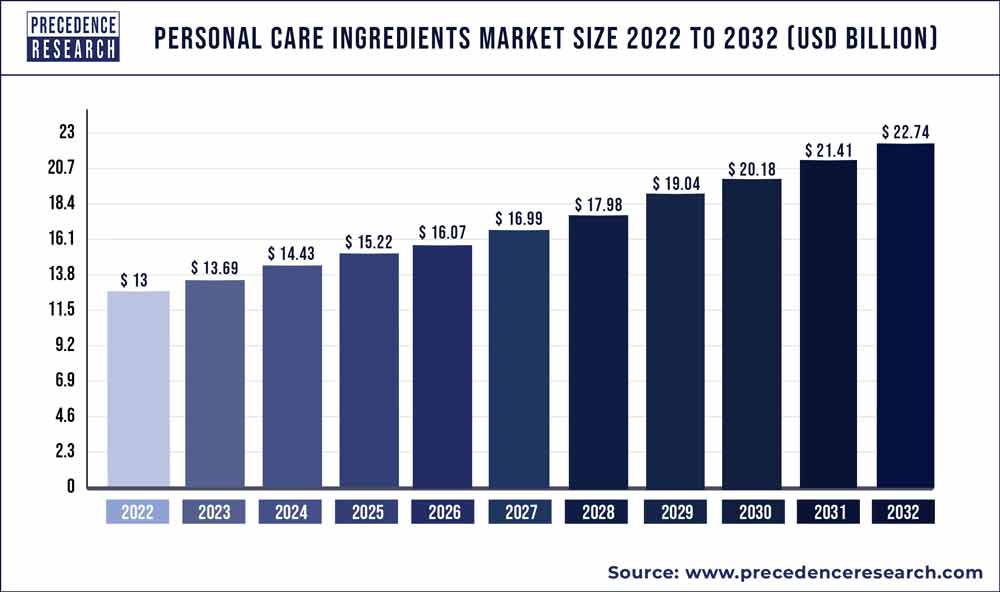 Access our Premium Real Time Data Intelligence Tool, Visit: Precedence Statistics
Key Takeaways:
Germany personal care ingredients market size was accounted at USD 1.62 billion in 2022 and growing at a CAGR of 5.2% from 2023 to 2032.
China personal care ingredients market was accounted at USD 1.7 billion in 2022 and is projected to hit USD 2.31 billion by 2032 with a CAGR of 6.1% from 2023 to 2032.
India market size was reached at USD 0.85 billion in 2022 and is predicted to surpass USD 1.45 billion by 2032 with a CAGR of 5.8% from 2023 to 2032.
By application, the skin care segment accounted largest revenue share 37% in 2022.
By type, the surfactants segment has garnered market share of around 27% in 2022.
In 2022, Europe region accounted 38% of market share.
The business is to a great extent driven by rising buyer interest in skin and hair care items all through the world. During the figure time frame, interest for individual consideration items and fixings is supposed to be driven by changing customer requests and expanded spending power. Expanding request among new-age clients for additional straightforward merchandise, driven by expanded information about the climate, wellbeing, and tidiness, prompts the requirement for top notch fixings in private consideration items. Rising consumer awareness about the negative repercussions of created engineering constructions raises desire in standard individual thought products and embellishments.
Growing assumptions in imaginative work activities by creators to convey eco-friendly and useful individual idea items are propelling the market for individual thought embellishments. Buyer involvement has propelled the requirement for items that give a couple of advantages right now, for example, soaking, threatening to expand, UV protection, against oxidant impact, and sanitising, which is contributing to the interest for multifunctional individual thought trimmings. The consistent example of utilising water-based individual concept items is driving customers toward non-sulfate anionic surfactants from standard surfactants, as would be expected to help the single thinking trimmings with promoting amid the gauge time span. The expanding utilisation of optional trims, for example, additional substance allies and regular acids, is satisfying the want for items.
Growth Factors
Buyer conduct has moved altogether in most emerging countries, quite China, Brazil, and India. Rising pay and buying power are driving development. Because of these elements, the interest for individual consideration synthetic substances has expanded in these nations. The overall's comprehension population might interpret neatness, feel, and wellbeing has developed over the course of time. Premium skin and hair care items, for instance, that were already exclusively accessible in metropolitan regions, are currently promptly accessible in rustic India and China. This change in utilization designs is driving the beauty care products and individual consideration industry.
Expanding urbanization, an expansion in the quantity of working ladies, evolving ways of life, and higher consciousness of cleanliness and skin health management are a portion of the critical drivers of the individual consideration fixings industry. Individual consideration items have filled in prominence as people have become more worried about their own neatness and wellbeing. More skincare and hair care items are being created because of this change, expanding interest for individual consideration synthetics. Besides, when the overall population has a superior consciousness of the synthetics and different materials used in items, the item market will benefit. The individual consideration fixings industry will support the old populace's developing interest in enemy of maturing arrangements. As customers develop more mindful of the risks of engineered synthetics, the normal individual consideration industry will flourish. The current Covid scourge impacts the individual consideration fixings industry.
The Covid plague harmed the individual consideration business, which straight forwardly affected the individual consideration fixings market. The decrease is for the most part because of the imperatives forced by states to meet social removing models. The overall monetary slump is likewise unleashing ruin in the business. The conclusion of assembling locales has influenced the market for individual consideration fixings. The scourge has impacted purchaser spending on nuts and bolts. It has additionally impacted how individuals shop. Thus, there is a befuddle between worldwide interest and supply for individual consideration parts. The individual consideration industry has seen a critical drop in optional spending like as fragrances, hair styling items, and make-up because of COVID-19. Most of individuals spend their cash on necessities, for example, hand cleanser, body wash, and salves. Buyer buying and utilization propensities have moved because of the worldwide emergency, influencing different regions in the individual consideration business.
Report Scope of the Personal Care Ingredients Market
| | |
| --- | --- |
| Report Coverage | Details |
| Market Size by 2032 | USD 22.74 Billion |
| Growth Rate from 2022 to 2032 | CAGR of 5.80% |
| Europe Market Share in 2022 | 38% |
| Skin Care Segment Market Share in 2022 | 37% |
| Base Year | 2022 |
| Forecast Period | 2023 to 2032 |
| Segments Covered | Source, Type, Application, Chemical Function, Geography |
| Companies Mentioned | BASF SE, Solvay, Dow, Evonik Industries AG, The Lubrizol Corporation, NIPPON SHOKUBAI CO. LTD, Aurora Fine Chemicals, ACURO ORGANICS LIMITED, Nouryon (Netherlands), Lonza (Switzerland), Ashland, Kemira |

Type Insights
Emollients were the most important market for individual consideration fixes in 2022. This is because they are used in almost every personal care item, for example, antiperspirants, antiperspirants, cleansers, skin creams, face cleansing agents, and so on. The interest stems mostly from the skin-relieving and smoothing characteristics of emollients. Emollients can help with the quantity and shedding of skin cells that occurs with psoriasis, in addition to alleviating dryness and irritation. These products can also relax plaques and breaks, improve the skin's barrier capacity, alleviate irritation, and act as a vehicle for dynamic clinical fixes. Emollients with high oil content are also occlusive experts. This suggests that they coat your skin with a thin slippery layer that traps the water in. The most frequently accepted approach for categorising Emollients is based on how slick or oily they are.
All emollients hydrate and smooth the skin, but the amount of oil in them determines main areas of strength for how effective an occlusive specialist they are. The advancement is credited to extensive utilisation in the construction of healthy skin products such as shampoos, lotions, antiperspirants, cleansers, skin cleansing agents, and so on. Emollients are also used as a cream to form a protective border fixing in moisture. Around 31 million people in the United States suffer dermatitis-related side effects, with 17 million experiencing moderate to severe illness. BASF, a global behemoth, has expanded its emollient production in China.
Application Insights
Healthy skin is the most important application segment for individual consideration fixes in 2022, with a CAGR of 4.7%. Skin health management is an important aspect of personal care. During the time spent doing make-up, it involves everything from correction to anticipation. Extraordinary skin will never go out of style, and advancements in the beauty industry promise to bring more advanced things with a touch that invites health. Skin health management comprises practises that improve skin respectability, improve its appearance, and treat skin diseases. This area involves feeding, avoiding excessive sun exposure, and making proper use of emollients. The top influencing factors in the global skin health management items market incorporate changes in lifestyle patterns in developing nations as a result of rapid urbanisation, an increase in awareness of cutting edge skin health management items, an expansion in demand for skin health management items, new item advancement, high interest in developing nations, and others. Nonetheless, the limited length of practical utilisation of the healthy skin item limits market expansion. Skin responsiveness is another factor driving the growth of the market for healthy skin care products. Another factor influencing market growth is awareness of the harmful effects of synthetics and manufactured goods. The item is used in a variety of areas, including hair care, skin health management, oral care, beauty care items, and others.
The healthy skin portion is expected to have the most rapid growth during the given period. This segment was valued at USD 5.4 billion in 2022 and is expected to grow rapidly. Goods for healthy skin include salves, creams, lotions, showers, child care items, and so on. Because of their ease of use and little hair damage, water-based hair care products have gained popularity. This pattern has prompted the designers to develop delicate fixes. Hair care products include hair oils, shampoos, hair covers, conditioners, hair serums, hair straightness, hair splashes, and other similar goods. In the surface level industry, dynamic fixing conveyance frameworks have been urged, which will essentially aid the individual consideration fixes piece of the pie. Oral care goods are used to maintain oral cleanliness and as breathe cleaners. Items in this category include toothpaste, mouthwash, and so forth.
Geography Insights
Europe accounted for the largest share of the global individual consideration fixes market in 2022, as the region has the world's largest cosmetics industry. The growing income of buyers in regular individual consideration goods, prompted by growing awareness of the threats provided by engineered synthetics, has propelled the industry in the area. Customers' high purchasing power and improved way of life in the area have raised the reception of pricey natural individual consideration goods, driving the utilisation of individual consideration fixings to build natural things.
The Asia Pacific individual thought trimmings market should make at a strong rate during the projected period, inferable from rising revenue for individual thought things. Over the span of ongoing years, arising countries, for instance, China and India have seen a flood well known for individual thought items. Because of the rising usage of premium make-up things, the supportive business in North America will experience tremendous improvement later on. In 2022, the magnificence care items order had a market worth of USD 1 billion. Hair care and excellence care items should make at the similar rate in Brazil. Because of unofficial laws, perhaps perilous combinations, for instance, parabens will see a decrease being used in the United States. Furthermore, rising income of the region's beauty care product companies to substitute produced fixes with natural variations is contributing to the market in the region.
Key market developments
BASF SE has built another production line to its Kaohsiung area in Taiwan in August 2020, which will manufacture the advancement of Uvinul A Plus, a UVA (UV longest recurrence) security component. The execs have tracked it down in a collection of solar and skin health products. Due to increased client demand in the Asia Pacific area, the creation line was sent.
In August 2019, Cargill Beauty announced collaboration with Univar to ensure the Latin America market (LATAM). This understanding passes organisations in Latin America with complete right on not fully set in stone, particularly reasonable trimmings and name appealing to the South American distinctive idea market.
In January 2019, Symrise announced the discontinuation of SymOcide BHO, the primary benzyl alcohol-based protection mix in SymSave H. The primary purpose of the item is to protect beauty care goods against microorganism development, such as organic entities and microbes. They are also often used for moist disposable clothing, cleaning agents, shower gels, face coverings, and so on, and they function well with a variety of non-sulfurs and surfactants.
In April 2017, Ashland overall property announced a partnership with Pharmachem Laboratories, Inc. (U.S.), a visible provider of components to the prosperity and wellbeing sector as well as items to enhance dwellings. The method of action aided the organization's future growth.
In April 2017, Ashland Global Property released three new portfolios, including AntaronHarmoniance and FiberHance for face, body, and hair care items. The addition of the new thing aided the organisation in expressively expanding its item portfolio.
Key market players
BASF SE
Solvay
Evonik Industries AG
The Lubrizol Corporation
NIPPON SHOKUBAI CO. LTD
Dow
Aurora Fine Chemicals
ACURO ORGANICS LIMITED
Nouryon (Netherlands),
Lonza (Switzerland)
Ashland
Kemira
Segments covered in the report
(Note*: We offer report based on sub segments as well. Kindly, let us know if you are interested)
By Source
Natural Ingredients
Synthetic Ingredients
By Type
Emollients
Surfactant
Conditioning Polymer
Colour Cosmetics Ingredient
Preservatives Boosters
Emollients Esters
Emulsifiers
Amphoteric
Others
By Application
Make-Up
Skin Care

Men
Baby
Sun Care
Hand/Body Lotion
Facial Treatment

Hair Care
Oral Care
Others
By Chemical Function
Chelating Agents
Cream Bases
Active Ingredients
Protein Products
Lipid Layer Enhancers
Humectants
Shine Concentrates
Thickeners
Waxes
Opacifiers
Others
By Geography
North America
Europe
Asia-Pacific

China
India
Japan
South Korea
Malaysia
Philippines

Latin America

Brazil
Rest of Latin America

Middle East & Africa (MEA)

GCC
North Africa
South Africa
Rest of the Middle East & Africa