The global personalized packaging market size accounted for USD 34.5 billion in 2022 and is expected to hit around USD 59.77 billion by the end of 2032 increasing at a CAGR of 5.7% from 2023 to 2032.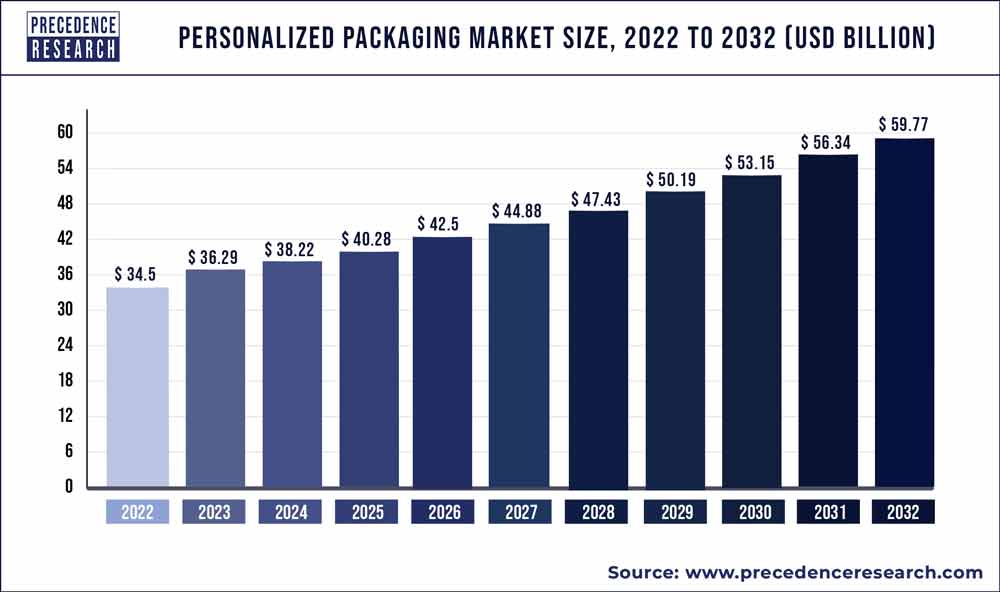 The market for personalized packaging has grown as a result of the enormous demand from numerous sectors. Manufacturers are employing personalized packaging more frequently to build consumer perception of their brand. Secondary packaging is frequently changed to provide items or companies in the market with their own distinctive personality. Personalized packaging is used to protect the goods during transit in addition to enhancing its visual appeal by designing the packaging to fit the product's specific measurements. Emerging businesses are anticipated to react to changing trends in the worldwide market for personalized packaging, even if established firms have already created notable trends through creative packaging solutions.
There are several uses for personalized packaging. Many businesses utilize it to convey a brand message or to promote a social cause, as well as to differentiate their packaging from that of their rivals. Additionally, personalized packaging may be utilized to enhance the product and provide clients with a more individualized experience. For various holidays, seasons, festivals, and significant occasions, brands also employ personalized packaging.
The demand for luxury packaging is seen to be on the rise, particularly in the APAC area, and this is seen to be having a favorable impact on the market for personalized packaging. To increase their presence in the continuously rising market, manufacturers in the area are increasing their capabilities and production capacity. The increase over the past ten years has also been supported by the increasing global use of e-retail formats. The use of carbonated beverages has decreased over the past few years, while bottled water consumption is rising globally, which may present numerous options.
For example, With its 2015 "Oreo Colorfilled" campaign, Mondelez leaned into consumers' creativity by allowing the cookie packets to be personalized for Christmas gift-giving online or with a kit sent for at-home use. In addition to being the first time the products had been sold directly to customers; it also gave the brand the opportunity to enter the consumers' daily life through customized on-package messaging.
By releasing a limited-edition run of 7 million Nutella jars in that nation, Ferrero's "Nutella Unica" campaign, which translates to "Unique Nutella" in Italian, was a huge success for the firm in 2017. The unusual collection was a huge hit with customers, and it was completely sold out in a month.
These ongoing personalization initiatives will probably serve as an example for other businesses that are trying to set themselves apart from the competition. Manufacturers will come up with new and more creative methods to employ individualized packaging as long as it increases sales and appeals to customers.
Report Scope of the Personalized Packaging Market
Report Coverage
Details
Market Size in 2023
USD 36.29 Billion
Market Size by 2032
USD 59.77 Billion
Growth Rate from 2023 to 2032
CAGR of 5.7%
Largest Market
North America
Fastest Growing Market
Asia Pacific
Base Year
2022
Forecast Period
2023 to 2032
Segments Covered

Packaging Type
End-User Industry

Regions Covered

North America
Europe
Asia-Pacific
Latin America
Middle East & Africa

Growth Factors
The packaging business today relies heavily on personalized packaging. What previously appeared to be a growing fad is now a staple. The best packing solutions each year include package personalization. Over the past several years, it has become a strong trend that has solidified itself as a constant force in product design and marketing tactics. The major companies are choosing to utilize packaging and markings as a method to personalize their products in a variety of ways, from printed labels to shipping boxes to laser-engraved parts. In the upcoming years, it's anticipated that the personalization trend will spread even further. They see opportunities opening between customers and companies, creating a new sort of purchasing experience, using a combination of 3D technologies, online/mobile experiences, and more.
Key Market Drivers
More emphasis on the safety of the product - A significant portion of the demand is being driven by the increased requirement for package modification to ensure the product's safety, which is being further fueled by an increase in global exports and imports. The need of maintaining product safety during transit has greatly increased, which has helped the market for personalized packaging expand. Manufacturers of personalized packaging are focusing primarily on growing their footprint through smart mergers and acquisitions, which will improve the range and caliber of their product offerings. An increasing number of brand owners are choosing personalized packaging over traditional options, which is attributable to the necessity to build a brand identity amid fierce market rivalry.
Increasing consumer disposable income - The need for luxury packaging has increased as a result of rising consumer disposable income, especially in the APAC area, and this is helping to drive the market for bespoke packaging. To increase their presence in the steadily growing market, manufacturers in the area are increasing their capabilities and production capacity. The increase that has been occurring since the previous era is also being supported by the expanding use of e-retail around the globe. While the use of bottled water has increased globally, carbonated beverage sales have decreased over the previous few years. This might present a number of opportunities.
Key Market Challenges
Nee more time and energy - Personalized packaging may help businesses connect with clients and raise brand recognition, but new designs need a lot more time and work from businesses, which can result in increased manufacturing costs. Additionally, a lot of marketing resources must be devoted to determining the ideal package design and marketing strategy. Campaigns for personalized packaging that go flat with customers may waste a lot of time and money while hurting business profits. To prevent printing out-of-date or outmoded packaging, businesses must also keep current on the most recent trends.
Key Market Opportunities
Key to unique brand positioning - Customization is a hot trend, and the packaging may be the initial point of contact between the company and the buyer. The levers of personalization are being pulled by customer brands ranging from those in fast-moving consumer goods to those at the forefront of high-end luxury products. The market for bespoke packaging will flourish as firms get a little bit closer to consumers' thoughts thanks to branding initiatives. These personalization tendencies have been most prominent among beverage and food firms. Many companies in various industrial sectors have jumped on the personalized packaging bandwagon in an effort to benefit from it. One of the appealing customer value propositions that businesses have been attempting to use for distinctive positioning is the value of strategic packaging. Given the fierce rivalry that personalized packaging fosters, customer interactions will only get more subtle over time. One of the main drivers of development for industry participants in personalized packaging is the insatiable desire to communicate personally with brands.
Trends in smart & connected packaging as well as personalized bespoke packaging gaining ground - To draw and keep customers throughout the shopping experience and guarantee excellent product quality, electronics firms are using unique package styles for their items. Mobile businesses are using personalized packaging that is highly secure, tamper-evident, and robust. The usage of personalized packaging for clothing creates new opportunities for the industry for personalized packaging to expand. For the major participants in the personalized packaging business, the use of linked packaging to contact clients from a digital marketing viewpoint has offered a fantastic innovation opportunity. Due to its anti-counterfeiting and anti-theft properties, personalized packaging with NFC- and RFID-enabled tags is predicted to be the next generation of intelligent packaging types. Other developments in the worldwide market for the packaging of alcoholic drinks include the use of distinctive forms and sizes for bespoke packaging, coupled with typography and glossy or matte printing on luxury boxes.
Segments Insight
Package Type Insights
Over the projected period, the bottles sector is anticipated to have the biggest revenue share by packaging type. By adopting a different form and embedding a logo in a bottle, custom bottles offer a visual representation that may encapsulate the brand and accentuate package design. While plastic bottles have the characteristic to be recycled, improving sustainability, is a crucial element boosting this market's growth, glass bottles cannot be sterilized and reused.
End-User Industry Insights
The beverage component is anticipated to outperform the other sections with respect to revenue share throughout the projected period, based on end-user. There are numerous different types of beverages, including water, wine, soda, alcohol, and many others. The significant inclination for beverages throughout the world contributes to better brand visibility and sales when using custom beverage packaging.
Regional Insights
With the highest revenue share among regional market share, North America became the biggest market for personalized packaging in the year 2022. The region's growing use of personalized packaging to distinguish items and enhance transportable packaging is primarily responsible for the market's revenue development. Additionally, variables include the presence of technical innovation and the affordability of raw resources. Due to the existence of top industry players in the area, such as ProAmpac, Glenroy, Packlane, Owens Illinois, Packola, SoOPAK Company, PakFactory, The Custom Boxes, Salazar Packaging, and Fantastapack, the personalized Packaging Market in North America is anticipated to experience strong revenue growth over the forecast period.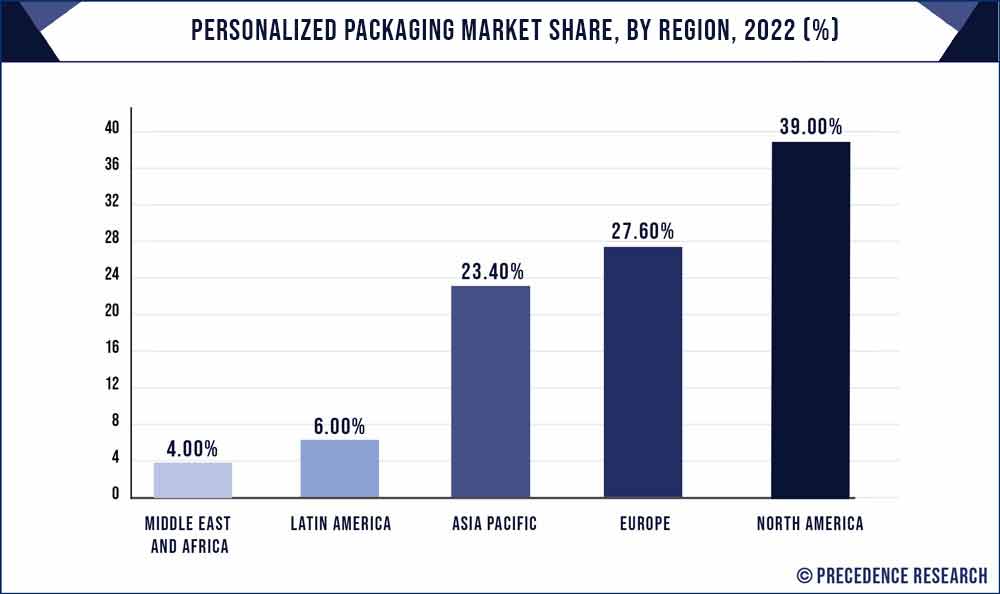 Over the projected period, the Asia Pacific personalized packaging market is anticipated to develop at the quickest CAGR. The main drivers of the APAC market development are shifting consumer lifestyles and rising disposable income, which have led to the rise in demand for products like carbonated drinks, alcoholic beverages, and others across the area. The growth of the APAC industry is further aided by the rising number of small as well as medium-sized bespoke packaging businesses.
Recent Developments
In April 2021, American web-to-print manufacturer of custom corrugated insert boxes Fantastapack unveiled a new line of corrugated insert boxes. The business claims that this is perhaps the first instance of automated technology being utilized to create custom insert packaging online. Fantastapack asserts that by utilizing digital print and converting, it provides customers with a competitive advantage by giving them access to cutting-edge packaging solutions before the rest of the market.
To expand its bespoke packaging business, Packhelp secured $45.6 million in investment in November 2021. Thanks to the rise of e-commerce and on-demand delivery, Packhelp has grown into a company that assists even the tiniest businesses in wrapping their products in eye-catching bespoke packaging and counting giants like H&M and Uber Eats among its clients.
Key Market Players
ACG Ecopak
Owens Illinois Inc.
Design Packaging Inc.
Elegant Packaging
International Packaging Inc.
Smurfit Kappa Group
ABOX Packaging
Salazar Packaging Inc.
Pak Factory Inc.
CB Group
Prime Line Packaging
SoOPAK Company
The Mondi Group Plc.
ProAmpac LLC.
Huhtamaki Oyj
Glenroy Inc.
Segments Covered in the Report
(Note*: We offer reports based on sub-segments as well. Kindly, let us know if you are interested)
By Packaging Type
Bottles
Containers & Jars
Bags & Pouches
Cartons
Envelopes
Boxes
By End-User Industry
Food
Beverage
Pharmaceutical
Personal Care
Logistics
Others
By Geography
North America
Europe
Asia-Pacific
Latin America
Middle East & Africa (MEA)