The global pet snacks and treats market size accounted for USD 37.9 billion in 2022 and it is anticipated to hit around USD 123.2 billion by 2032, poised to grow at a CAGR of 12.5% from 2023 to 2032.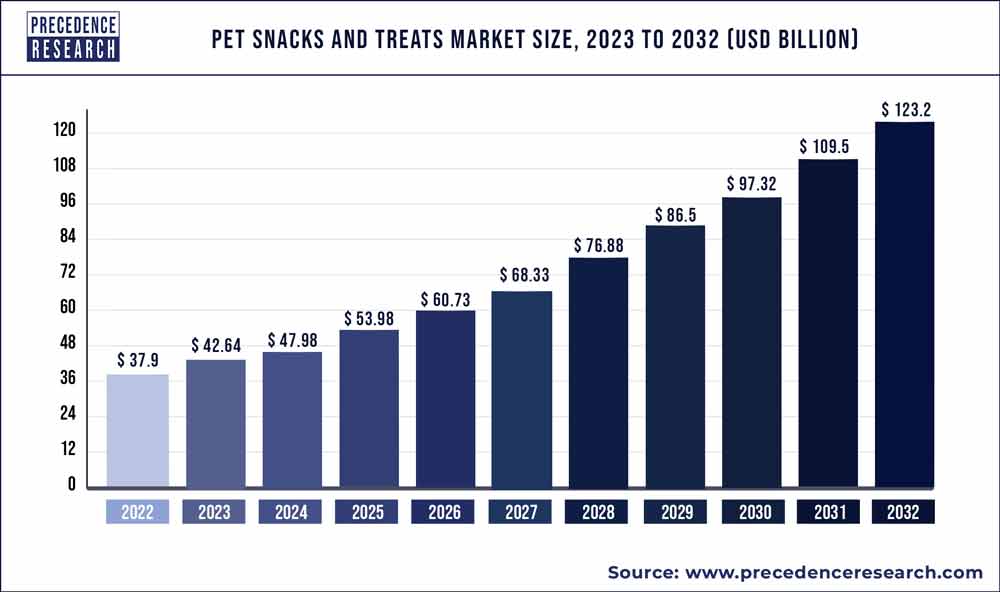 Access our Premium Real Time Data Intelligence Tool, Visit: Precedence Statistics
Pet snacks and treats are the food products offered to various pets and they are derived from animal material and plant material. This is a specialized product provided to dogs, cats, and other aquatic animals. Different kinds of beverages, treats and snacks are available for pets. Treats are offered to the pets to bring about positive behavior in them.
Snacks are instrumental in increasing the nutritional intake of pets. The products are available in the form of dried fruits, dried vegetables, and biscuits. Pet snacks and treats are also available in the form of roasted grains. Different types of treats consist of dental chews, jerky and other products. All these products are available in the form of powder, wet products, and dry products.
Key Takeaways:
By product, eatables segment has accounted highest revenue share of over 65.4% in 2022.
The chewable segment is expanding at a CAGR of 12.1% over the forecast period.
By pet type, dogs segment has accounted revenue share of over 68% in 2022.
The cats segment is growing at a registered CAGR of 19.9% between 2023 and 2032.
By distribution channel, the supermarkets & hypermarkets segment was highest revenue holder in 2022 which was 44.8%.
The online segment is poised to grow at a CAGR of 11.5% over the forecast period.
Key Factors
Increasing awareness about the nutrition and health of pets will lead to increased consumption of pet snacks and treats in the coming years.
An increase in disposable income has also played a significant role in the growth of the market.
Healthy treats and specialty snacks are offered in the market.
The adoption of pets in various nations has increased significantly due to which the demand for these products has also increased.
A variety of flavors and options are available in the market for cats and dogs. Different alternatives are expected to drive market growth.
Easy availability of these products on the e-commerce platforms is anticipated to drive market growth.
Growing needs for new formats and products will lead to the development of innovative products.
To ensure the well-being and health of the pets the visits to veterinary doctors have also increased due to which few functional foods are prescribed.
The introduction of plant-based products for pets has provided good opportunities for the growth of the market as few animals have dietary issues like allergies and obesity.
The market is expected to grow in the long run due to the growing demand for functional treats. Few health benefits are associated with the consumption of these treats when the nutritional content of these products is taken into consideration. Treats can be prepared industrially, and they are available in the form of biscuits, semi-moist treats, dried parts of various animals, and extruded products.
To prevent anxiety, and bad breath and to increase the immunity of pets these treats have gained popularity. They also help in improving the coat of the pets and the skin of the pets. Functional treats are available in the form of products that are beneficial for the joints and the teeth. Pet owners make use of these treats to improve their relationship with pet animals. New companies are entering the market to specialize in the production of various palatable treats and snacks.
Report Scope of the Pet Snacks and Treats Market
| | |
| --- | --- |
| Report Coverage | Details |
| Market Size in 2023 | USD 42.64 Billion |
| Market Size by 2032 | USD 123.2 Billion |
| Growth Rate from 2023 to 2032 | CAGR of 12.5% |
| Largest Market | North America |
| Fastest Growing Market | Asia Pacific |
| Base Year | 2022 |
| Forecast Period | 2023 to 2032 |
| Segments Covered | By Product, By Pet Type and By Distribution Channel |
| Regions Covered | North America, Europe, Asia-Pacific, Latin America and Middle East & Africa |

Market Dynamics:
Key Market Drivers
Increased number of pet parents
The number of people owning pets has increased globally. These pets are considered family, and they are considered for all their daily activities. Millennials own the largest number of pets across the globe. These pet owners are constantly on the lookout for natural supplements, delicious and healthy food, and a fresh diet and these pet owners certainly choose quality over price.
Increased sales through e-commerce platforms
Millions belong to the digital generation and most of these pet parents prefer shopping online. The availability of various products on online platforms and certain ads posted on social media websites play an instrumental role in the sales of pet snacks and treats.
Rapid urbanization
Small mammals are also adopted as pets by most urban couples across the globe. Unlike former generations, millennials are more open to innovative and advanced products. They do not hesitate to spend more money to gain quality products for their pets and all of these factors are expected to drive market growth to a great extent in the coming years.
Key Market Restraints
Expensive products
Various products offered to pets in the form of snacks are expensive in nature. The lower-income group may not be able to afford such products, and this happens to restrain the growth of the market to a greater extent.
Key Market Opportunities
Growing demand for senior formulation
To meet the nutritional needs of senior dogs and cats, prominent companies are engaged in designing nutrition-specific foods to provide an adequate number of vitamins, minerals, calories, and proteins to pets. This kind of diet plays a significant role in controlling obesity in senior pets. These formulations will also help in increasing their immunity and managing their joint pains. Such formulations can be enriched with omega-3 fatty acids to reduce inflammation in pets.
Vegan and vegetarian diets are gaining popularity
To reduce the carbon footprint of pets parents are looking out for options in vegan diets and vegetarian diets. Recent studies have shown that millennials can afford to spend 20% more on snacks and treats for their pets. Sustainable options will gain popularity in the coming years and provide major growth opportunities during the forecast period.
The trend of pet humanization will drive the market growth
These companions are seen as family members and the pet parents do not hesitate on buying high-quality and premium products for their pets. In the past, if the sales of these products are taken into consideration it can be seen that the consumption of high-quality and premium products has shown the fastest growth.
Key Market Challenges
Strict rules and regulations are associated with snacks and treats.
Market growth will be obstructed by stringent regulations. All of these products are highly regulated. When it comes to Western countries the policies adopted by these nations challenge the growth of the market. The utilization of ingredients undergoes a stringent examination. The commercialization of these products is also strict, and this is also expected to harm the growth of the market. Even though good quality and premium products are available in the market they are expensive, and this is also another reason that will pose an obstacle to market growth.
Segments Insight
Product Insights
The eatables segment dominated the market in the past. New products are launched constantly to meet the growing demand for innovative products. Natural ingredients are used in premium products to meet the growing need for functional foods. The vegan diet is also gaining popularity and prominent players are engaged in offering such snacks and treats.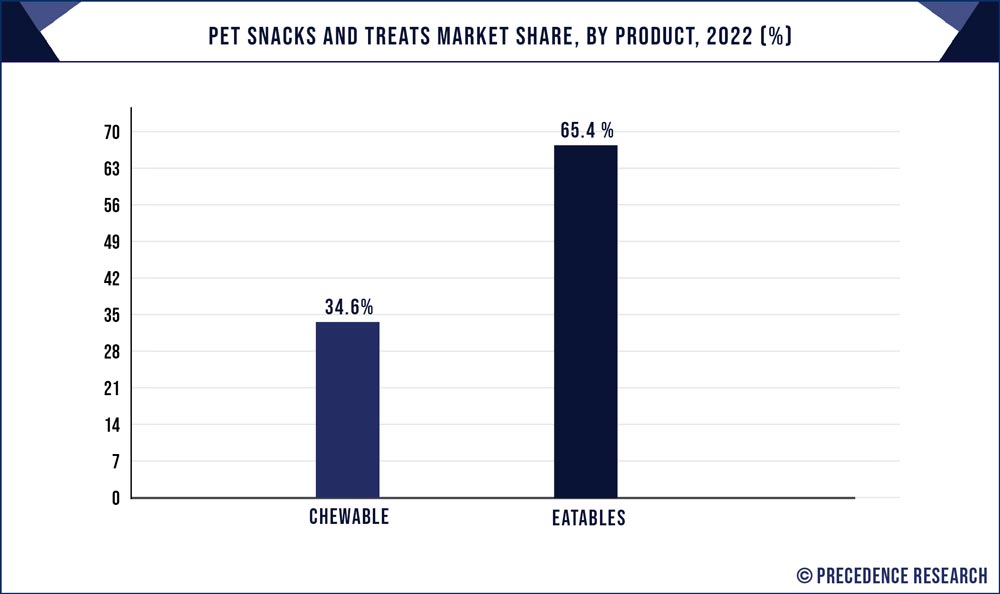 Pet owners are likely to purchase vegetarian snacks and treats for pets on a large scale in the coming years due to the benefits associated with the consumption of such products.
Snacks and treats are available in chewable form. This segment is also expected to register significant growth. In the elderly pet, broken or loose teeth lead to indigestion, and to address this issue snacks and treats are offered in the form of chewable. Many market players are launching chewable products to meet the nutritional demand of aging pets.
Pet Type Insights
The highest compound annual growth rate will be registered in the cat segment. To ensure the good health of cats and other pets the need for functional foods and premium food is expected to increase. Although various companies are engaged in the production of cat food, a large number of snacks and treats are consumed by the dog segment.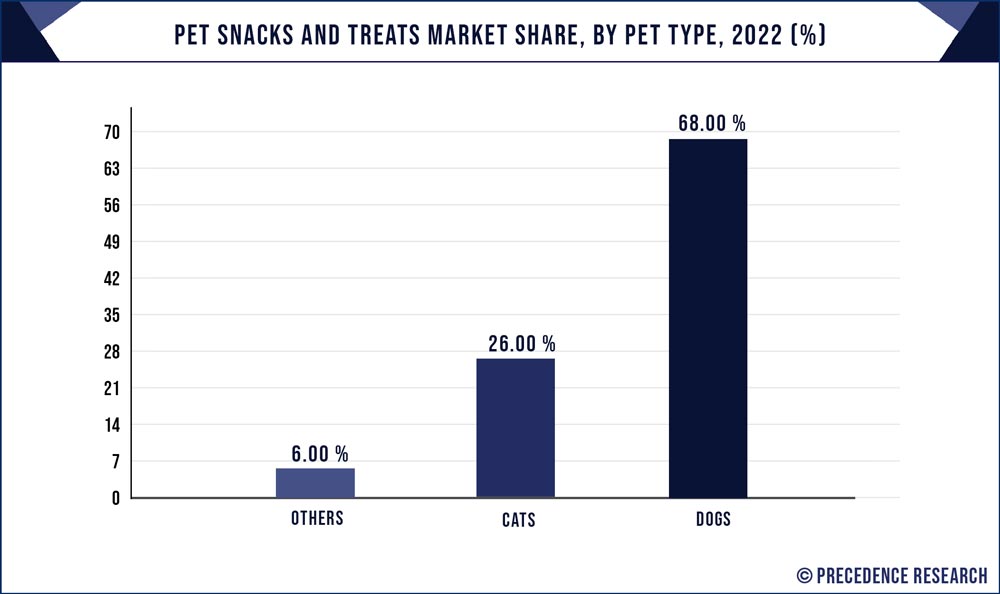 Digestive disturbance and allergies are expected to create more demand for a vegan diet, and this shift in the consumption of snacks and treats will drive market growth.
Distribution Channel Insights
The hypermarket and supermarket segments will generate maximum revenue. A variety of pet foods are available at these stores. Various flavors and the availability of vegan food products will drive market growth for this segment during the forecast period. The major chains of these stores provide a variety of premium products.
After the outbreak of the COVID-19 pandemic, the online segment has gained momentum. The shopping habits of people have changed to a great extent due to the advantages provided by e-commerce platforms. The availability of discounts on products at a single place with lucrative offers and doorstep delivery will increase the sales of pet snacks and treats through this mode.
Regional Insights
The majority share is held by the North American market across the globe. Different types of pets are adopted on a large scale in North American nations. This happens to be the most important reason for the growing demand for pet snacks and treats in this region. Pet humanization is gaining popularity in most nations across the globe and similar is the case in the North American region due to which the demand for pet snacks and treats has grown tremendously.
The constant demand for nutrition will lead to the manufacturing of healthy products for pets. The amount of money spent on premium and high-quality products in the North American region is the most.
The constant need for safe and sustainable food products is expected to drive market growth in European nations. The ingredients used in the manufacturing of pet snacks and treats in the European nation demand better transparency. Highly conscious pet parents in the European nation led to the introduction of new and innovative products in the market.
The fastest growth will be registered in the Asia Pacific nations, especially in the countries like China, Australia, and Japan. The revenue generated in these nations is maximum. Important food products for cats and dogs have a greater demand in Japan. Significant growth will be registered in India in the anticipated time frame. The amount of expenditure made on premium food products is expected to grow during the forecast period. Investments made by the prominent market players for the developing nations have also grown significantly in recent times and this is also expected to drive market growth.
Key Market Developments
Jinx and Pressed entered into a partnership in 2022 and introduced plant-based food for dogs. Limited ingredients are used to formulate these biscuits to cater to the demand of sensitivities in dogs. There are two different flavors available in these biscuits which are pumpkin and peanut butter and banana.
Good Dog was introduced by Wellness in 2022 which is a natural form of a treat for dogs that aims at the wellness of pet owners and dogs.
Vegan treats for dogs were introduced by Clif Bar and Company in 2021. It was a plant-based newly launched product.
Key Market Players
Mars, Incorporated and its Affiliates
Nestlé
SCHELL & KAMPETER, INC.
The J.M. Smucker Company
Hill's Pet Nutrition, Inc.
Addiction Foods
Wellness Pet Company
Spectrum Brands, Inc.
Unicharm Corporation
Blue Buffalo Co., Ltd
Segments Covered in the Report
(Note*: We offer report based on sub segments as well. Kindly, let us know if you are interested)
By Product
By Pet Type
By Distribution Channel
Supermarkets & Hypermarkets
Specialty Pet Stores
Online
By Geography
North America
Europe
Asia-Pacific
Latin America
The Middle East and Africa