The global polymethyl methacrylate (PMMA) market size was estimated at USD 4.9 billion in 2022 and it is expected to hit around USD 8.33 billion by 2032 and is poised to grow at a compound annual growth rate (CAGR) of 5.5% during the forecast period 2023 to 2032.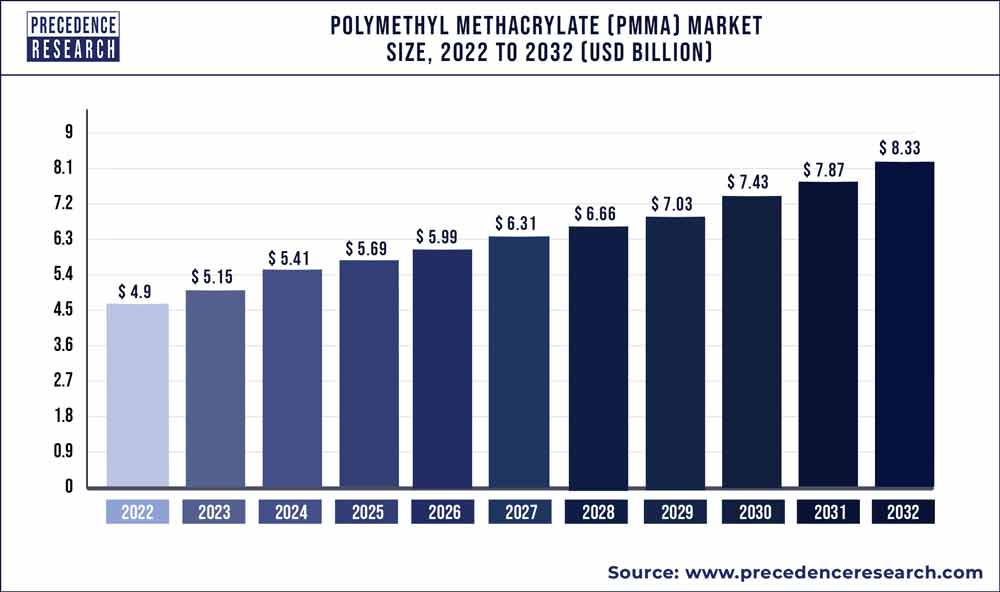 Access our Premium Real Time Data Intelligence Tool, Visit: Precedence Statistics
PMMA is clear plastic with qualities that surpass those of glass. As a result, it is frequently utilized as a substitute for glasses in several sectors. Compared to comparable substances, polymethyl methacrylate was easier to create, cheaper to produce, and much more durable. It is employed to create a variety of products, including glass windows, auto glass, cell phone displays, aquariums, LCD panels, optic glasses, and lighting coverings. Due to the accelerated growth of its finished sectors, the market price for polymethyl methacrylate was rising. PMMA does have an advantage in the marketplace due to its superior eyecare qualities, including excellent transparency & Ultraviolet light protection. Additionally, because it is reusable plastics, it satisfies strict environmental safety requirements to gain commercial acceptance.
Growth factors:
The industry for polymethyl methacrylate has been disrupted by the coronavirus epidemic. Due to widespread shutdowns and rigid social isolation policies, there was a large market for safety clothing and sterilizers worldwide. This resulted in a huge increase in the market for polymethyl methacrylate transparent plates, which were used all over the world as safety precautions to end the viruses from spreading. However, the desire for PMMA also fell as a result of the abrupt decline in sales in the transportation and automotive sectors, which hurt an adverse effect on the industry.
In the longer term, rising prices for LED television sets and expanding utilization as a glasses replacement in different goods are the main development drivers for such polymethyl methacrylate business.
On the other hand, it is anticipated that the cost of production will impede the expansion of the industry under consideration.
The major segment was in the transportation and automotive sector, which is anticipated to expand significantly throughout the projection period. This is mostly caused by growing hygienic consciousness and a growing preference for cosmetics.
Various growth possibilities are anticipated to arise during the forecast time frame as a result of the industry's transition towards PMMA, primarily as a replacement for polycarbonate.
The Asia-Pacific area is predicted to control the international market. This is mainly because end-user sectors including electrical, automotive, construction, and electronics are demanding more products.
Report Scope of the Polymethyl Methacrylate (PMMA) Market
| | |
| --- | --- |
| Report Coverage | Details |
| Market Size in 2023 | USD 5.15 Billion |
| Market Size by 2032 | USD 8.33 Billion |
| Growth Rate from 2023 to 2032 | CAGR of 5.5% |
| Base Year | 2022 |
| Forecast Period | 2023 to 2032 |
| Segments Covered | Form, Grade, End-use Industry, and Geography |
| Companies Mentioned | Broadcom, Espressif Systems (Shanghai) Co., Ltd, Holtek Semiconductor Inc., Infineon Technologies, Microchip Technology Inc., Nuvoton Technology Corporation, NXP Semiconductors, Silicon Laboratories, STMicroelectronics, Texas Instruments Incorporated, Renesas Electronics Corporation |

Key market Drivers:
Market growth is anticipated to be driven by increased EV penetration and anticipated restoration from the effects of COVID-19
The automotive sector uses poly methyl acrylate a lot because it is lightweight and weatherproof. It is used in body parts (such as lamp coverings and exterior and interior trimmings) and equipment for automobiles. It is utilized in headlights, side windows, windshield wipers, windscreens, headlights, rear lights, meter panels, wind deflectors, tail light coverings, speedometer needs to cover, and signalling lighting in addition to other external lighting fixtures. In mass transit, it is additionally utilized as an inside covering. Since 2019, decreased revenues, shifting customer preferences to EVs, altering operating framework, a trend favouring rental cars and coaster, decreasing per-capita expenditure, and economic slump in various nations have all had an impact on traditional automobile manufacturing. The market for automobiles fell in 2020 as a result of the COVID-19 outbreak and the accompanying halt of industrial activities.
Rising urbanization, industrialization, and commercial activity
The industry for polymethyl pethacrylate was expanding due to rising urbanization, industrialization, and growing business interest worldwide. The construction and building industry has expanded as a result of growing disposable income & higher living standards, particularly in emerging economies. International design standards' implementation, rising economic expansion, and the expansion of infrastructural development are all factors promoting market expansion.
Technology development and increased construction financing
The use of polymethyl methacrylate within the construction industry has expanded as a result of technological breakthroughs and expanding expenditures in the construction of workplaces, industries, and production facilities. The need for methacrylate first from the automobile industry has increased due to growing demands for modernized vehicles and the requirement to keep the weight down in cars for enhanced quality.
Key market challenges:
Adverse effects on the environment:

PMMA is frequently used for sheets since it is affordable and highly accessible. But it also has detrimental effects on the ecosystem. Consumption should decline as a result of increased awareness of these detrimental environmental effects. These elements make the expansion of the PMMA sector difficult. According to a computed calculation, one kilogram of acrylic fiber causes the release of about 5.5 kilograms of co2 into the environment throughout manufacturing. Acrylic sheets' carbon breakdown produces carbon dioxide particles breaking when exposed to sunshine. When carbon dioxide emissions enter the ozone layer, they significantly reduce it.

The recycling of acrylic materials is difficult:

Clear acrylic sheets can be recycled. Recycling is a complicated and complicated process, though. Using perspex and reducing huge pieces of acrylic substance into tiny chunks, followed by additional stages, is the suggested way of recovering acrylic films. The difficulty in reusing acrylic substances has resulted in an excessive number of debris being dumped worldwide, which has an impact on ecosystems supporting flora and wildlife. In areas where formations of acrylic by products interfere negatively with the breakdown of co2 and o2, plants cannot develop.
Market Opportunities
Bio-composite PMMA:

Petroleum products are used to make PMMA, which produces products that are harmful to the environment and emit carbon dioxide. But because of the rising need for PMMA, alternative production techniques that make use of bioenergy and biochemical functions have been discovered. As a result, an enzyme that can create PMMA has been produced, leading to the creation of microbially PMMA remedies. In addition to having a lower environmental footprint, organic PMMA can be designed to have a variety of different properties. As an illustration, take Arkema's Plexiglas Renew organic thermoplastic polymer. Its composition incorporates more than 25% bio-renewable material, giving it better chemical characteristics than traditional thermosets.

Outstanding impact and corrosion durability:

a dramatic improvement in machinability due to better-molten matrix, high solubility producing outstanding visibility, and enhanced corrosion and thermal characteristics are only a few of the improved qualities. To achieve this, qualities including optical, resistance to abrasion, color tolerance, and material aesthetics were not significantly changed.
Segmental Insights
Form Insights
Extruded films are anticipated to represent the biggest and most rapidly expanding PMMA market throughout the forecast timeframe. Optic purity, weather resistance, a lustrous finish, convenience of manufacture, and other benefits are offered by extruded sheets. Additionally, extruded sheets offer a more affordable option than other forms. Extruded sheets make up the bulk of the market. Due to the strong demand for high-quality sheets across numerous manufacturing industries, it had approximately 53.5% of the worldwide market volume in 2022. Such sheets are perfect for situations where complicated forms are needed due to their superior width flexibility. Extruded sheets also offer cost-effectiveness because they are made with affordable methods.
End User Insights
The PMMA industry's leading segment sector category is anticipated to be the automobile sector throughout the projected timeline. PMMA is employed in the automotive sector for parts of the body, headlamp coverings, and exterior and interior decoration. One of the main factors propelling the mobile industry is the increased use of EVs with a rising preference for personal mobility. Due to its high-performance qualities, PMMA is chosen among conventional polymers and other substances. It is also a lightweight material. As a result, the PMMA market is anticipated to develop throughout the projected period due to such a shifting regulatory landscape and the government effectively implementing EVs.
Polymethyl Methacrylate (PMMA) Market Share, By Region, 2022 (%)
| | |
| --- | --- |
| Regions | Revenue Share in 2022 (%) |
| North America | 22% |
| Asia Pacific | 38.2% |
| Europe | 29% |
| Latin America | 7% |
| MEA | 3.8% |

Regional Insights
The region with the greatest CAGR throughout the forecast period is the Asia Pacific. It is projected that rising per capita revenue in nations like China and India will drive car sales, ultimately driving up product demand. To take advantage of the attractive potential in the region, global corporations are making significant investments in the area and moving their production sites there.
In the coming years, it is anticipated that the Middle East and Africa would overtake Europe as the second-largest consumer. The combination of big industry players with local manufacturers and several ongoing projects will probably have a beneficial effect on the market dynamics. The market also has enormous potential in Central and South American developing nations, where there was a spike in sales for signage and projections during Rio Olympics throughout Brazil (2016). The 2018 Middle American & Caribbean Olympics also helped the local industry expand. This region's growth is driven by rapid urbanization, increased R&D activity, and the expansion of foreign players. PMMA is in higher demand as a result of expanding automotive adoption, industry expansion in developing nations like India, China, and Japan, and an increase in building and development operations. The market for polymethyl methacrylate in the sector has been further spurred by growing uses in the pharmaceutical and electronic businesses.
Recent Developments
Trinseo accomplishes the procurement of the PMMA business sector from Arkema in 2021. With the acquisition of Trinseo, PMMA, and MMA goods, as well as technologies seven, as well as technologies up to seven were added.
Aristech Surfaces LLC was acquired by Trinseo S.A. in 2021. The manufacturer of PMMA continuously casting and surface layer panels in North America was Aristech Technologies.
Plazit-Polygal (Israel), a producer of engineering thermoset sheets, was bought by Plaskolite LLC in 2021. The activities and properties of Plazit-Polygal throughout South America, North America, and Europe are anticipated to be acquired by Plaskolite.
On the United States Gulf Coast, Rohm GmbH constructed a factory in 2021 that can produce 250,000 tonnes of methyl methacrylate annually.
In Niihama Town, Japan, Sumitomo Chemicals intended to build a trial facility for recovering acrylic resin in 2021. In 2022, the project is scheduled to be finished.
In 2018, the Saudi Arabian production facility for polymethyl methacrylate (PMMA) and methyl methacrylate monomers will begin operations thanks to a combined venture between Mitsubishi Chemical Company and Saudi Basic Industry Organization.
2018 saw the acquisition of the US polycarbonate sheets production plant of Covestro by Plaskolite LLC. The company's performance in the United States is anticipated to grow as a result of the acquisition.
Key market players
3A Composites GmbH

ALBIS Distribution GmbH & Co. KG

Arkema SA (France)

Asahi Kasei Corporation (Japan)

CHI MEI Corporation (Taiwan)

Double Elephant Optical Material

Evonik Industries AG (Germany)

Gehr Plastics, Inc. (U.S.)

Heilongjiang Zhongmeng Longxin Chemical Co., Ltd.

Kolon Industries, Inc. (South Korea)

Kuraray Co., Ltd (Japan),

LG Chem Ltd. (South Korea),

Lotte Chemical Corporation (South Korea),

Makevale Group

Mitsubishi Chemical Holdings Corporation (Japan),

Nippon Shokubai Co., Ltd.

Plaskolite LLC (US),

Polycasa N.V. (Belgium)

PTTGM

Röhm GmbH (Germany),

RTP Company

Saudi Arabia Basic Industries Corporation (Saudi Arabia)

Shanghai Jingqi

Sumitomo Chemical Co., Ltd. (Japan),

The Dow Chemical Company (U.S.)

Toray Industries, Inc. (Japan),

Trinseo S.A. (US),

Unigel S.A.
Segments covered in the report:
(Note*: We offer report based on sub segments as well. Kindly, let us know if you are interested)
By Form
Extruded sheet
Cast acrylic sheet

Cell Cast
Solid Surface
Continuous
Composite

Pellets
Beads
Others
By Grade
General purpose grade
Optical grade
By End-use Industry
Signs & displays

Signage
Display boards
Point of sale boards

Construction

End-use

Residential
Multi-Family
Commercial
Industrial

Type

Barriers

Shatterproof Glass
Noise Barriers

Flooring

PMMA Resin Flooring
High-End Decorative Flooring

Automotive

Automotive Part and Accessories

Body parts
Lamp covers
Interior & Exterior trim

Vehicle Type

Passenger car
Light Commercial
Heavy Commercial Vehicles
Quad/ATV & Side by side
Snowmobile
Recreational Vehicles

Fuel Type

ICE vehicles (Petrol, diesel, Other)
Electric Vehicles

Lighting Fixtures

Light Guide Panels
Solar Equipment

Electronics

Mobile Phones, Tablets, and LCD screens
Others

Marine

Type

Personal Watercraft
Commercial
Sport watercraft/Jet Skis

By Accessories and Parts

Glazing and Windows
Consoles
Interior Surfacing
Sinks
Shower Pans
Countertops
Wall Cladding
Outboard Engine Covers
Portable Tables
Others

Healthcare

Healthcare Devices
Furniture
Wall Cladding
Sanitary ware
Others

Agriculture

Glazing/ Windows
Agriculture Machinery & Vehicles

Consumer Goods

Exercise Equipment
Homeware
Others

Others
By Geography
North America
Europe
Asia-Pacific
Latin America
Middle East & Africa (MEA)