The global polypropylene compounds market size was estimated at USD 20.4 billion in 2022 and it is expected to reach around USD 42.63 billion by 2032 and is poised to grow at a compound annual growth rate (CAGR) of 7.70% from 2023 to 2032.
By product, the U.S. polypropylene compounds market was valued at USD 3.02 billion in 2022.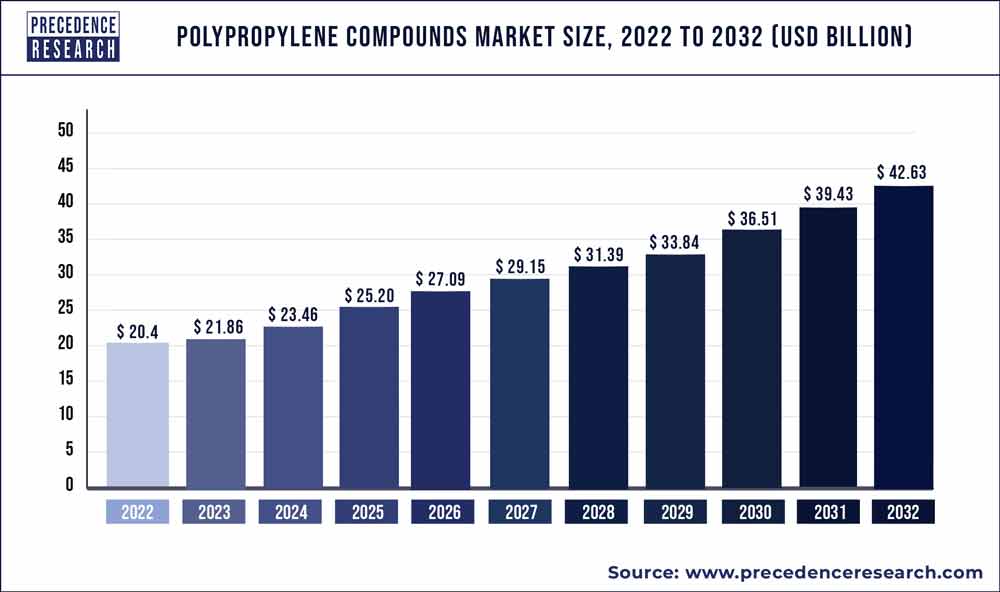 Access our Premium Real Time Data Intelligence Tool, Visit: Precedence Statistics
There are several uses for the thermoplastic polymer polypropylene. It is primarily made using chain-growth polymerization using propylene as the starting monomer. In essence, polypropylene compounds are thermoplastic resins made from a combination of one or more polyolefin bases and a variety of additives, fillers, impact modifiers, strengtheners, and pigments. These substances have a wide range of benefits and are applied in several situations. Similarly to other polymers like acrylic and polystyrene, polypropylene compounds may also provide transparency for industrial purposes, although their range of use is constrained. Thanks to a variety of current uses, including the production of pipe systems, items for use in laboratories, food containers, and transparent bags, the market for polypropylene compounds keeps expanding. Particularly, the demand for polypropylene compound used in the production of pipes is growing. For making plumbing systems, the material offers great stiffness, strength, and purity. These systems, which are frequently utilised in portable plumbing, hydronic heating, and reclaimed water, are anticipated to significantly expand the market for polypropylene compounds. Since the majority of businesses are investing in domestic manufacturing capabilities, foreign investments are declining in the sector. Over the course of the projection period, market growth is expected to be hampered by raw material price volatility. The primary basic ingredient used to create polypropylene is propylene. These basic resources come from petroleum and carbon-based chemicals.
One commodity, crude oil, is known for having extremely variable prices, and this volatility is also present in its downstream derivatives. Additionally, the current global Covid-19 epidemic is having a detrimental influence on the market for PP compounds. The pandemic's effects on product supply and transportation, together with stalled industrial output, are limiting market expansion.
Focus on lightening vehicles, improving their fuel economy, and cutting emissions is growing in response to growing climate change concerns. This is also stimulating attempts to create new, lightweight, efficient materials that will increase vehicle fuel economy. Another element driving demand for more effective and lightweight materials for many applications and industries is growing awareness of greenhouse gas emissions and energy security. For participants in the worldwide PP compound market, a steady trend toward greener cars like Electric Vehicles (EVs) is opening up prospective income prospects. Since PP compound is frequently utilised to make components for EV construction, the trend towards such products is anticipated to significantly boost market growth in the future.
Growth Factors
Polypropylene compounds are widely employed in a wide range of applications, including the production of electrical appliances, furniture and appliances, packaging, building and construction materials, and automotive parts and components. In addition to being used to make water pipes, doors, and windows, polypropylene (PP) compound is also utilised in a wide range of building applications.
Demand for more environmentally friendly plastics in the building and construction industry is being driven by the growing trend of green buildings and the development of more energy-efficient structures. In the food industry, packaging is extremely important since it is necessary to preserve the integrity and safety of the contents within, helps to convey information and facts about the product, promotes product visibility, avoids food spoilage and dehydration, and boosts shelf life. One of the safest commercial polymers now available on the market is polypropylene, which has FDA approval for use in food contact. Butter, cream cheese, yoghurt, and other foods are among those that utilise it in food containers. Technology developments in the packaging sector are enabling the manufacturing of more adaptable and secure packaging materials and methods as well as improving package design, storage, and transportation of diverse food items.
The expansion of the building and construction sectors in emerging nations is anticipated to have an impact on the market for polypropylene compounds. Additionally, the automotive industry's increased need for strong, lightweight materials is predicted to play a significant role in driving the growth of the polypropylene compounds market throughout the forecast period by helping to reduce vehicle weight and improve fuel economy. The market for polypropylene compounds is anticipated to increase as a result of the population growth and the quick shift in living standards. The fast rise in consumer choice for and consumption of lightweight materials is the primary reason responsible for the market's expansion.
Report Scope of the Polypropylene Compounds Market
| | |
| --- | --- |
| Report Coverage | Details |
| Market Size in 2023 | USD 21.86 Billion |
| Market Size by 2032 | USD 42.63 Billion |
| Growth Rate from 2023 to 2032 | CAGR of 7.70% |
| Base Year | 2022 |
| Forecast Period | 2023 to 2032 |
| Segments Covered | Product, End User, Type, Geography |
| Companies Mentioned | LyondellBasell Industries Holdings B.V., Solvay, ExxonMobil Corp., Trinseo, Sumitomo Chemical Co., Ltd., Washington Penn Plastics Co., Ltd., Rhetech, Inc., A. Schulman, Avient Corp, Repsol, SABIC, PolyOne, Specialty Chemicals and Polymers, Peeco Polytech Private Limited, Plastochem India |

Segmental Insights
Product Insights
In 2022, the market was headed by the mineral-filled PP compound product segment, which had a market a higher market revenue percentage of 45%. The PP composites add minerals to increase stiffness and thermal distortion. Their broad use in a variety of industries, including automobile and electronics, is made possible by their superior heat stability and mechanical rigidity. A combination of PP, EPDM rubber and polyethylene is referred to as compounded TPO. Both injection moulding and blow moulding are used to process TPOs. They outperform traditional polymers in properties including high impact and chemical resistance, low density, and greater toughness and endurance, making them perfect for usage in applications like automobile components.
Type Insights
The section of copolymers will have the biggest income thanks to its extensive use in the pharmaceutical sector. One of the most adaptable thermoplastic polymers is copolymer, which finds use in packaging, injection moulding, thermoforming, blow moulding, and other industries. The application of copolymer in food containers, car components, and vessels would be further improved by its high impact resistance, ideal temperature resistance, superior optical, and flexibility features. Injection moulds and drug bottles are only two examples of the many uses for copolymer in the pharmaceutical sector. Additionally, it is employed in the manufacture of various vehicle components, including dashboards and bumpers. Additionally, the usage of this type of PP in the consumer goods/lifestyle, infrastructure and construction, and electrical and electronics industries all contribute to the segment's favourable growth. During the projected period, all of these factors are anticipated to further boost market revenue.
Due to the improved material stiffness, endurance, and strength, homo polymers are widely utilised in industrial applications such as the fabrication of vehicle parts, electrical components, scrubbers, and numerous other items. Even at high temperatures, the material remains cost-effective. Due to characteristics including strong impact resistance, weld ability, and process ability that make it possible to manufacture a variety of appliances, the homo polymer segment is anticipated to have revenue growth over the course of the projected period.
End-Users Insights
The automotive segment has garnered 58% market share in 2022. Due to its excellent temperature resistance, moisture barrier, flexibility, and lightweight nature, polypropylene finds its main use in packaging. This makes it a perfect material for food packing. It is also economically advantageous for the packaging of various goods, including medical devices, pharmaceuticals, automobile parts, and cosmetics. Additionally, the packaging of electrical and electronic devices will make greater use of PP's optical clarity, transparency, and electrical non-conductivity qualities.
Due to its non-corrosive properties and chemical resistance, which would further extend the shelf life of medicines, PP is now more in demand from the healthcare and pharmaceutical sectors for surgical equipment and other medical items. Similarly, the increasing manufacturing of autos is expected to drive up material sales in the automotive market throughout the projection period. The production of lightweight automobiles will be facilitated by the simple availability of PP and its attributes, such as stain resistance, high durability, and flexibility, which will lower the cost and increase the energy efficiency of the vehicle. These elements will fuel the automobile industry's market expansion.
Polypropylene Compounds Market Share, By Region, 2022 (%)
| | |
| --- | --- |
| Regions | Revenue Share in 2022 (%) |
| North America | 25% |
| Asia Pacific | 47% |
| Europe | 19% |
| Latin America | 6% |
| MEA | 3% |

Geography Insights
In 2022, the market in Asia Pacific accounted the largest share of over 47%. Due to rising demand from the packaging and automobile production industries, Asia Pacific is anticipated to have rapid expansion in this market. Due to the growing use of PP in these nations' food and beverage, packaging, and vehicle sectors, China, Japan, and India are major contributors to the market growth in this area. China is soon becoming a significant vehicle producer. The growing automotive and construction industries in the nation are greatly increasing the demand for the polymer. On the other side, the expansion of the polypropylene compound market may be constrained by the volatility of raw material costs. Petroleum products are the source of polypropylene compounds. In the near future, the market for polypropylene compounds may see some setbacks due to price volatility in petroleum products.
During the projected period, North America is expected to account for a sizable percentage of the worldwide market. A significant market driver in the area is the expansion of the medical, electrical, and electronics manufacturing industries. However, compared to Asia-Pacific, the market in this region is expected to exhibit a considerably lower CAGR.
Europe region accounted second-largest revenue share in 2022. The need for food and beverage packaging as well as the production of vehicles would both increase polypropylene use in Europe. The region's leading producers, processors, and compounders are always working to develop new products for the automotive industry. The usage of goods in the healthcare & pharmaceutical, electrical & electronics, and other industries is also one of the major drivers promoting the expansion of PP in Europe.
The market would rise throughout South America, the Middle East, and Africa as a result of expanding infrastructure and building projects, as well as shifting consumer lifestyle choices. Additionally, the Middle East and Africa will produce more PP due to the simple access to raw materials.
Key market developments
LyondellBasell introduced Beon 3D in December 2020, a cutting-edge PP product line that will offer distinctive design and enable the manufacturing of complicated, high-quality 3D printed things in a single step. This product was created by fusing additive manufacturing and polymer technology. The transportation, industrial, building and construction, and consumer products sectors will all benefit from this product line.
In November 2020, NESTE and Borealis agreed to share renewable propane for use in the production of polypropylene. Both businesses have benefited from this agreement's assistance in company expansion.
Key market players
LyondellBasell Industries Holdings B.V.

Solvay

ExxonMobil Corp.

Trinseo

Sumitomo Chemical Co., Ltd.

Washington Penn Plastics Co., Ltd.

Rhetech, Inc.

A. Schulman

Avient Corp

Repsol

SABIC

PolyOne

Specialty Chemicals and Polymers

Peeco Polytech Private Limited

Plastochem India
Segments covered in the report
(Note*: We offer report based on sub segments as well. Kindly, let us know if you are interested)
By Product
Mineral Filled
Compounded TPV
Compounded TPO
Glass Reinforced
Others
By End User
Automotive

Interior
Exterior
Under the Hood Components

Electricals and Electronics
Packaging
Building and Construction
Textiles
Others
By Type
Homo Polymers
Random Copolymers
Impact Copolymers
By Geography
North America
Europe
Asia-Pacific

China
India
Japan
South Korea
Malaysia
Philippines

Latin America

Brazil
Rest of Latin America

Middle East & Africa (MEA)

GCC
North Africa
South Africa
Rest of the Middle East & Africa