The global 3D laser scanner market size surpassed USD 2.04 billion in 2022 and it is projected to attain around USD 8.75 billion by 2032, poised to grow at a CAGR of 15.67% from 2023 to 2032.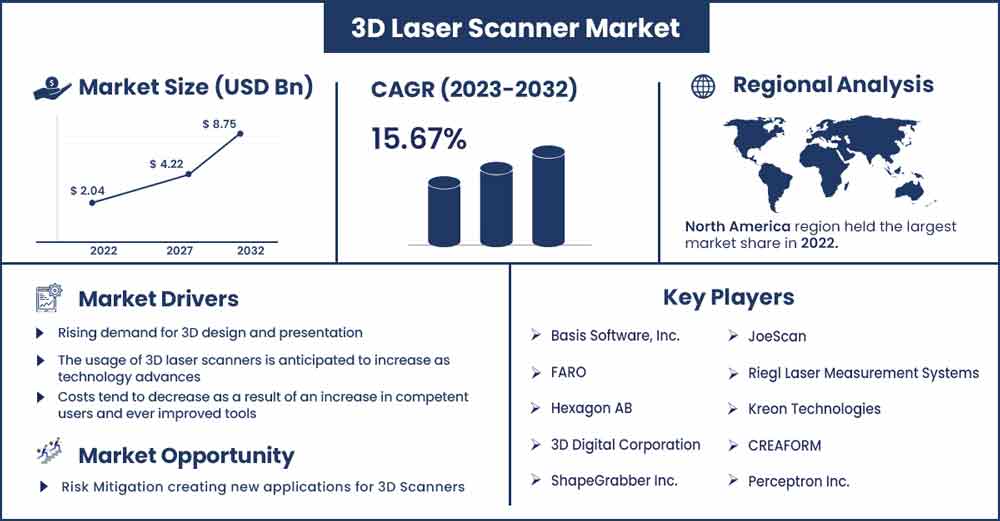 The global 3D Laser Scanner Market is being driven by an increased degree of quality control, a growing 3D printer designs globally, and widespread use across several sectors. A major limitation on the global market is the high price of 3D laser scanners and the availability of traditional alternatives that are less expensive. Despite the fact that 3D scanning technology has not yet significantly impacted the residential and private sectors, these tools are employed in the entertainment and media industry to create video games and films. These machines may be utilized for on-site part creation in many different industry fields, including architecture, construction, aerospace, healthcare, and automotive. A rising range of applications have driven advances using 3D scanners.
Wide-spread commercial applications have made use of 3D scanning technology. Additionally, the technology is very well-liked throughout important end-user industries due to its flexibility to be adjusted to professional requirements in various sectors. Additionally, 3D scanners might be used in the building industry to create a scaled-down 3D model of the structures. These resources support the preservation and archiving of historical structures from architectural museums. Due to the adaptability and scalability of this technology, manufacturers rely on measurement accuracy and speed while developing new military and defense equipment, including weapons and vehicles like frigates.
In the medical field, 3D scanners are mostly used to build three-dimensional models of bodily components that are then utilized to make prostheses. Additionally, it may be utilized to create body implants and facilitate wound care and healing. One of the other elements driving the popularity of 3D printers is the increase in the use of technology in numerous sectors. According to the market growth analysis, 3D scanning systems are becoming more and more necessary at the same time as 3D printer use is rising. 3D printers are witnessing this inflexion moment, possibly because organizations across many industries are increasingly embracing 3D printing technology for more than simply quick prototyping.
Regional Snapshots:
The market for 3D laser scanners has been segmented into North America, South America, Europe, Asia Pacific, and the Middle East and Africa based on geography. In 2032, North America is anticipated to dominate and make up more than 50% of the worldwide market, followed by Europe. The emergence of handheld scanning devices, increased use of 3D laser scanners in manufacturing, and the rising need for 3D documentation in the design and construction sectors are all contributing to the growth of the 3D laser scanner market in North America.
During the projection period, the market in Asia Pacific is anticipated to grow at a rapid CAGR of more than 10%, followed by North America. India, China, and Japan are three of the primary nations that dominated the Asian-Pacific market for 3D laser scanners. A number of service providers are also investing in the creation of tools tailored to particular applications as part of their strategy, and they are concentrating on the creation of new products, joint ventures, and mergers and acquisitions in order to expand their geographic reach in the global 3D laser scanner market.
3D Laser Scanner Market Report Scope:
| | |
| --- | --- |
| Report Coverage | Details |
| Market Revenue in 2023 | USD 2.36 Billion |
| Projected Forecast Revenue in 2032 | USD 8.75 Billion |
| Growth Rate from 2023 to 2032 | CAGR of 15.67% |
| Largest Market | North America |
| Base Year | 2022 |
| Forecast Period | 2023 to 2032 |
| Regions Covered | North America, Europe, Asia-Pacific, Latin America, and Middle East & Africa |

Report Highlights:
The healthcare sector's use of 3D scanning and printing to produce functional prosthetic body organs has accelerated the advancement of 3D technology in the dynamic life sciences vertical. Along with showing real-time 3D representations of human organs to assist in surgery.
In comparison to other technologies, Laser Triangulation will dominate the 3D Laser Scanner Market.
During the projected timeframe, 28% of the global market for 3D laser scanners would be accounted for by the second-largest region, North America. Throughout the anticipated time frame, the market will be driven by well-known firms, face recognition, and iris scanning.
The device's mobility adaptability is one of the main elements driving the growth of the 3D laser scanner market.
Market Dynamics:
Drivers:
The usage of 3D laser scanning solutions is developing as a result of the steadily rising demand for 3D design and presentation. One of the major sectors moving most quickly toward 3D laser scanners is manufacturing. The usage of 3D laser scanners is anticipated to increase as technology advances and costs tend to decrease as a result of an increase in competent users and ever-improved tools. Additionally, the market for 3D laser scanning has grown in response to the rising need for high-accuracy measurement capture. Engineering and design services benefit greatly from the use of 3D laser scanners. With the highest degree of precision and down to the smallest details, it aids in presenting a three dimensional perspective of any object or surface.
Restraints:
Cost-related concerns are the main obstacle to the market's expansion for 3D scanners, although many "simple" 3D applications cannot be solved by the industrial 3D solutions that are now available due to their complexity and high cost. Since 3D scanners often cost more than $20,000, it is challenging for businesses to purchase them at such high prices. Due to their high price and restricted availability, 3D scanners are only in demand from a small segment of the market.
In spite of the market's increased capabilities, sales are lower when compared to those of other camera technologies, mostly because of the cost issue. As a result, the market for 3D scanners will mostly be restricted to sophisticated applications where they are a must rather than an option. The market will suffer as a result in the short term. However, the industry will see considerable adoption in the long run due to the price of 3D scanners falling due to miniaturization in particular.
Opportunities:
With accuracy and precision, 3D laser scanners employ lines of laser light to detect the 3D geometry of real-world items, which is subsequently sent to digital storage systems. Regarding the area they cover and the size of the things they measure, 3D laser scanner technologies have continued to progress. To generate income from new application areas, developers are concentrating on 3D capture of huge and extremely large objects. End-use industries in the market for 3D laser scanners are enthusiastic about using laser scanners that demonstrate exceptional angular precision and are quick to process digital data. These instruments are becoming more and more used for monitoring things like wind turbines, ship propellers, and airplanes.
The development of point-cloud rendering software is essential for opening up new industry opportunities. Growing research interest in creating image-capture systems for self-driving automobiles has been observed in recent years. Businesses in the 3D laser scanner industry will probably take advantage of the emerging prospects. The significant technological potential that 3D laser scanners represent for the AEC sector, particularly for the developed world, is also influencing business use cases for these devices. These are combined with robots to increase performance, which will boost market possibilities.
Challenge:
Ambient light may blend with the laser and affect the accuracy of the scan since 3D laser scanners read the laser's light in order to capture data. The scan could be loud or perhaps useless depending on how bad the interference is. As a result, it is advised that parts be scanned in a separate space with manageable illumination. Due to numerous climatic factors, such as the ambient temperature and humidity, great scans for outdoor use may be more challenging to get.
Recent Developments:
Sick AG introduced the next-generation MicroScan3 Safety Laser scanner in January 2020. Sick's proprietary safeHDDMTM scanning technology, which is based on cutting-edge ToF Technology, is used for the first time in the Microscan3 laser scanner.
The Transportation Security Administration introduced a new technology in April 2020 to swap out outdated x-ray scanners for modern 3D scanners. The airports will use this innovative technology for bag scanning. At the John F. Kennedy International Airport, it has introduced the first scanner equipped with this technology.
Major Key Players:
Basis Software, Inc.
FARO
Hexagon AB
3D Digital Corporation
ShapeGrabber Inc.
JoeScan
Riegl Laser Measurement Systems
Kreon Technologies
CREAFORM
Perceptron Inc.
Nikon Metrology NV
Trimble
Zeiss
Topcon
Market Segmentation:
By Technology
Laser triangulation
Structured Light Technology
Pattern Fringe triangulation
Pulse-based
Phase shift
Others
Buy this Research Report@ https://www.precedenceresearch.com/checkout/2518
You can place an order or ask any questions, please feel free to contact at sales@precedenceresearch.com | +1 9197 992 333