The global 3D printed composites market size is anticipated to reach around USD 4,301.83 million by 2032 up from USD 170.25 million in 2022 with a CAGR of 38.12% between 2023 and 2032.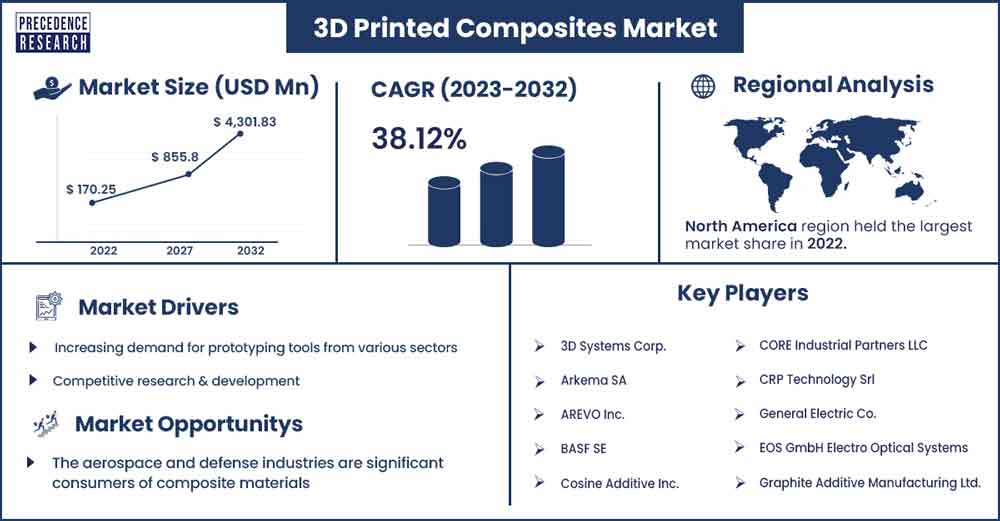 3D printed composite materials Industry is a scientific method of creating solid things from a three-dimensional digital model. 3D solid materials are produced by layering various materials, including plastics, metals, and concrete. Material science advances in technology have led developers and manufacturers to investigate the techniques and process of printing composite materials primarily used in urbane sectors, including medical, aerospace, defense, and automotive.
Even though the market for 3D printing composite materials is minor, it is anticipated to grow rapidly during the forecast period. In terms of strength, important product manufacturing, durability, less waste, and compatibility with equipment and additional elements and components, 3D-printed composite materials outperform conventional materials. The market for 3D printed composite materials is predicted to grow significantly due to ongoing R&D efforts by scientists in automation, software development, and material science for strengthened thermoplastic materials.
3D Printed Composites Market Report Scope
| | |
| --- | --- |
| Report Coverage | Details |
| Market Revenue in 2023 | USD 235.15 Million |
| Projected Forecast Revenue by 2032 | USD 4,301.83 Million |
| Growth Rate from 2023 to 2032 | CAGR of 38.12% |
| Largest Market | North America |
| Base Year | 2022 |
| Forecast Period | 2023 to 2032 |
| Regions Covered | North America, Europe, Asia-Pacific, Latin America, and Middle East & Africa |

Market Dynamics
Drivers
Customization
3D printing allows for the production of highly customized products tailored to the specific needs of individual customers. This level of customization is not possible with traditional manufacturing techniques. Doctors make customized and exact transplants and prostheses due to the complete form or shapes of what is produced. Dentists use additive manufacturing to create a plaster model of a patient's mouth or to replace teeth with 3D-printed implants.
Restraint
Quality Control
Maintaining consistent quality in 3D-printed composites is challenging due to the complex nature of the process. Ensuring that each component meets the required standards are time-consuming and expensive. Hence, it acts as a hurdle in the expansion of the 3D printing composite market.
Technology Landscape
The stereolithography sector is anticipated to grow at a remarkable pace from 2023 to 2032. 3D printed composites using stereolithography (SLA) is an innovative technique that allows for the creation of strong, lightweight parts with complex geometries. SLA is a 3D printing technology that uses a liquid resin that is fixed by a UV laser to create a solid object layer by layer. When combined with composite materials, SLA produce parts with high strength-to-weight ratios, making them ideal for use in aerospace, automotive, and other industries that require lightweight, high-performance components. SLA 3D printing creates parts with minimal material waste and eliminates the need for costly molds and tooling that are required in traditional manufacturing processes.
Composite Type Landscape
The carbon fiber composite segment is anticipated to expand at the highest CAGR from 2023 to 2032. These composites are mainly used in the aerospace and defense sector to develop lightweight materials, leading to the weight reduction of aircraft and vehicles. They also improve the efficiency and performance of the aircraft.
The fiberglass sector is expected to grow at a steady pace from 2023 to 2032. The composite from fiberglass is low in cost and flexible.
End-user Landscape
The healthcare sector is anticipated to grow at the fastest CAGR from 2023 to 2032. By allowing patients' defective bones to be scanned and built into a physical model, 3D printing allows for the formation of high-quality bone transplants or models of damaged bones for study. 3D printing technology delivers geometrically accurate electronic prototypes in a shorter development time. When 3D-printed polymer composites are mixed with electrical components, they act as electronic devices that are employed in a variety of ways.
The automotive sector is expected to grow at a remarkable pace from 2023 to 2032. The use of 3D printed composites in automotive results in lighter, stronger, and more fuel-efficient vehicles. This technology also leads to the production of parts with less waste and reduced production time, resulting in cost savings for manufacturers. The use of composites in the automotive industry has grown in recent years due to their high strength-to-weight ratio and durability. Overall, the use of 3D-printed composites in the automotive industry has the potential to significantly improve the performance and efficiency of vehicles while also reducing costs and waste in production.
Regional Landscape
The North American region, including the United States and Canada, is a prominent market for 3D printing composites. The region has a well-established aerospace and defense industry that utilizes 3D printing composites for lightweight components, tooling, and prototypes. Additionally, the automotive, healthcare, and consumer goods sectors in North America are also driving the demand for 3D printing composites. Furthermore, the consumer goods industry in North America is also embracing 3D printing composites to produce consumer products with unique designs, customization options, and improved performance characteristics.
The North American 3D printing composite market is characterized by a high level of innovation, with continuous advancements in material formulations, printing technologies, and post-processing techniques. However, challenges such as high material costs, limited availability of specialized composite materials, and regulatory constraints may hinder the growth of the market to some extent.
Europe is another significant market for 3D printing composites. The region has a strong presence in the automotive, aerospace, and industrial sectors, which extensively use 3D printing composites for lightweight, customization, and prototyping applications. The increasing focus on sustainability and environmental regulations is also driving the demand for bio-based and recycled composites in 3D printing applications in Europe.
Recent Development
In March 2023, Revel Bikes built a 3D-printed carbon fiber prototype bike.
In April 2023, Systemic Bio opened a laboratory for bio-printed Organ-on-a-Chip manufacturing to accelerate Drug Discovery & Development.
Key Market Players
3D Systems Corp.
Arkema SA
AREVO Inc.
BASF SE
Cosine Additive Inc.
CORE Industrial Partners LLC
CRP Technology Srl
General Electric Co.
EOS GmbH Electro Optical Systems
Graphite Additive Manufacturing Ltd.
Koninklijke DSM NV
Hoganas AB
Segments Covered in the Report.
By Composite Type
Carbon Fiber Composites
Glass Fiber Composites
Graphene and Aramid Fiber Composites
By End-User
Aerospace & Defense
Healthcare
Automotive
Others
By Technology Type
Fusion Bed Infusion
Stereolithography (SLA)
Material Extrusion Technology
Selective laser sintering (SLS)
Others
Buy this Research Report@ https://www.precedenceresearch.com/checkout/2843
You can place an order or ask any questions, please feel free to contact at sales@precedenceresearch.com | +1 9197 992 333