The global 3D printed composites market size was valued at USD 170.25 million in 2022 and is expected to hit around USD 4,301.83 million by 2032, growing at a remarkable CAGR of 38.12% during the forecast period from 2023 to 2032.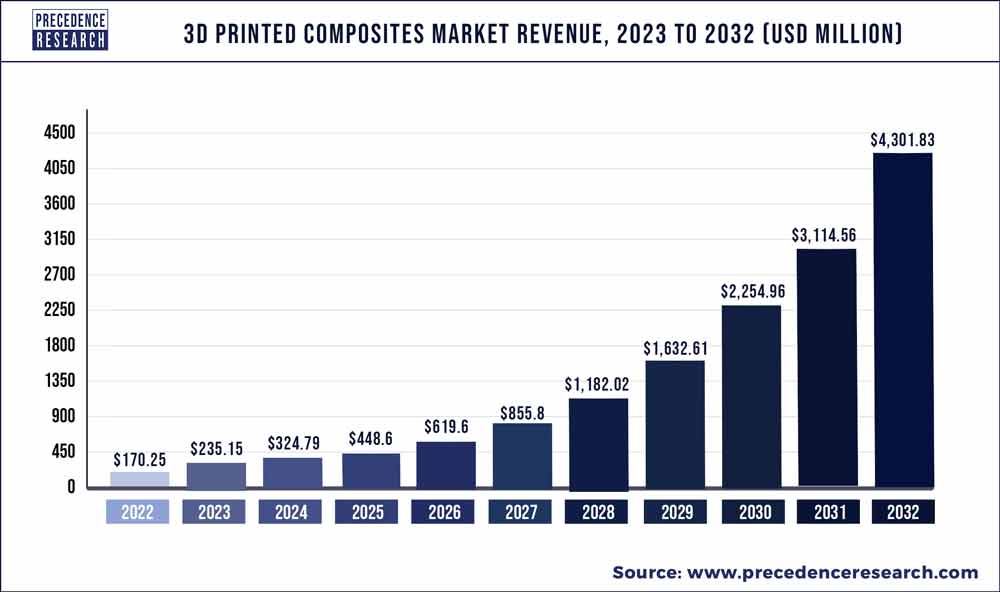 Access our Premium Real Time Data Intelligence Tool, Visit: Precedence Statistics
Key Takeaways:
North America is predicted to generate the highest market share between 2023 and 2032.
Asia-Pacific region is expected to expand at the fastest CAGR between 2023 and 2032.
By Composite Type, the carbon fiber composite segment is projected to expand at the fastest CAGR between 2023 and 2032.
By End-User, the aerospace & defense segment is expected to grow at the biggest CAGR between 2023 and 2032.
By Technology Type, the material extrusion technology segment is predicted to grow at the remarkable CAGR from 2023 to 2032.
Market Overview:
The 3D printed composites market is a rapidly growing industry that involves the production of composite materials using additive manufacturing technology. Composites are materials that are made up of two or more different materials that combine to create a new material with improved properties. In the 3D printed composites market, composite materials are created using a combination of reinforcing material (such as carbon fiber, glass fiber, or Kevlar) and a thermoplastic or thermosetting polymer.
The use of 3D printing technology allows for the precise placement of the reinforcing material within the polymer matrix, resulting in composites with superior strength, stiffness, and durability. The 3D printed composites market is being driven by the increasing demand for lightweight and high-performance materials in industries like aerospace, automotive, and defense. These industries are looking to reduce weight and improve fuel efficiency while maintaining or improving the strength and durability of their products.
The market is anticipated to grow due to increasing demand for prototyping tools from various sectors and competitive research & development in 3D printing, mainly in the healthcare, aerospace, automotive, and defense sectors. The application of 3D printing in the industrial sector is described by the term additive manufacturing (AM). This process includes the incorporation of material to generate a 3D file. Composites have replaced metals and other components in a variety of applications due to their superior characteristics at a reduced weight.
Report Scope of the 3D Printed Composites Market:
| | |
| --- | --- |
| Report Coverage | Details |
| Market Size in 2023 | USD 235.15 Million |
| Market Size by 2032 | USD 4,301.83 Million |
| Growth Rate from 2023 to 2032 | CAGR of 38.12% |
| Largest Market | North America |
| fastest Growing Market | Asia Pacific |
| Base Year | 2022 |
| Forecast Period | 2023 to 2032 |
| Segments Covered | By Composite Type, By End-User, and By Technology Type |
| Regions Covered | North America, Europe, Asia-Pacific, Latin America and Middle East & Africa |

Market Dynamics:
Drivers:
Cost-effective
3D printing technology has revolutionized the manufacturing industry by reducing the overall cost of production. Using 3D printing, manufacturers are able to produce complex parts and structures in a single process, reducing the need for multiple components and assembly steps. The production cost of 3D printing is around 5.5 times less than PMMA and 10.2 times EM. The initial equipment cost for the additive manufacturing method is lower. Mainly in the aerospace industry, costly raw materials are used which have low weight and high performance. These high-performance materials are costly to machine down by using conventional manufacturing methods and are also costly to purchase.
Lightweight materials for aircraft
3D printed composites are lightweight and have high strength-to-weight ratios, making them ideal for use in aerospace, automotive, and other industries where weight is a critical factor. Engineering mostly opts for alternatives to reduce the consumption of fuel and enhance energy efficiency while building and designing aircraft. The implementation of 3D printing techniques assists in reducing the mass of aircraft by testing various high-strength and lightweight materials. Industrial 3D printers are mainly used to produce parts and components with minimal waste. Additionally, 3D printing technology assists in evaluating lightweight materials by printing various components on demand.
Restraints:
High cost
The cost of 3D printing technology is high, and the cost of 3D-printed composites is even higher. This is a significant constraint for small and medium-sized enterprises that may not have the financial resources to invest in technology. The production cost is increased due to high-end instruments. The cost was a major hindrance during the COVID-19 period due to strict regulations and a lack of raw materials.
Limited materials and limited size
The range of materials that are used for 3D printing is limited. While some composite materials are used, the range of available options still needs to be narrow compared to traditional manufacturing processes. The size of the components that are 3D printed is currently limited, which is a constraint for industries including aerospace, where large components are required.
Opportunities:
Aerospace and defense
The aerospace and defense industries are significant consumers of composite materials, and 3D-printed composites offer an efficient and cost-effective way to produce parts with high strength and low weight. 3D printing for composite materials in this industry helps reduce production time, minimize waste, and enable the creation of more precise and customized parts. For instance, companies such as NASA and SpaceX are working to develop societies by using 3D printing technology on other planets like Mars.
Construction industry
The construction industry is starting to explore the use of 3D-printed composites for building structures. Composite materials offer improved strength, durability, and resistance to environmental factors. 3D printing also enables the creation of complex geometries that improve building performance and reduce material waste.
Impact of COVID-19:
The COVID-19 pandemic had a significant impact on the global economy and the 3D-printed composites market. While the market has seen some setbacks due to the pandemic, it has also experienced growth in certain areas. One of the main challenges faced by the 3D printed composites market during the pandemic has been the disruption in the global supply chain. The shutdown of manufacturing facilities and restrictions on transportation and logistics had made it difficult for companies to source the materials they needed to produce 3D-printed composites. This led to delays and increased costs for manufacturers.
On the other hand, the pandemic has also highlighted the potential benefits of 3D printing, including the ability to rapidly produce components and parts in response to changing demands. This has led to an increased interest in 3D printing technology from industries like healthcare and automotive, which have been heavily impacted by the pandemic.
Segments Insight:
Composite Type Insights:
Based on the composite type, the market is segmented into glass fiber composite, aramid & graphene fiber composite, and carbon fiber composite. The carbon fiber composite is anticipated to expand at the fastest CAGR from 2023 to 2032. The growth is due to the rising demand in the defense and aerospace sector. 3D printing with composites enables the production of lightweight parts with complex geometries, which significantly reduce the weight of aircraft and vehicles, leading to improved fuel efficiency and performance. Arevo developed a laser-based technique for 3D printing using carbon fiber.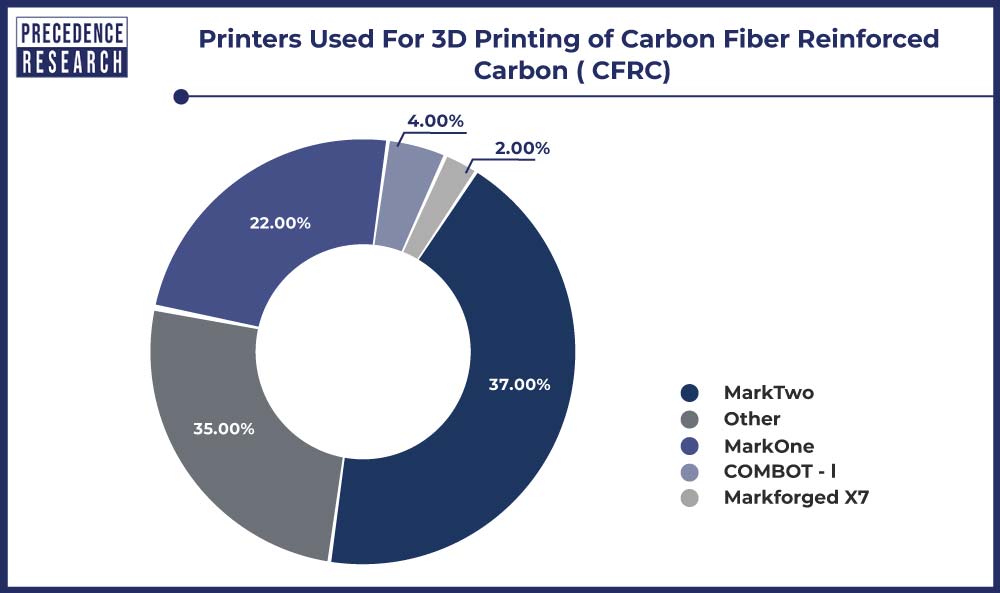 The fiberglass sector is anticipated to grow at a remarkable pace from 2023 to 2032. Fiberglass is a strong, low-cost reinforcing substance with some flexibility. It increases the strength of parts over that of plastics and is an excellent starting place for printing with strengthening.
End-Use Insights:
On the basis of the end-user, the 3D printed composite market is segmented into healthcare, automotive, aerospace & defense, as well as others. The aerospace & defense sector is anticipated to grow at the highest CAGR from 2023 to 2032. The aerospace and defense sector adopted composite materials for various uses, including interiors, engine components, body components, and others. The physical characteristics of components of aircraft have the advantage of decreasing the payload of aircraft.
The use of 3D printing techniques has enhanced the efficiency of generating components with high precision and low waste. Various 3D printing companies, such as Boeing and GE, are utilizing the technology to develop small parts with complex geometries, which is costly and time-consuming.
Furthermore, the healthcare sector is anticipated to grow at the fastest CAGR from 2023 to 2032. 3D-printed composites are used to create lightweight and durable prosthetic limbs, which are customized to fit the unique needs of each patient.
3D-printed composites are also used to create customized surgical tools, such as surgical guides, jigs, and fixtures. These tools are designed to fit the specific anatomy of a patient, which improves the accuracy and efficiency of surgeries. 3D-printed composites are used to create customized orthotics, such as braces and splints. These orthotics are designed to fit the specific needs of each patient, which improves their comfort and mobility.
Technology Insights:
Based on technology, the 3D-Printed Composites market is segmented into powder bed infusion, material extrusion technology, and others. The material extrusion technology sector is anticipated to grow at the fastest rate from 2023 to 2032. Material extrusion technique has been extensively used in a variety of applications, including 3D printing composite materials. Furthermore, the material available for this sector is diverse, making it one of the most popular methods for printing composites. The use of powder bed infusion technology for composite material applications has seen major advancements recently.
The Fusion Bed Infusion sector is anticipated to grow at the fastest CAGR from 2023 to 2032. Fusion Bed Infusion (FBI) is a manufacturing process that combines 3D printing with a composite material infusion. In FBI, the 3D printed part acts as a mold into which a liquid composite material is infused, and the infused material then hardens and forms a solid composite part. The FBI process has several advantages over traditional composite manufacturing methods:
It allows for the creation of complex shapes that are difficult or impossible to achieve with traditional methods.
It reduces waste by using only the necessary amount of material, unlike traditional methods that require excess material to be trimmed away.
FBI offers improved consistency and repeatability since the infusion process ensures a uniform distribution of the composite material.
Regional Insights:
In 2023, North America held the largest share of the worldwide 3D printed composite materials market during the projected period. The North American 3D printing composite market has grown steadily in recent years due to the increasing adoption of 3D printing technology across various industries, including aerospace, automotive, healthcare, and consumer goods. The market is driven by the demand for lightweight, high-strength, and complex-shaped parts which are able to be produced using 3D printing with composites. The healthcare sector is also driving the demand for 3D printing composites in North America, particularly in the production of customized implants and prosthetics. The ability to produce patient-specific parts with complex geometries and high precision using 3D printing with composites has revolutionized the medical field, leading to better patient outcomes and reduced costs.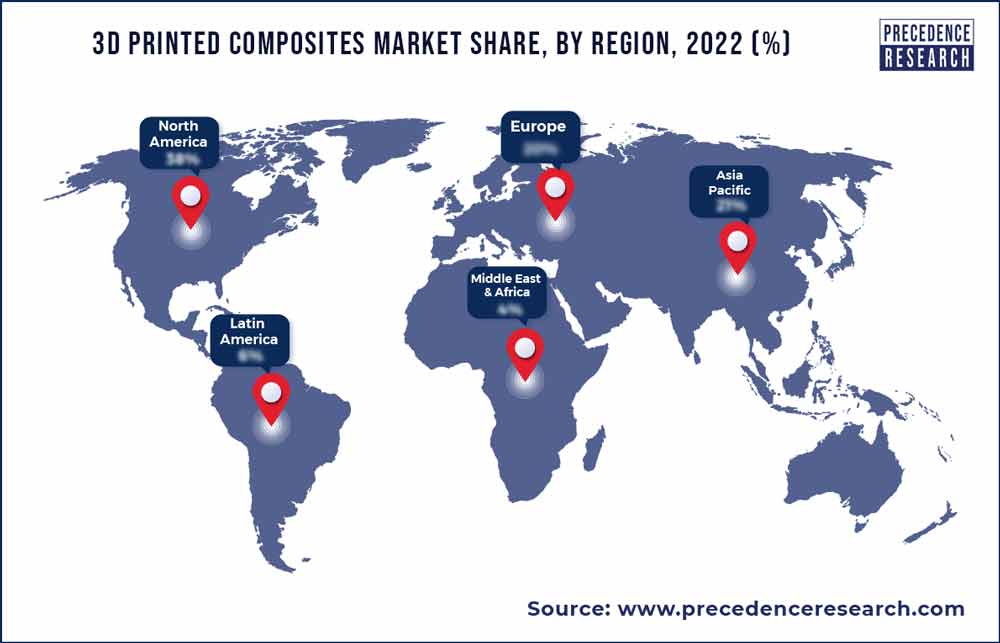 Asia-Pacific, on the other hand, is projected to grow at the fastest CAGR during the forecast period. Increasing spending on infrastructure as well as novel construction is anticipated to propel the market growth. The region has a booming manufacturing industry, including the automotive, aerospace, and electronics sectors, adopting 3D printing composites for various applications. The increasing investment in research and development and the growing awareness of 3D printing technology is expected to drive the market for 3D printing composites in Asia-Pacific.
Recent Developments:
CORE acquired GEM manufacturing in February 2023. GEM Manufacturing is a provider of mechanical assemblies and metal components.
In March 2023, 3D Systems collaborated with TE Connectivity on an innovative solution to generate an entire production plan from design to finished electrical connectors.
Latécoère and Graphite Additive Manufacturing partnered to develop the next generation of wing techniques using 3D printing methods in August 2022.
In January 2022, CORE Acquired RE3DTECH 3D Printing Service with an aim to form a novel 3D printing platform.
Key Market Players:
3D Systems Corp.
Arkema SA
AREVO Inc.
BASF SE
Cosine Additive Inc.
CORE Industrial Partners LLC
CRP Technology Srl
General Electric Co.
EOS GmbH Electro Optical Systems
Graphite Additive Manufacturing Ltd.
Koninklijke DSM NV
Hoganas AB
Segments Covered in the Report:
(Note*: We offer report based on sub segments as well. Kindly, let us know if you are interested)
By Composite Type
Carbon Fiber Composites
Glass Fiber Composites
Graphene and Aramid Fiber Composites
By End-User
Aerospace & Defense
Healthcare
Automotive
Others
By Technology Type
Fusion Bed Infusion
Stereolithography (SLA)
Material Extrusion Technology
Selective laser sintering (SLS)
Others
By Geography
North America
Europe
Asia-Pacific
Latin America
Middle East and Africa