The global active pharmaceutical ingredient market size was exhibited at USD 204.04 billion in 2022 and is predicted to touch around USD 363.68 billion by 2032, poised to grow at a CAGR of 6.1% from 2023 to 2032.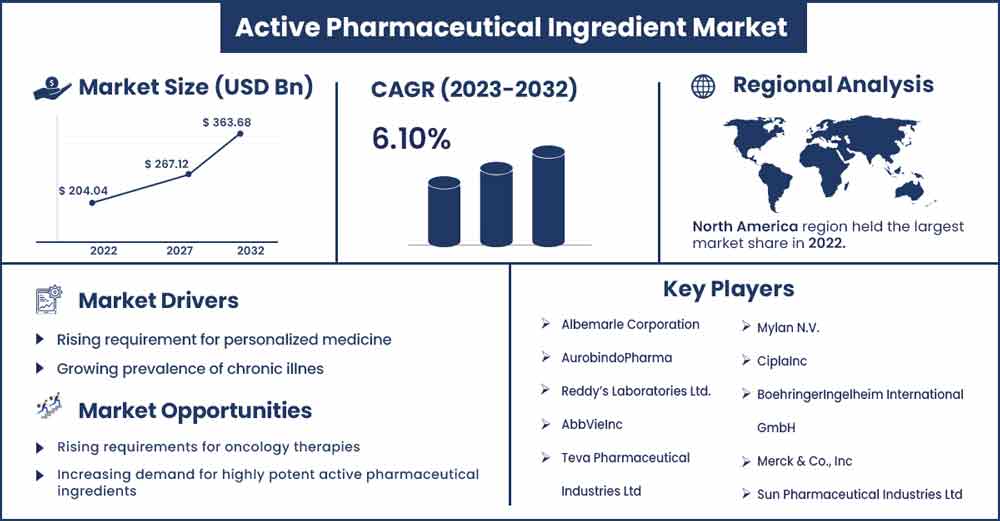 Market Overview:
The active pharmaceutical ingredient market refers to the global industry involved in the production and distribution of the chemical substances or compounds responsible for the therapeutic effects of pharmaceutical drugs. These molecules are the essential compounds that offer the intended medicinal properties in various medications. The market encompasses a wide range of drugs, including both brand-name and generic pharmaceutical products.
Many innovative drugs recently lost their patent protection and are anticipated to influence the worldwide active pharmaceutical ingredient market. Technological advancements are urgently required to preserve profitability in a low-value, high-volume market. Rising rates of oncology, diabetes, cardiovascular, and lifestyle diseases, an increase in the number of hospitals and diagnostic centers, an increase in the number of elderly people living in developing nations, rising healthcare costs, and rising disease awareness and education levels are the main factors influencing market growth.
Regional Snapshot:
North America is leading the global active pharmaceutical ingredient market. The rising incidence of chronic illnesses, the rising need for generic medications, and the quickening expansion of the pharmaceutical sector have all contributed to the region's consistent increase in API demand. The Centers for Disease Control and Prevention (CDC) estimates that almost half of Americans have at least one chronic illness. As a result, more people are using prescription medications, which has increased the need for APIs while promoting the market's growth.
Asia Pacific is expected to experience the fastest rate of growth during the forecast period. The demand for active pharmaceutical ingredients has increased throughout Asia, with China, Japan, India, and South Korea among the major contributors. Pharmaceutical businesses provide affordable medications and alter their chemical formulations to offer the precise chemical makeup of the drug. The rise of API in the Asia-Pacific region has been aided by increased government funding for promoting R&D efforts relating to the healthcare industry, as well as several subsidies and investments.
Active Pharmaceutical Ingredient Market Report Scope:
| | |
| --- | --- |
| Report Coverage | Details |
| Market Revenue in 2023 | USD 214.72 Billion |
| Projected Forecast Revenue in 2032 | USD 363.68 Billion |
| Growth Rate from 2023 to 2032 | CAGR of 6.1% |
| Largest Market | North America |
| Base Year | 2022 |
| Forecast Period | 2023 To 2032 |
| Regions Covered | North America, Europe, Asia-Pacific, Latin America, and Middle East & Africa |

Report Highlights:
By type of synthesis, the segment for synthetic APIs had the biggest revenue share. This is explained by the greater accessibility of raw ingredients and the simpler synthesis techniques for these compounds. In the upcoming years, several synthetic compounds are also projected to lose their patent protection, which is likely to spur growth.
By type of manufacturers, in 2022, the captive API segment accounted for the largest share. Due to the simple accessibility of raw materials and significant investments made by critical companies to establish high-end production facilities, it will likely promote the growth of the segment in the upcoming years.
By type, the innovative API segment is expected to generate a significant revenue during the forecast period. A considerable increase in the amount of research and development programs that concentrate on bringing numerous new and affordable goods has led to an increase in the popularity of innovative APIs in a variety of end-use applications. The need for novel APIs on the worldwide market is also catalyzed by the rising demand for very powerful chemicals and peptides.
By type of drugs, prescription drugs use is growing significantly. Prescription drugs are are utilized for alleviating pain and treat certain illnesses. The main reasons people use prescription drugs are often to reduce moderate to severe discomfort and lead more pleasant lives. Moreover, with the rising generic prescription will promote the segment's growth.
By application, the cardiology segment is expected to hold the largest share of the market, the rising cases of cardiovascular diseases, especially in adults across the globe promote the segment's growth. Moreover, the oncology segment will grow at a significant rate owing to the rising focus on research and developments for cancer treatment.
Market Dynamics:
Driver:
Rising chronic disease cases
Non-communicable diseases (NCDs) cause more than 15 million deaths worldwide between the ages of 30 and 69, as per the World Health Organization (WHO). The top causes of NCD fatalities are diabetes, cancer, respiratory disorders, cardiovascular diseases, and cancer. These numbers are growing and need more accurate and potent medications for the prevalence of these disorders. Such growing numbers of diseases are generally coupled with rising incidences of research and development activities, this element opens opportunities for APIs while driving the market's growth.
Restraint:
Shorter shelf life
Active pharmaceutical ingredients with shorter shelf lives require more frequent manufacturing and quality control processes to ensure they remain potent and safe until their expiry. This can lead to increased production costs, which may affect the overall profitability for API manufacturers. Shorter shelf life necessitates careful inventory management by both API manufacturers and pharmaceutical companies. They need to monitor expiration dates closely and may face challenges in dealing with excess stock before it expires. Thus, the shorter shelf life creates a restraint for the market.
Opportunity:
Increasing demand for highly potent active pharmaceutical ingredients
Highly potent active pharmaceutical ingredients (HPAPIs) are widely used in the development of medication that require very low dosage level to achieve the desired effect, these medications are essential for treating diseases like cancer, autoimmune disorders and viral infections. As the demand for specialized and targeted therapies grows, so does the demand for high potent active pharmaceutical ingredients grows. Thus, the demand is expected to open a set of opportunities for the market.
Challenge:
Complexities in outsourcing in underdeveloped countries
Because building APIs necessitates following extremely organized procedures, there's a high capital need, which forces the outsourcing of many APIs. The economies of low-income and middle-income countries cannot support it. Therefore, the need for low-cost alternatives is more significant in low- and middle-income countries. This element limits such countries from adopting active pharmaceutical ingredients for dedicated purposes. Thus, observed to create a challenge for the market.
Recent Developments:
In July 2023, according to Minister of State (MoS) Bhagwant Khuba, for Chemicals and Fertilizers, India's pharmaceutical sector is the third biggest by volume and thirteenth largest by value in the world, generating more than 60,000 generic medications spanning 60 therapeutic categories. The minister's response to inquiries on using generic medications during the previous five years was sent in writing.
In February 2023, under the Production Linked Incentive (PLI) scheme, India began producing 22 active pharmaceutical ingredients (API), or bulk drugs, used to make high-end medical devices like MRI machines, CT scans, and life-saving medications. India depends 85% on imported APIs and 80% on imported medical equipment, primarily from China.
In April 2023, in India, two pharmaceutical firms, MacLeods Pharmaceuticals, and Natco Pharma, were ready to launch their versions of Johnson & Johnson's groundbreaking TB drug, Bedaquiline. The J&J drug is the first TB treatment approved globally in around 40 years; it is less toxic and more effective than traditional medicines.
Major Key Players:
Albemarle Corporation
AurobindoPharma
Reddy's Laboratories Ltd.
AbbVieInc
Teva Pharmaceutical Industries Ltd
Mylan N.V.
CiplaInc
BoehringerIngelheim International GmbH
Merck & Co., Inc
Sun Pharmaceutical Industries Ltd
Bristol-Myers Squibb Company
Market Segmentation:
By Type of Synthesis
Biotech

Monoclonal Antibodies
Recombinant Proteins
Vaccines

Synthetic
By Type of Manufacturer
Captive APIs
Merchant APIs

Generic APIs
Innovative APIs
By Type
Generic APIs
Innovative APIs
By Type of Drug
Prescription Drugs
Over-the-counter Drugs
By Application
Cardiovascular Diseases
Oncology
CNS & Neurological Disorders
Orthopedic Disorders
Endocrinology
Pulmonology
Gastrointestinal Disorders
Nephrology
Ophthalmology
Others
Buy this Research Report@ https://www.precedenceresearch.com/checkout/1035
You can place an order or ask any questions, please feel free to contact at sales@precedenceresearch.com | +1 9197 992 333