The global aerosol market size was exhibited at USD 79.77 billion in 2022 and is expected to surpass around USD 147 billion by 2030, growing at a compound annual growth rate (CAGR) of 7.94% during the forecast period 2022 to 2030.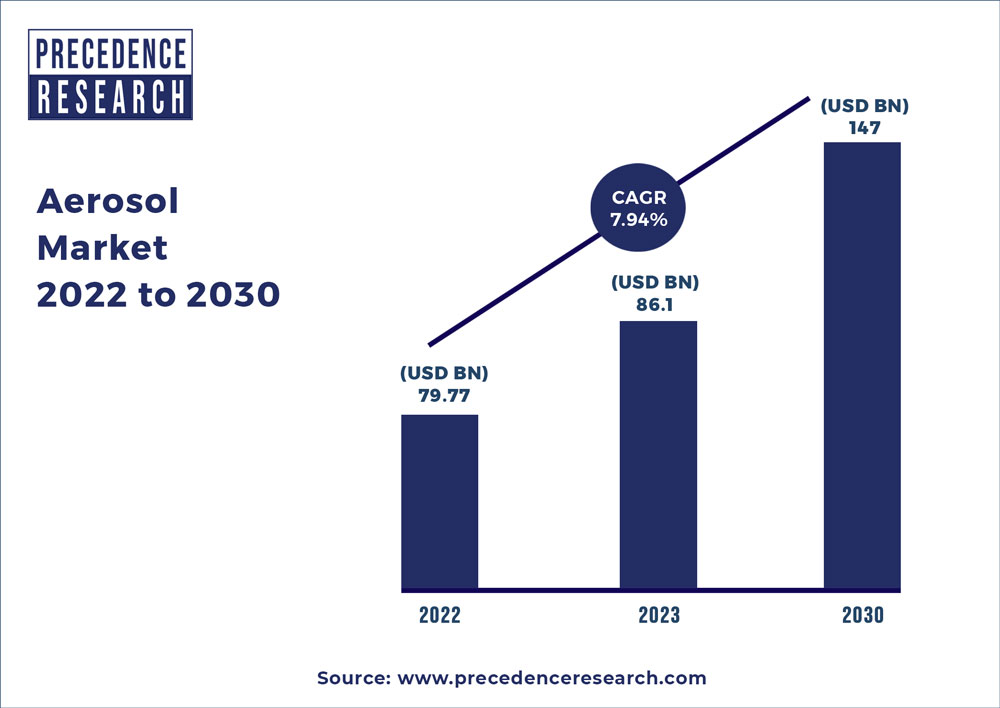 An aerosol is a colloidal system that disperses solid or liquid particles using a spray bottle. These liquid or solid particles are suspended as a mist. Aerosol sprays are easy to use and have a nice aesthetic. Many different industries use aerosols, including the pharmaceutical, personal care, food & beverage, and paint industries. Due of its easy packing, aerosols are widely used in food and beverages, including whipped cream, frying spray oil, and more.
Report Highlights
On the basis of propellent type, the liquefied gas propellant has a greater revenue share. This is because it can exert enough pressure to easily force the product out of the can. To keep the pressure in the area above the product constant as the level of the product decreases, more propellant evaporation occurs. As a result, liquefied gas propellant-based aerosols are in greater demand.
On the basis of valve type, the mechanical actuator has the highest revenue growth rate over the forecast period. To convert mechanical motion, which is frequently rotational, into linear motion or, with the aid of gearing, into rotary motion at a different speed, mechanical actuators are deployed. The majority of the time, these actuators is a component of a larger system that also contains a power drive, mechanical connections, and feedback mechanisms for managing the motion of various components. These actuators are used in many industries including consumer goods, and pharmaceuticals. It controls the fineness of the product, as well as the amount of product that is dispensed.
On the basis of end use, the consumer packaged goods segment is anticipated to experience the highest revenue growth rate. The segment's revenue growth is being driven by the quick uptake of aerosol compressed containers. Cost efficiency is another factor that is driving the aerosols in the consumer packaged goods as a product can be drained from an aerosol can up to 99 percent of the way. Additionally, it shields the product from oxygen, extending its shelf life. As a result, consumers get greater value for their money and spend less money refilling expired, half-full products.
Aerosol Market Report Scope
| | |
| --- | --- |
| Report Coverage | Details |
| Market Size In 2022 | USD 79.77 Billion |
| Market Size By 2030 | USD 147 Billion |
| Growth Rate from 2022 to 2030 | CAGR of 7.94% |
| Base Year | 2022 |
| Forecast Period | 2022 to 2030 |
| Segments Covered | By Propellent Type, By Propulsion, By Valve Type, By Material, By Type, By End Use, By Application |
| Regions Covered | North America, Europe, Asia-Pacific, Latin America, Middle East and Africa |

Regional Snapshots
Asia-Pacific is expected to be the fastest-moving region of the aerosol market owning to a surge in sales of household products. This can be mostly attributable to consumers' growing awareness of cosmetics products, such as deodorants and antiperspirants, shower gels and liquid soaps, men's grooming items, and hair care items like shampoos and conditioners.
Over the forecast period, it is anticipated that significant urban infrastructure development, particularly in developing nations like China and India, will promote the growth of the paint, coatings, and adhesives industry. This will encourage the use of spray products.
Market Dynamics
Drivers
Numerous consumer packaged goods (CPG) businesses are progressively implementing recyclable and reusable aerosol-based packaging. Personal care aerosol cans are completely and endlessly recyclable, according to a study. To improve sustainability and cut costs, several top manufacturers of personal care products, including Procter & Gamble, Unilever, and L'Oréal, recycle and reuse aerosol-based glass, metals, and plastic containers. There is a reduced likelihood of breakage, spillage, and leaks thanks to aerosol packaging's sealed solutions. The CPG sectors are opening up prospects in the aerosol industry owning to their numerous cost- and sustainably-efficient advantages.
Pharmaceutical aerosols are also widely used in the treatment of obstructive airway illnesses such as tuberculosis, chronic obstructive pulmonary disease, and asthma. Dental drills and air tooth polishing both employ aerosol in dental procedures. The need for compressed aerosol propellants is also being increased by the rising prevalence of oral and asthmatic disorders.
Restraints
In terms of packaging, aerosol cans are more expensive than their traditional alternatives. The price of finished products is impacted by the increased manufacturing costs. For continuous spraying without the use of any form of aerosol propellant, manufacturers are employing alternatives such as bag-in-bottle container solutions. These sprayers offer numerous environmental advantages, such as efficiency, functionality, and astounding value. Since they don't need to be thrown away, refillable spray bottles are less expensive than aerosol cans. They become more eco-friendly because of this. This factor could limit this market's ability to grow its revenue during the anticipated period. Additionally, one of the biggest dangers the aerosol sector faces is threats associated to products. Due to the presence of slightly elevated quantities of benzene, top FMCG producers are recalling their products from stores.
Opportunities
Product innovation & increasing investments in the medical industry are likely to create opportunities for the market in the coming year. Pharmaceutical aerosols are one of the medication conveyance strategies that have been developed as a result of improvements in the pharmaceutical and healthcare sectors in response to the desire for efficient ways to treat a variety of ailments.
Pharmaceutical aerosols are goods that are packaged under pressure, with therapeutically active components that are dissolved or suspended in propellant and are released after the proper valve system is engaged. Typically, these pharmacological aerosols are applied to the skin, nose, or mouth. One of the numerous parts of a pharmaceutical aerosol system are pharmaceutical propellants.
Challenges
Providing an alternative to aerosol packagings, such as aerosol driven by natural gas, which is certain to gain higher adoption due to the appropriate environmentally favorable properties, is one of the challenges in the aerosol market.
This issue can hamper the market of aerosol in future time and had an adverse effect on the growth of the market.
Recent Developments
Environmentally friendly aerosol has been added to the Nivea deodorant product line by Beiersdorf AG, a multinational manufacturer of personal care goods and pressure-sensitive adhesives with headquarters in Germany. For its Nivea Ecodeo product line, the corporation worked with packaging businesses Salford Valve Company and Nussbaum Matzingen to develop recyclable aluminum cans and environmentally friendly aerosol valve systems. In order to provide its customers more environmentally friendly aerosol products, Beiersdorf is implementing sustainability measures across the entire organization and in product reusability.
Key Players in the Report
Caterpillar Inc.
Komatsu Ltd. (Japan)
Sandvik AB
Epiroc AB
Doosan Corporation
Deere & Company
Atlas Copco Ab (Epiroc Ab)
Hitachi, Ltd. (Hitachi Construction Machinery Co., Ltd.)
Liebherr-International Ag
Metso Corporation
Market Segmentation
By Propellent Type
Liquefied Gas Propellants
Compressed Gas Propellants
By Propulsion
By Valve Type
Mechanical Actuators
Non-mechanical Actuators
Others
By Material
Steel
Aluminum
Plastics
Others
By Type
By End Use
Consumer Packaged Goods (CPG)
Pharmaceutical
Automotive & Industrial
Others
By Application
Personal Care
Household
Automotive & Industrial
Food
Paints
Medical
Others
Buy this Research Report@ https://www.precedenceresearch.com/checkout/1927
You can place an order or ask any questions, please feel free to contact at sales@precedenceresearch.com | +1 9197 992 333