The global airport services market size is anticipated to reach around USD 485.99 billion by 2032 up from USD 100.33 billion in 2022 with a CAGR of 17.09% between 2023 and 2032.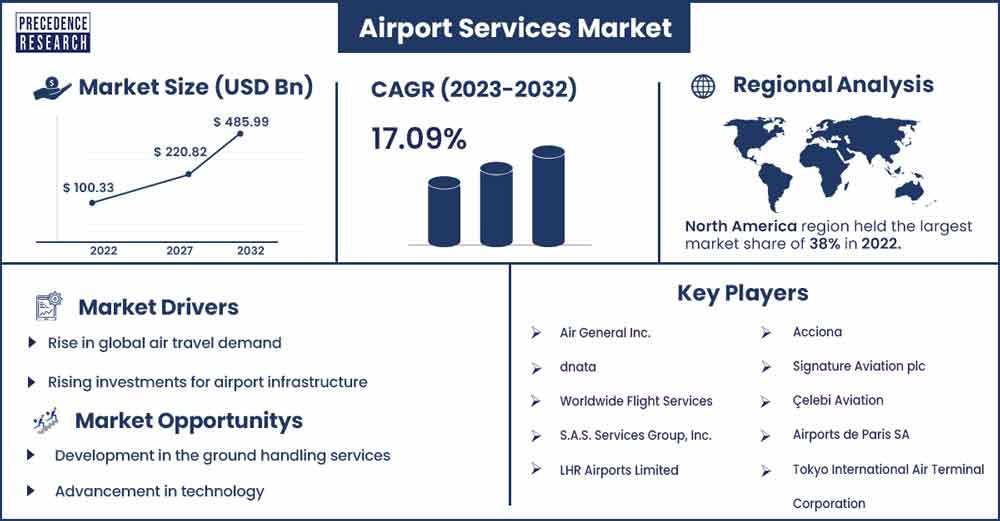 Market Overview
Airport services are the services subject to airlines by an airport or any of its subsidiaries to establish the aircraft handling and freight to enable airlines to give air transport services, including ground handling services and centralized ground handling infrastructure.
The airport Terminal Program is providing funding for one of three aviation programs generated by the Bipartisan Infrastructure Law, and this law provides $1 billion yearly for five years for Airport Terminal Program grants. The Bipartisan Infrastructure Law creates a historic $25 billion to modernize our nations airport infrastructure.
Growing economies worldwide mean more people have the extra money to travel by air, which increases the number of passengers and calls for more extensive and effective airport services. The growth of international trade and e-commerce has increased aviation freight traffic. Airports that offer extensive cargo facilities and services are in an excellent position to profit from this development. Technological advancements are revolutionizing airport services. The passenger experience, security, and operations are all enhanced by automation, AI, and data analytics.
Efficiency is improved with self-check-in kiosks, biometric security inspections, and baggage monitoring systems. Increased operational efficiency, cost savings, and resource sharing can result from partnerships between airports, airlines, and other stakeholders. Rapid growth in industrialization and urbanization are expected in developing economies, which raises the need for air travel.
Regional Snapshot
North America is expected to be the dominant in the airport services market during the forecast period. One of the biggest and healthiest economies in the world is found in North America, particularly in the United States. Due to the strong economy and the resulting high demand for air travel, the market for airport services is expanding.
In August 2022, in line with its continuous plan to expand throughout North America including the passenger operations industry, Alliance Ground International (AGI) bought Airport Terminal Services (ATS). With more than 5,500 workers, ATS provides a wide range of ground handling services, such as ramp, passenger, cargo, aircraft refueling and de-icing, lounge, and concierge services. AGI will now offer an expanding business passenger ground handling marketplace as a result of the purchase.
The United States Federal Aviation Administration (FAA) is renowned for its cutting-edge air traffic control technology and effective airspace management, both of which enhance the general effectiveness of airport operations. Important hubs for international aviation are large North American cities, including New York and Los Angeles. Because they manage a large amount of global air traffic, these hubs are crucial locations for airport services. To accommodate rising demand, airports in North America have continuously invested in updating and increasing their infrastructure, which includes building improvements, runway extensions, and terminal enlargement.
In March 2023, announcing its acquisition of Golden Isles Aviation, a Fixed Base Operator providing services to McKinnon St. Simons Island Airport on St. Simons Island, Georgia, Odyssey Aviation U.S. Granite Creek Capital Partners, L.L.C. and Everside Capital financed the acquisition.
In El Segundo, California, in the United States, is SAS Services Group. Ground handling, skycaps, security staff, cabin or facility cleaners, counter agents, ticket checkers, aircraft mechanics, cabin cleaning, security services, and customer support are just a few services the company provides. In 2022, SAS is expected to generate over $3 billion in revenue annually.
Airport Services Market Report Scope
| | |
| --- | --- |
| Report Coverage | Details |
| Market Revenue in 2023 | USD 117.48 Billion |
| Projected Forecast Revenue by 2032 | USD 485.99 Billion |
| Growth Rate from 2023 to 2032 | CAGR of 17.09% |
| Largest Market | North America |
| Base Year | 2022 |
| Forecast Period | 2023 to 2032 |
| Regions Covered | North America, Europe, Asia-Pacific, Latin America, and Middle East & Africa |

Market Dynamics
Drivers
Increase in passenger traffic
The need for air travel naturally increases as economies expand and populations grow denser in urban areas. As a result, more airport services are required to handle the spike in traveler volume. Growing middle classes in many developing nations have made flying more affordable for more people. Increased passenger numbers due to this demographic shift force airports to expand and enhance their offerings. Airports make significant infrastructural investments to handle increasing passenger volumes. To meet the rising demand, this entails building more terminals, enlarging runways, and renovating existing facilities.
Rising investments for airport infrastructure
The demand for air travel inevitably increases as economies expand and urban areas become densely populated. Because of this, there is a greater demand for airport services to handle the spike in travelers. More people have the financial means to travel by air thanks to the growth of middle classes in many developing nations. Due to the increase in travelers brought about by this demographic shift, airports must grow and enhance their offerings. To handle the increasing number of travelers, airports make significant infrastructure investments, including building more terminals, widening runways, and modernizing infrastructure to accommodate the rising demand.
Restraints
Lack of appropriate infrastructure
To handle the increasing number of flights and travelers, many airports require assistance. Congestion, delays, and decreased efficiency can result from insufficient runway and terminal capacity. Unreliable train and road connections to airports can make them less accessible and deter travelers from using particular airports. Furthermore, inadequate access to public transportation may discourage travelers from selecting these airports.
Security measures and cost
Authorities from both domestic and international governments enforce stringent security regulations at airports. These rules cover a range of actions, such as perimeter security, passenger identity verification, and baggage screening. Airport operations entail continuous costs, such as payroll, utilities, maintenance, and security staff. Airports must also budget for unforeseen events, like weather-related delays, which may incur extra expenses.
Opportunities
Advancement in technology
Electronic boarding passes, mobile check-in, and self-service kiosks streamline the traveler's experience, reducing wait times and raising satisfaction levels. AI-driven systems can offer customized recommendations for dining, shopping, and lounge access based on passenger profiles and preferences. Robotics and RFID tracking in automated baggage systems lower handling errors, increase tracking precision and boost security. Enhancing security measures with fingerprint and facial recognition makes the process more effective while upholding high safety standards.
Development in the ground handling services
Due to factors such as urbanization, rising disposable incomes, and an increase in both business and leisure travel, the global aviation industry has been growing steadily in recent years. Since these services are necessary for every flight, increasing air travel will increase demand for ground handling services. Ground handling services play an increasingly important role as airports strive to improve the overall passenger experience. These amenities, which range from smooth baggage handling to quick and easy check-ins, have a direct influence on how travelers view an airport.
Recent Developments
In August 2023, A 5G Aviation Testbed was established at Singapore Changi Airport Terminal 3 by the Civil Aviation Authority of Singapore, also known as CAAS, and the telecommunications provider Singtel, which allows businesses to use 5G to test and adopt new solutions that could contribute to greater productivity for crucial airside functions such as aircraft operations on the ground, ground handling, and maintenance of line services.
In June 2023, to improve the traveler knowledge at Kempegowda International Airport, the BLR Pulse app was introduced. With just one tap, users can order food, book a table at a restaurant, monitor flight status and timings, and get real-time information on airport lineups at multiple touchpoints.
In April 2023, The Changi Airport Group (CAG) and Accenture unveiled ChangiVerse. This metaverse experience offers new audiences a digital platform to interact with Singapore Changi Airport while discovering its noteworthy landmarks.
Key Market Players
Beijing Capital International Airport Co. Ltd. (China)
Fraport AG Frankfurt Airport Services Worldwide (Germany)
Air General Inc. (U.S.)
dnata (UAE)
Worldwide Flight Services (France)
S.A.S. Services Group, Inc. (U.S.)
LHR Airports Limited (U.K.)
Acciona (Spain)
Signature Aviation plc (U.K.)
Tokyo International Air Terminal Corporation (Japan)
Çelebi Aviation (Turkey)
Airports de Paris SA (France)
Segments Covered in the Report:
By Airport Type
By Application
Aeronautical Services

Aircraft Ground Handling Services
Aircraft Maintenance Service
Passenger Service

Non-Aeronautical Services

Baggage Handling Services
Car Rental Service
Car Parking Service
Food and Beverage Service
Retail Service
Others
By Infrastructure Type
Greenfield Airport
Brownfield Airport
Buy this Research Report@ https://www.precedenceresearch.com/checkout/3273
You can place an order or ask any questions, please feel free to contact at sales@precedenceresearch.com | +1 9197 992 333