The global airport services market size was estimated at USD 100.33 billion in 2022, and it is expected to hit around USD 485.99 billion by 2032, growing at a CAGR of 17.09% during the forecast period 2023 to 2032. North America airport services market was valued at USD 38.12 billion in 2022.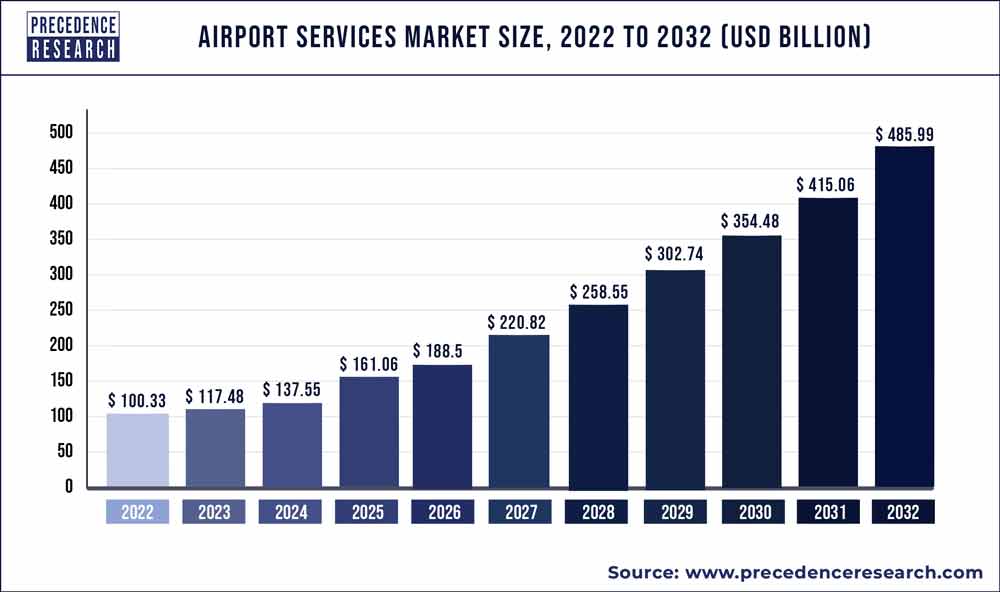 Access our Premium Real Time Data Intelligence Tool, Visit: Precedence Statistics
Key Takeaways:
North America led the global market with the highest market share of 38% in 2022.
By Airport Type, the domestic airports segment captured the highest revenue share in 2022.
By Application, the aeronautical services segment accounted more than 54% of revenue share in 2022.
By Infrastructure Type, the greenfield airports segment had the biggest market share in 2022.
Market Overview:
The airport services market refers to the broad range of goods and services offered to travelers, airlines, and other stakeholders within and around an airport facility. This market encompasses various services and facilities that contribute to the efficient and comfortable operation of airports and the convenience of passengers. It include services provided directly to airlines, such as ground handling services, aircraft maintenance and repair, catering, and fueling. Ground handling services involve activities like baggage handling, aircraft towing, and passenger boarding. These services are designed to enhance the travel experience for passengers.
Growth Factors:
The growth of the market of airport driven by several factors, including the expansion of the aviation industry, changing traveler preferences, technological advancements, regulatory developments, and economic conditions. A surge in the middle class globally, rapid urbanization, and rise in disposable income led to an increasing demand for air travel. Nowadays, more people choose to fly for business and leisure, and airports experience increased passenger traffic, driving the need for additional services and infrastructure.
Furthermore, airports are continually expanding and modernizing their facilities to accommodate larger aircraft and more passengers. Moreover, the growth of the airline industry directly impacts airport services. Airlines looking to enhance customer experience and improve efficiency rely on airport services like ground handling, maintenance, and passenger services.
Technological advancements play a crucial role in enhancing airport services. Innovations like self-service kiosks, mobile apps, biometric authentication, and baggage tracking systems improve the efficiency and convenience of airport processes, attracting more passengers. For instance, in August 2023, Virgin Australia launched a luggage tracking system, a digital tool that will allow passengers to find their bags on most journeys within Australia. The technology will be available on 7 out of 10 domestic flights.
Report Scope of the Airport Services Market:
| | |
| --- | --- |
| Report Coverage | Details |
| Market Size in 2023 | USD 117.48 Billion |
| Market Size by 2032 | USD 485.99 Billion |
| Growth Rate from 2023 to 2032 | CAGR of 17.09% |
| Largest Market | North America |
| Base Year | 2022 |
| Forecast Period | 2023 To 2032 |
| Segments Covered | By Airport Type, By Application, and By Infrastructure Type |
| Regions Covered | North America, Europe, Asia-Pacific, Latin America, and Middle East & Africa |

Market Dynamics:
Driver:
Rise in global air travel demand
The expansion of the global middle class, rapid urbanization, and improving economic conditions are fostering an environment where air travel is becoming increasingly accessible and affordable to a broader population. As more people aspire to explore new destinations, pursue business opportunities, or connect with friends and family across borders, airports witness a steady influx of travelers. Furthermore, airports are experiencing higher passenger volumes, necessitating a broader array of services to ensure the efficient handling of these travelers. Check-in counters, baggage handling, security screenings, customs and immigration procedures, and passenger lounges are all pivotal components of the airport experience that must scale up to meet this escalating demand.
Moreover, this demand generates a cascade effect, prompting investments in airport infrastructure expansion and modernization projects. Airports worldwide are compelled to upgrade terminals, runways, taxiways, and parking facilities to accommodate larger aircraft and increased passenger traffic. For instance, in August 2023, HOK collaborated with the Port of Seattle and AECOM, for the modernization of Seattle-Tacoma International (SEA) Airport's S Concourse. The project includes a considerable upgrade to existing structures and building systems, and repurposing space to comply with the latest building codes. Airlines rely heavily on these services to deliver a seamless and comfortable experience to their passengers. Thus, the rising global air travel demand is not merely an indicator of increasing mobility but also a powerful driver for the airport services market.
Restraint:
Regulatory compliance
Regulatory compliance serves as a potential restraint on the demand for the airport services market, primarily due to the stringent and ever-evolving nature of aviation regulations. These regulations encompass various facets, including safety, security, environmental standards, and customs procedures. While essential for the safety and security of air travel, they can impose significant challenges and costs on airports and service providers. Compliance with safety regulations is non-negotiable in the aviation industry. Airports must invest in advanced infrastructure, equipment, and personnel training to meet the highest safety standards. This can be financially burdensome and requires constant vigilance and adaptation to remain compliant with evolving safety protocols.
Security regulations are equally demanding, particularly in the current global security climate. Stringent passenger and baggage screening, access control, and surveillance systems are necessary to mitigate security risks. However, these measures can lead to longer passenger wait times and necessitate substantial investments in security infrastructure. Environmental regulations are increasingly influential in shaping the industry. Airports are under pressure to reduce their environmental footprint, requiring investments in energy-efficient technologies, emissions reduction measures, and sustainable practices. While environmentally responsible, these initiatives can impose significant upfront costs. Thus, while necessary for the safety and security of air travel, regulatory compliance can strain airport resources, affect operational efficiency, and potentially increase costs, which may, in turn, restrain the demand for airport services.
Opportunity:
Rise in smart airports
Smart airports represent a transformative paradigm shift in the aviation industry and offer significant opportunities for the airport services market. These technologically advanced airports provide digital solutions, automation, and data-driven intelligence to improve operational efficiency, passenger experience, and sustainability. Smart airports use real-time data analytics and Internet of Things sensors to monitor baggage handling, aircraft movements, passenger flow, security and others. The data-driven approach allows airports to streamline processes, reduce bottlenecks, and improve resource allocation, leading to cost savings and enhanced service quality. For instance, in July 2022, Denmark's Copenhagen Airport launched AIRHART, an airport management ecosystem. It is a unique platform and solution that links and combines more than 100 systems using a unified, up-to-the-date platform. AIRHART is developed by smarter airports.
Digital innovations such as biometric identification, mobile apps, and self-service kiosks to offer travelers a seamless and personalized journey. These innovations not only reduce passenger stress but also create opportunities for value-added services like targeted retail promotions and location-based services. Security and safety are paramount in aviation, and smart airports leverage advanced technologies like facial recognition, AI-based threat detection, and automated security checks to enhance security while expediting passenger screening. This combination of improved security and efficiency is attractive to both travelers and airlines. Thus, smart airports are not just a futuristic concept; they represent a tangible opportunity for the Airport Services market.
Impact of COVID-19:
The most immediate and severe impact of the COVID-19 pandemic was the dramatic reduction in passenger numbers as lockdowns, travel restrictions, and quarantine measures were implemented worldwide. Airports experienced a steep decline in both domestic and international travel, resulting in a severe drop in demand for airport services. With significantly reduced revenues from landing fees, parking, concessions, and other sources, many airports faced financial challenges. Some even struggled to cover their operational costs, leading to job cuts and reduced services. However, pandemic accelerated the adoption of digital technologies, such as contactless payment systems, biometric identification, and mobile applications, to minimize physical interactions and enhance the passenger experience. For instance, in March 2023, Sharjah Airport announced that it introduced biometric system that will allow passengers to use facial recognition and give travelers a paperless experience.
Segments Insight:
Airport Type Insights:
According to the airport type, the domestic airports has held highest revenue share in 2022. Domestic airports play a vital role in connecting cities, regions, and remote areas within a country. They contribute to improved accessibility and economic development in these areas. Travelers at domestic airports do not need to undergo customs and immigration checks, making the boarding and disembarking processes relatively faster and more straightforward compared to international travel.
The international Airports is anticipated to expand at a significantly CAGR during the projected period because it offer a wide range of services to cater to the needs of travelers crossing international borders. These services include immigration and passport control, customs clearance, currency exchange, visa services, and international lounges. Also, international airports serve as major gateways connecting one country to the rest of the world.
Application Insights:
Based on the application, aeronautical services is anticipated to hold the largest market share in 2022. Aeronautical services are services directly related to the operation and safety of aircraft within the airport environment. They are critical for ensuring the smooth flow of air traffic and the safety of passengers and cargo. It also generates revenue for airports through landing fees, aircraft parking charges, and fuel sales.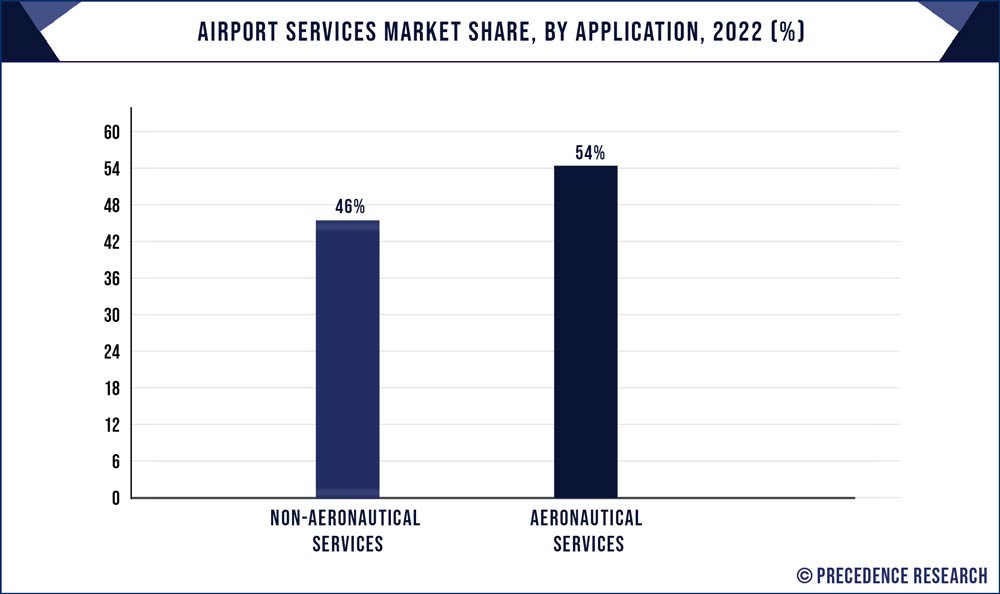 On the other hand, the non-aeronautical services is projected to grow at the fastest rate over the projected period. Non-aeronautical services encompass a wide range of services and amenities that airports provide to enhance the passenger experience and generate additional revenue. These services are often directed at passengers and visitors within the airport terminal. It plays a crucial role in enhancing the passenger experience and generating revenue to sustain and develop airport facilities.
Infrastructure Type Insights:
In 2022, the Greenfield airports had the highest market share on the basis of the infrastructure type. Greenfield airports are entirely new airport developments built from scratch on previously undeveloped land. These airports are typically initiated when there is a need for additional airport capacity in a region or when an entirely new airport is required to serve a specific area.
The Brownfield airport is anticipated to expand at the fastest rate over the projected period. Brownfield airports, on the other hand, are existing airports that undergo significant expansion, renovation, or redevelopment to meet the growing demand for air travel or to modernize infrastructure. Brownfield airports are numerous globally, as many established airports undergo regular upgrades and expansions to keep pace with evolving aviation demands. For instance, London Heathrow Airport and Los Angeles International Airport have undergone extensive brownfield development projects.
Regional Insights:
North America has held largest revenue share in 2022. The region's growth is primarily due to its technological innovation, security emphasis, and commitment to sustainability. Moreover, North America is home to one of the busiest and most prominent airport hubs in the world, including Hartsfield-Jackson Atlanta International Airport, Los Angeles International Airport, John F. Kennedy International Airport and others. These major hubs require considerable services for ground operations, passenger handling, and cargo logistics. As the region's aviation industry continues to evolve, this market remains a critical component in facilitating efficient air travel and supporting economic growth in North America.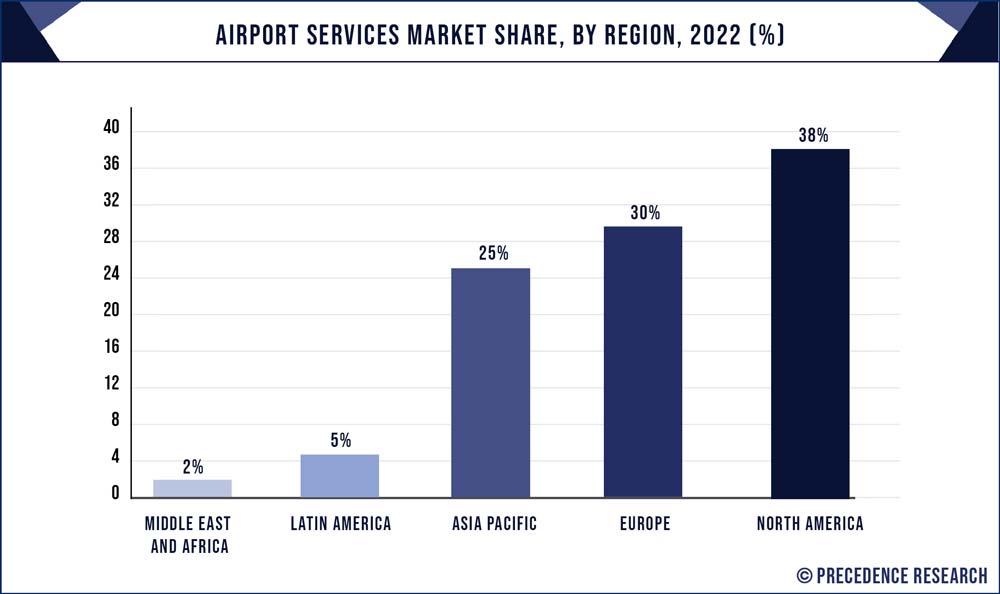 Asia-Pacific is estimated to observe the fastest expansion in the airport services market. Asia-Pacific is experiencing substantial growth in air travel demand, driven by various factors such as rising disposable incomes, rapid urbanization, and an increasing middle class. This has helps in increasing passenger traffic at airports across the region. China and India are one of the emerging economies in the region where rapid urbanization and economic development are driving the construction of new airports and expansion of existing ones.
The European airport services market is expected to witness significant growth due to the European airports are at the forefront of adopting advanced technologies, including biometric authentication, automated baggage handling, and smart airport solutions. These technologies enhance passenger experience and operational efficiency. It plays a crucial role in connecting Europe to the global aviation network and supporting economic growth in the region.
Recent Developments:
September 2023: Edmonton International Airport (YEG) signed a memorandum of understanding (MOU) with Edmonton Destination Marketing Hotels Ltd. (EDMH) that. The collaboration will helps in enhancing air service development by increasing seat capacity, attracting new airlines, and introducing fresh routes to Edmonton.
August 2023: Lucknow's Chaudhary Charan Singh International Airport launched DigiYatra, digital travel initiative to enhance passenger convenience and efficiency. The airport enable travelers to experience hassle-free check-in and boarding processes.
July 2023: The Delhi International Airport (DIAL) announced that it has selected IDEMIA as the technology partner for DigiYatra. DigiYatra will use IDEMIA's facial recognition technology in Hyderabad, Delhi, and Goa to confirm the identity of domestic flyers.
June 2023: Chhatrapati Shivaji Maharaj International Airport (CSMIA) launched its valet services at the Multi-Level Car Parking (MLCP). This offers convenience and enhancing passenger satisfaction across the airport.
December 2022: The Adani Group launched Adani One, digital platform for its airport vertical that will allow users to check flight status, book air tickets, shop for duty-free products, access lounges, get cabs and avail parking facilities.
December 2022: Aviator Airport Alliance extended its partnership with Turkish Airlines Under the extended partnership, Aviator offers Turkish Airlines with de-icing and ground handling services at Copenhagen Airport.
Key Market Players:
Beijing Capital International Airport Co. Ltd. (China)
Fraport AG Frankfurt Airport Services Worldwide (Germany)
Air General Inc. (U.S.)
dnata (UAE)
Worldwide Flight Services (France)
S.A.S. Services Group, Inc. (U.S.)
LHR Airports Limited (U.K.)
Acciona (Spain)
Signature Aviation plc (U.K.)
Tokyo International Air Terminal Corporation (Japan)
Çelebi Aviation (Turkey)
Airports de Paris SA (France)
Segments Covered in the Report:
(Note*: We offer reports based on sub-segments as well. Kindly, let us know if you are interested)
By Airport Type
By Application
Aeronautical Services

Aircraft Ground Handling Services
Aircraft Maintenance Service
Passenger Service

Non-Aeronautical Services

Baggage Handling Services
Car Rental Service
Car Parking Service
Food and Beverage Service
Retail Service
Others
By Infrastructure Type
Greenfield Airport
Brownfield Airport
By Geography
North America
Europe
Asia-Pacific
Latin America
Middle East and Africa