The global ammunition market size is expected to rake USD 45.2 billion by 2030 from USD 33.16 billion in 2022 and is expanding at a CAGR of 3.95 percent during the forecast period from 2022 to 2030.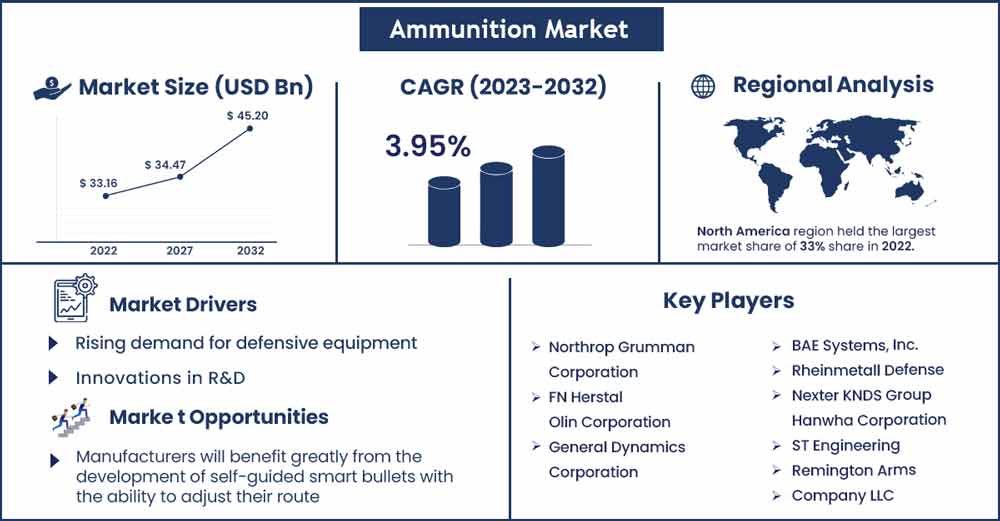 Ammunition is anything that is capable to be fired from a weapon, such as explosives or bullets. The propellant, and a projectile, also the primer that ignites those propellants are all part of it. That is made from a range of materials, including steel, brass, and others. Small and medium-sized projectiles are of mostly utilized for civilian purposes for example shooting sports and self-defense. Large-caliber projectiles, with which their calibers ranging from 50mm to 240mm, are generally utilized for military applications to assure continuing profitability and competitiveness, the global ammunition makers business is characterized by ceaseless mergers and consolidations, leading in the gradual formation of fewer but bigger multinational producers.
The prevalence of a tight circle of US and European industry actors competing for corporate domination and strategic acquisitions to obtain strong footholds in new and possibly attractive defense sectors is reflected in open-source information on the defense industry in general. Ammunition manufacturers must either engage in their own organic growth through in-country acquisitions or expand their presence in new major international markets through various acquisitions to maintain their manufacturing margins and profitability.
One distinguishing element of this industry is the lack of licensed manufacturing agreements for small weapons ammunition. Once an original caliber design has become widely used, usually as a result of NATO or former Warsaw Pact standardization agreements and practices, a large number of manufacturers all over the world can set up production facilities and begin manufacturing the rounds in accordance with the original design standards without paying any contracts or royalties to the original manufacturer (s). The most notable example is the 5.56 x 45 mm NATO standard ammunition, which was originally manufactured by Belgium's FN Herstal and whose designs were made public to allow other manufacturers to produce it.
Report Highlights:
The market is divided into three categories based on caliber: small, medium, and big. The largest market share is held by the large-caliber ammunition sector.
The defense end-use sector led the market, accounting for more than 75.0 percent of worldwide revenue in 2021. Furthermore, this category is likely to continue its dominance during the projection period.
Regional Snapshots:
North America is predicted to be the largest market over the forecast period. This rise can be attributed to increasing R&D investment as well as procurement of advanced munitions from the US Army. As consequence of COVID-19, people would feel more anxious, which may lead to higher in ammo and gun purchasing in the United States. The FBIs National Instant Criminal Background Check System (NICS) revealed a 30% monthly increase in vetting for handguns and big weapons in February 2022. As a consequence, the North American market will grow at an exponential pace by 2022.
Asia-Pacific will be seeing significant market increase throughout the forecast period. The increase is linked to the increasing of armed forces in countries such as India, South Korea, China and others. Rising military spending and structural adjustment projects in countries such as India, Japan, and China will further help regional market expansion.
American munitions manufacturers are battling with Chinese enterprises for copper, a metal used for infrastructure construction and technology manufacturing. The United States governments large spending in armed and defense department are projected to help the nations market growth.
Ammunition Market Report Scope:
| | |
| --- | --- |
| Report Coverage | Details |
| Market Revenue in 2023 | USD 34.47 Billion |
| Projected Forecast Revenue in 2030 | USD 45.2 Billion |
| Growth Rate from 2022 to 2030 | CAGR of 3.95% |
| Largest Market | North America |
| Base Year | 2022 |
| Forecast Period | 2022 To 2032 |
| Regions Covered | North America, Europe, Asia-Pacific, Latin America, and Middle East & Africa |

Market Dynamics:
Drivers:
The increased frequency of violent regional and worldwide conflicts has pushed several nations to boost their military infrastructure by acquiring sophisticated armaments and equipment. The majority of the worlds developing economies, including India, Russia, China, Turkey, and Saudi Arabia, are currently modernizing. As a response, global defence spending on ammunition procurement and R&D activities has increased considerably in recent years. These countries are extensively spending in military modernization projects to improve their surveillance technology and firepower resources in terms of speed, accuracy, portability, and fatality, with variation and high accuracy being the major criterion for ammo purchase.
These upgrading initiatives are a major driver of the small-caliber ammunitions and guns demand. Other major military modernization efforts have been noted in the Russia, Brazil, also various European Union member countries. Another key element boosting worldwide ammunition demand is the growing requirement for big infantry units that is also an essential module of military modernization plans.
Restraints:
Different countries' financial, legal, and political foundations result in different laws regarding armament, ammunition, and other battle equipment. Compliance failures harm revenues, profits, and profit margins, and might result in administrative and criminal action; hence, these players are expected to strictly adhere to the norms and regulations of their own countries along with those of foreign entities. Statutes frequently have an impact on contracting and procurement practices in a variety of nations. Government policies and trade policy concerns will function as market restrictions.
Ammunition manufacture, distribution, and licensing are governed by federal and state regulations. For example, the United States Firearms and Ammunition Act govern the shipment, transit, receipt, and holding of firearms and ammunition. Furthermore, it validates hunting and sports licenses and permits. Restriction on the possession of firearms and ammunition in order to minimize casualties will stymie product uptake.
Opportunities:
Manufacturers will benefit greatly from the development of self-guided smart bullets with the ability to adjust their route. The Defense Advanced Research Projects Agency's (DARPA) Extreme Accuracy Tasked Ordnance (EXACTO) program has created a 50-caliber round that is the first guided small-caliber bullet. Because it incorporates a real-time optical guiding system, the projectile may modify its direction in mid-flight. It aids with sniper accuracy and combating harsh weather conditions. Furthermore, the United States Army has created technologically improved laser-guided sniper shots that will aid defense personnel in tracking targets in adverse settings such as wind and severe weather.
The creation of lightweight ammunitions which also does not sacrifice combat capability or precision is one of the ammunition industry's primary difficulties. Several nations' modernization projects for give power to their military and law enforcement agencies that have resulted in a large rise in the overall influence of ammunition. The collective weight of the equipment makes employees less nimble and effective. As a result, law enforcement and security organizations are paying attention and their efforts on getting more lightweight ammunitions.
Challenges:
One of the issues that these corporations and their subsidiaries are now facing is the possibility of interruption in their supply chains, as they get components from all over the world. Supply delivery delays can affect predictions and the entire manufacturing chain.
As a result, industry leaders have created adaptable production lines that can convert to another product in the event of a delay and accommodate multiple-contract ammunition needs provided by the police or army. Although cartridge requirements fluctuate across Western military and police forces, rounds are often manufactured from the same metals and produced on the same manufacturing lines.
Recent Developments:
Nammo AS has signed the strategic partnership contract with Finnish Defense Forces (FDF) in December 2020 to provide the army with ammo, explosives, and charges. The deal is a logical continuation supply agreement authorised in 2014, and it will be in force until further notice. The overall esteem is estimated to be approximately USD 24.45 million each year (EUR 20 million). The organization is putting the money into a turn of events and the developing cutting-edge precision-guided weaponry that can successfully attack the target with minimum backlash.
Major key Players:
Northrop Grumman Corporation
FN Herstal
Olin Corporation
General Dynamics Corporation
BAE Systems, Inc.
Rheinmetall Defense
Nexter KNDS Group
Hanwha Corporation
ST Engineering
Remington Arms Company LLC
Vista Outdoor Operations LLC
Market Segmentation:
By Caliber
Small
Medium
Large
Artillery
Mortar
By Product
By End User
Civil & Commercial

Sports
Hunting
Self Defense

Defense
By Component
Fuses & Primers
Gun Powder
Projectile
Cases
Others
By Type
Bullets
Aerial Bombs
Grenades
Mortars
Artillery Shells
Others
By Guidance
By Lethality
By End-Use
Military & Homeland Security
Civil & Commercial
Others
Buy this Research Report@ https://www.precedenceresearch.com/checkout/2147
You can place an order or ask any questions, please feel free to contact at sales@precedenceresearch.com | +1 9197 992 333