The global automotive wrap films market size is anticipated to reach around USD 32.82 billion by 2032 up from USD 6.02 billion in 2022 with a CAGR of 18.48% between 2023 and 2032.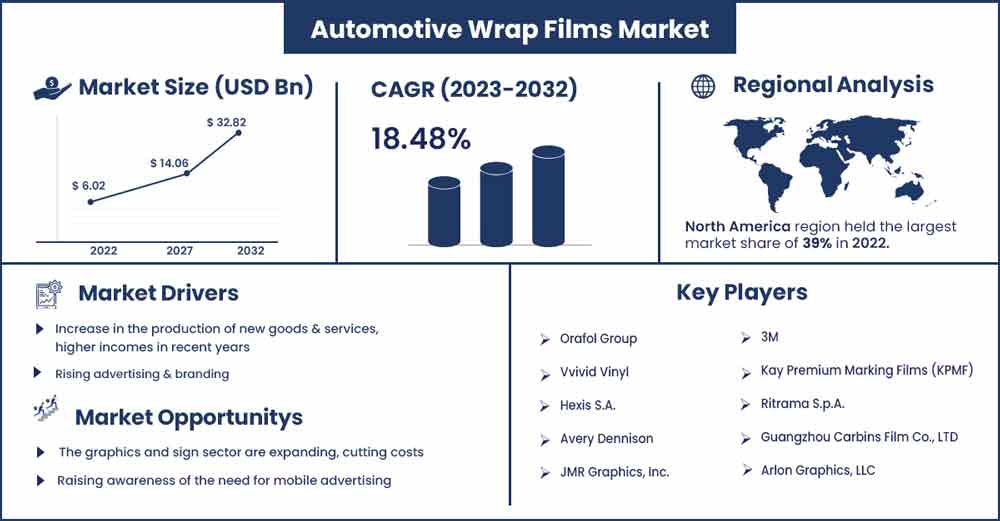 Market Overview:
The automotive wrap films market is a vinyl graphic applied on the paint. It is employed to customize the interior of automobiles, including the door panels, windows, seats, and dashboards, for better visuals. It is available in various hues and textures, including matte, gloss, metallic, and carbon fiber. They are easy to clean and durable against scratches, fading, and dirt. Paints and coatings are used in commercial and residential construction to reduce the shrinkage of the concrete and cracks and enhance its aesthetic quality and workability.
An increase in the production of new goods and services and higher incomes in recent years have contributed to construction of several new houses and the remodeling of old ones. Government initiatives such as strict lockdowns have hit the automotive wrap films industry adversely, with maximum loss in investment and supply.
Regional Insights:
According to regional insights, the automobile wrap films market encompasses North America, Europe, Asia-Pacific, Latin America, the Middle East, and Africa. For instance, North America has a sizable client base for car wrap films to significant automakers like Ford, GM, and Chrysler. Also, the region's preference for personalizing and customizing cars fuels demand automobile wrap film, making it a potentially attractive market for local growth.
The market for automobile wrap film is also significant in Europe, especially in nations with robust automotive industries like Germany, Italy, and the United Kingdom. Demand is also fueled in the area by the growing acceptance of car wrapping for advertising and brand promotion. The demand for luxury and high-end vehicles has skyrocketed in Asia-Pacific due to the region's expanding middle class and rising disposable income, propelling the market for automotive wrap film. Major automakers, including Toyota, Honda, and Hyundai, are also present in the area, giving substantial regional development prospects.
Automotive Wrap Films Market Report Scope:
| | |
| --- | --- |
| Report Coverage | Details |
| Market Revenue in 2023 | USD 7.13 Billion |
| Projected Forecast Revenue by 2032 | USD 32.82 Billion |
| Growth Rate from 2023 to 2032 | CAGR of 18.48% |
| Largest Market | North America |
| Base Year | 2022 |
| Forecast Period | 2023 to 2032 |
| Regions Covered | North America, Europe, Asia-Pacific, Latin America, and Middle East & Africa |

Report Highlights:
By Films: Window film sales were taken into account for a substantial market share. Window film is commonly utilized to tint automobile windows and reduce heat and sunlight entering the vehicle. It can also offer privacy and security by making it harder for anyone to see inside the car. The market for vehicle wraps film will benefit from the windows film's rising popularity. More people may likely employ wrap films to establish a distinctive look or market their brand as the desire to personalize and change automobiles grows. This might increase demand for automobile wrap films, particularly from companies wishing to advertise their vehicles.
By Vehicle: The passenger car dominates the market for automotive wrap films based on this segment. The growing desire for vehicle modification and personalization is the key factor contributing to the popularity of car wraps. With automotive wrap films, car owners may give their vehicles a distinctive and attention-grabbing appeal, improving their appearance.
By Application: The advertising sectors dominate the car wrap films market's overall revenue share, contributing to increasing consumer interest in and demand for the product. Advertising can be used to inform buyers about the advantages of utilizing automobile wrap films, such as preserving the original paint, improving the aesthetic of the car, and giving it a distinctive appearance.
By Geography: North America dominates the automotive wrap films industry. Companies in North America have made significant marketing and promotional investments for their automobile wrap films. Because of this, these businesses now have a strong brand reputation, which has improved their sales and market share. The market should expand as more people learn about the advantages of using automobile wrap films. These advantages include preserving the vehicle's original paint, improving its look, and raising its resale value.
Market Dynamics:
Drivers:
Customization and trending
Automobile wrap films allow altering a vehicle's appearance without requiring an expensive and long-lasting paint job. It offers the possibility to swiftly change a car's color or finish, enabling customization and individuality. When creating graphics and patterns for vehicles, automotive wrap films almost offer no creative restrictions. This has made it easier for graphic designers and other creatives to wow their clients with distinctive, attractive wrap designs.
Advertising and branding
A business or brand can effectively advertise via automotive wrap films. Branding a company vehicle can help draw in new clients and raise brand awareness. Using automobile wrap films has allowed businesses to showcase their brands while utilizing customization. Companies can advertise their goods and services using custom-made wrap films to display their logo, tagline, and other branding components on their cars. This is an effective technique to raise brand awareness and brand familiarity.
Restraint:
Limited design options
While there are some design restrictions, automobile wrap films can be altered to some extent. Customers may find it challenging to give their vehicle a truly distinctive design as a result. Due to the technical restrictions of the production process as well as the high costs associated with developing custom designs, the design options for automobile wrap film have been constrained. Also, some customers might prefer the appearance of a car with standard paint over one that has an automobile wrap film.
Environmental concerns
The PVC used to create automotive wrap films is not eco-friendly. These films' creation and disposal may result in waste and pollution. The removal and disposal of the wrap film after its useful life can have a significant environmental impact. Vinyl can take hundreds of years to disintegrate if it is not disposed of correctly, which will pollute the environment. Customers may prefer to avoid such things as environmental worries rise or pick businesses that offer eco-friendly disposal options.
Opportunities:
Car wraps are far easier to use than personalized paint jobs, and these wraps are robust and cost-effective. Car wrapping is a helpful tool for corporate marketing, and they design the wraps with the name, logo, website, and other information about the business. Moreover, vehicle wraps are advantageous for new businesses, and it is possible to leverage this to your advantage using the following strategy. Vehicle wraps are a worthwhile investment because of these advertising advantages and may grab everyone's attention with vibrant, attention-grabbing images. They are using various vehicle coverings to promote the company. Reaching the people and winning their business with high-quality wraps is simpler.
Challenges:
Producers' profitability may be impacted by the broad variations in the cost of the raw materials required to produce automobile wrap films. It may be challenging to keep client pricing constant as a result. Numerous suppliers and manufacturers strive for market share in this highly competitive industry. This makes it difficult for new competitors to establish themselves and for established companies to hold onto market share. Applying automobile wrap films can be difficult, especially for intricate shapes and designs of vehicles. This may result in poor craft and installation, reducing the product's robustness and endurance.
Recent Developments:
In August 2021, Kay Premium Marking Films (KPMF) was thrilled to bring wrap shops and installers globally a premium visualizer to support with encouraging KPMF products.
In May 2021, ORAFOL introduced two cool new shades, i.e., Millennium Grey and Steel, an element of the ORACAL® 970RA standard extended and present in 1520 mm x 25 meters.
Major Key Players:
Orafol Group
Vvivid Vinyl
Hexis S.A.
Avery Dennison
JMR Graphics, Inc.
3M
Kay Premium Marking Films (KPMF)
Ritrama S.p.A.
Guangzhou Carbins Film Co., LTD
Arlon Graphics, LLC
Market Segmentation:
By Films
Wraps Films
Window Films
Paint Protection Films
By Vehicle
Busses
Passenger Cars
Trucks
By Application
Buy this Research Report@ https://www.precedenceresearch.com/checkout/2719
You can place an order or ask any questions, please feel free to contact at sales@precedenceresearch.com | +1 9197 992 333