The global automotive wrap films market size was evaluated at USD 6.02 billion in 2022 and it is expected to hit around USD 32.82 billion by 2032, poised to grow at a CAGR of 18.48% during the forecast period 2023 to 2032.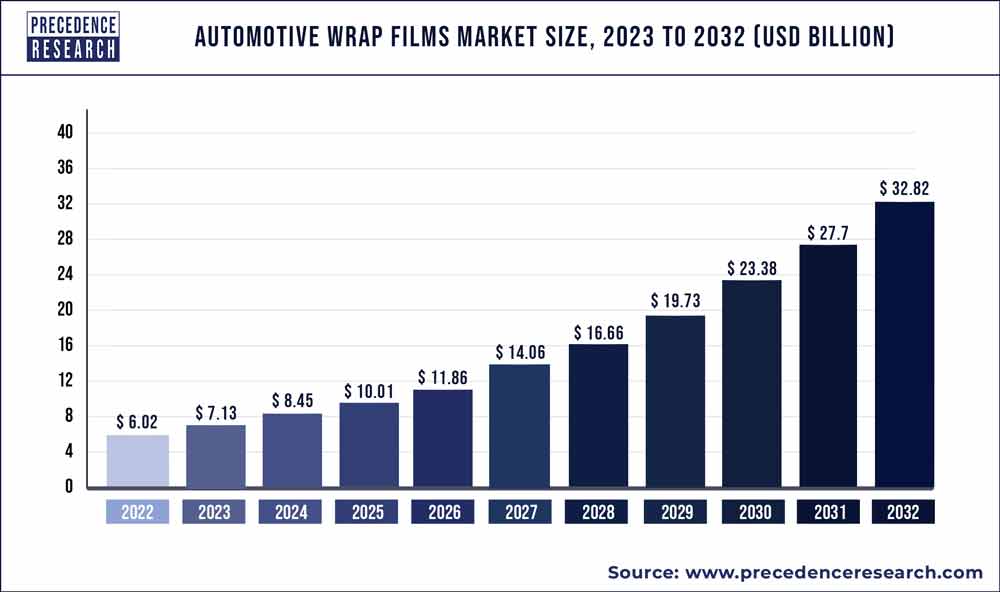 Access our Premium Real Time Data Intelligence Tool, Visit: Precedence Statistics
Key Takeaways:
North America captured more than 39% of revenue share in 2022.
By films, the window films segment recorded for a sizeable market share.
By vehicle, the passenger cars segment generated more than 54% of revenue share in 2022.
By application, the advertising segment lead the market's overall revenue share.
Market Overview:
The increase in population, urbanization, and disposable income is driving up sales on a larger scale. The advantages of automotive wrap films are:
Their low cost.
Resistance to UV radiation.
Ease of application and removal.
Ability to shield surfaces from sand and dust.
Computer-aided design (CAD) and 3D printing technology are used to create wrap films with premium photos, logos, and stunning graphics for the benefit of the clients. By using advertising and brand promotion, the major players, including Orafol Group, Vvivid Vinyl, Hexis S.A., Avery Dennison, and JMR Graphics, Inc., aid in extending the distribution channels. In addition, it offers environmentally friendly automotive wrap films to help reduce carbon footprints.
The desire for car personalization is expected to develop significantly on a larger scale. Additionally, its control over advertising promotes market expansion. Throughout the forecast period, more R&D combined with an improvement in the economy is anticipated to boost demand for automobile wrap films. During the forecast period, the market for the product is expected to increase because of the low price of wrap films and the expanding popularity of transit advertising nationwide.
The market is divided into segments based on the kind of film, the application, and the region. Cast vinyl, calendered vinyl, and specialty films are a few of the prominent film kinds, and vehicle wraps, fleet graphics, and architectural wraps are some of the most common uses. North America and Europe lead the industry geographically, but it is also expanding quickly in developing areas like Asia Pacific and Latin America.
Growth Factors:
Automotive wrap films protect the car's original paint against abrasions, sand, dust, UV radiation, weathering from monsoons, corrosion, and more. Moreover, it provides defense against minor dings and chips. It is a fantastic option for individuals who lease their cars or constantly change their appearance because it can be removed without harming the car's original paint job. It offers countless design options due to its extensive range of colors, finishes, and textures.
There is a finish to suit any style or preference, from matte to gloss, metallic to chrome, and even textured finishes like carbon fibers, leather, wood grain, and brushed metals. This fuels the market for wrap films. Especially in emerging nations, the automobile industry is anticipated to grow further in the upcoming years. Automotive wrap films will be more and more in demand as more people buy cars.
Report Scope of the Automotive Wrap Films Market
| | |
| --- | --- |
| Report Coverage | Details |
| Market Size in 2023 | USD 7.13 Billion |
| Market Size by 2032 | USD 32.82 Billion |
| Growth Rate from 2023 to 2032 | CAGR of 18.48% |
| Largest Market | North America |
| Base Year | 2022 |
| Forecast Period | 2023 to 2032 |
| Segments Covered | By Films, By Vehicle, and By Application |
| Regions Covered | North America, Europe, Asia-Pacific, Latin America and Middle East & Africa |

Market Drivers:
Cost-effective - Automotive wrap films are more affordable as an alternative to conventional painting, and they are more straightforward and quicker to install, demanding less work and resources. Automotive wrap film installation often takes less effort than traditional painting, which can take several days and necessitates specialized tools. This translates to lower installation costs for automobile owners. A well-maintained car wrap can help maintain a vehicle's market value.
Allowing them to sell their automobile for more money can save car owners money over time. Car owners can alter the color and appearance of their vehicles with automotive wrap film without having to shell out a significant sum of money for a new paint job. Because of its adaptability, car owners can give their vehicles a brand-new look without spending a fortune.
Market Restraints:
Expenditure rate - The price of automotive wrap films might vary based on the design's level of quality and complexity. Some customers may find it challenging to justify the cost as a result, especially if they just need a short-term fix. Costs have a variety of effects on the automotive wrap film market. For instance, the price of automobile wrap film may increase along with the cost of the raw ingredients used to produce vinyl films, making it less accessible to consumers. The price of car wrap film may also change if the cost of labour or transportation rises.
Complexity in installation - Wrinkles, bubbles, and other flaws brought on by improper installation may diminish the vehicle's appearance. The cost of installing wrap film rises in direct proportion to the installation's complexity, so elaborate wrap designs may be installed, which takes more time, talent, and effort.
Maintenance cost - Maintaining a car with an automobile wrap film may be more challenging than one with conventional automotive paint. Regular cleaning and possible repairs or reapplication of the wrap may be necessary over time, raising the cost of ownership. If they get damaged, or the owner wishes to change the color or style of their automobile, it is simple to take them off and replace them. Instead of repainting the entire car, which can be a time-consuming and expensive procedure, this may be a more affordable option.
Market Opportunities:
The graphics and sign sector are expanding, cutting costs, and raising awareness of the need for mobile advertising. Digital printing technology has allowed adding high-resolution images, patterns, and graphics to automobile wrap films. With conventional printing techniques, it was previously impossible to produce distinctive designs and wraps. The market for automobile wrap films is continually changing as new materials and technologies are created. Businesses now have the chance to stand out from the competition by providing creative solutions that address consumers' shifting needs.
Impact of COVID-19:
The assets of consumers have significantly been protected by paint and coatings products. Strict shutdowns have impacted the operations and industries of paint and coatings. The domestic paint and coatings industry is experiencing a severe labor shortage of skilled and unskilled laborers due to the pandemic and lockdown conditions nationwide. The lockdown also compelled many of the workforces to return to their hometowns. In April, there were no sales reported by paint firms. Paint is a barrier against microbial decay and natural weathering for all substrates, enhancing the lifespan, performance, and safety of goods and structures.
Segments Insight:
Films Insights:
Protective films shield a vehicle's original paint from dirt, dust, and scratches. An examination of the automotive wraps films market revealed that window films accounted for a sizeable market share. Window wraps reflect up to 60% of solar light, preventing severe heat accumulation and keeping the car's interior temperature stable. Wrap films also collect glass particles following an accident and reduce potential injury. They increase privacy and reduce glare, making the journey more enjoyable and secure. For instance, Avery Dennison introduced dual reflective films designed for residential and commercial applications preventing approximately 99% UV fading and sun damage.
Vehicle Insights:
The market is primarily made up of passenger cars. The market is divided into three categories based on the kind of vehicle: trucks, buses, and passenger automobiles. The market is divided into particular and advertisement purposes, with passenger cars contributed more than 54% of revenue share in 2022. Owing to falling costs for car wraps and rising client demand for customized vehicles. The need for modification has grown widely in terms of colors and textures. Drivers love to customize their spots with spot graphics and calligraphy for advertising and personalization.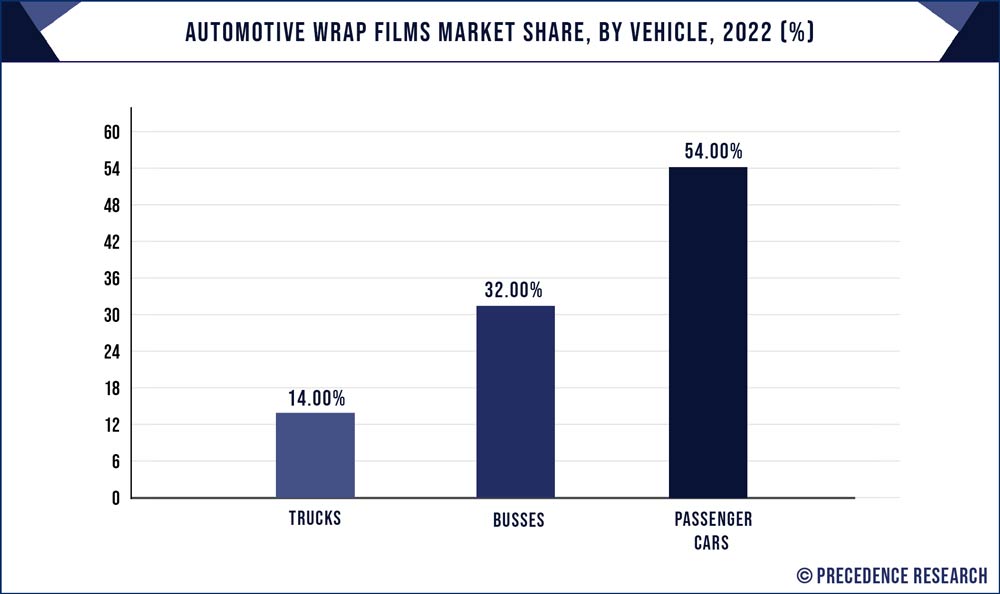 Over the projection period, it is anticipated that continued industrialization and rising government measures to support various policies in nations like India would fuel the expansion of the bus segment. Due to the booming global construction industry, the trucks segment of the automobile wrap film market is experiencing strong industrial growth in emerging economies and rising demand from the logistics and construction industries. For example, the recently unveiled Hyundai Creta is one of the most well-liked SUVs in its class, and this market contends with vehicles like the Kia Seltos and MG Hector.
It is now a typical sight on our highways because it is so well-liked. Many aftermarket accessories and customization choices have begun to appear on the market. This video shows a new generation Hyundai Creta that differs from standard models, and it is likely the first Creta in the nation to have PPF, or Paint Protection Film, applied to it in a matte finish.
Application Insights:
The advertising sector dominates the automotive wrap films market's overall revenue share. That is due to the expanding trend of vehicle advertising and brand promotion. Growing demand for customized vehicles and changing customer lifestyles will significantly impact category growth. The rising demand for wrap advertisements is a factor in the sector's rapid industrial expansion because they are practical and affordable.
Mobile advertising has become a powerful and economical advertising strategy in recent years. With automobile wrap films, any vehicle—whether a van, minivan, or bus—can be transformed into a moving billboard, attracting more and more people daily and fueling the segment's expansion, particularly for luxury cars like Mercedes, Porsche, VW, and BMW. Police officers now deploy vehicle wrap films, commonly called ghost vinyl, to maintain traffic order and public safety.
Regional Insights:
North America generated more than 39% of revenue share in 2022. Customized vehicle graphics and wraps are more popular than ever, especially among companies trying to promote their brands. automotive wrap films provide businesses with an economical and adaptable way to have their vehicles display eye-catching graphics and messaging. Second, the market has expanded due to the growing self-employment culture.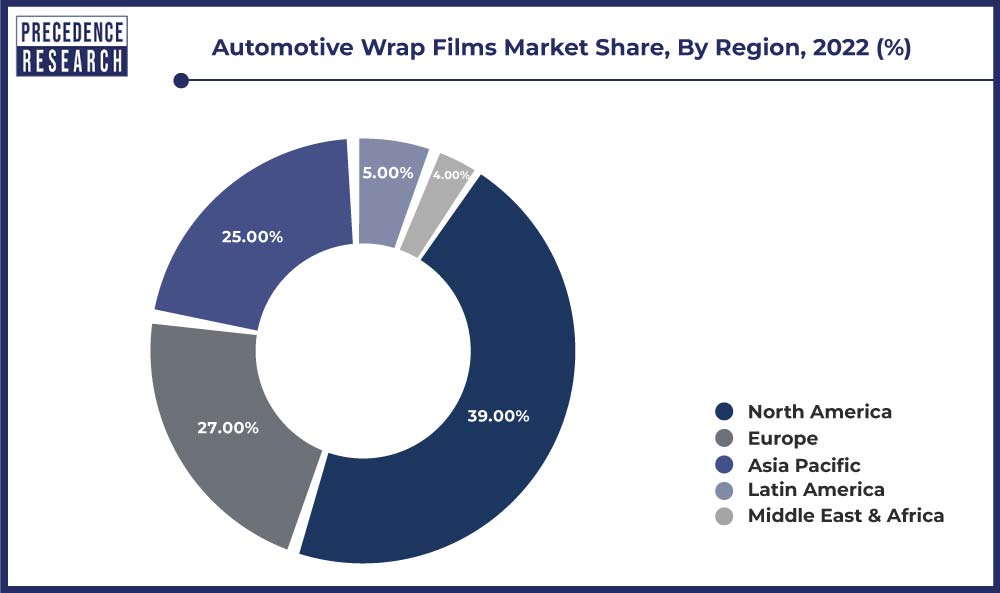 To change the color or design of their automobile without hiring an experienced painter, many people are now opting to wrap their vehicles in vinyl films. Furthermore, technological developments have produced long-lasting, high-quality automobile wrap films, increasing demand even further.
Moreover, Europe has the most significant R&D activity in creating automotive vehicles, predicted to increase demand for automotive vehicle wraps in the area.
Recent Developments:
In February 2023, according to Report Linker research, global market leaders, encompassing Hexis, Orafol,3M, and Avery Dennison, are providing innovative products in response to ever-growing needs.
In July 2022, ORAFOL submitted other PVC-free films and laminates as substitutes to the standard range at the Berlin FESPA Global Print Expo 2022. Innovative and emerging new goods were specially developed for the high needs in the advertising and automotive fields.
In July 2020, a French firm formulated a thin-film solar cell that utilizes semiconductor mixtures from organic polymers printed on flexible films. The purpose is that it can be assembled on curved surfaces, which is not possible in standard solar panels.
In April 2017, Arlon Graphics launched SLX® Cast Wrap featuring FLITE Technology, and everything changed as the implementation speed and cost improved remarkably.
Key Market Players:
Orafol Group
Vvivid Vinyl
Hexis S.A.
Avery Dennison
JMR Graphics, Inc.
3M
Kay Premium Marking Films (KPMF)
Ritrama S.p.A.
Guangzhou Carbins Film Co., LTD
Arlon Graphics, LLC
Segments Covered in the Report:
(Note*: We offer report based on sub segments as well. Kindly, let us know if you are interested)
By Films
Wraps Films
Window Films
Paint Protection Films
By Vehicle
Busses
Passenger Cars
Trucks
By Application
By Geography
North America
Europe
Asia-Pacific
Latin America
The Middle East and Africa