The global bake stable pastry fillings market size surpassed USD 1.93 billion in 2022 and is projected to rise to USD 3.66 billion by 2032, anticipated to grow at a CAGR of 6.6 percent during the projection period from 2023 to 2032.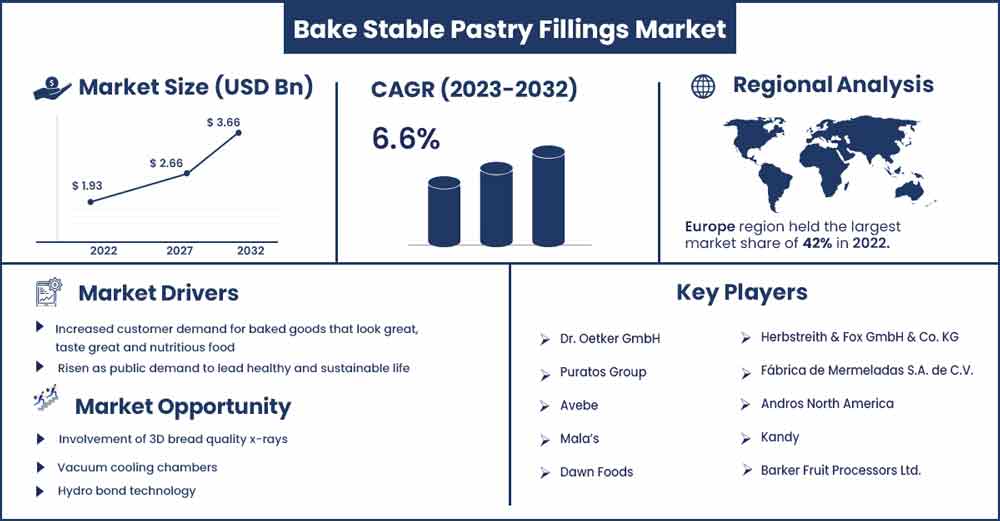 Market Overview:
Foods with extraordinary nutritional value or quality and minimally processed foods that maintain the rates of a fresh product are in great demand. Pastry fillings are frequently eaten with cakes, brownies, and waffles during festivals, parties, and events. Items from bakeries are commonly consumed and essential to human nutrition. The demand for bake-stable pastry fillings is supported by suitable packaging and home baking trends. Between 2600 BC and 3000 BC, the ancient Egyptians used yeast to make fermented bread due to the high cost of grinding. Manufacturers prioritize new product development and launches while considering consumer preferences and the blending of various pastry flavors. Today's bakery goods range in severity from the essential ingredients of a plain croissant to the numerous components. Advances in numerous allied fields of science and technology have paralleled the growth of baked goods from their original plain and unadorned appearances to the present variety with specific features and capabilities made possible by advanced manufacturing methods. The tastes of these fillings include orange, lemon, chocolate, and caramel.
The pandemic impacted the whole food business; severe supply chain disruptions caused by border restrictions worldwide made it more challenging to obtain the necessary raw ingredients. Lockdowns and stay-at-home orders also caused a disruption in the worldwide workforce because harvests with fewer laborers produced less. Now, rising fuel prices have made this supply chain disruption worse. Due to the disruption caused by the COVID-19 outbreak in the supply chain of bread ingredients, the market slowed down. Yet, the market is anticipated to expand dramatically during the following years, with economies offering chances to producers of bakery ingredients.
Regional Insights:
Due to their variety and reputation for health, almonds are the most popular nut in Europe across the categories of snacks, bars, dairy, and cereal. Significantly, almonds were by far the most popular nut in the dairy category throughout the world, and in Europe, they have witnessed a 7% growth since 2020. In the UK, France, and Italy, baking is the top industry for new product debuts using almonds, whereas in Germany, confectionary is the top industry for new product introductions containing almonds. Although heritage and tradition still play a significant part in the utilization of almonds, producers are increasingly turning to them to formulate across numerous categories due to their versatility and wide range of formats, as well as their health advantages.
During the estimated period, Asia Pacific is accounted to grow at the fastest rate. The market for low-fat baked goods is very strong. Due to the increased consumption of low-sugar or sugar-free bakery goods with low-fat content, there is a greater need for pastry fillings that are baked-stable with less sugar. Without sacrificing quality or quantity, the bakery business can swiftly expand from your initial site or home setup to many locations. The first step is to decide what kind of bakery you wish to operate, such as a home bakery, delivery kitchen, or cloud kitchen.
Report Highlights:
By Product: The fruits segment accounted for the most significant share of revenue globally and is expected to maintain dominance over the forecast period. People are conscious about their health without ignoring the trendy food varieties.
By Geography: Europe accounted for the largest revenue share, with the increasing food choices of people around the globe with different regional tastes and flavours. This market is exponentially growing worldwide.
Surgical Tables Market Report Scope:
| | |
| --- | --- |
| Report Coverage | Details |
| Market Revenue in 2023 | USD 2.06 Billion |
| Projected Forecast Revenue by 2032 | USD 3.66 Billion |
| Growth Rate from 2023 to 2032 | CAGR of 6.6% |
| Largest Market | Europe |
| Base Year | 2022 |
| Forecast Period | 2023 to 2032 |
| Regions Covered | North America, Europe, Asia-Pacific, Latin America, and Middle East & Africa |

Market Dynamics:
Drivers:
Recent global events have increased customer demand for baked goods that look great taste great, are produced sustainably, and provide nutritious food, which has put pressure on bakers and millers to respond quickly and agilely. Notwithstanding these urgent requirements, it's crucial to take a broader perspective. Sales of baking ingredients globally are positively impacted by consumers' growing preference for convenience foods.
Restraints:
The Russian invasion of Ukraine has had an impact on the bread industry as well, increasing the volatility of the world's supply of grain and sunflower oil. One-third of the world's wheat is exported by Russia and Ukraine; thus, the impacted areas must hunt for new sources for grain imports. For instance, even if the United States, the European Union, and Australia probably produce enough wheat on their own, Africa mainly depends on wheat from Russia and Ukraine.
A bakery owner needs to be an astute financial manager who is also knowledgeable about baking. Even though baked goods are perishable in inventory, baking remains the same price. A more accurate sense of what to charge is obtained by knowing exactly what it costs to create the baked products.
Opportunities:
Advancement of new technologies in baking
The use of wire cut machines increases productivity and consistency, for instance during the making of biscuits. With touch, designs may be created regardless of weight or number. Moreover, continuous mixing technology makes it possible to accurately combine enormous quantities of dough. Also, keeping the proper humidity levels inside an oven is essential for producing baking that is more consistent, higher-quality, and longer-lasting, according to digital humidity sensors. This encourages the market to grow at bigger rates in the next time frame.
Challenges:
The rising cost of ingredients and the transition to more environmentally friendly methods are two of the biggest problems that bakers currently confront. For bakery manufacturers, adopting precise, non-destructive, and quick quality evaluation methods has become a major problem as customer knowledge of and expectations for high-quality bakery products rise. Expanding the consumption of packaged cakes would be a difficulty for the cake industry, but it would also present a sizable opportunity. This industry is ready to boom or explode with the appropriate enablers from the supply chain and products. Many domestic and international businesses have developed strategies to lower production costs by providing on-site trial demonstrations. These strategies would decrease the amount of gluten, fat, eggs, and oil used in the recipe, making it healthier and making it an option that vegetarians and vegans could eat. The main processing variables that have a considerable impact on the end product's quality qualities are the ingredients and baking conditions, especially time and temperature
Recent Developments:
In October 2021, Dr Oetker drew over Kuppies, an Indian baker enterprise. With this purchase, the corporation aimed to bolster its place in the Asian market. Moreover, Dr Oetker would also obtain the manufacturing site and the innovation ease of Kuppies.
In April 2021, Puratos broadened its trade by introducing a new venture, Sparkalis. The company targeted to help in developing innovative goods, remedies, and services. Furthermore, this business growth would also speed up partnerships with SMEs operating in the sector.
In January 2020, Puratos wrapped out SMOOBEES, a novel range comprising the latest client trend—the new good aimed to render a creamy texture and a rich taste. In addition, the new range offers bakers a smooth and soft surface in baked products and is accessible in multiple flavours throughout the market.
Major Key Players:
Dr. Oetker GmbH
Puratos Group
Avebe
Mala's
Dawn Foods
Herbstreith & Fox GmbH & Co. KG
Fábrica de Mermeladas S.A. de C.V.
Andros North America
Kandy
Barker Fruit Processors Ltd.
Market Segmentation:
By Product
Chocolate
Fruits
Nuts
Others
By Distribution Channel
Buy this Research Report@ https://www.precedenceresearch.com/checkout/2720
You can place an order or ask any questions, please feel free to contact at sales@precedenceresearch.com | +1 9197 992 333