The global bake stable pastry fillings market size was reached at USD 1.93 billion in 2022 and it is expected to hit around USD 3.66 billion by 2032, growing at a CAGR of 6.6% from 2023 to 2032.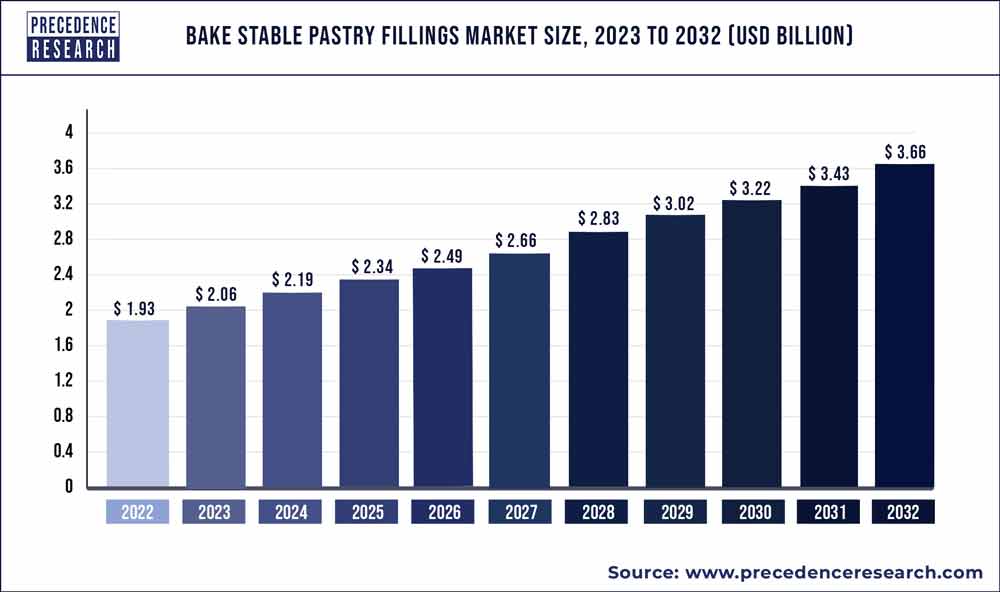 Access our Premium Real Time Data Intelligence Tool, Visit: Precedence Statistics
Key Takeaways:
Europe region dominant global market and generated more than 42% of the revenue share in 2022.
By product, the fruits segment dominated the market and captured more than 55% of the revenue share in 2022.
By distribution channel, the offline segment led the markets.
Market Overview:
Applying baked pastry filling to the dough gives it a creamy texture and a crisp exterior layer; it also prevents melting when baking. Nowadays, consumers choose products that retain freshness and sensory qualities while being free of microbial growth, toxins, and other elements that degrade quality. The goal of innovation in bakery supplies is, among other things, to improve the nutritional profile of the goods and reduce their calorie density.
Consumers are becoming more aware of calorie content and the demand for healthier food options. Overall, industry competitors are responding to consumer demand for healthier substitutes for their favourite cuisines. Due to rising consumer demand for various bakery product flavours, the baked pastry filling is expected to expand rapidly. Advances in determining the relationship between nutrition and health, frequently at the molecular level, gave rise to functional foods.
Today's meals are created to sate hunger, provide vital human nutrients, guard against diseases linked to poor nutrition, and enhance customers' physical and mental health. Consumer spending on pastry-filling products is influenced by the rising popularity of fruit flavours in sweets. Introducing new fruit flavours, such as bananas and pomegranates, affected the customer. A dairy product made from cow or goat milk; the cream is produced.
The reduced density of fat globules in fresh milk causes the cream to float spontaneously to the top when it isn't homogenized. It is then easily skimmed from the top for butter, sour cream, or whipped cream. Before milk is homogenized, a layer of fatty liquid known as cream forms on top of it. The cream is separated using a continuous centrifugation technique. It is used in frostings, custards, and cream fillings for pastries. People now purchase prepared foods more frequently due to rising disposable income and global urbanization, which makes preparing breakfast quickly possible. As a result, there is an increase in global spending on sweets and baked goods such as crackers, cakes, muffins, and pastries.
In addition, the market players. Also, to satisfy consumer demand, market participants concentrate on new product releases and innovation. Under the Craigmilla brand, CSM Bakery Solutions, a European company, introduced four new filling flavors in 2019: raspberry, vanilla, lemon, and chocolate. The basis for more than 80% of all products consumed in the EU is bread. From 2012 to 2016, the demand for bakery products rose to new heights, driven by pre-packaged goods, while fresh finished goods and bake-off goods accounted for the majority of sector sales.
Pre-packaged loaves of bread represent one of the most significant and focused segments in Eastern Europe, primarily driven by surging demand within supermarkets. Consumers in the Western half of Europe have discovered an alternative to bread and instead favor ready meals, pizza, frozen baked goods, and other instant items.
Customers buy industrial bread of the highest quality, but they also acknowledge the less expensive white bread on grocery shelves. The latter has been noted as a significant cause of the decline in demand for artisan bread goods. However, consumers' preferences for pre-packaged, oven-fresh, bake-off, and non-perishable goods have changed over time, impacting how well artisan bakeries perform.
Nonetheless, given Eastern Europe's good consumption pattern of fresh bread, the promising future for freshly made bread products cannot be understated. Bakery markets in Germany, France, Italy, and Spain are anticipated to see a new fresh-bake boom thanks to mass manufacturing by artisan bakers.
Growth Factors:
New and innovative food items drive a quick shift in customer eating patterns, enhancing the market for bake-stable pastry fillings. Favorable conditions like urbanization, changes in food choices, and the company's new ways of producing and processing crucial food factors fueling the demand. Users spending on packaged food drives the economy. Due to rising consumer interest in various flavors, the pastry fillings and bake-stable characteristics market is predicted to increase significantly throughout the coming years. The need for baked stable pastry fillings is accelerating due to rising expenditure on cakes, tarts, etc.
Report Scope of the Bake Stable Pastry Fillings Market
| | |
| --- | --- |
| Report Coverage | Details |
| Market Size in 2023 | USD 2.06 Billion |
| Market Size by 2032 | USD 3.66 Billion |
| Growth Rate from 2023 to 2032 | CAGR of 6.6% |
| Largest Market | Europe |
| Base Year | 2022 |
| Forecast Period | 2023 to 2032 |
| Segments Covered | By Product and By Distribution Channel |
| Regions Covered | North America, Europe, Asia-Pacific, Latin America and Middle East & Africa |

Market Drivers:
Busy and fast-paced lifestyle.
International market demand for sugar and gluten-free, vegan food, and organic food has risen as public demand to lead healthy and sustainable life by choosing products for healthier and more vegan options. During the COVID-19 outlook, the public depends on food to enhance their mood and work on stress levels. Rising foreign influence has resulted in a growing bake stable fillings market by celebrating birthdays, engagements, weddings, etc., by including cake as one of the main dishes.
Market Restraints:
Training working staff about the baked goods by offering samples of properly prepared products, educating them about every detail, starting from the flavor, color, taste, ingredients etc., so that the sales staff can easily acknowledge them if not appropriately addressed may result in loss of sales. Bakeries are inspected by food health authorities and graded based on the category they need to fulfill to get a good score. By learning those given grades usually, customers visit the place. Negative feedback shows the consumer's view of the quality of the bakery. Poorly functional bakeries waste food ingredients and labor, increasing expenses and reducing profit margins; also, preliminary apparatus results in the waste loaves of bread needing to be correctly baked.
Market Opportunities:
Involvement of 3D bread quality x-rays.
When the bread is produced on a bulk scale, it seems impossible to understand the performance inside of the loaf and bread makers deal with a significant issue when a hole is formed due to ignorance in the fermentation process. To solve this issue, 3D X-ray, food inspection technology, has come into action, and its scans the bread and provides a 3D digital model which reflects inside imperfections that comes with an automated rejection that rejects the defective loaves and removes them from the production line by ensuring only the best quality products enter the bakery.
Vacuum cooling chambers.
Vacuum cooling offers an alternative to traditional cooling, which is inefficient and potentially harmful. It helps counter the problem by extracting moisture and heating it much faster as the baked products are put in the vacuum chamber after being removed from the oven. The boiling point for water changes due to increased pressure, causing the baked goods to evaporate water content. The products cool down faster and prepare for packaging. It saves the whole baking time by allowing production on a significant scale.
Hydro bond technology.
Baking can go wrong in multiple ways, such as while mixing the dough. Hydro bond technology enables making a perfect dough all the time by evenly hydrating it without adding heat to the entire mixture before it enters the vast container. This leads to less time consumption, equal moisture distribution, and the least energy wasted. All the new innovative techniques in the baking industry help in the exponential growth of the bake-stable pastry fillings market globally.
Impact of COVID-19:
COVID-19 has impacted the food and beverage industry worldwide, weakening the global economy. The supply of raw materials for food products is also disturbed, influencing the market. Even bakery goods are one of the critical meals for customers, which have to ensure the use of baked regular in baked products. Hence, the COVID-19 outbreak impacts the bake-stable pastry fillings market.
Segments Insight:
Product Insights:
The fruits section dominated the market and generated more than 55% of the revenue share in 2022. Fruits retain sugar contents, making the bakery product healthier; thus, a rise in hygiene awareness throughout the pandemic has led to an increasing consumer focus on establishing and maintaining a fit immune system—consuming fruits rich in vitamins and antioxidants.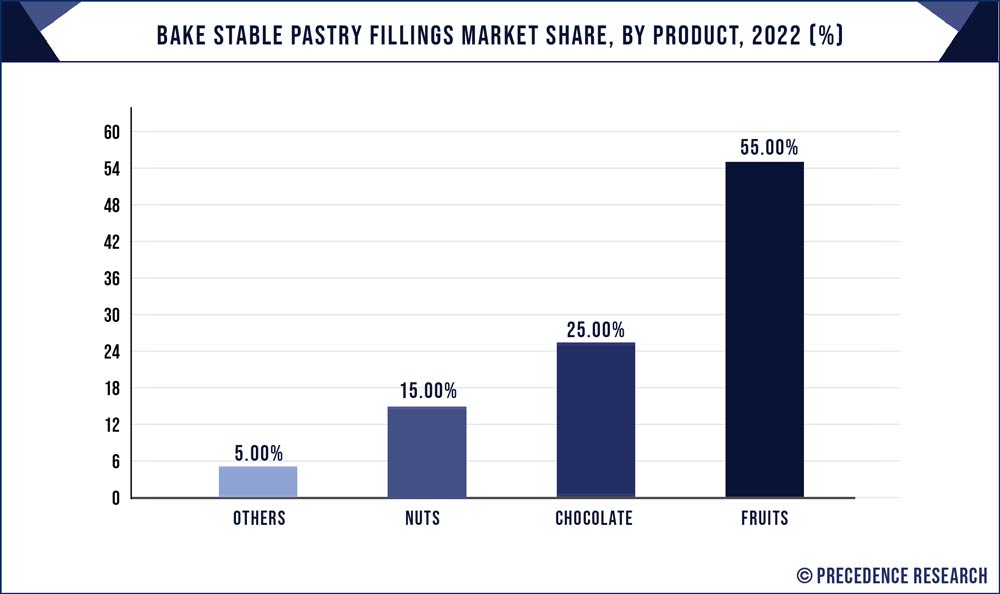 Consumers want food products that elevate the eating experience and provide nutritional benefits. Nuts enhance energy-boosting; thus, growth in the need for bake-stable products with dietary benefits is accounted to fuel the market.
Distribution Insights:
The offline segment dominated the bake-stable pastry fillings market revenue share as the public prefers to walk to the door and choose directly from the shop. This increase in offline features is due to the rising availability of various providers to the client and vice versa. The increasing number of malls, supermarkets, and general stores plays a vital role in accelerating the growth of this segment. Moreover, customers can ensure product quality through offline channels.
Regional Insights:
Europe's dominant baker market resumes gaining traction due to maximum consumption. Manufacturers focus on new experimentation, innovation, and product development, such as whole wheat, whole grain, high-fibre, non-allergen, sugar and gluten-free, and low-fat. Due to robust domestic production and economical food pricing, anti-oxidants like almonds are considered the top nut for European vegans, leading by a large margin compared to other nuts.
Several factors contribute to the Asia Pacific region's rapid growth, including the region's overpopulation, the relative affordability of foods compared to other goods, and the spread of western lifestyles. Even better logistics and transportation and quickly expanding retailers help the market for baked goods flourish by providing great chances for development, innovation, and job creation. India is a significant player internationally and the third-largest manufacturer of biscuits after the United States and China.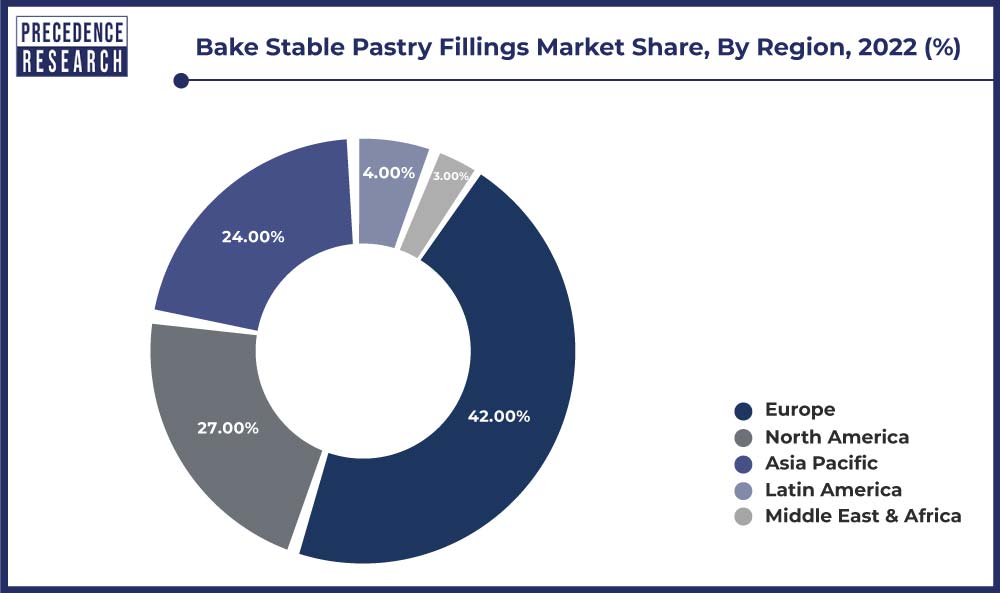 It is one of the fascinating places for the bread industry because of the innovative spirit of Indian businesses and people. Indian consumers' evolving tastes, preferences, and western lifestyle influence impact the bakery sector of the country. Bakery goods are now more frequently consumed daily rather than as a treat. So there is an increasing need for healthier products and alternatives as part of a global trend. Due to high consumption rates, consumers are looking for guilt-free baked goods with fewer calories and sugars and more and more gluten-free products with alternative ingredients like whole-wheat and multigrain.
In addition to healthier options, flavor innovation is essential because millennials are constantly looking for new flavors and experiences. Indian consumers emphasize convenience due to their hectic lifestyles, and since loaves of bread and biscuits are popular fast-moving consumer goods, bakeries are a popular choice. Although there is a demand and taste for baked goods among Indian customers, the country's bakery industry faces unique difficulties.
Operational effectiveness and the need for more technology and qualified people are significant issues in the sector. Organized bakeries in India actively engage in social media marketing to deliver focused and affordable marketing. Smaller bakeries can prioritize quality over quantity because they lack the enormous budgets and resources of worldwide chains and local bakery-cafés, who instead rely on word-of-mouth recommendations rather than social media marketing and social media interaction. Even though obstacles are causing losses, there has still been a boom in entrepreneurial endeavours in the bakery sector.
The demand for cereals and muti-grains corresponds to health concerns in the Latin American industry and tends to rise in the forecast period. Healthy drinks and organic baked goods are introduced, maintaining consumer loyalty and public demand. The governments of several countries in the Middle East and Africa grant funding for the expense of bread to make it available for the customers.
Recent Developments:
In February 2022, Dawn Foods exposed the cocoa Delicream, a new variety of cocoa fillings. With this opening, the corporation aimed to offer final bake and freeze-thaw stability with no water and hydrogenated fats substance.
In September 2021, Puratos launched Puratos Classic, a line of highly condensed flavouring compounds. This opening addressed difficulties in fruit fillings in baked foods, particularly clogged depositors.
In March 2021, Dawn Foods obtained JABEX, a high-quality fruit-based goods manufacturer. With this purchase, the firm intended to broaden its global food manufacturing powers and enhance its functionings and supply chain throughout Eastern and Central Europe.
In January 2020, Puratos India introduced Tegral Satin Purple Velvet EF, Fruitfil Range, Carat Supercrem Nutolade, Tegral Red and Velvet Sponge Mix. This start aimed to meet the growing consumer demand for international food with a regional touch. In addition, this opening would also transform Chocolate, the Indian Bakery, and the Patisserie market.
Key Market Players:
Dr. Oetker GmbH
Puratos Group
Avebe
Mala's
Dawn Foods
Herbstreith & Fox GmbH & Co. KG
Fábrica de Mermeladas S.A. de C.V.
Andros North America
Kandy
Barker Fruit Processors Ltd.
Segments Covered in the Report:
(Note*: We offer report based on sub segments as well. Kindly, let us know if you are interested)
By Product
Chocolate
Fruits
Nuts
Others
By Distribution Channel
By Geography
North America
Europe
Asia-Pacific
Latin America
The Middle East and Africa