The global blood transfusion devices market size was evaluated at USD 5.22 billion in 2022 and is expected to touch around USD 8.6 billion by 2030, growing at a noteworthy CAGR of 6.45% from 2022 to 2030.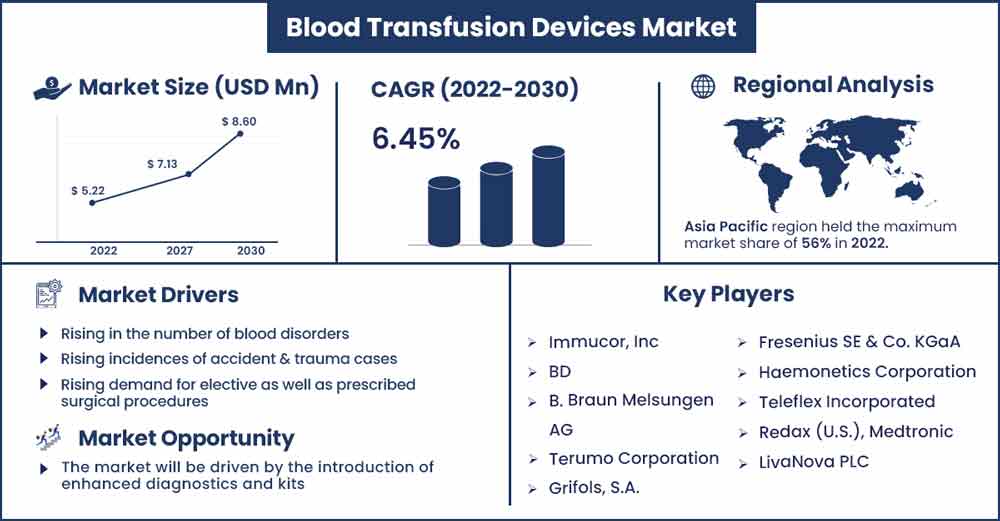 Blood transfusion devices, sometimes referred to as transfusion sets, and are used in medical operations to safely transfuse blood or blood components and to prevent clots from entering patients. The AdvaCare blood transfusion kits are constructed with excellent PVC tubing that has undergone medical treatment and a highly accurate flow controller.
The COVID-19 pandemic has affected medical care for these individuals as blood donations were restricted during the lockdown time, according to a research report by Josiane Bassil et al., published in September 2022 in the Future Sci OA Journal. Mobility issues have decreased the amount of blood supplies and donors, and the safety of blood transfusions has been a major worry.
A study by Sudhir Rama Varma et al. that was published in the International Society of Preventive and Community Dentistry Journal in November 2022 found that different technologies were used during the COVID-19 pandemic to get rid of pathogens that were discovered in common blood products and were used in oral and periodontal surgical procedures. Pathogen reduction technology may hold the key to preventing the spread of infection during dental treatments.
Leukostasis, which is brought on by a high white blood count in leukaemia, is predominantly treated with the pathogen reduction system. It is also used to treat severe rheumatoid arthritis, systemic lupus, Goodpasture syndrome, polymyositis or dermatomycosis, and preeclampsia and eclampsia during pregnancy in order to lower the risk of antibody-mediated organ rejection. The World Health Organization (WHO) released fresh research in June 2021 that indicated that the caesarean section rate continues to climb globally and now accounts for more than 1 in 5 (21%) of all births. Over the next ten years, this figure is expected to rise even further, with caesarean sections predicted to account for nearly a third (29%) of all deliveries by 2030. As a result of the rising rate of Caesarean sections throughout the world, the segment's growth is anticipated to soar over the projected period.
Pathogen reduction systems using various technologies are being offered by market participants. For instance, the Terumo Blood and Cell Technologies Company (Terumo BCT) Mirasol Pathogen Reduction Technology (PRT) system uses UV light and riboflavin (vitamin B2) to inactivate a wide range of pathogens, including bacteria, viruses like HIV, parasites like malaria, and white blood cells in blood products, lowering the risks of disease transmission and adverse effects from blood transfusions.
Report Highlights:
Due to rising healthcare spending in developing nations like China and India, the Asia Pacific region is anticipated to see the greatest increase throughout the projection period. For instance, the National Health Expenditure estimates that the Indian healthcare industry spent a total of US$ 133 billion in 2022.
According to the American National Red Cross, almost 21 million blood components are required for transfusions in the country each year. Additionally, the United States has a daily need of 36,000 units of red blood cells. In the upcoming years, these developments are probably going to increase demand for blood transfusion equipment in North America.
According to a study done by NHS and published in the Anesthesia Journal in 2018, post-operative cell salvage in cardiac and orthopedic operations, autotransfusion accounted for around 41% less allogeneic blood transfusion. This is anticipated to promote market expansion during the anticipated term.
Blood Transfusion Devices Market Report Scope:
| | |
| --- | --- |
| Report Coverage | Details |
| Market Revenue in 2023 | USD 5.55 Billion |
| Projected Forecast Revenue in 2030 | USD 8.6 Billion |
| Growth Rate from 2022 to 2030 | CAGR of 6.45% |
| Largest Market | North America |
| Base Year | 2022 |
| Forecast Period | 2022 To 2030 |
| Regions Covered | North America, Europe, Asia-Pacific, Latin America, and Middle East & Africa |

Regional Snapshots:
The prevalence of major market competitors, rising trauma cases and surgical operations, and technological developments are some of the reasons boosting market expansion in the North American area.
The "The Fight Is In Us" campaign was introduced in May 2022. Its goal is to encourage COVID-19 survivors to donate their plasma at authorised blood and plasma donor centres within two months of their recovery and to make sure that the plasma has a strong enough concentration of antibodies to benefit the donation of that plasma to another COVID-19 patient. COVID-19 survivors have the option to give in more than 1,500 sites where the coalition is available. This campaign's favourable effect on market expansion may be seen in the quick rise in the number of apheresis procedures performed at clinics and hospitals as a result of raising awareness.
Additionally, in May 2020, the US Department of Defense launched a campaign to gather 8,000 donated units of plasma from COVID-19 survivors in order to aid in the creation of a potent anti-disease drug. As a result of this endeavour, plasmapheresis equipment and disposables are now widely used in the US.
The Terry Fox Research Institute predicts that in 2019, 21,700 new cases of blood malignancies will be reported in Canada. All ages are affected by these malignancies, and the kind of blood cancer that a person is diagnosed with has a significant impact on their chances of survival. Blood malignancies are believed to be the third biggest cause of cancer-related mortality in Canada, taking the lives of 7,500 people.
The market is most likely to increase as more surgeries are performed. For instance, according to data from The Centers for Disease and Prevention (CDC) from 2021, the United States performs about 600,000 hysterectomies annually. Additionally, roughly a third of all women will have a hysterectomy by the time they are 60 years old, according to statistics from the American College of Obstetricians and Gynecologists (ACOG) released in 2020. These numbers also show how much demand there is for blood transfusion equipment.
The INTERCEPT Blood System for Platelets deal between Cerus Corporation and Canadian Blood Services was made public in May 2022. The ex vivo treatment and preservation of platelet components are the planned uses of the Intercept Blood System for Platelets. The system is used to destroy a variety of pathogens, including as viruses, bacteria, and protozoan parasites, lowering the risk of illnesses brought on by blood transfusions (TTI). As a result, it is anticipated that the aforementioned factors will fuel market expansion throughout the forecast period.
Market Dynamics:
Drivers:
The rising incidences of accident and trauma cases, the rising demand for elective as well as prescribed surgical procedures like cardiovascular as well as C-section procedures, and the rising prevalence of blood disorders like leukopenia, leucocytosis, thrombocytosis, anaemia, and erythrocytosis, among others, worldwide are some of the most significant driving forces reshaping the landscape of the global blood transfusion devices market in the coming years.
On the other hand, a rigorous regulatory environment and the high cost of managing and handling blood and blood components may limit the growth of the worldwide blood transfusion devices market in the upcoming years. The worldwide market for blood transfusion devices is being driven by the ongoing advancements in blood transfusion technologies, which have given rise to a new and inventive class of devices.
Restraints:
According to the World Health Organization, the majority of children with thalassemia are born in low-income nations where it is difficult to get a blood transfusion or it is only available to a small percentage of the population. Fever, bacterial and viral infections, allergic responses, and blood-borne diseases are all potential side effects of using a blood transfusion system and are expected to impede market expansion.
Opportunities:
The market for blood transfusions is growing significantly as a result of the advancement of technology. The production of lab-grown blood cells for human transfusion using stem cell technology is one of the most cutting-edge research methods. Market participants should profit from growing consumer awareness of and acceptance of blood transfusion in emerging nations throughout the predicted time range.
Challenges:
Two significant reasons, particularly in emerging nations when contrasted to wealthier ones, are a lack of investment in healthcare infrastructure and rigorous government rules. It is anticipated that the high cost of tests, apparatus, and reagents as well as a lack of experienced individuals to manage automated diagnostic solutions would restrain the growth of the blood transfusion market.
Recent Developments:
In March 2021, Customers can now access Unity QC data management systems and Bio-entire Rad's portfolio of InteliQ devices thanks to F. A worldwide collaboration agreement was signed by Bio-Rad Laboratories, Inc. and Hoffmann-La Roche Ltd.
Major Key Players:
Immucor, Inc
BD
B. Braun Melsungen AG
Terumo Corporation
Grifols, S.A.
Fresenius SE & Co. KGaA
Haemonetics Corporation
Teleflex Incorporated
Redax (U.S.), Medtronic
LivaNova PLC
Brightwake Ltd.
Advancis Surgical
Atrium Medical Technologies
Market Segmentation
By Product
Autotransfusion
Systems and Consumables & Accessories
By Application
Cardiovascular Surgeries
Orthopedic Surgeries
Neurological Surgeries
Obstetrics & Gynecological Surgeries
Others
By End Use
Hospitals
Specialty Clinics
Others
Buy this Research Report@ https://www.precedenceresearch.com/checkout/2265
You can place an order or ask any questions, please feel free to contact at sales@precedenceresearch.com | +1 9197 992 333