The global bolts market revenue was evaluated at USD 43.76 billion in 2022 and is expected to attain around USD 68.62 billion by 2032, growing at a CAGR of 4.6% from 2023 to 2032.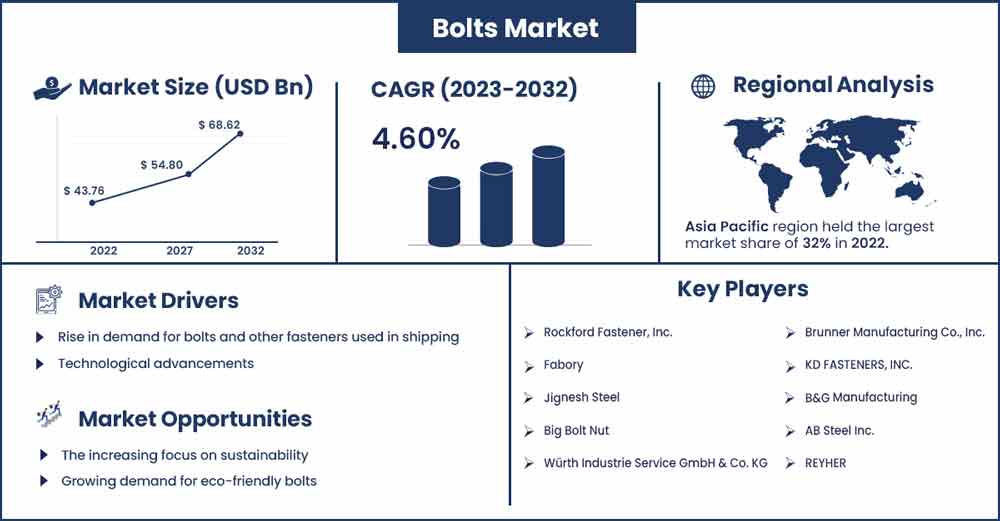 Market Overview:
The threaded fastener, known as a bolt, connects two or more things. They usually feature a head on one end and, on the other, a threaded shaft. Bolts are frequently employed in the construction industry because they aid in connecting two or more objects, ensuring a secure foundation. The bolts used in the aerospace business cannot be used in the automobile industry because bolts exist in various forms, sizes, and types and serve distinct purposes in different industries. Bolt characteristics are influenced by cost, demand, material, and even the addition of corrosion resistance.
Construction and infrastructure projects were slowed down globally due to the COVID-19 epidemic. Still, as the world begins to recover, there will likely be an upsurge in demand for them, necessitating bolts and other fastening materials. The worldwide supply chain has been interrupted by lockdowns, border closures, and other steps taken to stop the virus from spreading, leading to delays in the shipment of raw materials and finished goods. This has caused a shortage of bolts and other fasteners in some areas. The global push towards electric vehicles drives the demand for bolts and other fastening items. As the use of electric vehicles increases, so will the need for the numerous bolts and fasteners needed to assemble them. As the world begins to recover from the COVID-19 epidemic, car demand will probably rise, necessitating bolts and other fastening goods for assembly.
Regional Insights:
Worldwide suppliers and manufacturers make up the bolts market, which is a global market. With access to a wider variety of goods and resources, the global market can offer businesses chances to broaden their consumer base and reach. The Middle Eastern oil and gas sector, has also helped the demand for bolts expand. One of the world's major producers and exporters of oil and gas, the region needs high-quality bolts and fasteners for various uses.
Report Highlights:
By Material: The market share is dominated by the metal bolts sector. They are more resistant to chemical corrosion than plastic bolts, which can be more difficult to recycle and can be reused, making them a more environmentally responsible option than plastic bolts, which can be more difficult to recycle.
b: Bolts are used in aerospace applications to fasten the wings and tail to the control surfaces, such as the ailerons and elevators. The control surfaces' high loads and strains must be considered while designing these bolts for use in flight. They are utilized to link the aircraft's electrical systems. When designing these bolts, the electrical systems' high currents and temperatures must be considered.
By Geography: The Asia-Pacific region accounts for a significant portion of demand, which controls the global market for bolts. The expansion of the manufacturing sector, the development of the infrastructure, and the evolution of the automobile industry are the main factors driving the growth in the demand for bolts in this region. North American and Europe's construction and automotive sectors primarily operate bolt demand.
Bolts Market Report Scope:
| | |
| --- | --- |
| Report Coverage | Details |
| Market Revenue in 2023 | USD 45.78 Billion |
| Projected Forecast Revenue by 2032 | USD 68.62 Billion |
| Growth Rate from 2023 to 2032 | CAGR of 4.6% |
| Largest Market | North America |
| Base Year | 2022 |
| Forecast Period | 2023 to 2032 |
| Regions Covered | North America, Europe, Asia-Pacific, Latin America, and Middle East & Africa |

Market Dynamics:
Market Drivers:
Diverse applications
Bolts have a wide range of uses, including everything from little home repairs to substantial building projects. Due to the wide variety of services, different types and sizes of bolts are always required, which might open up the potential for specialized markets. Large steel beams and other structural components are held together in the construction industry using bolts. Bolts are used in the automotive sector to fasten parts, including engines, wheels, and transmissions. Bolts are utilized in essential applications in the aerospace sector, where great strength and dependability are crucial. It is used in the marine sector to fasten ship parts like engines, hulls, and rigging. Bolts are used in the electronics sector to secure components in gadgets like computers and cell phones.
Market Restraints:
Investors may not have access to all the information they need to make informed judgments about which equities to invest in. Insider trading and selective disclosure can cause information asymmetry, which can put small investors at a disadvantage. The stock market may be very unpredictable, with swift price changes that might be challenging to forecast. For investors who seek stability in their investments, this can make it dangerous. Short-term earnings are frequently the emphasis of the stock market, which can pressure businesses to put short-term profits ahead of long-term growth and sustainability.
Market Opportunities:
The bolts industry is continually changing with the development of cutting-edge materials and production processes that offer better performance and durability. In rising economies like China, India, and Brazil, the demand for bolts has expanded due to trade and commerce globalization.
Market Challenges:
Concerns about carbon emissions, waste management, and the usage of hazardous materials are some of the environmental effects that manufacturing bolts can have. The price of raw materials, such as steel, can significantly affect how much it costs to make bolts. It can be challenging for firms to sustain profitability when raw material costs fluctuate. Since bolts have been employed in manufacturing and construction for many years, innovation is required to boost their effectiveness. Failure to innovate may make it difficult for businesses to compete in the marketplace.
Recent Developments:
In March 2022, TR VIC SpA, a member of the Trifast plc group of companies, benefited from a sizeable investment at its manufacturing facility in central Italy, which was made possible by the rise in consumer-driven home upgrades that began in 2018 and is still going strong.
In October 2020, California Screw Products, a producer of high-strength fasteners, was purchased by Avantus Aerospace, a leader in C-Class and Composite equipment for the defense and aerospace industries. This acquisition aims to offer a wide variety of high-quality products.
Major Key Players:
Rockford Fastener, Inc.
Fabory
Jignesh Steel
Big Bolt Nut
Würth Industrie Service GmbH & Co. KG
Brunner Manufacturing Co., Inc.
KD FASTENERS, INC.
B&G Manufacturing
AB Steel Inc.
REYHER
Fastenal Company
Viha Steel & Forging
KELLER & KALMBACH GmbH
Market Segmentation:
By Material
By End-User
Furniture
Construction
Lawn and Garden
Heavy Machine Equipment
Aerospace
Petrochemical
Motors and Pumps
Automotive
Home Appliances
Plumbing Products
Others
Buy this Research Report@ https://www.precedenceresearch.com/checkout/2725
You can place an order or ask any questions, please feel free to contact at sales@precedenceresearch.com | +1 9197 992 333