The global business process management market size was evaluated at USD 13.88 billion in 2022 and it is expected to touch over USD 52.59 billion by 2032, growing at a CAGR of 14.3% during the forecast period 2023 to 2032.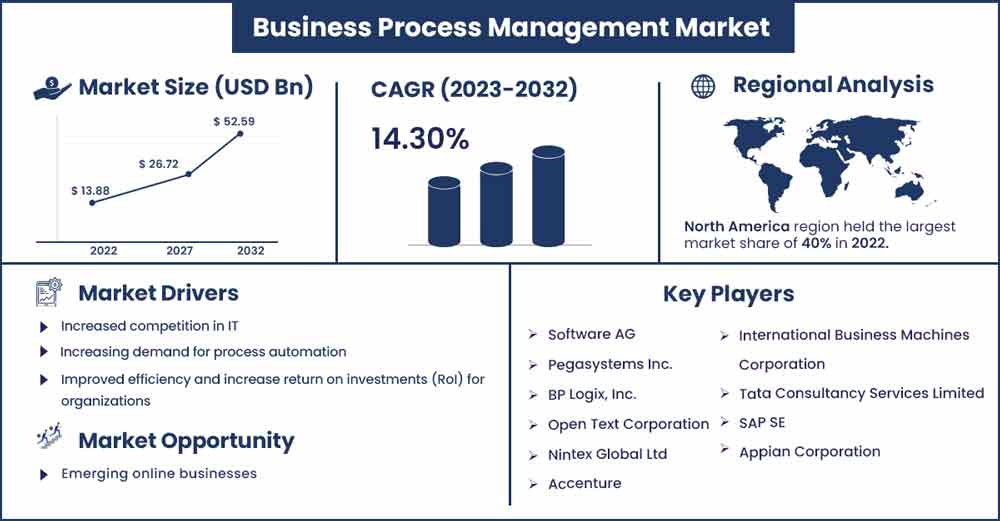 Market Overview:
Business process management (BPM) is a field where individuals utilize various techniques to identify, model, analyze, measure, enhance, optimize, and automate business processes. BPM refers to any methods used to control a company's commercial operations. There are multiple types of functions around which the BPM industry revolves. Organized, repeatable, and unpredictable are a few of them. The global business process management market is evolving with the penetration of advanced technologies and solutions such as artificial intelligence, generative solutions and other automated services that optimize the efficiency of operations along with a time-saving method.
Regional Snapshot:
North America is leading the business process management market and has become a significant participant in the worldwide industry. This expansion may be ascribed to several things, including the region's rapid technological development, the existence of the largest economy in the world, and the large number of significant corporations in the region. The widespread acceptance of cutting-edge technology like artificial intelligence, cloud computing, and automation is one of the major factors influencing the adoption of BPM in North America.
During the anticipated timeframe, the Asia-Pacific area will experience tremendous growth. The site remains the top hub for service delivery; India is the favored place for IT and BPM services, while the Philippines is the leading country for outsourcing customer experience (CX). The fast expansion of the rising economies in the area has been a driving force behind the rise of outsourcing operations. Additionally, there is a growing need for BPM services, technology is developing, and analytical insights and process automation are prioritized.
Report Highlights:
By solution, due to its advantages, such as better production, fewer mistakes, shorter execution times, and enhanced communication, the automation category is anticipated to develop at the fastest rate throughout the projection period. With over 25% of the market, the process modeling category provides greater communication, strategic alignment with corporate goals, consistency, operational efficiency, and competitive advantage.
By deployment, the cloud-based sector is anticipated to see the greatest CAGR during the anticipated period. Due to the advantages of on-premises deployments, such as control, security, and cost, among other things.
By end-user, the segment for SMEs is anticipated to grow at a significant rate. The expansion may be ascribed to the market's existence of leading businesses that provide specialized solutions for SMEs at costs within reach for these businesses.
By application, the BFSI segment will likely grow at a significant rate over the forecast period. The advantages realized after BPM adoption in the fiancé sector have been a key driver of the segment's growth.
Business Process Management Market Report Scope:
| | |
| --- | --- |
| Report Coverage | Details |
| Market Revenue in 2023 | USD 15.79 Billion |
| Projected Forecast Revenue in 2032 | USD 52.59 Billion |
| Growth Rate from 2023 to 2032 | CAGR of 14.3% |
| Largest Market | North America |
| Base Year | 2022 |
| Forecast Period | 2023 To 2032 |
| Regions Covered | North America, Europe, Asia-Pacific, Latin America, and Middle East & Africa |

Market Dynamics:
Driver:
Improved business agility
bottlenecks, redundancies, and inefficiencies. By optimizing processes, organizations can improve their agility by reducing time-to-market, enhancing responsiveness, and adapting to changes more effectively. BPM allows businesses to make changes to processes rapidly, enabling them to adjust to market demands and customer needs. Business agility requires seamless integration and scalability of processes across the organization. BPM solutions offer integration capabilities, allowing organizations to connect disparate systems, data sources, and applications. This integration enables smooth information flow, enhances data visibility, and supports agile decision-making. Moreover, BPM solutions can scale with growing business needs, accommodating increased workloads and expanding operations without compromising agility. Thus, the improved business agility is observed to drive the growth of the market.
Restraint:
High-cost initial investment
Business process automation's biggest drawback is that it requires a sizable initial financial investment to implement the entire process in the company, which only some businesses can afford. For this reason, small businesses still rely on humans rather than process management solutions to complete tasks in various company departments. The initial stage to turn into a process management system requires a whole transformation into a new system, this can add up to the cost of the initial investment. All these factors limit organizations from adopting advanced solutions for business operations. Thus, the high-cost initial investment is observed to pose a restraint for the market's expansion.
Opportunity:
Emerging online businesses
Online businesses such as food delivery platforms or e-commerce platforms require a continuous solution system to manage the operations in order to boost the efficiency of businesses. Business process management (BPM) techniques are created to identify operational challenges and eliminate the delays caused by online services. BPM enables online businesses to comprehend the process phase. Ideally, BPM may assist in determining how the process would function under ideal circumstances, enabling users to modify the process having that objective in mind. BPM may process operations that are traditionally dependent on human agents to boost efficiency and reduce the possibility of human mistakes. Thus, the emergence of online businesses is observed to offer a set of lucrative opportunities for the market.
Challenge:
Complications in adoption in underdeveloped areas
In underdeveloped areas, there may be limited awareness and understanding of BPM concepts and their benefits. Businesses and organizations may not recognize the value of BPM in improving efficiency, reducing costs, and enhancing productivity. Overcoming this lack of awareness and fostering an adoption mindset can be a significant hurdle for the BPM market in such regions. Some underdeveloped areas may have complex regulatory and legal frameworks that make it challenging to implement BPM solutions. Compliance with local laws and regulations may require specific adaptations or configurations of the BPM software, which can be time-consuming and costly. Lack of clarity or inconsistent enforcement of regulations can add further complexity.
Recent Developments:
In May 2023, an accelerator program was launched by the business process management company Genpact in collaboration with the leading FMCG company Hindustan Unilever Limited (HUL) to support the growth of businesses run by minorities and marginalized communities in India. The program will enable minority enterprises to be included in the supply chains of major consumer goods corporations, including HUL, to advance diverse and sustainable sourcing.
In September 2023, data analytics company Intellicus Technologies introduced 'Flow,' an omnichannel workforce management solution to anticipate, plan, and optimize workforces. 'Flow' combines conventional Business Process Management (BPM) with artificial intelligence (AI), automated machine learning, and cloud technologies. For software manufacturers, Intellicus, a provider of data analytics and business intelligence platforms, services, and solutions for businesses, offers integrated BI capabilities. BPM organizations can optimize their staff and increase efficiency thanks to flow.
In April 2023, Huawei Technologies of China said it is switching from internal software management systems that it previously purchased from American suppliers to its in-house version. The company hailed the move as a win over U.S. prohibitions that had formerly endangered its survival. Companies utilize ERP software to control important business processes, including accounting and supply chain management.
Major Key Players:
Software AG
Pegasystems Inc.
BP Logix, Inc.
Open Text Corporation
Nintex Global Ltd
International Business Machines Corporation
Accenture
Tata Consultancy Services Limited
SAP SE
Appian Corporation
Kissflow Inc.
Red Hat, Inc.
Infosys Limited
Market Segmentation:
By Solution
Automation
Process Modelling
Content & Document Management
Monitoring & Optimization
Content & Document Management
Integration
Others
By Application
IT
BFSI
Manufacturing
Retail
Government & Defense
Healthcare
Others
By Deployment
By End-User
Buy this Research Report@ https://www.precedenceresearch.com/checkout/2612
You can place an order or ask any questions, please feel free to contact at sales@precedenceresearch.com | +1 9197 992 333