The global cannabis extract market revenue was evaluated at USD 10.95 billion in 2022 and is expected to attain around USD 42.89 billion by 2030, growing at a CAGR of 18.6% from 2022 to 2030.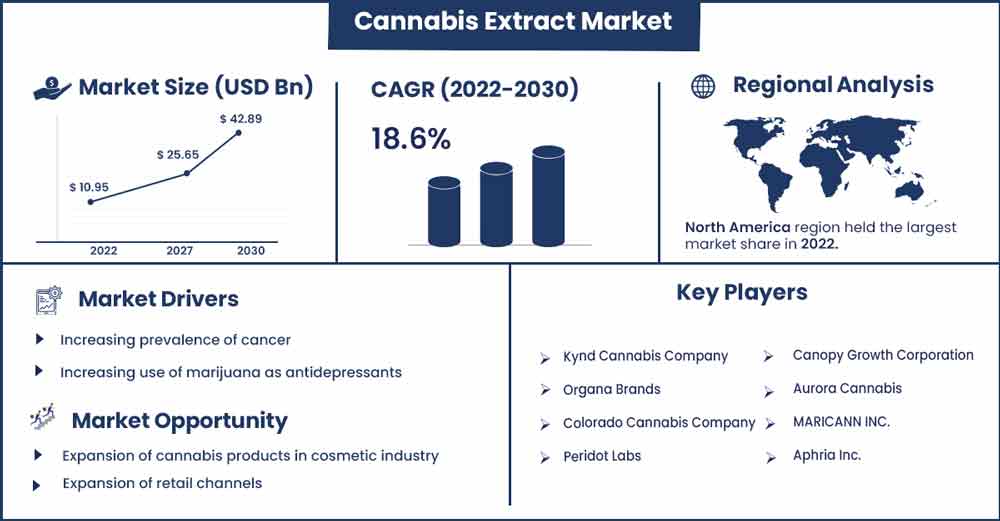 Market Overview:
Cannabis collectively refers to a group of plants with characteristic psychoactive properties. Involving the three dominant species cannabis sativa, cannabis indica, and cannabis ruderalis, the compounds responsible for the psychedelic effects are called cannabinoids. The cannabis extract market primarily deals with the legal buying and selling cannabis extracts or its isolated compounds under strict federal regulations. It involves the cultivators, sellers, consumers, processing industries, and product vendors.
The Canadian Cannabis Survey (CCS) conducted in 2022 compiled data on recreational users. The percentage of individuals who used cannabis in the past 12 months was analyzed against frequency. It was found that more than half of the demographic used cannabis less than three days per month. However, the second largest group, comprising 18% of the sample, employed it daily. The remaining 31% showed a moderate to higher frequency of 1-6 uses per week.
Product-based distribution in the less than one day per month group showed that dried leaves and flowers were the most common application employed by 65% of the users. Oral administration in the form of edibles or beverages was observed in 72% of instances. Only 22% of the sample mentioned the use of oils or extracts.
Regional Snapshot
Due to the large-scale legalization of cannabis and cannabis-based products, North America is estimated to be the largest market for cannabis extract. With a large number of producers and a massive consumer base, the US and Canada are the most significant contributors to the North American region. As of April 2023, the National Conference of State Legislature (NCSL) reported the legal use of cannabis-based products in 38 states, three territories, and the Columbia District. With the recent 7 June 2023 Senate bill permitting the distribution of products containing cannabinoids or related compounds by registered vendors in Colorado, the US is seriously considering reviving its non-medical cannabinoids industry.
RISE Dispensaries, a Minnesota-based growing chain of cannabis retail, commenced the sales of adult-use Cannabis on 1 July 2023. Owned by Green Thumb Industries Inc., the subsidiary-run Maryland dispensaries primarily focus on the medical use of Marijuana for adults. The evident success of cannabis retail in Maryland since its legalization in November inspired several other retailers to join the race. Curio Wellness, a state operator, decided to triple its production runs in March at its Far & Dotter store in Baltimore. The state of New Mexico is in the process of commercializing its Cannabis-based products within the Texan boundaries. Due to strict drug policies in Texas, the Mexican government is debating the federal repercussions of the sales of CBD-infused goods to poor producers or cultivators.
A Canadian company, Irwin Naturals, expanded its Starseed medicinal medical platform to increase the reach of its Cannabis-based products nationally. Along with medical prescriptions, a wide variety of infused products will be promoted. Another Cannada-based company, Aurora Cannabis, launched a highly potent pre-rolled structure infused for medical Cannabis. A major Canadian key player, Aphria Inc., headquartered in Leamington, Ontario is involved in the production and distribution of cannabis internationally. They cater to both medicinal and recreational products. Another Cannada-based cannabis provider is Maricann Inc. is a significant contributor to the industry. Cannada's cannabis sector is dedicated toward the development of cannabis use for spiritual, medicinal, and recreational purposes.
Cannabis Extract Market Report Scope:
| | |
| --- | --- |
| Report Coverage | Details |
| Market Revenue in 2023 | USD 12.97 Billion |
| Projected Forecast Revenue by 2030 | USD 42.89 Billion |
| Growth Rate from 2022 to 2030 | CAGR of 18.6% |
| Largest Market | North America |
| Base Year | 2022 |
| Forecast Period | 2022 to 2030 |
| Regions Covered | North America, Europe, Asia-Pacific, Latin America, and Middle East & Africa |

Market Dynamics:
Drivers
Increasing prevalence of cancer and other chronic conditions
Two cannabinoids, Delta-8 and THC, isolated from the cannabis species, have properties proven to aid several neurodegenerative conditions. FDA-approved Epidiolex containing purified cannabidiol is actively prescribed for seizures associated with several genetic disorders. In the case of cancer, cannabinoids are used to aid symptoms rising from therapies rather than the disease itself. Synthetic THC-based Nabilone and Dronabinol are prescribed for chemotherapy-induced nausea and vomiting. As the requirement for such products increases, the demand for cannabis extract is observed to grow. Thus, the increasing prevalence of cancer and other chronic conditions is observed to act as a driver for the market.
Legalization of cannabis
The rapid development of the cannabis industry in the healthcare sector inspired a massive movement legalizing or decriminalizing activities related to the CBD industry. As a byproduct of the huge policy changes in accordance with the legalization, the cannabis industry is expected to witness exponential growth. For instance, following the Michigan Cannabis Amendment, California has planned to make similar amendments for cannabis use from January 2024.
Restraints
Social stigma
The addictive nature of cannabis was responsible for its initial illegalization in multiple areas. Despite federal regulation and a controlled production framework in place, a massive social stigma essentially restricts the industry's growth. Retailers selling cannabis-based goods are frowned upon and often victims of several protests and criticism. Thus, the element associated with social stigma of cannabis-based products create a major restraint for the market.
Medicinal use associated side effects
Along with multiple health benefits, cannabis can cause side effects if used for long term. This element is observed to cause a major obstacle to the market's expansion. Several studies demonstrated side effects associated with the long-term use of medication using Cannabis based compounds as active ingredients. These include dependence on drugs, addiction, and psychological symptoms like schizophrenia, hallucinations, paranoia, etc.
Opportunities
Expansion of cannabis products in cosmetic industry
Besides the medical and recreational functions, cannabis is observed to be utilized significantly in cosmetics, paper, and textile industries. Primarily, cold-pressed oils and aqueous extracts of the seeds of cannabis Sativa are known for their moisturizing properties. Phyto cannabinoids and lab-created synthetic cannabinoids have been proven therapeutic for several chronic dermatological conditions. Isolates of these compounds were often prescribed as topical formulations for skin inflammatory diseases. Thus, the integration of cannabis products in the cosmetic industry is anticipated to offer multiple opportunities for the market.
Expansion of retail channels
Retail channels provide opportunities for cannabis extract companies to build and promote their brands. This includes packaging, labeling, and in-store promotions that can help create brand recognition and loyalty. With more points of sale, cannabis extract companies can gather valuable data and insights about consumer preferences and buying habits. This information can inform marketing strategies and product development. In response to the demands of various retail channels and consumer preferences, companies may invest more in research and development. This can lead to the creation of new and innovative cannabis extract products.
Recent Developments
In January 2023, the US Food and Drug Administration (USFDA) concluded the regulatory agencies' framework for cannabidiol products. The organization will work with Congress to provide safeguards and minimize the risks related to cannabis-based products.
In April 2023, the State of Arkansas passed a bill permitting the use of concealed handguns for the carriers of medical cannabis. This amendment was to protect the rights of medical marijuana patients and caregivers.
In April 2023, the state of Arizona allocated funds for medical cannabis products. Outlining the capital outlay for the fiscal year ending September 30, 2024, the total Medical Cannabis Commission amounted to 4,025,047 USD.
On April 11, 2023, under the Medical Marijuana Special Privilege Tax Act, the government declared the extension of Marijuana use permits in case of emergencies in Arkansas.
Dr. Reddy's collaboration with MediCane commenced the clinical trial for their Cannabis products in the second half of 2022. Developed to target Behavioral and Psychological Symptoms of Dementia (BPSD), the product will be soon launched in Germany.
In January 2023, a Mumbai-based Bombay Hemp Company (BOHECO) launched a series of India's first clinically tested cannabis medical products, the products mainly target various chronic pain and mental health conditions.
The Kanabo Group launched the UK's first online medical cannabis prescriptions service in March 2023. Targeted toward the massive demographic suffering from chronic pain, the platform provides services ranging from consultation to receiving prescriptions.
In November 2023, Mike Tyson and Evander Holyfield discussed launching their line of Cannabis infused edibles called Holy Ears. Containing traces of THC- and Delta 8-, these consumables offer varieties between THC, Delta 8, and other hemp-based cannabinoids.
Major Key Players
Kynd Cannabis Company
Organa Brands
Colorado Cannabis Company
Peridot Labs
Canopy Growth Corporation
Aurora Cannabis
MARICANN INC.
Aphria Inc.
Market Segmentation
By Type
By Extraction Method
By Application
Textile
Cosmetic
Pharmaceutical
Paper
Others
By Distribution Channel
Hospital Pharmacies
Retail Pharmacies
Online Pharmacies
Buy this Research Report@ https://www.precedenceresearch.com/checkout/1213
You can place an order or ask any questions, please feel free to contact at sales@precedenceresearch.com | +1 9197 992 333