The global car wash service market size surpassed USD 31.06 billion in 2022 and it is expected to rake around USD 43.81 billion by 2032, poised to grow at a CAGR of 3.5% during the forecast period 2023 to 2032.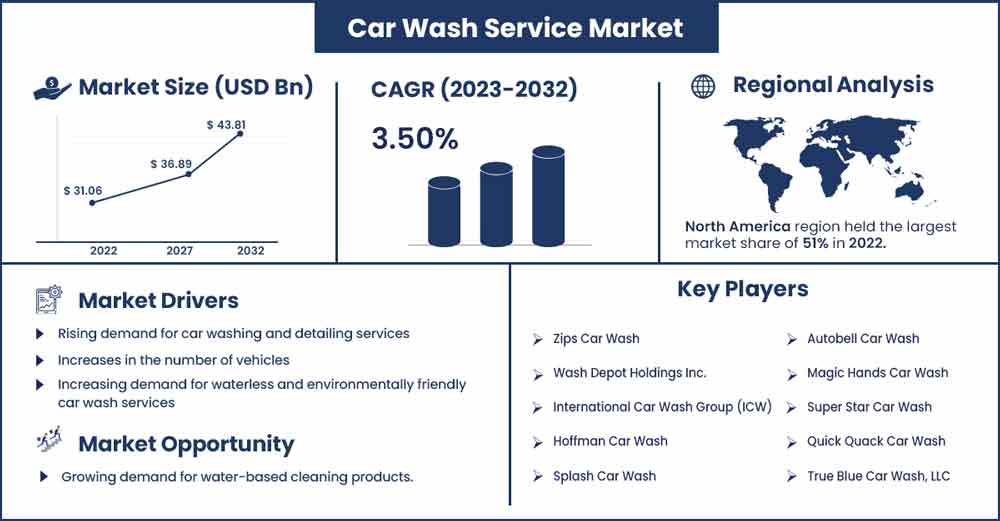 Market Overview:
Because of time restraints and a demanding work schedule, consumers are becoming increasingly more likely to use professional car wash services rather than do their own washing. A thorough cleaning of the car's interior and exterior is provided by a car wash service. Moreover, it offers consumers efficiency and value for their money. The need for convenience is growing, and more affordable and upscale options are available, which has increased demand for car wash services globally.
Fully automatic processes with minimal human involvement characterize modern car wash services. The use of powerful detergents and powerful water jets is a requirement of automatic car washing processes. A car goes through various steps while being washed automatically, including drive-in, scrub, blast, touch-up, and dry rinse wax. Both the exterior as well as the interior of cars today use automatic systems. This makes washing and cleaning cars simpler than earlier, more traditional car washing techniques and processes. Both developed and developing nations use car washing services extensively. Customers are becoming more knowledgeable about the advantages of contemporary automatic cash services, such as enhanced cleaning effectiveness and hygiene. Modern car wash services conserve water and reduce the pollution of groundwater.
The travel industry has been significantly impacted by COVID-19, which has slowed the market expansion for car wash systems. Drivers are recommended to sanitize frequently touched places like key fobs, door handles, and steering wheels to stop the virus from spreading due to the COVID-19 outbreak. The system uses a fog machine that explodes hospital-grade sanitizing gas into the vehicle to kill the COVID-19 virus. Many car washes shut down their waiting areas and restricted their services to exterior cleaning only to adhere to isolating social regulations, limiting customer interaction with employees.
Regional Snapshot:
North America, Asia Pacific, Europe, Latin America, the Middle East, and Africa are the regions that make up the global market for car washing services.
Due to the rise in auto sales in this region, North America is anticipated to lead the market for car washing services. Europe is also anticipated to experience rapid growth as a result of growing public awareness of the advantages of car washing services.
Car Wash Service Market Report Scope:
| | |
| --- | --- |
| Report Coverage | Details |
| Market Revenue in 2023 | USD 32.15 Billion |
| Projected Forecast Revenue by 2032 | USD 43.81 Billion |
| Growth Rate from 2023 to 2032 | CAGR of 3.5% |
| Largest Market | North America |
| Base Year | 2022 |
| Forecast Period | 2023 to 2032 |
| Regions Covered | North America, Europe, Asia-Pacific, Latin America, and Middle East & Africa |

Report Highlights:
Due to the fact that professional car wash services use two-thirds less water than home car washes, they are environmentally friendly.
The largest share belonged to the roll-over/in-bay segment, which is anticipated to report a constant CAGR during the forecast period. The main factors increasing operator demand for in-bay car washes include lower operating costs, smaller installation areas, and minimal water use.
The banking industry's technological developments and an increase in the number of car wash services that accept cashless payments are driving market growth.
The highest market share was held by North America. The regional market is being driven by the shifting business dynamics in the area as well as a massive number of strategic partnerships between industry rivals.
Market Dynamics:
Driver:
A mobile car wash that provides door-to-door service
The mobile car wash industry broadens the scope of the auto detailing industry. A vehicle-based service called a mobile car wash needs to operate in place of a stationary auto detail shop. When a dealer has a mobile detailing unit (or several units), he or she can travel to the customer's chosen location on the agreed-upon date and at the agreed-upon time.
This kind of car wash is very well-liked by people looking for convenient, time-saving facilities that are easy to schedule. People now anticipate using their phones for service research, scheduling, and payment. For devoted business owners, the mobile car wash sector can offer lucrative opportunities in terms of revenue.
Restraint:
Environmental regulations
The cost of operating a car wash can increase because many nations have strict regulations surrounding water use and wastewater discharge.
Labor costs restraining the market
The cost of labor can be a significant restraint for car wash businesses, especially in regions with high minimum wages.
Due to consumers having to cut back on non-essential expenses like car washing, economic downturns can have a significant impact on the car wash industry.
Technological advancements in car wash services
Self-cleaning cars are one example of a new technology that, if it becomes popular, could threaten the car wash business.
Opportunity:
Increasing demand for car washing services
The demand for car washing services will likely rise as the number of cars on the road continues to increase worldwide.
Growing popularity of eco-friendly car wash services
Many customers are looking for car wash services that use environmentally friendly cleaning products and techniques as consumer awareness of environmental issues has increased.
Offering additional services in car wash
By adding extra services like detailing, waxing, and tire shining, car wash businesses can generate more revenue.
Embracing new technologies
The car wash industry is adopting new technologies like cashless payment methods and automated car wash systems to help businesses run more effectively and offer a better customer experience.
Reaching customers who cannot or do not want to travel to a physical location can be easy and affordable by providing mobile car washing services.
Challenge:
Individual sources will have the most rapidly expanding customer base throughout the projected timeline.
The popularity of car care products has increased as people become more conscious of the significance of car detailing. Moreover, the rising labor cost has forced several car enthusiasts to complete the task themselves rather than going to a car maintenance shop.
Plenty of these customers are now learning and performing some basic detailing tasks on their people, who have contributed to the availability of enough training material online relating to car detailing. The number of these people is anticipated to grow over time, as will the need for car care products.
The largest market for car care products will be passenger cars.
Due to rising sales in the Asia Pacific region, the number of passenger vehicles is growing rapidly. Additionally, the business of used cars is growing. Only when they are sold in good condition do used cars fetch a reasonable price. Therefore, to maintain the vehicle's good state for an extended time and also to maintain the car's maximum resale value. The requirement for care products is anticipated to increase as a result.
Additionally, luxury and premium vehicle sales have substantially enhanced globally, particularly in Europe, China, and the US. The global market for car care products has been proportionately influenced by this. In the upcoming years, the need for car care products is anticipated to grow due to the expanding passenger car fleet, particularly in Asia Pacific.
Recent Development:
September 2022- Leading conveyor car wash firm Wave Wash was acquired by reputed and reliable car wash company Super Star Car Wash.
Major Key Players:
Zips Car Wash
Wash Depot Holdings Inc.
International Car Wash Group (ICW)
Hoffman Car Wash
Splash Car Wash
Autobell Car Wash
Magic Hands Car Wash
Super Star Car Wash
Quick Quack Car Wash
True Blue Car Wash, LLC
Market Segmentation:
By Mode of Payment
Cashless Payment
Cash Payment
By Type
Roll-over/In-bay
Tunnels
Self-service
Buy this Research Report@ https://www.precedenceresearch.com/checkout/2721
You can place an order or ask any questions, please feel free to contact at sales@precedenceresearch.com | +1 9197 992 333