The global cellulite treatment market size is anticipated to reach around USD 5.73 billion by 2032 up from USD 1.93 billion in 2022 with a CAGR of 11.5% between 2023 and 2032.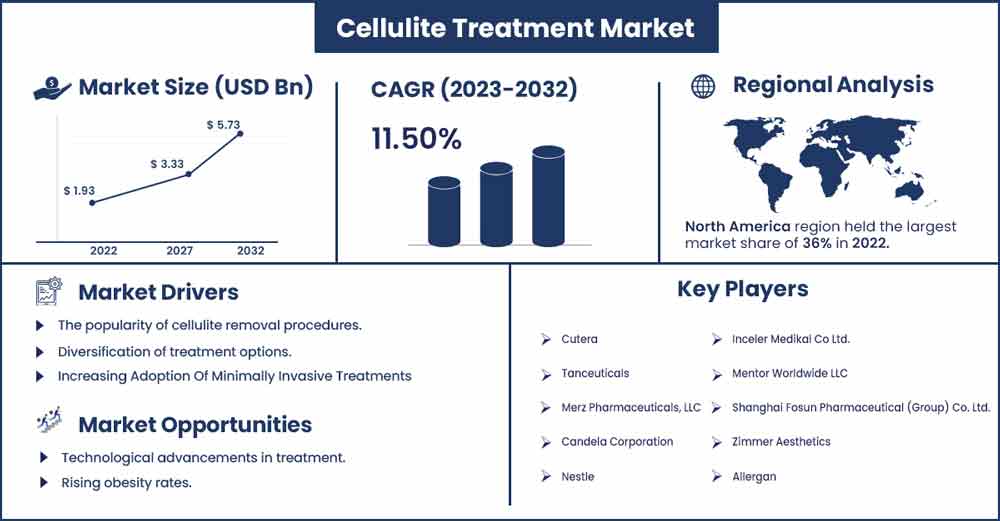 Market Overview:
The skin on the buttocks, thighs, and hips that has cellulite seems to have dimples. Cottage cheese skin, hail damage, orange-peel skin, and the mattress phenomenon are some generic names for cellulite. Due to the fact that ordinary women's body fat makes up 18–20% of their weight, while men's body fat makes up only 10%–15% of their weight, this condition is more frequently seen in women than in men.
The connective tissues are pushed and distorted beneath the skin by lumpiness caused by fat deposits, giving the skin its distinctive cotton cheese appearance. Cellulite's origins are unknown, but it results from a junction between the fat layer and connective tissue in the dermatological layer beneath the skin's surface. Cellulite development is significantly influenced by hormones like thyroid estrogen, insulin, hormones, prolactin, and noradrenaline. Furthermore, cellulite development is also influenced by other variables like genetics, diet, age, and lifestyle. Due to the rising rate of obesity, the cellulite treatment market is rapidly expanding.
The growing elderly population will significantly affect the growth of the cellulite treatment market. Cellulite develops due to the loss of skin flexibility that comes with aging, and skin roughness, irregularity, and texture change are all discernible. Additionally, molecular and morphological changes associated with skin aging result from variations in the concentration and biomechanical characteristics of cutaneous connective tissue, which significantly impact the topography of the skin's surface. Demand for cellulite treatments will increase during the anticipated time due to a trend toward aesthetics. Moreover, unfavorable reimbursement policies may impede market expansion.
The market is also anticipated to grow due to numerous technological developments, including user-friendly pen-shaped portable laser medical devices. A popular choice herbal massage therapy that uses gua sha, acupuncture and cupping techniques is a significant factor limiting the growth of the cellulite treatment market. Additionally, the high price of cosmetic procedures is anticipated to restrain market expansion.
Global demand for cellulite treatments has been negatively impacted by the COVID-19 outbreak, predominantly because of a drop in patient visits for cosmetic surgeries during the pandemic. Aesthetic business revenue has been severely hampered by the implementation of the lockdown and the realignment of hospitals and clinics to raise hospital capacities for COVID-19 patients.
Regional Snapshot:
The global market for cellulite treatments is dominated by North America. The region's rising adoption of cutting-edge technologies and the region's increasing obese population are the main factors driving this. In recent years, there has been a shift away from surgeries performed and toward non-invasive treatments, demonstrating the priority for non-invasive cellulite treatment in nations like the United States and Canada.
According to estimates, the European market controls the global market, which can be explained by the increasing number of patients with periodontal diseases. Additionally, it is anticipated that technological developments and rising public awareness of dental implants and related diseases will further fuel market expansion.
Cellulite Treatment Market Report Scope:
| | |
| --- | --- |
| Report Coverage | Details |
| Market Revenue in 2023 | USD 2.15 Billion |
| Projected Forecast Revenue by 2032 | USD 5.73 Billion |
| Growth Rate from 2023 to 2032 | CAGR of 11.5% |
| Largest Market | North America |
| Base Year | 2022 |
| Forecast Period | 2023 to 2032 |
| Regions Covered | North America, Europe, Asia-Pacific, Latin America, and Middle East & Africa |

Report Highlights:
Over the forecast period, the soft cellulite-type segment is expected to grow profitably. The market demand is expected to be fueled by the high prevalence of this type of cellulite and the simple removal process.
The market was led by the end-use segment for clinics and beauty salons, and during the forecast period, it is anticipated to increase.
The top region was revealed to be North America. The region's relatively higher spending explains this on cosmetic and aesthetic processes, the appearance of skilled medical personnel, and advanced medical infrastructure.
Over the projected time period, it is anticipated that the market's growth will be constrained by the high cost of cosmetic surgery.
Market Dynamics:
Driver:
The market for cellulite treatments is expanding due to the rise in obesity rates brought on by fast food consumption and sedentary lifestyles. This is because the development of cellulite is acknowledged to be significantly influenced by weight gain and obesity. Moreover, the market is expanding due to increased cosmetic treatments and clinics. The amount of cosmetic surgical procedures carried out globally has risen significantly, according to the International Society of Aesthetic Plastic Surgery survey.
In addition, rising healthcare costs, improvements in cellulite treatment, and a rise in the desire for an attractive physical appearance all impact the industry's expansion. The development of cutting-edge cellulite treatment methods that are more efficient and minimally invasive, like laser therapy and ultrasound therapy, is a result of the rise in healthcare expenses.
Restraint:
Safety concerns in the treatment
Some cellulite treatments could have negative side effects or safety risks. For instance, while some topical creams may irritate the skin or trigger allergic reactions, laser treatments may result in burns or hyperpigmentation. This may prevent consumers from using these treatments and harm the industry's reputation.
Lack of regulation
Lack of regulation in the cellulite treatment industry can result in the promotion of unproven or ineffective treatments. This may undermine consumer confidence in the sector and restrict growth opportunities.
Competition in the market
It can be challenging for new competitors to gain market share because there are so many businesses competing in the cellulite treatment market. Price competition as a result may lower company profit margins.
Opportunity:
Growing demand for the treatment
The demand for cellulite treatment goods and services has increased as obesity and weight gain are becoming more and more common. Companies now have the chance to take advantage of this demand by creating novel, efficient treatments.
Partnership opportunities
Companies in the cellulite treatment market can also look for alliances and joint ventures with other businesses in the medical and cosmetic fields. For instance, a cellulite treatment business might collaborate with a gym or a nutritionist to provide a thorough program for both weight loss and cellulite reduction.
Challenge:
Marketing challenges
Since cellulite is frequently stigmatized in popular culture, it can be challenging for businesses to effectively market their goods and services.
Companies must strike a balance between the need to inform customers about cellulite and its causes and the need to prevent reinforcing unfavorable stereotypes.
Consumer skepticism for the treatment
Given the ineffectiveness of many current treatments, many consumers have doubts about the efficacy of cellulite treatments.
It may be difficult for businesses to market their goods and services to customers as a result.
Limited scientific understanding
Cellulite's underlying causes are poorly understood, which makes it challenging for businesses to create efficient treatments.
The causes of cellulite are still being researched, which could eventually result in new treatment options.
Recent Development:
August 2022 - AirScult Technologies Inc introduced a one-time, minimally invasive cellulite removal procedure called AirSculpt Smooth.
May 2022- Aveli, a game-changing new cellulite device, was introduced by Revelle Aesthetics. Aveli is a medication used to treat cellulite in women and has FDA approval. In just one office procedure, it provides noticeable results.
Major Key Players:
Cutera
Tanceuticals
Merz Pharmaceuticals, LLC
Candela Corporation
Nestle
Inceler Medikal Co Ltd.
Mentor Worldwide LLC
Shanghai Fosun Pharmaceutical (Group) Co. Ltd.
Zimmer Aesthetics
Allergan
Hologic Inc
Nubway Co. Ltd.
Market Segmentation:
By Procedure Type
Non-invasive
Topical
Minimally Invasive
By Cellulite Type
Soft Cellulite
Edematous Cellulite
Hard Cellulite
By End-Use
Hospitals
Clinics & Beauty Centers
Buy this Research Report@ https://www.precedenceresearch.com/checkout/2722
You can place an order or ask any questions, please feel free to contact at sales@precedenceresearch.com | +1 9197 992 333